"I want them to be pink."
That's about all the direction I was given when someone asked me to make 30 cupcakes for a baby shower. Luckily, I knew that this was for an office party and there would be a lot of men there. So there was no way I would be able to get away with just white cake with fruity flavors, I knew I needed some chocolate.
It was a given in my cupcake-head to do a lemon cake with a raspberry cream topping, but the second (more manly) cupcake wasn't quite as clear…
Baby Shower Cupcakes Part I: Lemon Raspberry Cream Cupcakes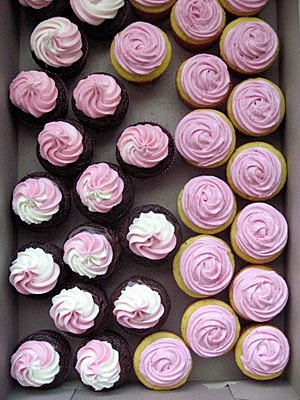 The Cakes:
Lemon cake mix (I used Duncan Hines Lemon Supreme)
1 small box instant lemon pudding mix
1/3 cup Raspberry jam or jelly
1 ½ -2 ½ cups powdered sugar
1.
Preheat oven to 350 degrees.
2.
In a large bowl, beat eggs.
3.
Add oil, water, and milk and beat again.
4.
Stir in sour cream and then cake mix and pudding mix until well blended.
5.
Fill cupcake liners 2/3 full and bake for 20-28 minutes or until a toothpick comes out clean.
6.
As soon as your cupcakes, place them on a cooling rack for about 5-7 minutes and then seal in an airtight container to make sure they stay perfectly moist. The container will steam-up inside, but won't worry…
7.
Raspberry Cream: Beat butter and cream cheese for 5 minutes.
8.
If your jam is not seedless, strain it and then add it to the butter mixture. You can always add more if you want a stronger taste.
9.
Add a few drops of food dye to get a pretty red color and then as much powdered sugar as you desire.
10.
Refrigerate your Raspberry Cream if it is too loose to pipe or spread on your COOLED cupcakes.
*I
used a
1
M piping tip and the rosette piping technique