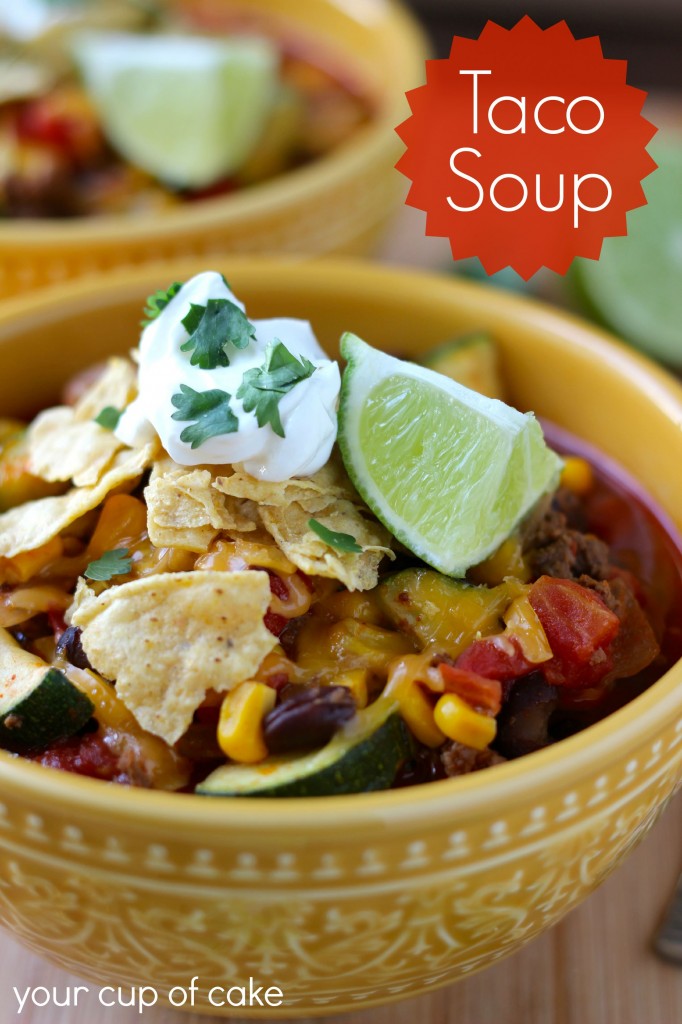 The Story:
"You bake, so you must be a really good cook."
A common point of confusion. Baking and cooking are very different things. Baking is all about ratios and chemistry while cooking is all about technique and education.
I may know my way around the kitchen with a piping bag, but when it comes to meat and potatoes, I feel a little lost. My knife skills are dreadful, cooking dinner for company stresses me out, I live off of quesadillas and grilled cheese and I don't even own a frying pan.
—
The day had to come when I started posting food other than desserts. Well that day is here. Ta-dah! Don't worry, I will still post weekly dessert recipes but I figured some of my readers may want a meal idea every once and a while. Plus, this will give me a reason to work on my cooking skills (aka wife skills)!
So what sort of recipes can you expect to see? Easy recipes. I try to keep my dessert recipes simple and delicious and I want to do the same with the "real" food. I want learn how to cook and document it all. I don't care to use all the fancy lingo (if I do I will explain it) and I don't want to make something so extravagant that no one will ever make it for their own family.
Nervous? Me too! I have no doubt that I can learn to make delicious meals, but photographing them and making them LOOK delicious? That's the toughest part for me. Wish me luck!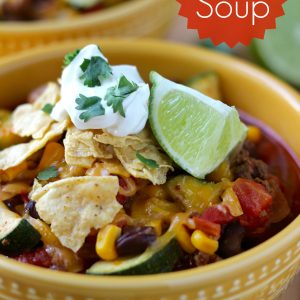 Taco Soup
Ingredients
Soup:
drizzle of olive oil

1

yellow onion

chopped

1

lb.

ground beef

1

taco seasoning packet

check pkg. and make sure it's used for 1 lb. meat

2

small zucchini

chopped (optional)

1

can of corn

whole kernels

1

can of whole black beans

rinsed

1

can Rotel tomatoes

1

can diced petite tomatoes

1

jalapeño

optional (diced and seeds removed)

1

C.

water

add more or less depending on how much soup you want to make
Add-in options:
tortilla chips

you HAVE to use these

grated cheddar cheese

optional (but amazing)

sour cream

optional (but amazing)

cilantro

optional

lime slices

optional
Instructions
1. Heat a large soup pot. Once hot, drizzle with olive oil and sauté onions for 3-4 minutes.

2. Add ground beef and taco seasoning and use a large wooden spoon (or whatever you have that won't melt) to break up the beef. Continue to stir around to cook the beef evenly.

3. Add the chopped zucchini. I like to add it a little before the beef is done cooking.

4. Once the beef is cooked, add corn, black beans, Rotel, tomatoes, jalapeño and water.

5. Stir and let heat until hot all the way through.

6. To serve, fill soup bowls, sprinkle with cheddar cheese, crush a handful of tortilla chips over it and give each a dollop of sour cream and some chopped cilantro. The lime can be squeezed over for a little extra "zing."

NOTE: You'll want plenty of tortilla chips, they're like your "croutons."
If you don't add much water to the soup, you can call it "Taco Chili."
As for which Add-ins I would suggest? Do the tortilla chips and sour cream for sure! The cheese makes it sinfully good, but you add a lot more calories that way. And the cilantro and lime just keep it fresh and not too heavy, but they really aren't needed.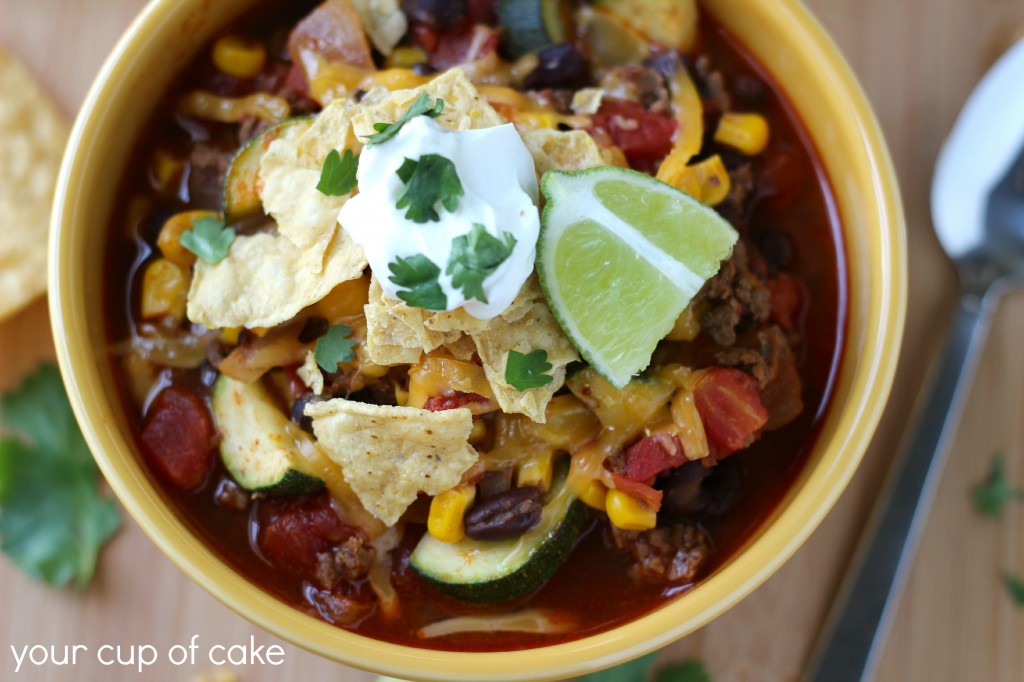 Chop up your zucchini and onion as big or as small are you like. The zucchini is optional but it's a nice vegetable to sneak in there.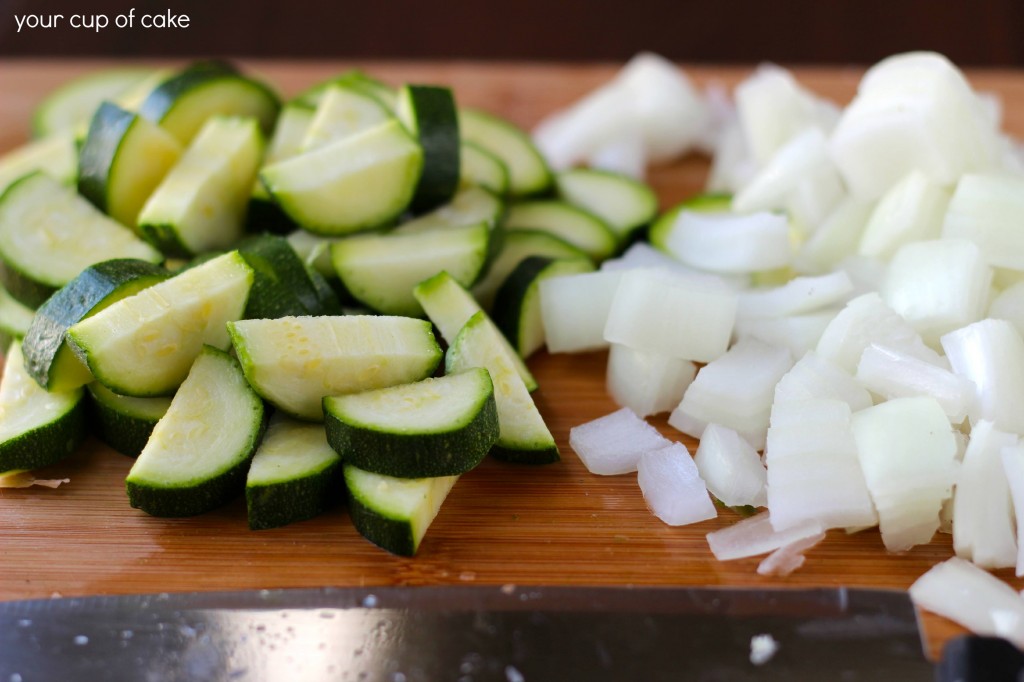 Sauté your onions. You can skip this if you are in a hurry and just go ahead and add the beef, but I like to get my onions really soft.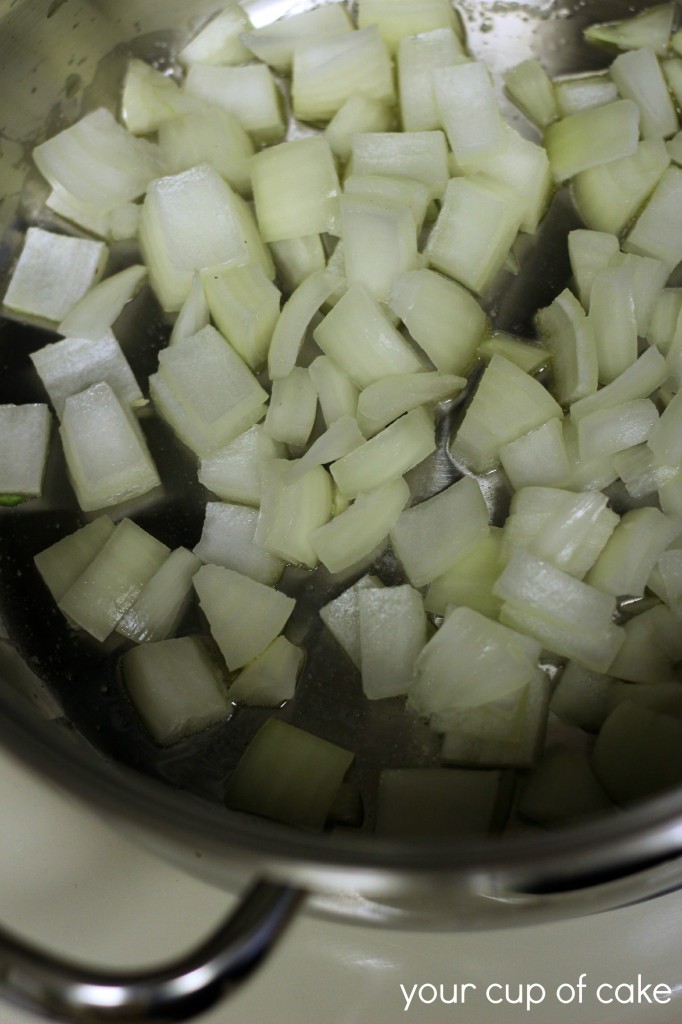 Add your beef!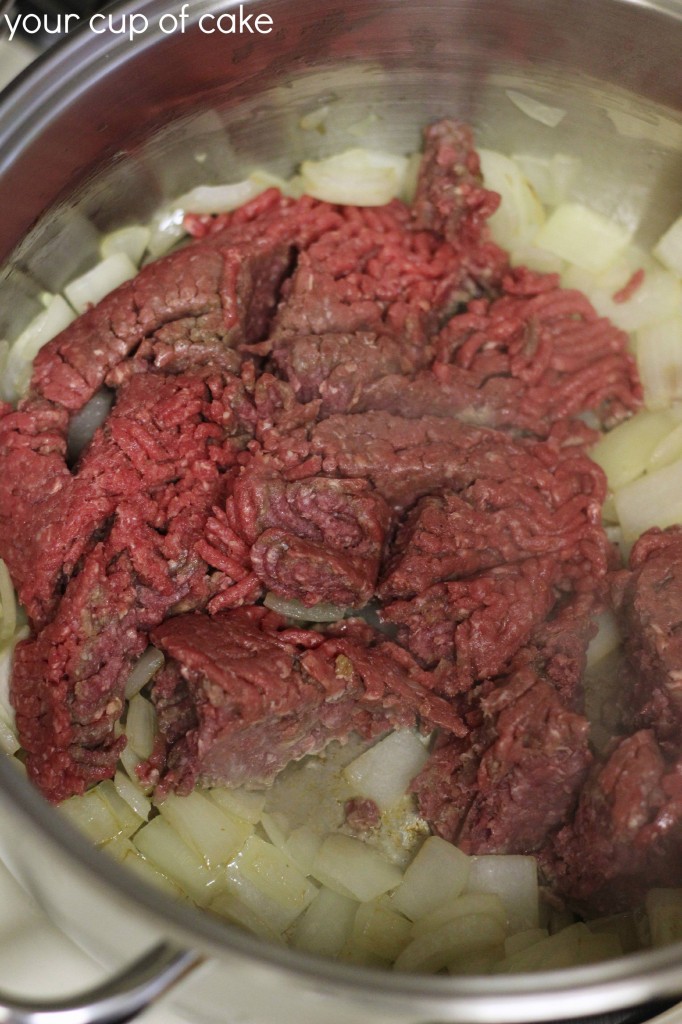 And your taco seasoning packet! You can add your own spices if you want instead, but I just find the packet to be really easy and worth the 99 cents.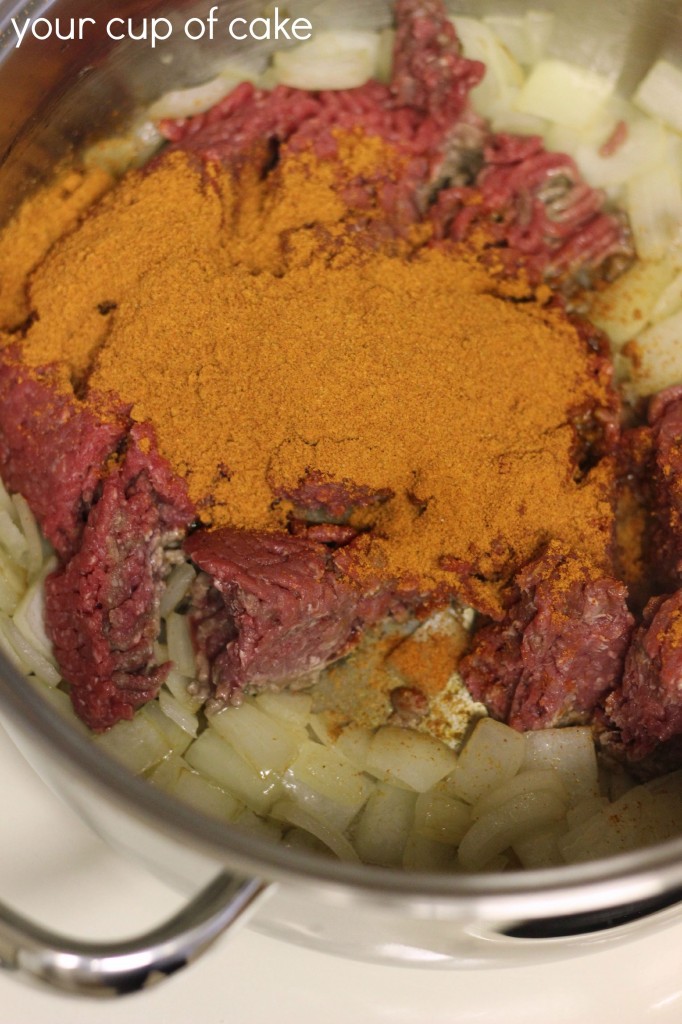 Add the zucchini! If you are trying to "hide" the vegetable from kids or picky eaters, you can chop it up really small.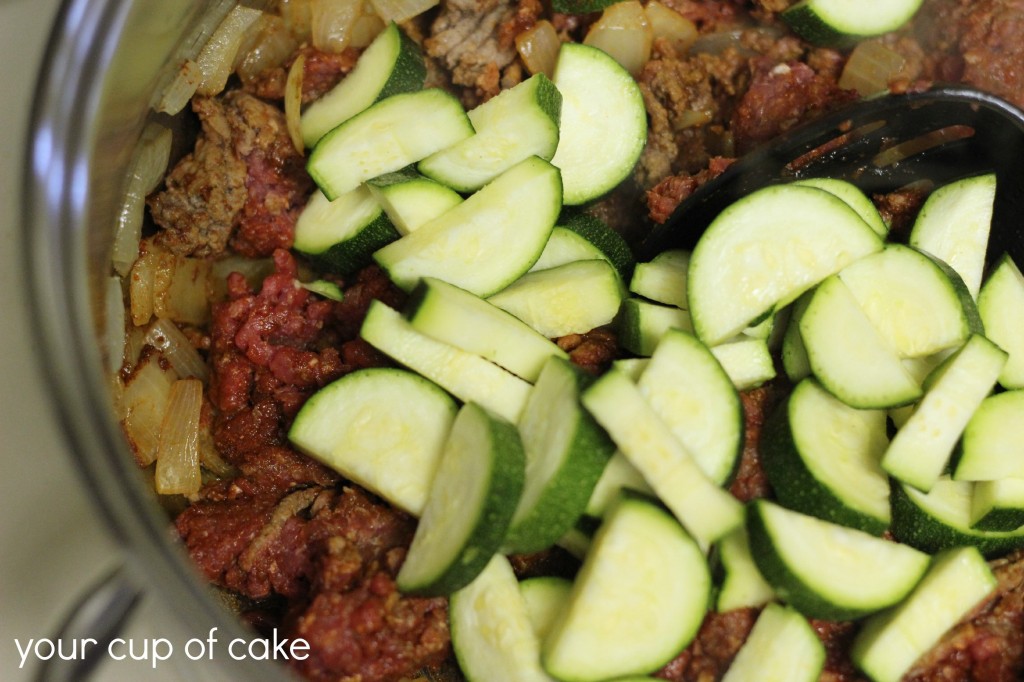 Meat is cooked, time to add everything else to the pot!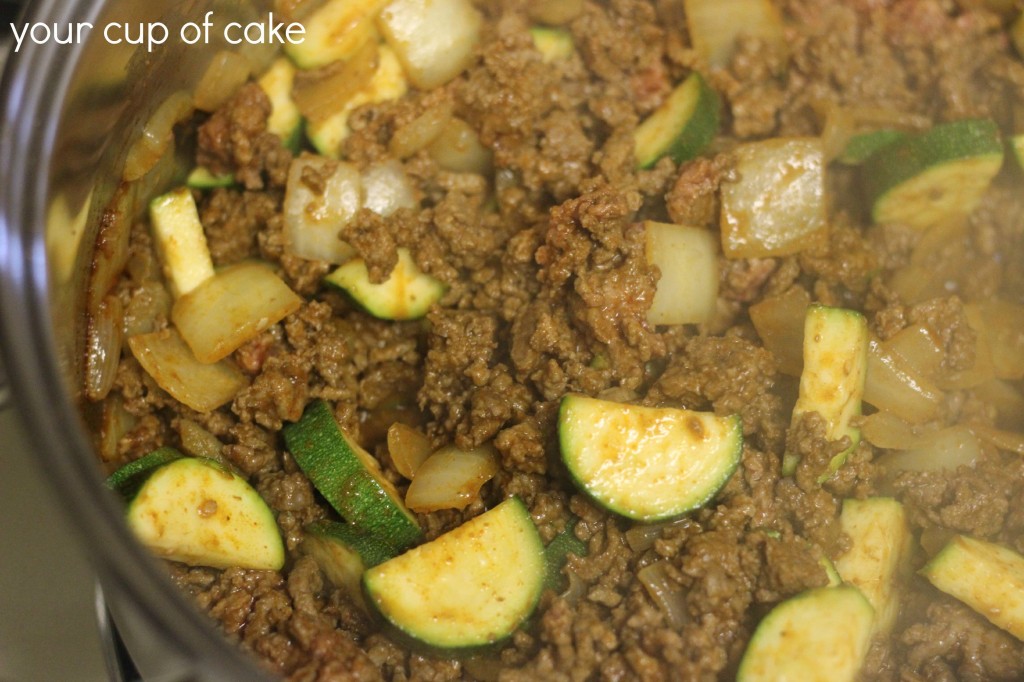 Throw is all in there and start stirring!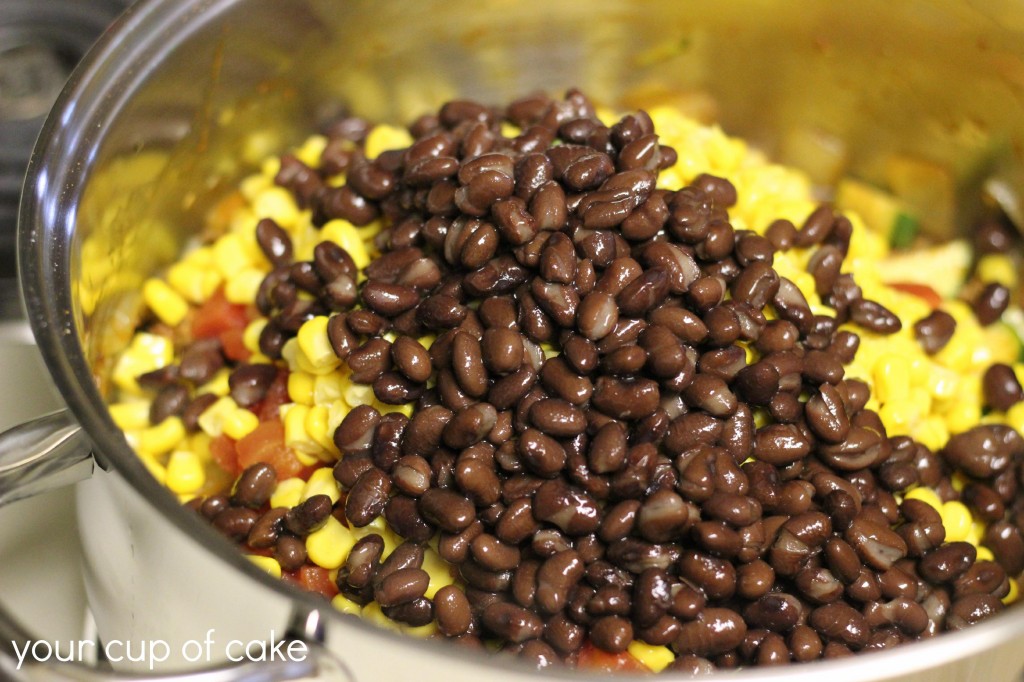 Fiesta time!