The perfect summer pasta recipe! This Zesty Chicken Enchilada Pasta Salad is perfect for lunch or dinner and your entire family will be begging for more!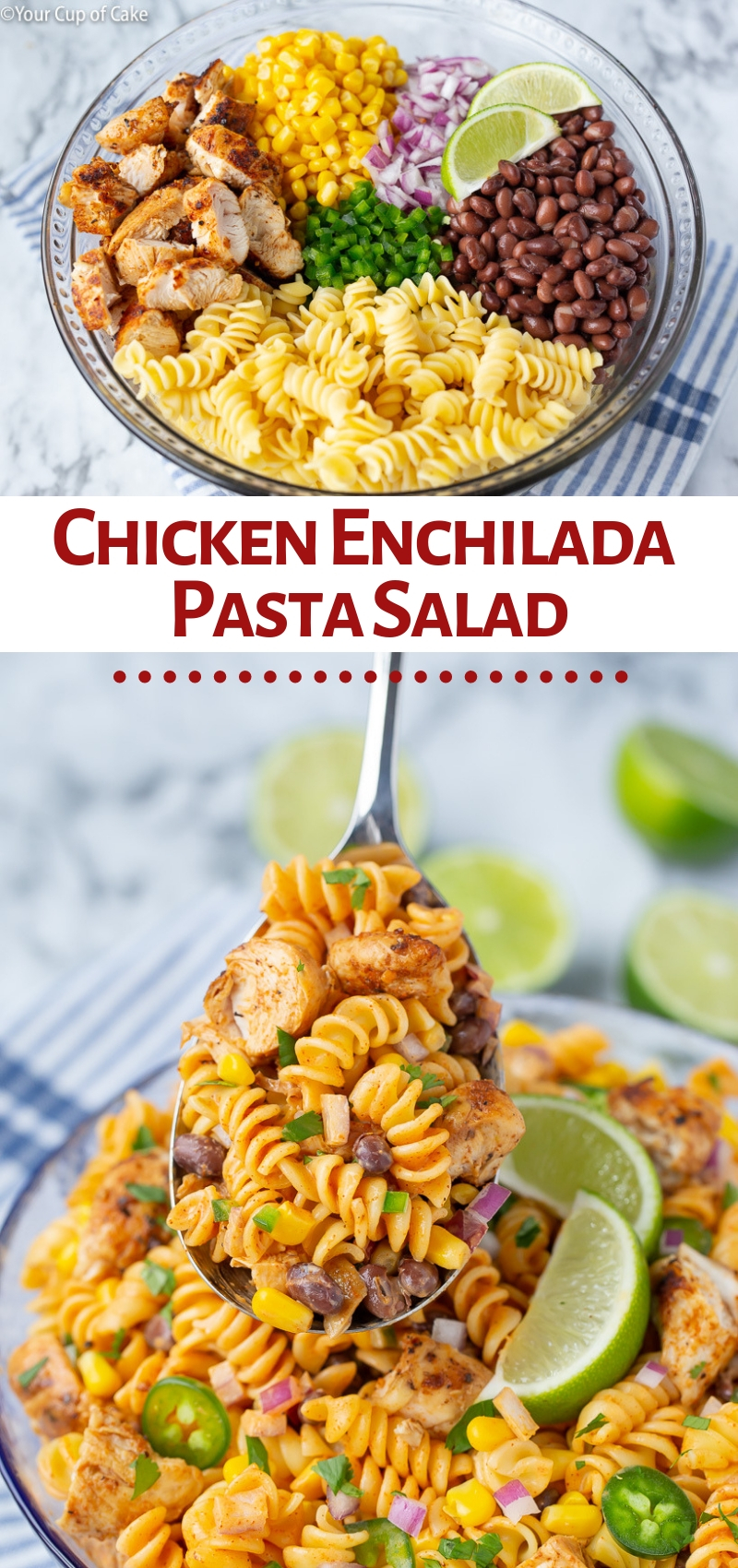 Easy Dinner Recipe Chicken Enchilada Pasta Salad
I have always loved pasta salad. My mother used to make me the most delicious pasta salad when I was a kid and she would package up the leftovers in my lunch. I was not a cool kid, but all the cool kids would beg me for a bite of this pasta salad in the cafeteria! I still make that pasta salad all the time (because it only takes 5 ingredients) and even my husband is in love with it now! This Zesty Chicken Enchilada Pasta Salad takes everything I love about enchiladas and put it into a pasta salad perfect for any potluck or party! Say goodbye to boring pasta salads because this one will have everyone at the party begging for the recipe.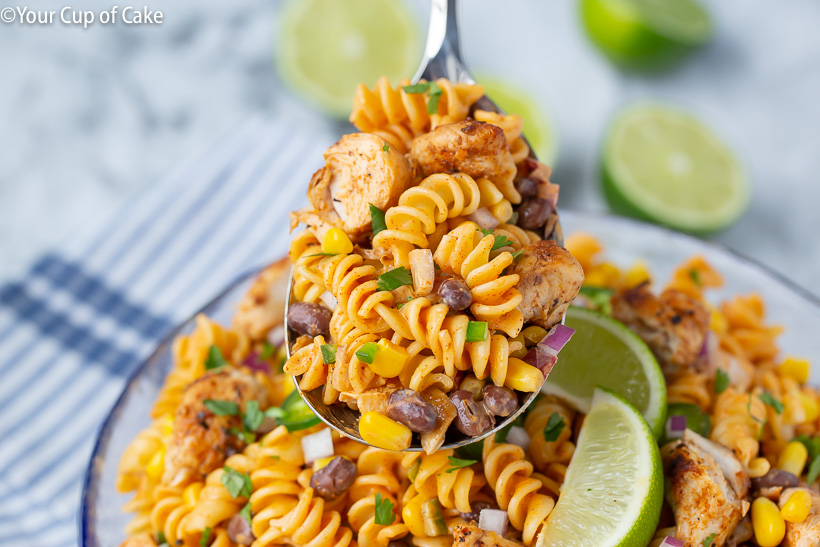 Pasta Salad the Kids will Love
Kids can be picky. So take a meal they like, like Mexican food, and turn it into another meal! You can leave out the jalapeños if your kids are younger or don't like spice and make this with their favorite noodle! Once the pasta has been made and cooled, let them help you in the kitchen! They can add the ingredients to the bowl, stir the sauce and then mix it all together. If they help you make it they will be more inclined to eat it at dinner time. Even have them pick out the type of noodle you use! I used rotini pasta shapes here but elbow noodles are a type my kids also love to eat!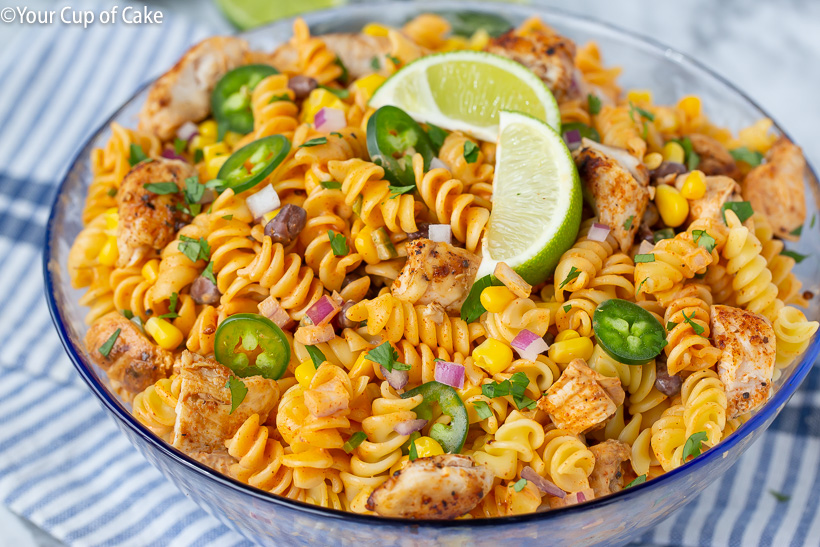 And in goes that creamy enchilada sauce dressing, mmm….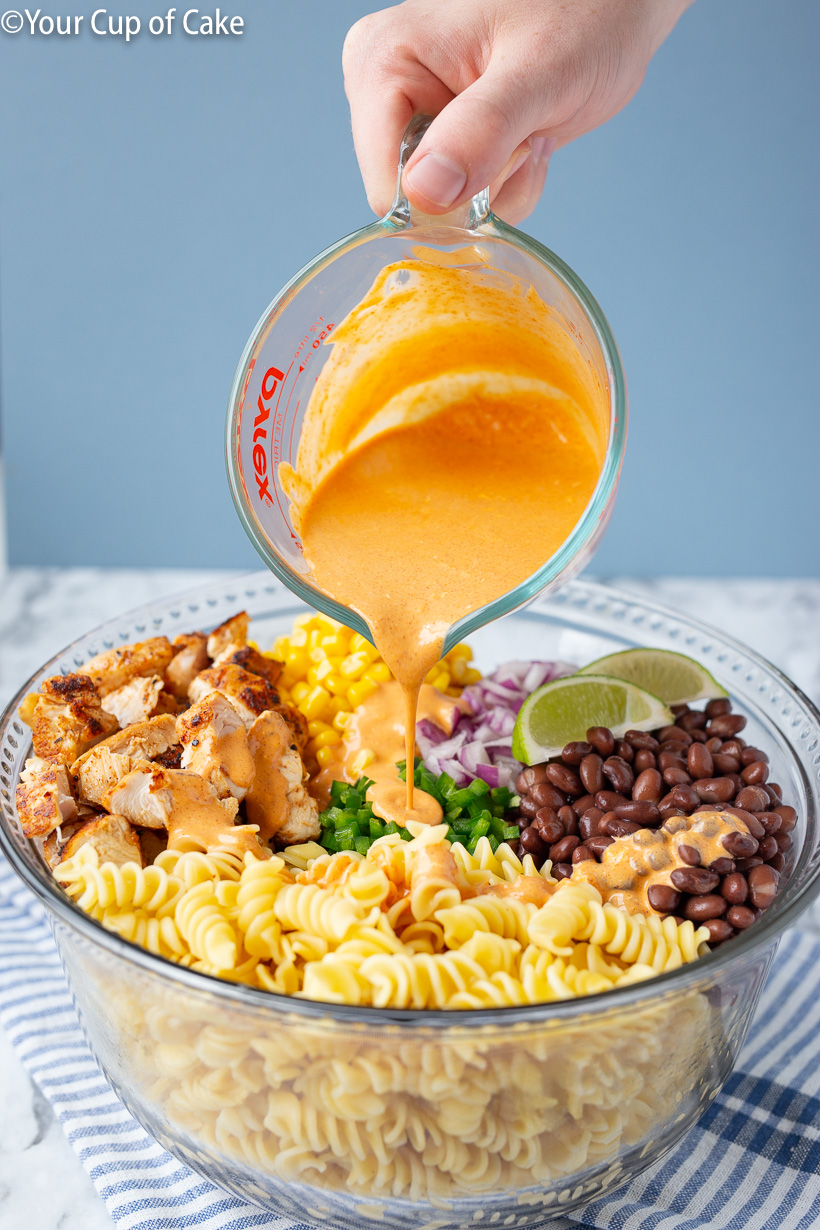 Chicken Enchilada Pasta Salad Recipe
We love to use the red enchilada sauce from Trader Joe's! We use it on our chicken enchiladas, all our Mexican dishes and this pasta salad! If you have a Trader Joe's near by, make sure you give it a shot next time you're there! If you want to kick the spice level up in this Chicken Enchilada Pasta Salad you can always add another jalepeño, green onions, green chiles, or even hot sauce! And if you want to add some shredded cheddar cheese, that would make it taste extra decadent!
Pro Pasta Tip: Always salt your water that the noodles boil and cook in! It will give the noodles extra flavor. How much salt do you add to the water? You want it to taste like the sea! Don't worry, your dish won't taste salty! You'll drain off all that water and the noodles will be left extra flavorful.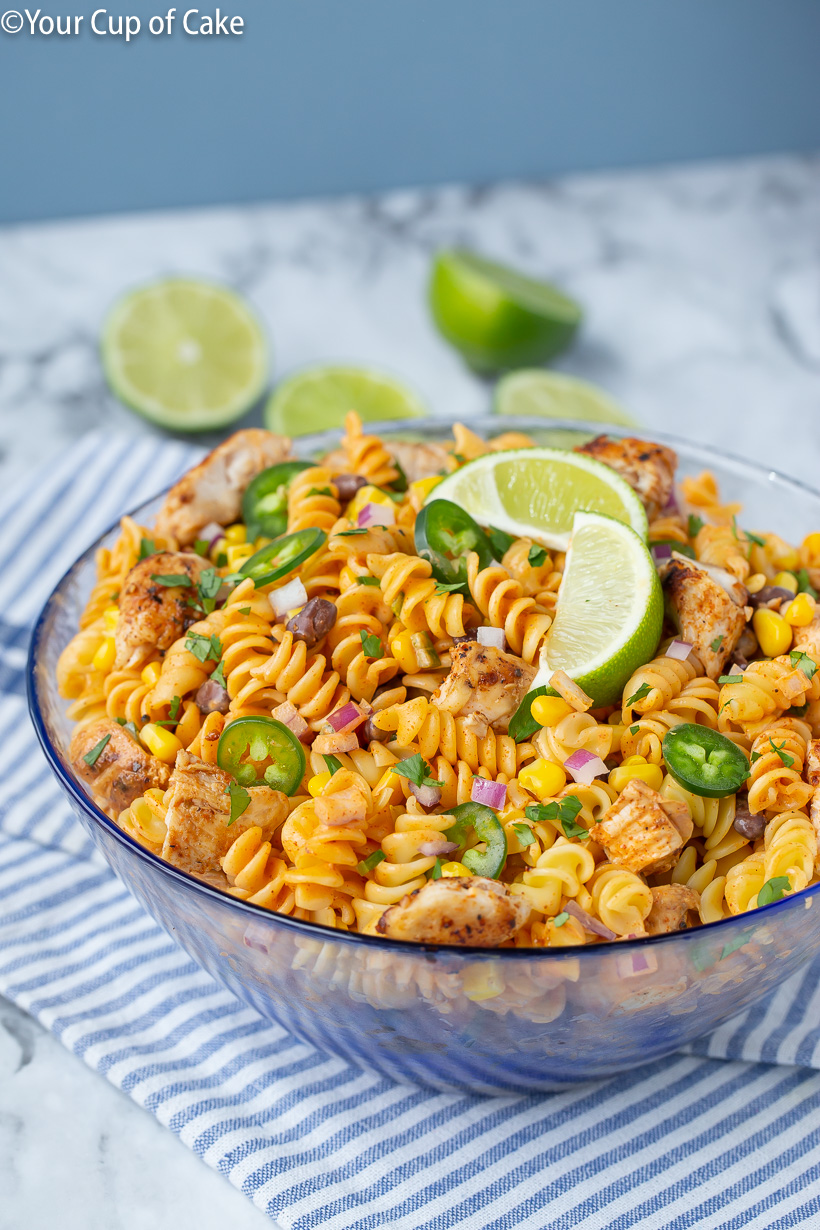 We topped the pasta salad with larger pieces of jalapeño and lime slices to give it a prettier look. But this can be nice as well because people who love jalapeños can get those and people who love extract lime juice (like me) can scoop those up in their serving! The last time I made this I even added chopped tomatoes on top to add a little red pop and a few slices of avocado! Don't be afraid to play around the the recipe to make it exactly how your family prefers it!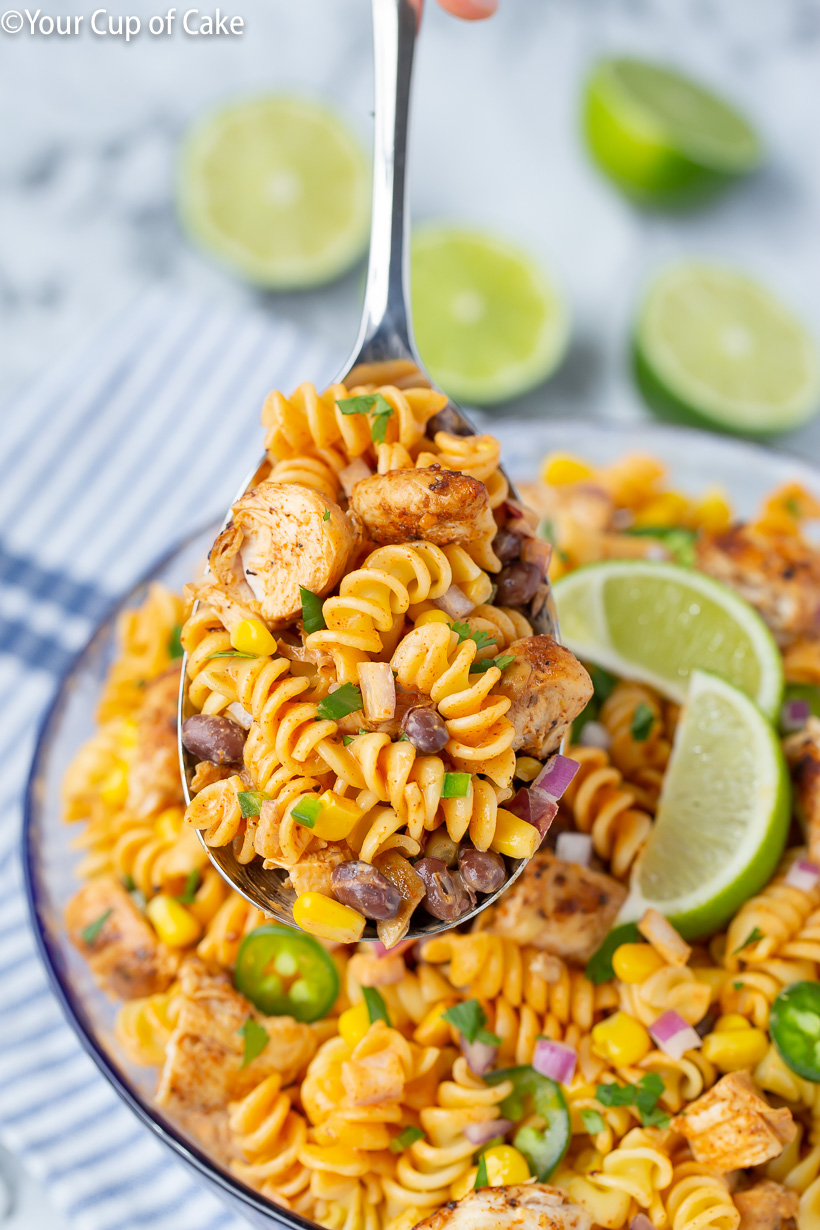 I hope you love my chicken enchilada pasta salad recipe! The instructions are simple and there are so many ways to make this recipe your own! Have a happy and safe summer!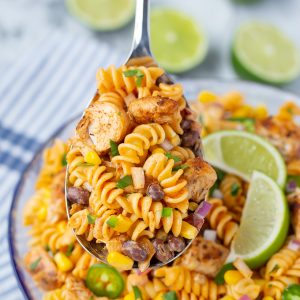 Zesty Chicken Enchilada Pasta Salad
Ingredients
1

lb

chicken breasts

2

tbsp

taco seasoning

2

tbsp

cooking oil

we use olive oil

2/3

cup

red enchilada sauce

1/3

cup

sour cream

1/2

lime

juiced

1

16 oz package

pasta

cooked

1

can

black beans

drained and rinsed

1

can

yellow corn

drained

1/2

cup

red onion

diced

1

jalapeno

finely chopped

1

can

chopped olives

optional

1/4

cup

chopped cilantro

to garnish
Instructions
Remove chicken from packaging, pat dry, and coat with taco seasoning.

In a large non-stick skillet, heat oil over medium-high heat. Once the oil is shimmering add the chicken and cook for 5-7 on each side or until the internal temperature reaches 165 degrees.

Remove the chicken from the pan, let cool for 10 minutes, then chop into 1/2 inch cubes.

In a large bowl add the enchilada sauce, sour cream and lime juice. Whisk together until smooth.

Add the chicken, pasta, beans, corn, red onion, jalapeno, and olives (optional) to the bowl with the sauce and stir until the pasta is evenly coated.

Top with cilantro, refrigerate for an hour until the pasta is cold. Serve.
Make sure to check out all my pasta dishes and pasta salads! The Orzo Pasta Salad is one of my all-time favorites!