Easy banana cake topped with whipping cream and banana pudding mousse, these Banana Cream Pie Cupcakes are fluffy pieces of heaven!

Ultimate Banana Cream Pie Cupcakes
These cupcakes are so easy to make and dangerously delicious! The banana cake batter comes together in about 3 minutes thanks to a yellow cake mix and the topping is crazy simple… just 2 ingredients! Whipping cream and banana instant pudding mix! It's the perfect type of frosting for all those people who say they don't like frosting because it's not too sweet. The whipping cream gets thick when you whip it so you don't need a bunch of powdered sugar to make it stiff. Enjoy my fluffy Banana Cream Pie Cupcakes!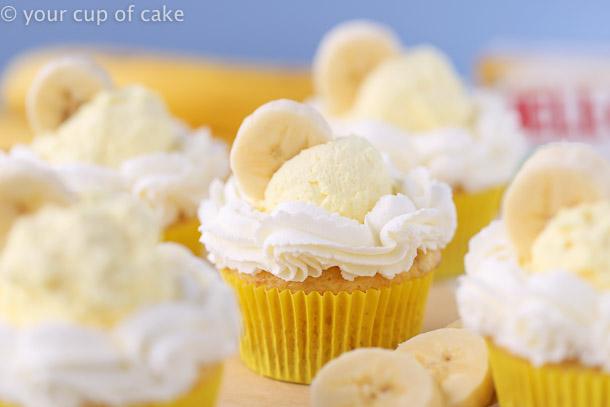 How to Make Banana Cream Pie Cupcakes
Okay! We talked a little about the cake but the whipped cream frosting is the best part! I whipped up some heavy cream using 1 tsp of the banana instant pudding mix to stabilize it (read the next paragraph about that) and then I whipped up the rest of the heavy cream with more instant pudding mix! I used more to really get that banana flavor and to thicken to the texture of a mousse! I piped a little border around the cupcake to make it look like a whipped cream crust and then filling the hole with my banana "mousse filling." Of course I had to top it off with banana slice but a Nilla wafer would also look cute!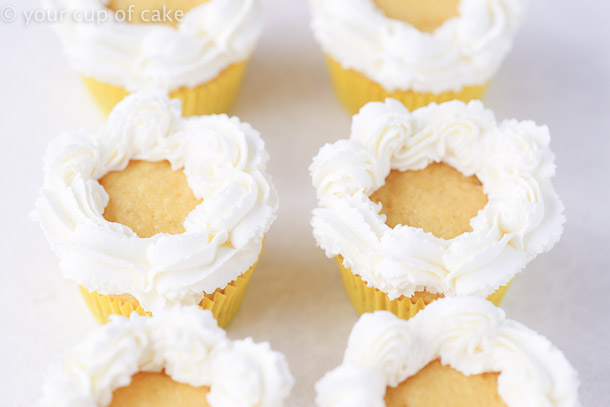 I used one of my food scoops to fill in in the space with a mound of "Banana Mousse" but you can just use a spoon! (I used the purple handle food scoop.)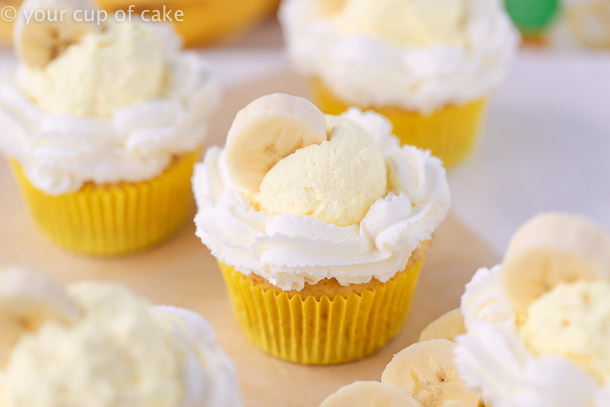 How to Stabilize Whipped Cream With Jell-O
Stabilizing whipped cream is a must! I used to bring angel food cake to friends but by the time I reached their house the whipped cream was melty! I couldn't frost cupcakes with it either unless my house was an ice box and I served them a few minutes later! It was a mess. Most people recommend adding unflavored gelatin to stabilize their whipped cream but I don't have that in my pantry! So I use Jell-O! More specifically, I use instant pudding mixes, usually the white chocolate or cheesecake flavor because they're "white" and wont change the color of the whipped cream. But for these Banana Cream Pie Cupcakes I used banana pudding because I wanted the color and flavor!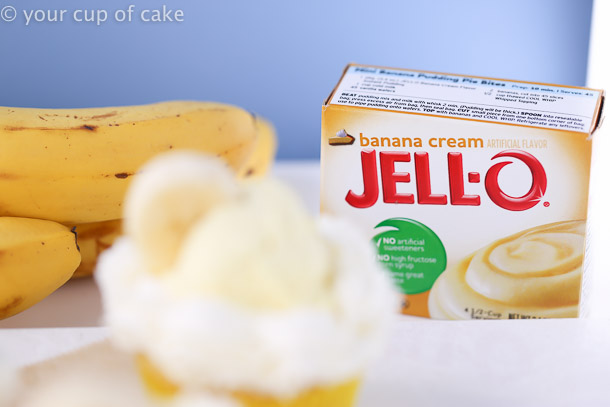 Tips on Stabilizing Whipped Cream with Instant Pudding Mix:
Chose a flavor/color you want. Like I said before, I like using the cheesecake or white chocolate flavors because the don't change the color and flavor goes well.
The more instant pudding mix you add, the thicker your whipped cream will be. For every pint I only add about 1 tsp of instant pudding mix if I want to keep the whipped cream with a similar texture to what it normally is. But for a recipe like these Banana Cream Pie Cupcakes I add more because I wanted a thick banana mousse texture!
Make sure you're using INSTANT pudding mix and not cook and serve!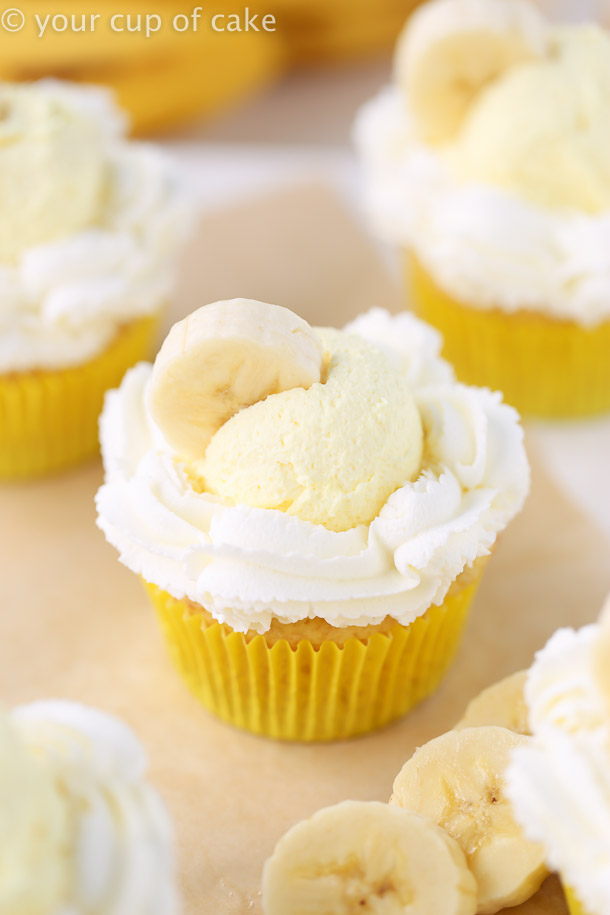 They almost look like flowers from above!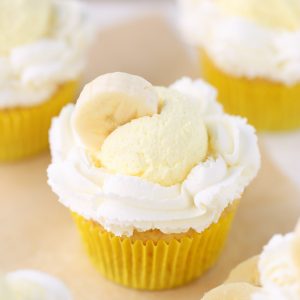 Banana Cream Pie Cupcakes (2 Ingredient Frosting)
Ingredients
EASY BANANA CUPCAKES:

2

medium ripe bananas

mashed

1

box yellow cake mix

I like Pillsbury

3

eggs

1/4

C.

oil

2/3

C.

buttermilk or milk

2

tsp.

vanilla extract

WHIPPED CREAM:

1/2

pint

heavy whipping

1

tsp.

instant banana pudding mix

QUICK BANANA MOUSSE:

1/2

pint

heavy whipping cream

1 1/2

Tbsp.

instant banana pudding mix

3

drops yellow food dye

optional

BANANA SLICES
Instructions
1. Preheat oven to 350 degrees and line pans with cupcake liners.

2. In a large bowl, use a fork to finely mash bananas. Add yellow cake mix, eggs, oil, buttermilk and vanilla extract. Stir until smooth.

3. Fill cupcake liners 3/4 full and bake for 15-18 minutes or until an inserted knife comes out clean.

4. Let cool.

5. Whipped Cream: Use a stand mixer with the whisk attachment or a hand whisk to whip heavy whipping cream and pudding mix until stiff. (You're just adding enough pudding mix to help stabilize it so the whipped cream doesn't start to melt later.)

6. Quick Banana Mousse: Repeat step 5 and add in food coloring if wanted. This will be more thick than the whipped cream above.

7. Pipe a rim of whipping cream around the top of each cooled cupcake and then fill the center with a spoonful of quick banana mousse! Top with a banana slice!