Classic sugar cookies get a Halloween twist! These easy Candy Corn Sugar Cookie Bars are so delicious and perfect to serve a crowd at all those Halloween parties!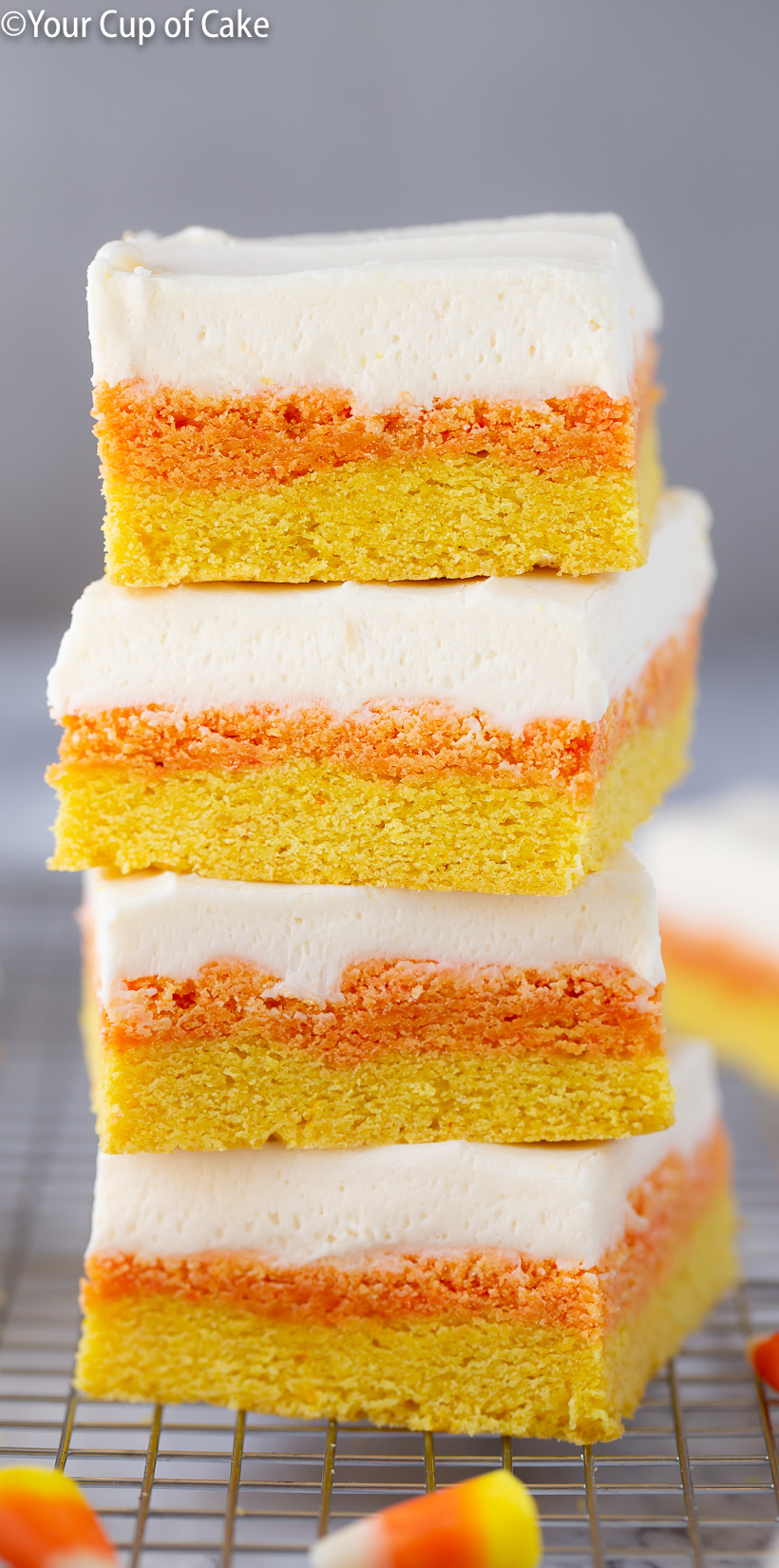 THE BEST Candy Corn Sugar Cookie Bars
Sugar cookie bars are the answer to every party dessert debacle. Everyone love them so you really can't go wrong. Dress them up with sprinkles to fit the holiday or use food dye to match team colors. This recipe is so easy to customize, you need it in your go-to recipe box! I wanted to make these last year but the holidays seem to get away from me so quickly. I LOVED how they turned out! This recipe always cuts like a dream, which comes is great because I wanted my colored layers to really POP! These Candy Corn Sugar Cookie Bars will be coming with me to every Halloween party this year!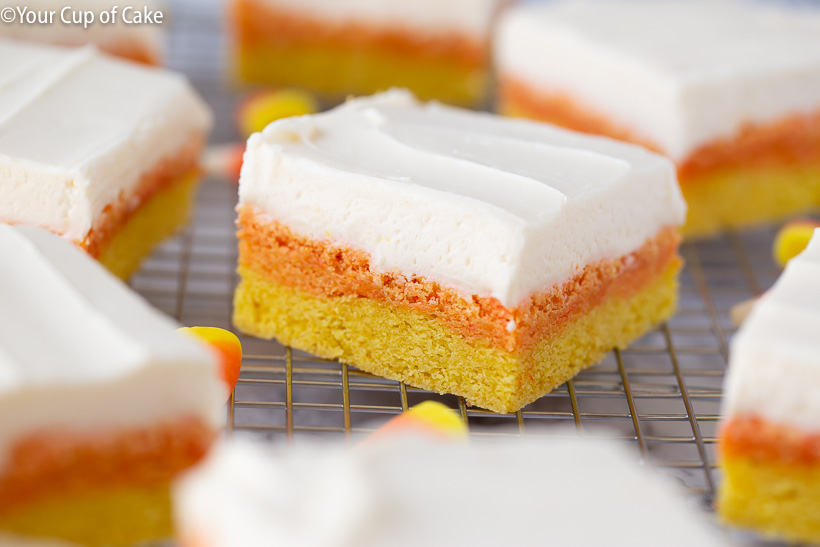 How to Make Halloween Sugar Cookie Bars
Halloween is coming! I really do love the holiday with all the excitement around picking out costumes and dressing up. And I LOVE all the desserts! Some of my most popular recipes on this blog are Halloween recipes! Like my Frankenstein Cupcakes! Make sure you check out all my Halloween Recipes! But on to these Candy Corn Sugar Cookie Bars! The only "tricky" part to this recipe is layering the two colors of sugar cookie dough. The layers are pretty thin. But if you take small amounts of dough in your hand and flatten them out first, then you can lay them down and sort of patch them together.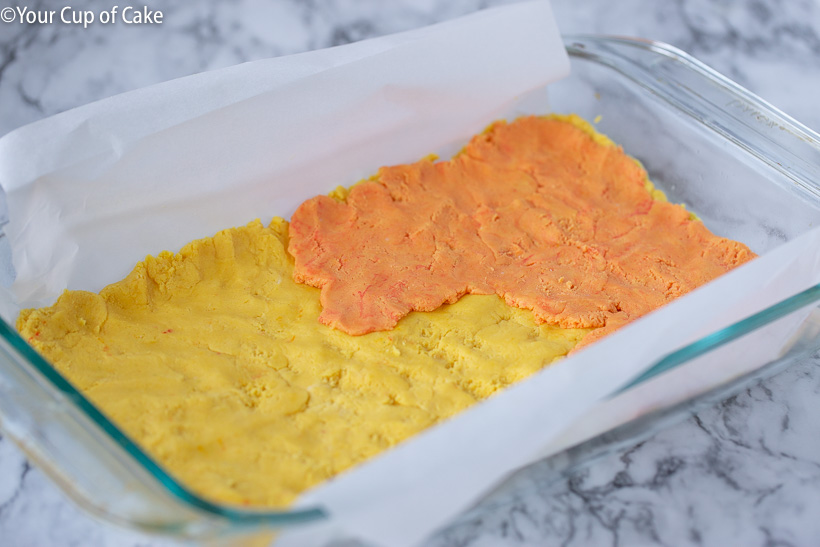 Feed a Crowd for Halloween
If you haven't made any bar cookie recipes you're missing out! I love cookies, but it takes a lot of time making all the dough balls and having pans come in and out of the oven! Even with my favorite cookie scoop it takes a while! But when I make bar cookies, it's just one pan into the oven and done! This recipe makes 24 BIG slices, but when I cut them to serve I cut 48 pieces. That's right, this pan serves 48 people!! And the candy corn colored layers are just TOO CUTE!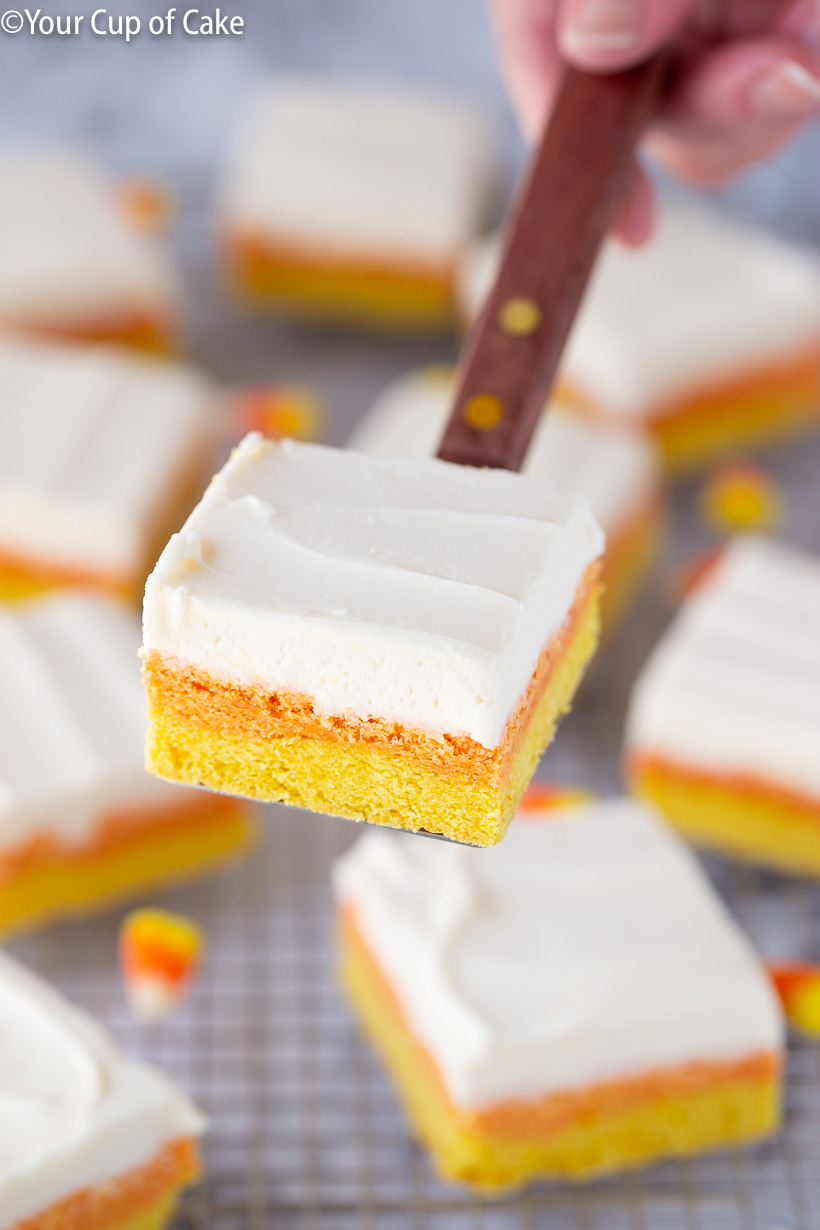 Halloween Party Dessert
There are so many fun Halloween parties to go to every year! Spend your time fine tuning your costume and let these easy Candy Corn Sugar Cookie Bars be stress free! There's no intense decorating or fancy ingredients involved. Just a fun Halloween twist on a classic dessert that everyone loves! If it ain't broke, don't fix it!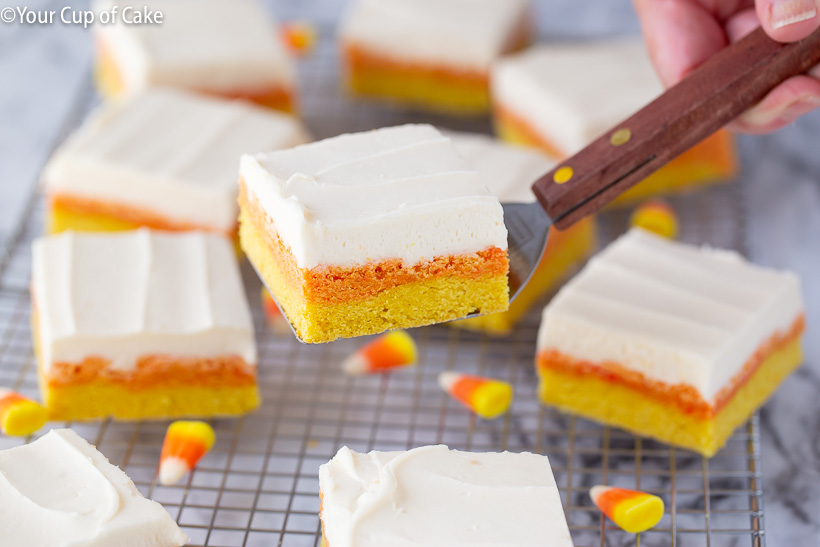 This recipe doesn't actually have candy corn in it, it's just inspired by the layers of colors! If you're a fan of the candy you can always top each slice with candy corn or sprinkle them all over it!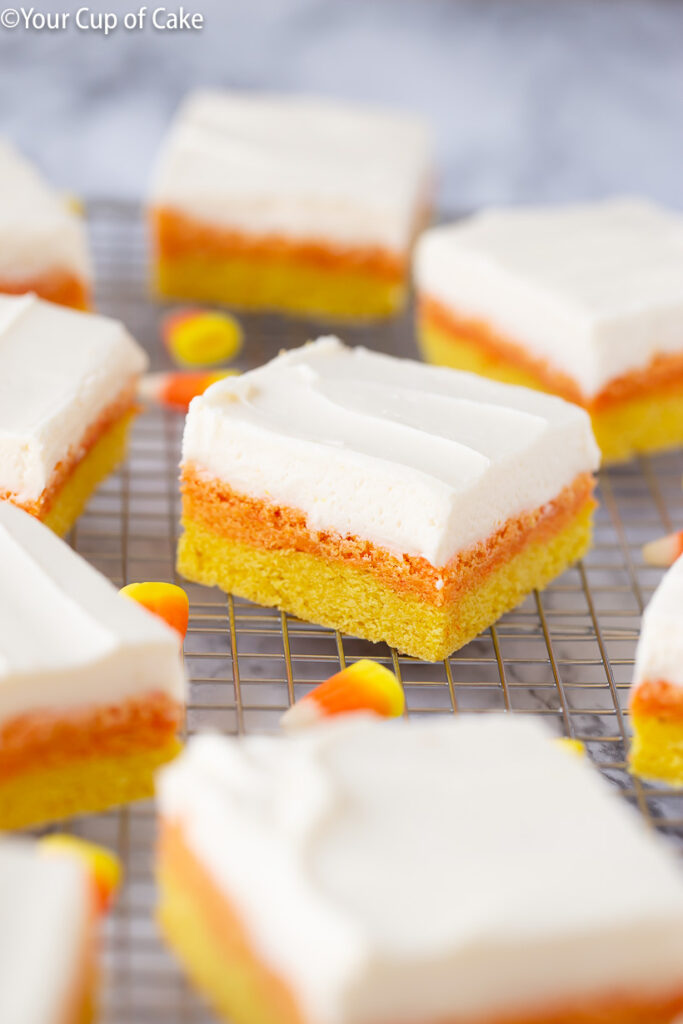 Mmm… I need another slice of these Halloween Sugar Cookie Bars right now! They're just so good!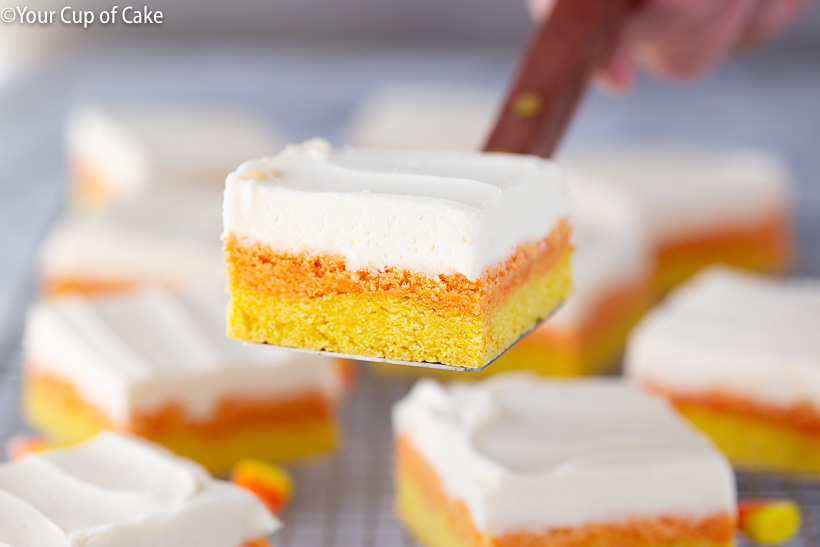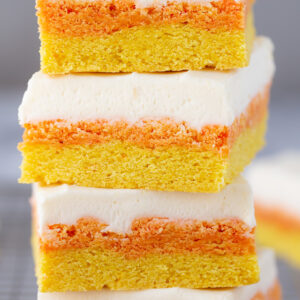 Candy Corn Sugar Cookie Bars
Classic sugar cookies get a Halloween twist! These easy Candy Corn Sugar Cookie Bars are so delicious and perfect to serve a crowd at all those Halloween parties!
Ingredients
Sugar Cookie Bars
1

cup

butter

unsalted room temperature

1

cup

sugar

1

egg

room temperature

1

egg yolk

room temperature

1 1/2

tsp.

vanilla extract

1

tsp.

almond extract

3

cups

flour all purpose

1

tsp.

baking powder

1/4

tsp.

baking soda

1/2

tsp.

salt

yellow food dye

orange food dye

or yellow and red combined
Frosting
3/4

cup

butter

unsalted room temperature

2

tsp.

vanilla extract

2-3

cups

powdered sugar
Instructions
Preheat oven to 350 degrees and line a 9X13 inch casserole dish with parchment paper and lightly grease the sides of the pan. (I use parchment paper to easily lift my cookie bars out after they have cooled.)

Using a stand mixer, beat butter and sugar for 3 minutes. Scrape down the sides of the bowl as needed.

Add egg, egg yolk, vanilla and almond extract. Mix again. (To get room temperature eggs fast, place eggs in a bowl of warm-hot water for a few minutes.)

In a separate bowl whisk together flour, baking powder, baking soda and salt.

Slowly add in dry ingredients to wet and mix only until combined. Take out half of the mixture and dye one half yellow and one half orange. Press the yellow sough into the prepared pan and then press the orange mixture on top of it. See my notes below for tips.

Bake for 18-22 minutes. The edges will just barely start to turn golden but it's a little tricky to tell when it's dyed, then take them out and place the pan on a cooking rack!

FROSTING: Beat butter, vanilla and 2 cups powdered sugar. Continue to add powdered sugar until you like the sweetness level, the frosting should still be soft enough to easily spread on your bars with a knife. If it gets too thick, add 1 or 2 tablespoons of milk!

Once your bars have cooled, lift up on the parchment paper to remove the entire thing from the pan. Frost and then cut into bars! You can cut into triangles like candy corn or leave as squares!
Recipe Notes
I dyed my entire dough yellow, then removed half and added drops of red to the remaining to make it orange. One less dirty bowl!
To layer the two colors into the pan, it works best if you take pieces of dough and flatten them in your hands first. Then lay them into the pan and piece them together!