Turn regular rice krispies into spooky monsters PERFECT for Halloween! These easy Frankenstein Rice Krispie Treats will be the hit of every party!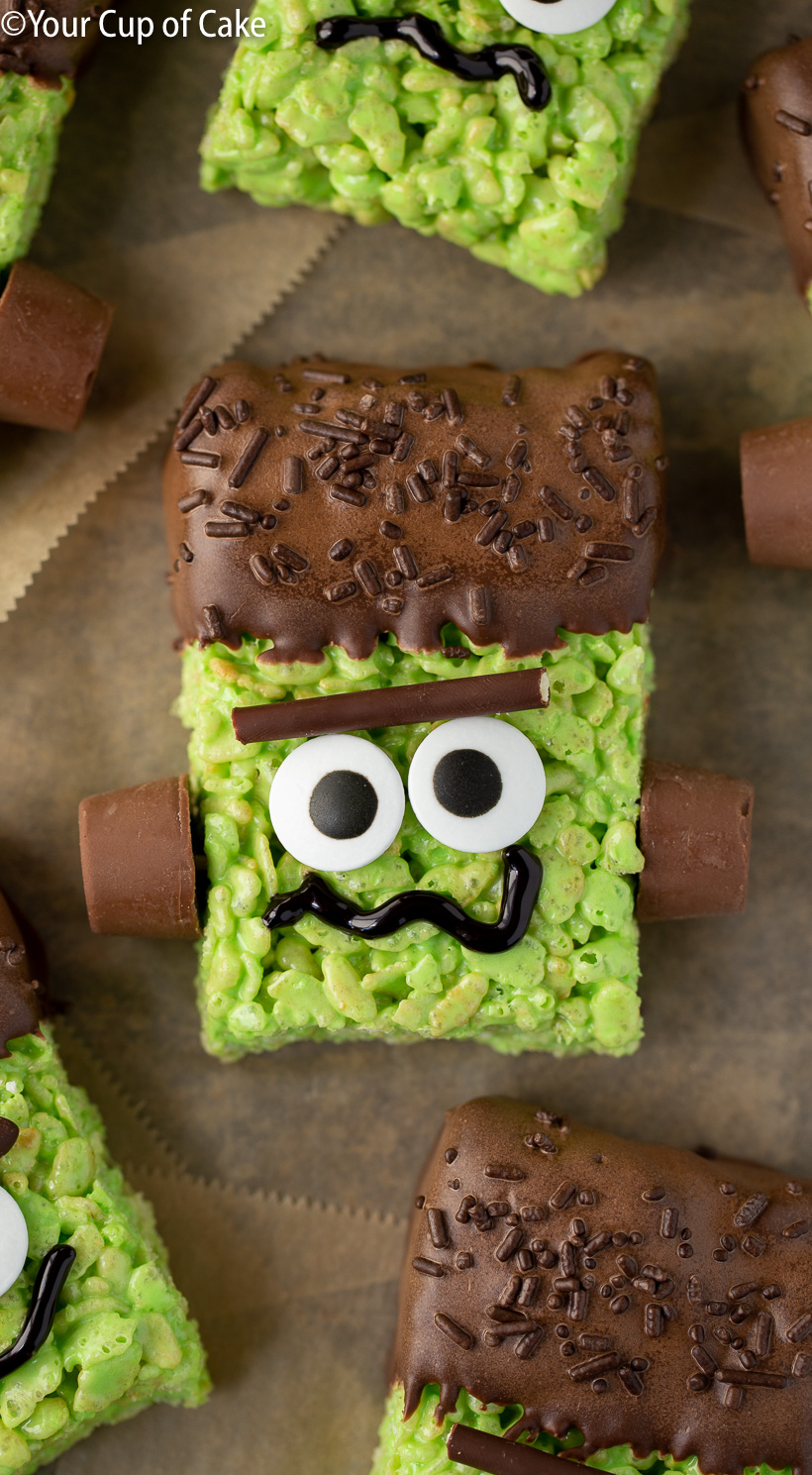 Frankenstein Rice Krispies
I am always a big fan of super easy yet super cute dessert ideas for the holidays! I have so many fun Halloween treats like skeleton cupcakes and black cat cupcakes or even using muddy buddies to look like a graveyard! So if you're in need of ideas, I have got them all! But back to these super fun Frankenstein Rice Krispie Treats! If you can make rice krispies, you can feel confident about making these! I used a few simple candies I bought from the grocery store to make these treats "COME ALIIIIIVE" and wow are they cute!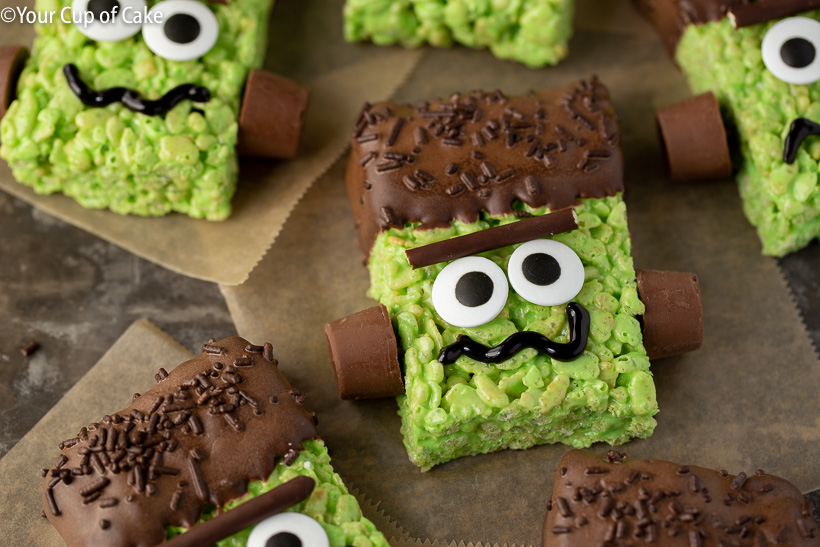 Easy Halloween Treat
What makes these so easy? Well, they're just glorified rice krispies! Add some food dye and you're all set. Plus, I bought everything I needed from my local grocery store, nothing was from a specialty store! Nothing is more frustrating than having to hunt down an ingredient all around town to make a treat! So let me walk you through, step by step how I made these cute Halloween treats! After you make your rice krispies and let them cool, you'll need to cut them and dip each piece into melted chocolate. I used "Melts" or little chocolate melting wafers meant for candy dipping (Winco is my grocery store and they sell them in the bulk bins). Walmart and other stores also have bags of these! BUT you can just use melted chocolate chips with some oil! The more oil you use the longer it will take them to firm up! You can also speed up the setting process by using the fridge after you dip!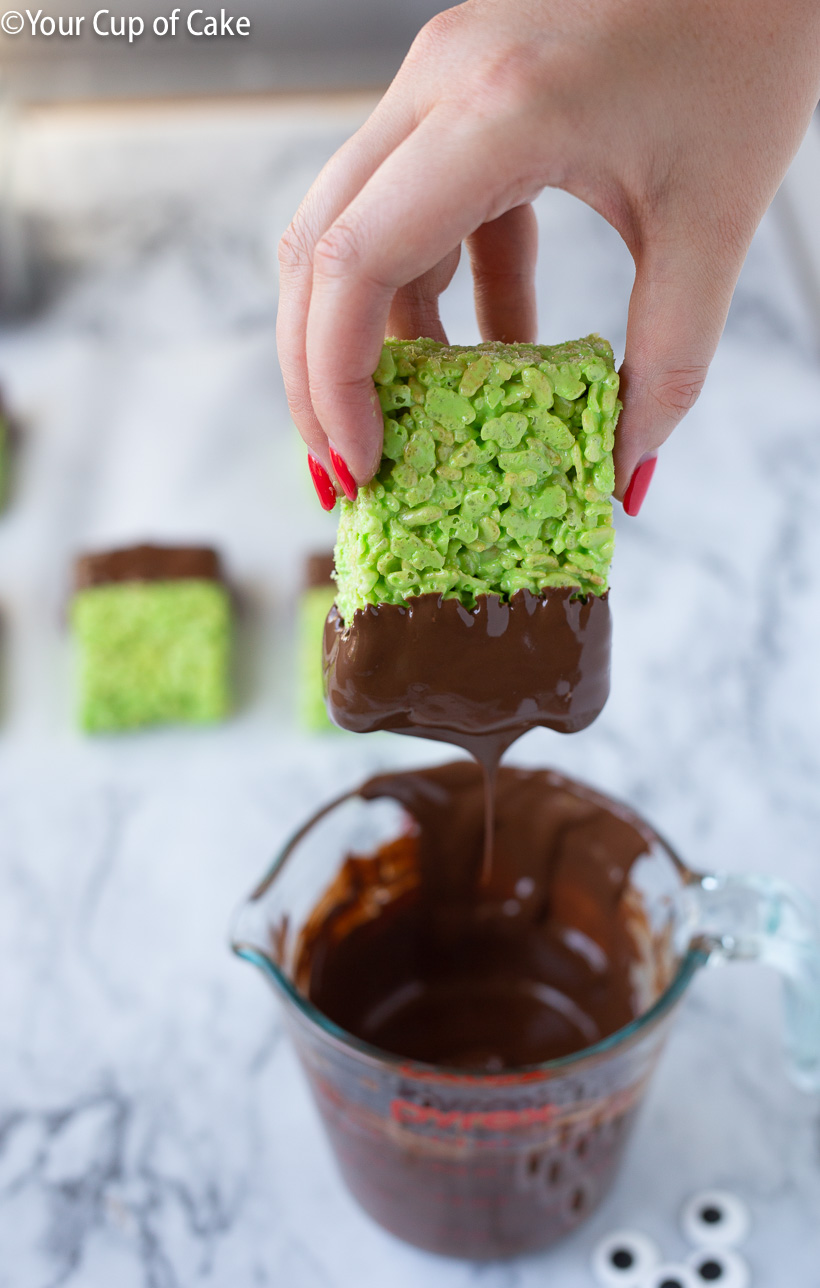 How to make Frankenstein Rice Krispies
Next, add chocolate sprinkles for extra flair and then place your candy eyes. You can find candy eyes in the baking aisle! I used the big eyes but you can use small ones too! I sometimes make my own candy eyes for treats! Use a little of the melted chocolate to "glue" on your eyes and the other upcoming pieces. I love putting on the eyes because they really start to come alive!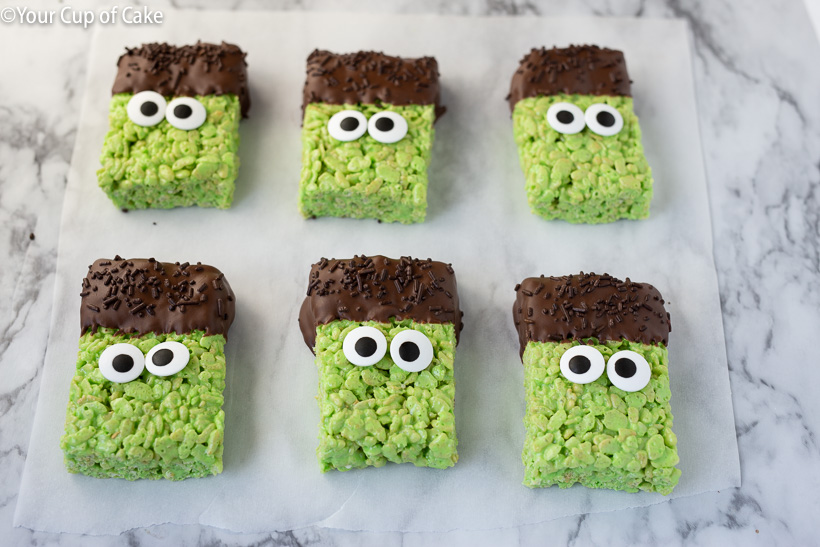 After the eyes it's time for the "bolts," eyebrows and mouths! I used Pocky sticks to make the brows, these are at every grocery store I've been to. They're usually in the Asian aisle! And I picked up this black gel for the mouths in the baking aisle.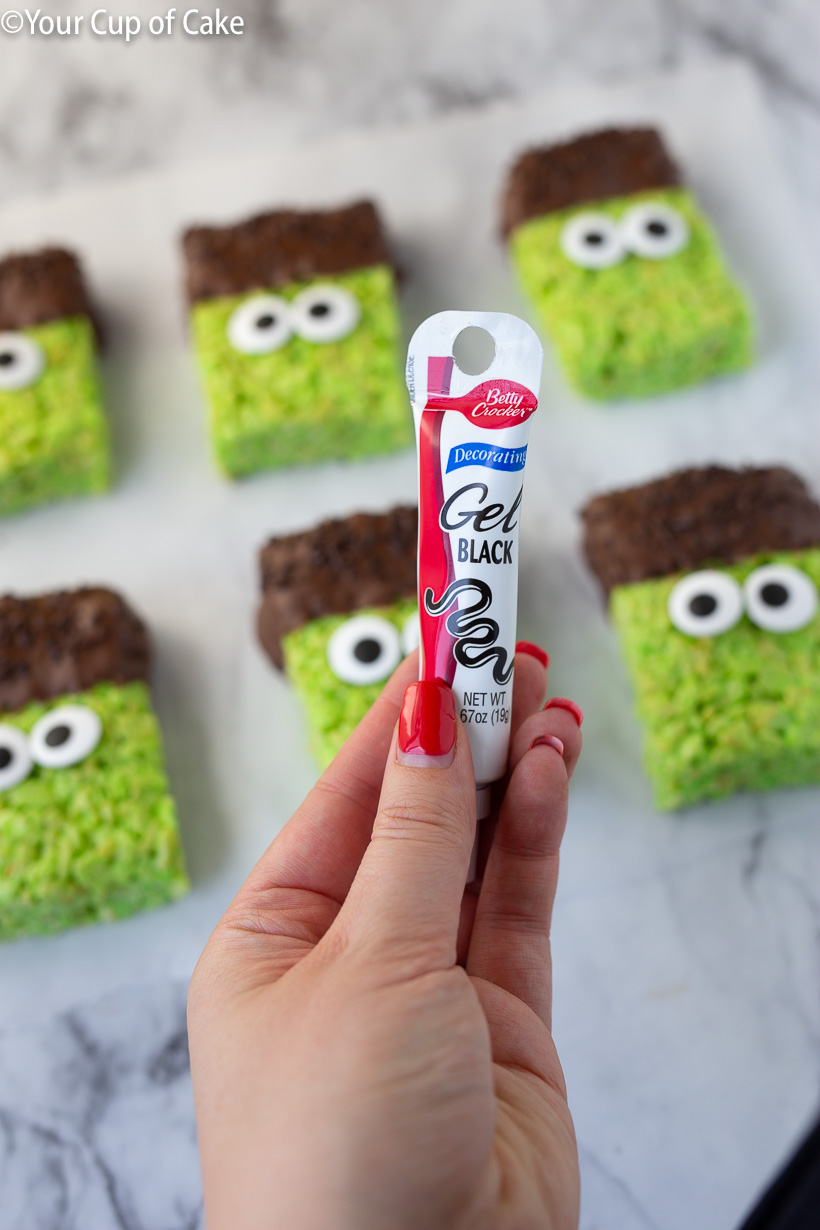 These Frankenstein Rice Krispies look very cute even without the rolo "bolts" so if you're looking for a way to simplify these, that's something you could do without!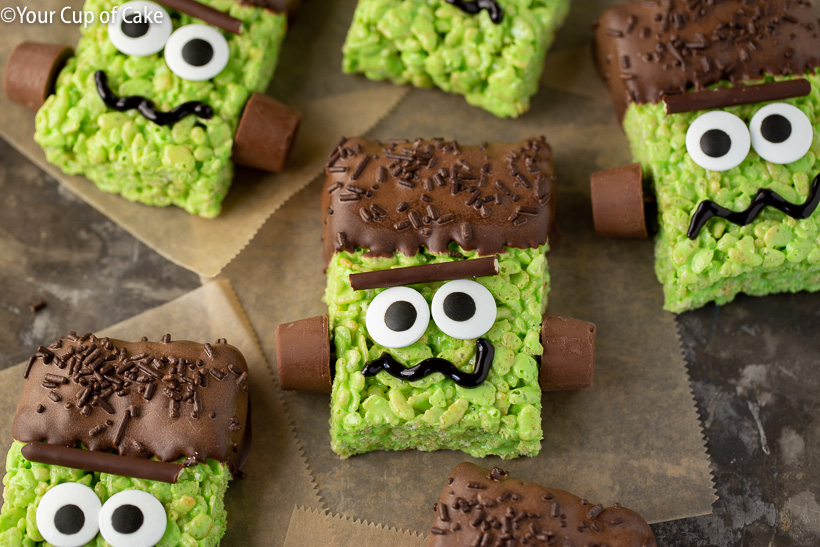 Halloween Dessert Idea for Kids
I hope you love these Frankenstein Rice Krispie Treats as much as I do! They are so perfect for all your upcoming Halloween parties or even just decorating with the kids to get in the Halloween spirit! I love that each little Frankenstein has it's own personality depending on how the eyes are placed, the brown and the squiggly mouth!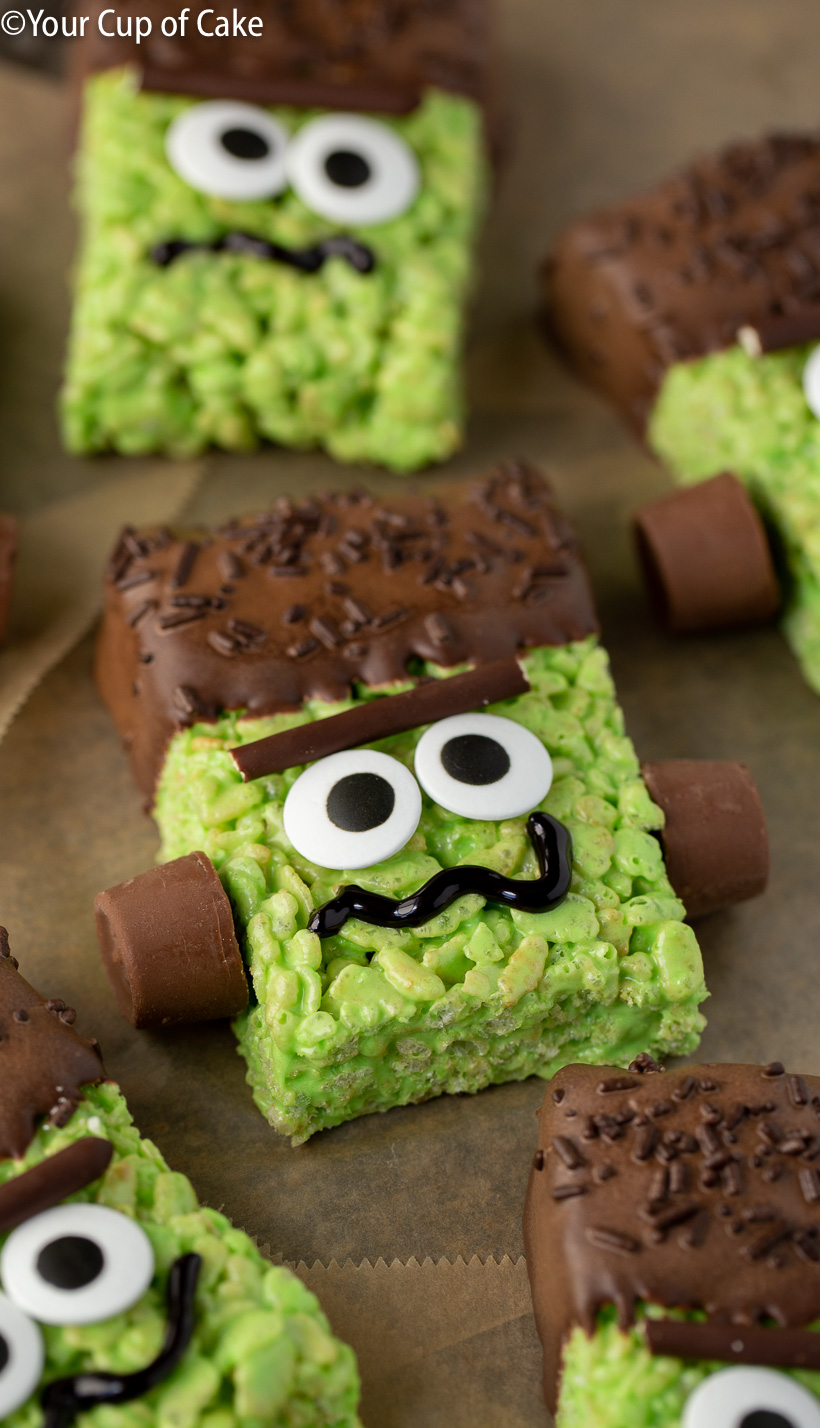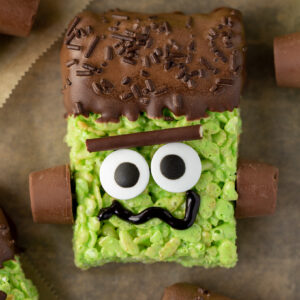 Frankenstein Rice Krispie Treats
Turn regular rice krispies into spooky monsters PERFECT for Halloween! These easy Frankenstein Rice Krispie Treats will be the hit of every party!
Ingredients
3/4

cup

butter

unsalted

2 10-

oz

bags

mini marshmallows

1/2

tsp.

vanilla extract

green food dye

9-10

cups

rice krispies

1/2

cup

melted chocolate

[HAIR]

chocolate sprinkles

optional

candy eyes

Pocky sticks

usually in the Asian aisle at the grocery store (see photo above of packaging) [EYEBROWS]

black food gel

see photo above [MOUTH]

rolos or mini peanut butter cups

[BOLTS]
Instructions
Prepare a large casserole dish by greasing it and/or lining it with parchment paper.

Place butter and marshmallows in a large microwave proof bowl and microwave for 1 minute. Continue to microwave until marshmallows have expanded to double their size. Remove and stir. Microwave longer if needed and continue to stir until smooth.

Add vanilla extract and as much green dye as needed to get the color your want for your Frankensteins.

Add rice krispies and stir. Pour into prepared pan and press flat using a buttered piece of parchment or your hands. Let cool.

Cut into small rectangles.

Dip the tops into melted chocolate (you can use candy Melts for this for chocolate chips with a little oithen palce on a piece of parchment to set. You can put them in the fridge to speed up the cooling. Add chocolate sprinkles if you want!

Place on candy eyes (I used some melted chocolate as "glue" for everything), Pocky stick unibrows and rolos! Last, draw on mouths using your black food gel.
Recipe Notes
You can melt your butter and marshmallows over the stove OR in the microwave, I always prefer using the microwave because it's easier and faster for me.