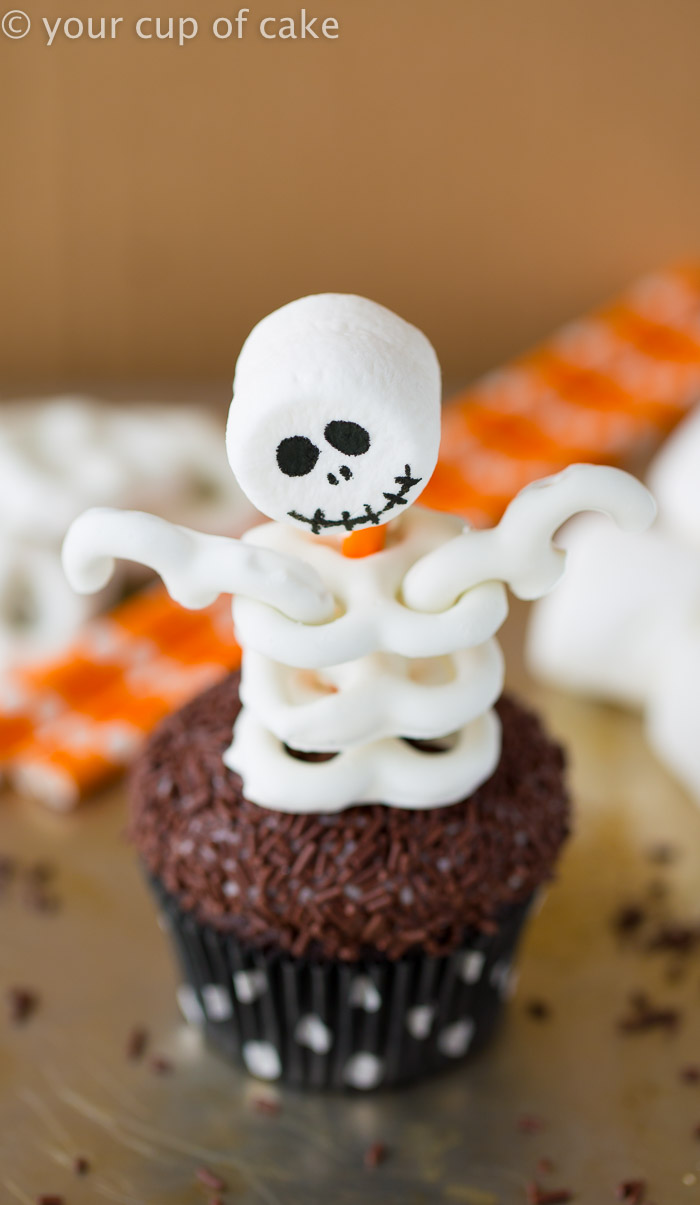 Skeleton Cupcakes made with marshmallows, yogurt covered pretzels and straws– so fun and easy! I have a ton of Halloween recipes just waiting for all of you, I hope you're ready for lots of Frankensteins and spooky treats!
And don't forget about my Reese's Frankenstein Cupcakes or Monster Whoopie Pies from Halloweens past!
And don't forget to enter my KITCHENAID GIVEAWAY that's going on right now! (It will be at the bottom of that doughnut post!)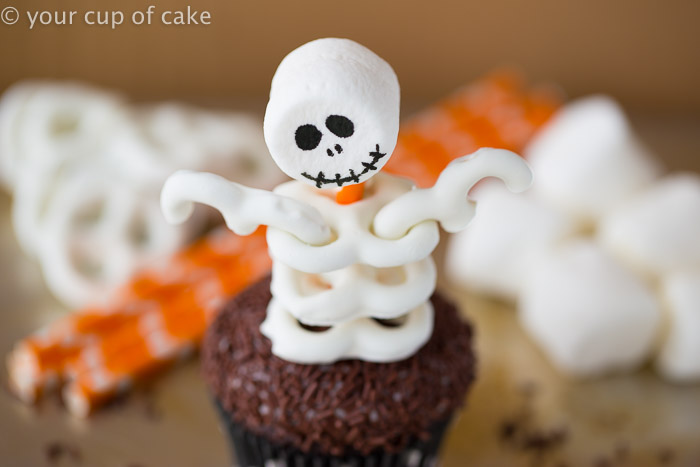 I can't take credit for this fun idea, I've seen it a few places online but I'm not sure where it came from originally. I finished up a few baking projects and I wanted to give this one a shot last minute, so I'm sorry I don't have any process shots for you! The trickiest part is using the melted almond bark (or white Melts) to secure the pretzels to the straw and it wasn't even that tough. Just put a generous dot of melted chocolate on the straw and then slide the pretzel over and onto it! This also gave me a good excuse to finally buy some edible markers! I got mine at Michael's and used a 40% coupon so the pack of 4 were only a few bucks and they are so much fun! The next birthday cake I have to make I'm going to write on marshmallows and put them into the frosting 🙂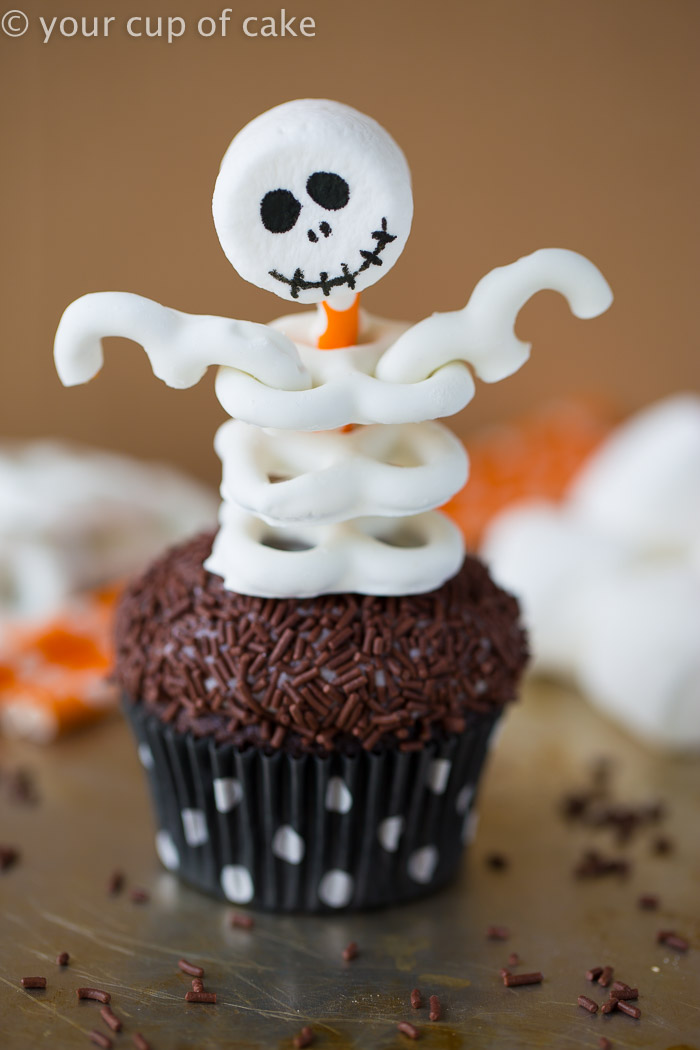 The cute greaseproof liners and straws came from Sweets & Treats!
I'm going to make some easy pumpkin cupcakes soon too! Can't wait!
My Frankenstein Cupcakes are so cute!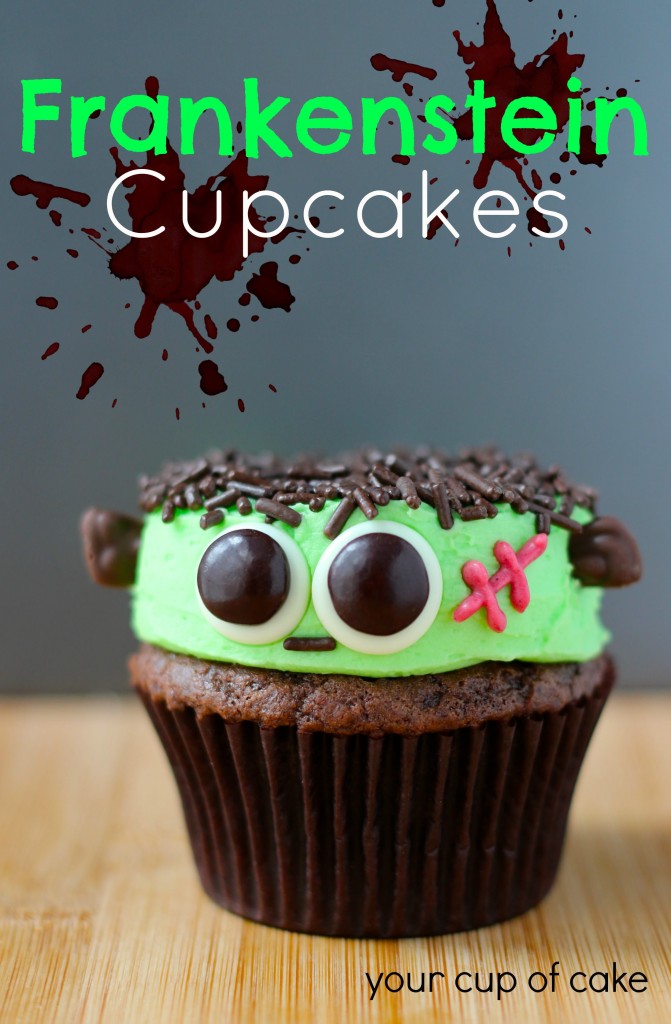 Wicked Witch Cupcakes using straws and paper!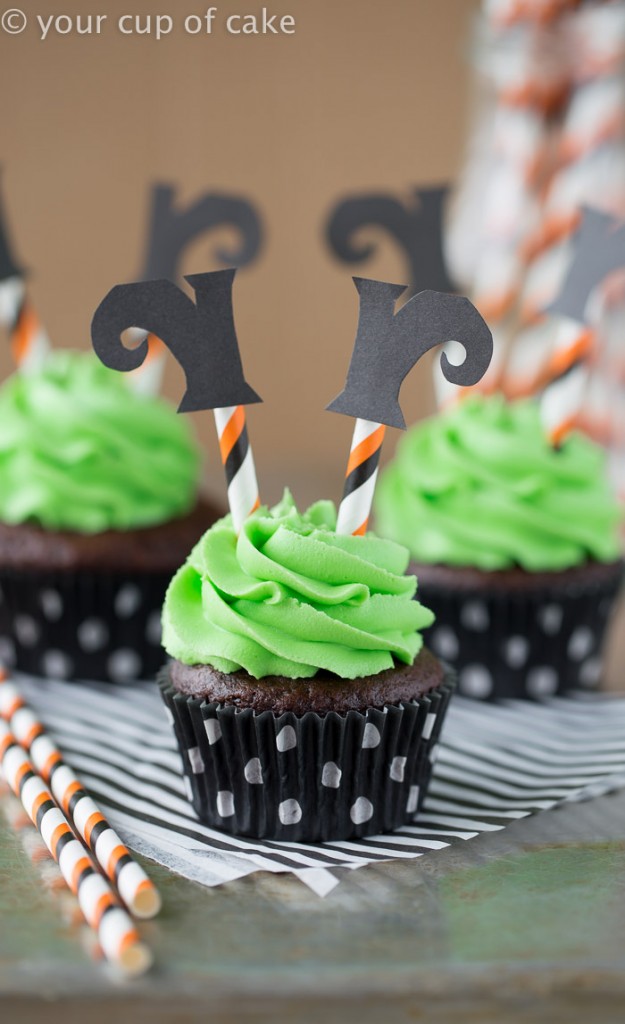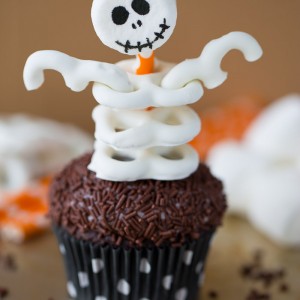 Skeleton Cupcakes
Ingredients
CHOCOLATE CUPCAKES:

1

box devil's food cake mix

3

eggs

1/2

C.

oil

1

C.

sour cream

1/2

C.

milk

2

tsp

vanilla extract

FROSTING:

1/2

C.

butter

softened

8

oz.

cream cheese

or another 1/2 C. butter

2

tsp.

vanilla extract

3-4

C.

powdered sugar

FOR SKELETONS:

sprinkles

straws or dowels

white almond bark

yogurt covered pretzels

large marshmallows

edible marker

bought mine at Michael's
Instructions
1. Preheat oven to 350 degrees and line pans with cupcake liners.

2. Sift cake mix into a large bowl to remove any lumps and add the remaining cake ingredients. Stir until smooth.

3. Fill cupcake liners 3/4 full and bake for 15-20 minutes or until an inserted knife comes out clean. Let cool.

4. Frosting: Beat butter and cream cheese until smooth. Add vanilla extract and slowly add in powdered sugar until you reach your desired consistency.

5. Roll frosting in sprinkles.

6. To make skeletons cut your straws or dowels into about 4-inch pieces. Melt a few squares on your almond bark, you'll use this as glue. Put a dollop of melted almond bark onto the straw near the upper half and thread a pretzel onto the straw and into the dollop of melted chocolate. Do this with two other pretzels to make your ribcage. (Holding the straw on each side and letting pretzels hang down, I could rest my ribcage on the table to let set. I hope that makes sense...) Use your edible marker to draw on your skeleton face, then push it onto the top of the straw. Push the whole straw into your cupcake. Break two pretzels to make your arms and wiggle them into the top pretzel! You can secure them with more almond bark if you need to!