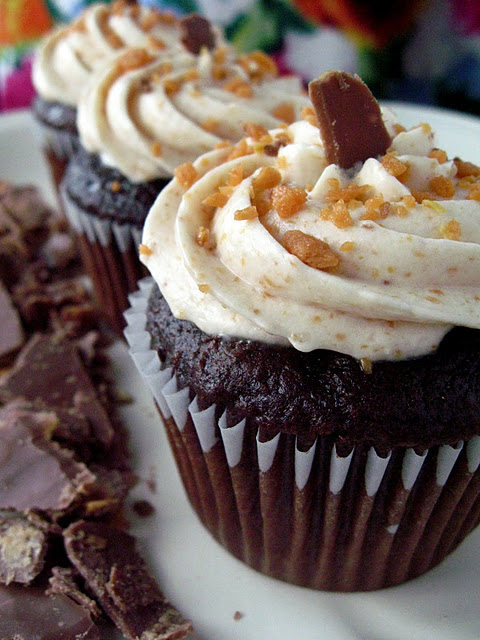 The Story:
Going to Dairy Queen was a huge treat as a child. My father would always get a chocolate dipped cone and take a huge bite out of it with his teeth and I would stare in amazement than his teeth didn't freeze and fall off. My brothers would get blizzards and end up poking each other and yelling "copy cat" as they decided their flavors. And I would always get the Peanut Buster Parfait and end up with chocolate all over my face. I was 8 and I would eat the entire thing and still try to steal a taste of my brother's blizzard.
I don't go to Dairy Queen much any more, and it's been years since I have had a Peat Buster Parfait. But when I go, I always go for the Butterfinger Blizzard.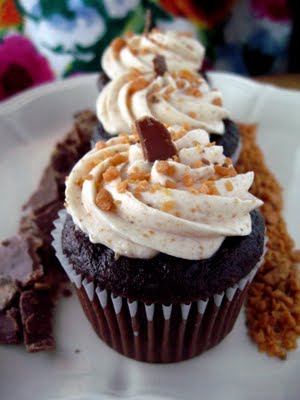 1/3 cup plus 1 tablespoon evaporated milk
1 teaspoon vanilla extract
½ can sweetened condensed milk
Caramel Sauce (homemade recipe above or store bought)
1 ½- 2 ½ cups powdered sugar
Directions:
1.
Preheat oven to 350 degrees and line muffins tins with cupcake liners.
2.
If not using store bought caramel, make caramel by heating the butter, brown sugar, water and salt and let boil for 3-5 minutes while stirring constantly. Remove from heat, pour into evaporated and stir in vanilla. Set aside.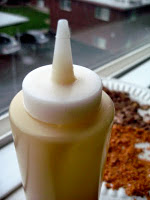 3.
Cake: Lightly beat eggs, water, milk, and oil together. Stir in vanilla and sour cream and cake mix.
4.
Fill cupcake liners ¾ full and bake for 13-18 minute or until a knife comes out clean.
5.
While cupcakes are in the oven, mix sweetened condense milk and caramel sauce together. Pour into a squeeze bottle with a small tip if available.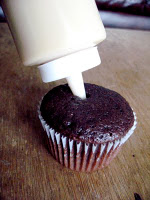 6.
While cupcake are still hot, fill with condensed milk/caramel mixture by pushing the tip of the squeeze bottle into them (I put several holes in the top of mine. It can look ugly because you will cover it up later). Or use a knife to cute out a shallow hole at the top of each cupcake and spoon mixture into the hole.
7.
Keep cupcakes in airtight containers until ready to decorate.
8.
Butterfinger Buttercream: Here comes the tricky part… Unwrap the Butterfingers and do your best to shave off the chocolate layer. Take the orange middles and crush in a bowl on in a plastic bag. Sift as much of the candy as possible. You want to get about ½ cup of orange Butterfinger powder.
9.
Beat butter and cream cheese for 5 minutes. Add as much powdered sugar as desired and milk. Add the sifted Butterfinger and beat well.
10.
Pipe onto cooled cupcakes and use the chocolate shavings and the parts that were too big to sift to decorate.