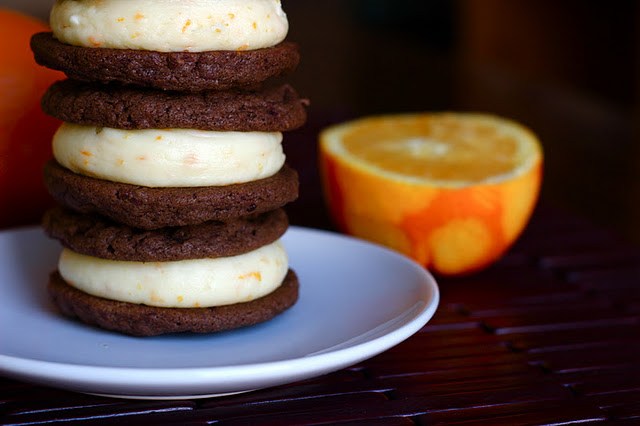 First of all… please go to Whitney Lewis' Facebook page and "like" my photo shoot idea (#2-by Lizzy) so that I can win a free photo shoot! She is an amazing photographer and I would love to work with her! All you have to do is "like" the comment, and the most likes win!!!
The Story:
Peppermint has taken over this holiday season. I am officially rebelling! Does anyone else always get one of those chocolate oranges in their stocking? You know, the ones you have to whack real awkwardly on the table or floor and hope you are strong enough to separate all the pieces? Well, you don't have to whack these cookies J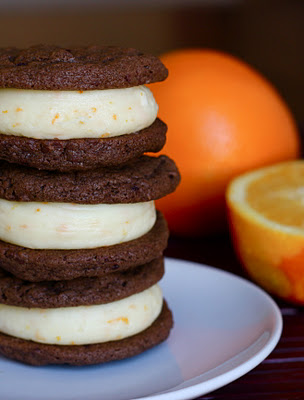 1 cup butter, softened
3 teaspoons vanilla extract
1 ½ cup mini chocolate chips
Orange Buttercream Filling:
8 oz cream cheese, softened
1 tablespoon orange juice
Yields 20 cookie sandwiches
1.
Preheat oven to 350 degrees and line cookie sheets with parchment paper.
2.
Beat butter and sugars for 4 minutes, be sure to scrape own the bowl.
3.
Add eggs one at a time on low speed. Add vanilla.
4.
In a separate bowl, combine flour, cocoa powder, baking soda, salt and cinnamon.
5.
Slowly add flour mixture to butter mixture and mix only until combined. Stir in chocolate chips
6.
Make dough balls about the size of 2 teaspoons, and bake for 7-12 minutes, or until the edged start to firm. Bake until the centers are barely firm if you like a crisp to your cookie.
7.
Let cool on cooling racks.
8.
Orange Buttercream Filling: Beat cream cheese and butter for 4 minutes. Add orange zest and orange juice. Slowly add powdered sugar until you reach your desired consistency.
9.
Use a piping bag or a spoon to frost the bottom of one cookie, then place another cookie on top! Feel free to refrigerate in Tupperware until ready to serve
J