Chocolate Peanut Butter No-Bake Cheesecake Bars for an easy, creamy, decadent dessert! Layers of cheesecake with a thick graham cracker crust!

Chocolate Peanut Butter No-Bake Cheesecake Bars
Layered desserts are so gorgeous! These cheesecake bars have a thick layer of graham cracker crust (I looooove crust) and then a layer of peanut butter cheesecake and then chocolate cheesecake! You can top it off with chocolate drizzle or whipped cream! So how can this be a no bake recipe? Well, there are no eggs so you don't have to bake it! The crust stays together because you serve the dessert cold and the melted butter firms up in the fridge…tah-dah! It's like magic. Sweet chocolate peanut butter magic. Enjoy my Chocolate Peanut Butter No-Bake Cheesecake Bars!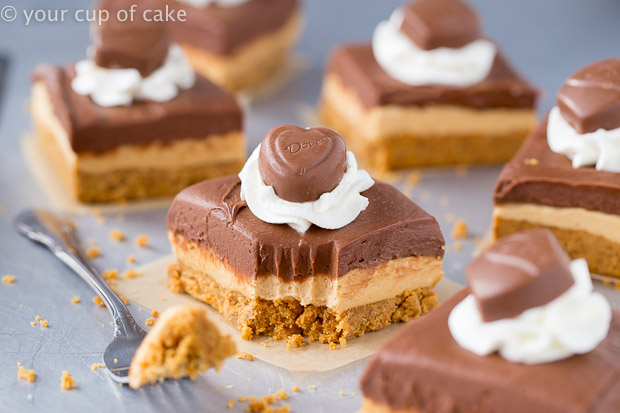 No-Bake Cheesecake Tips
Baking cheesecake can be tough, so I love no-bake cheesecake recipes! The most important thing with any cheesecake is the temperature of your cream cheese, it needs to be soft! If it is still cold from the fridge then you will get lumps! This will make it look a little weird and mess with the texture. If you forgot to bring it out of the fridge in time to get to room temp then you can zap it in the microwave! I do this all the time!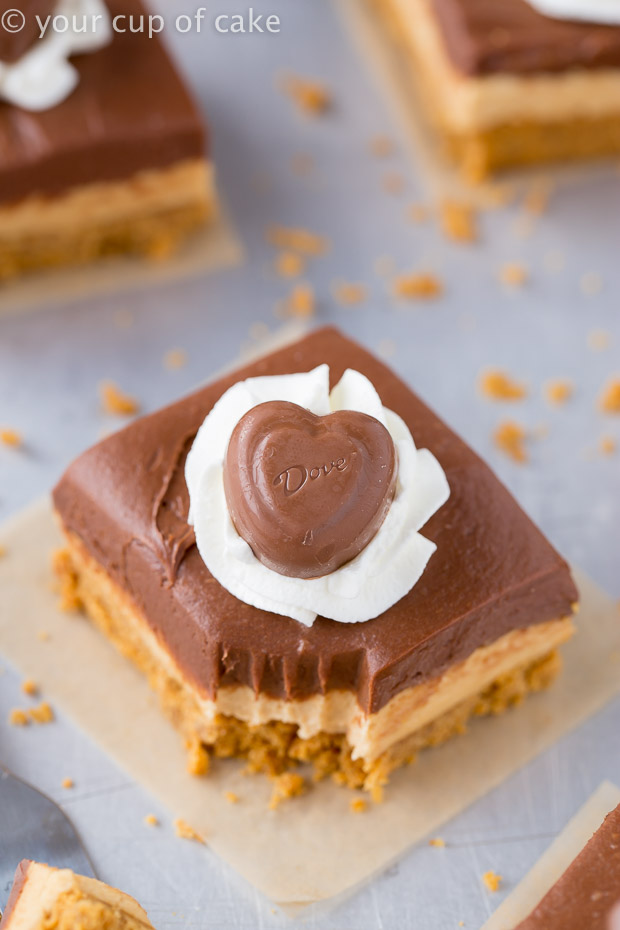 The Trick to Cutting Cheesecake and Cake
Whenever you're trying to cut desserts with layers and want to keep them from bleeding into each other too much and want to have crisp corners I have two tricks. First, you want to make sure the dessert is cold. Second, you want to make sure you run your knife under warm water, wipe it dry and then cut. Wipe off the knife with every cut to make sure you start with a clean knife each slice! I use this trick whenever I cut cakes for photos because I need the frosting to look perfect!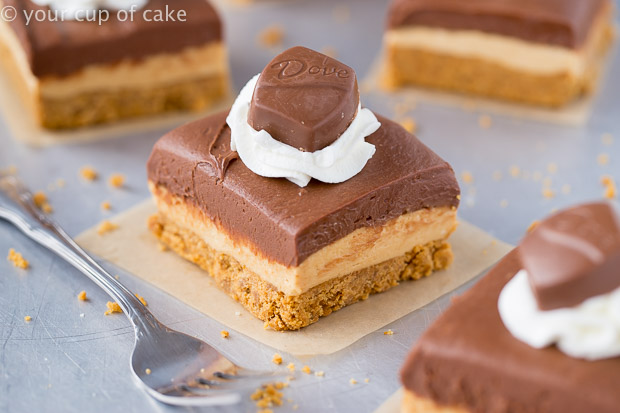 Three perfect layers… yum. You can also make this with an Oreo crust but I'm partial to the classic graham cracker crust. You could even give it a 4th layer by spreading whipped cream or Cool Whip over it! Anyone have any plans for Valentine's yet? I've never been a big fan of the day. I love getting flowers or something small, but I just don't feel the need to do anything big and fancy. Thai take-out at home sounds like the perfect plan to me! No rose petals, fancy restaurant or red dress needed!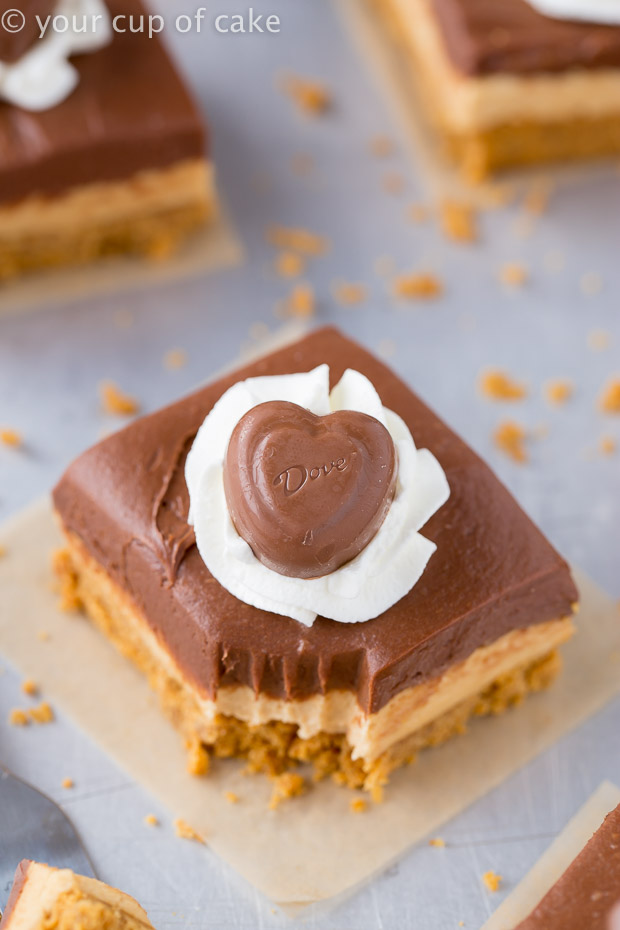 Enjoy these decadent Chocolate Peanut Butter No-Bake Cheesecake Bars!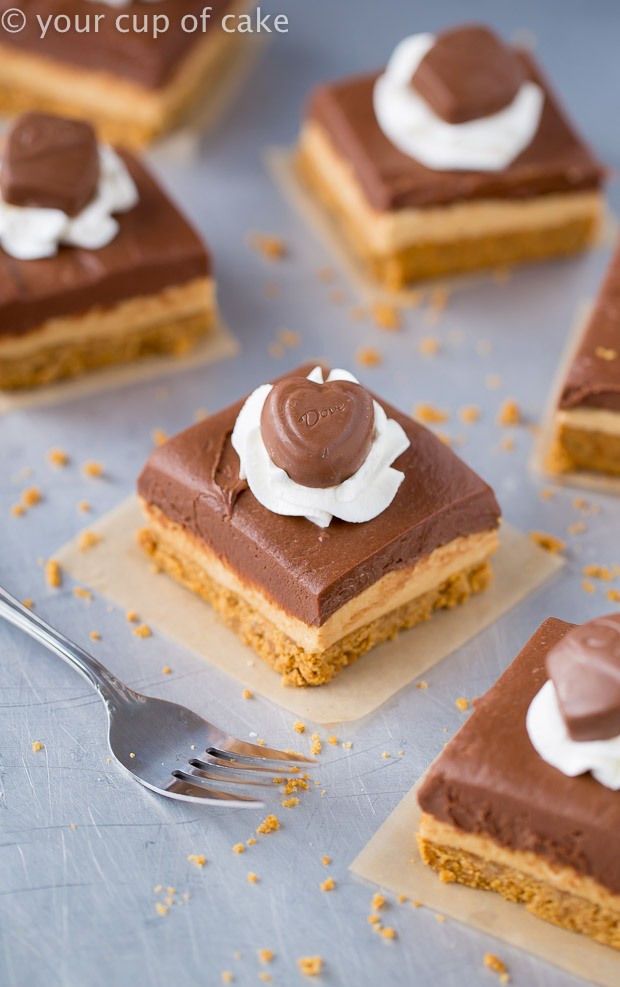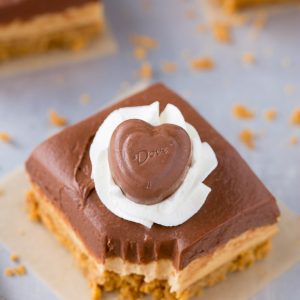 Chocolate Peanut Butter No-Bake Cheesecake Bars
Ingredients
CRUST:

2

C.

crushed graham crackers

1/2

C.

melted butter

PEANUT BUTTER LAYER:

8

oz.

cream cheese

room temperature

1/2

C.

creamy peanut butter

1

tsp.

vanilla

1/3

C.

powdered sugar

CHOCOLATE LAYER:

1

C.

chocolate chips

1/4

C.

heavy whipping cream

8

oz.

cream cheese

room temperature

1

tsp.

vanilla extract

1/2

C.

powdered sugar
Instructions
1. Prepare an 8x8 (or 9x9) pan by greasing it and/or lining it with parchment paper.

2. Combine crushed graham crackers and melted butter. Pour into pan and firmly press flat. Put in the freezer.

3. Peanut Butter Layer: Beat cream cheese with peanut butter, vanilla and powdered sugar until smooth and creamy. Remove pan from the freezer and spread out the peanut butter filling. Place in the freezer again.

4. In a microwave safe bowl (I like using a pyrex measuring cup) add chocolate chips and heavy whipping cream. Microwave in 30 second increments, stirring each time and continue until smooth. Let cool for a 5 minutes. Meanwhile, beat cream cheese with vanilla and powdered sugar. Then add chocolate sauce and combine. Spread over the top of the peanut butter layer and then place pan in the FRIDGE. Let chill for at least 2 hours.

5. To easily cut, run a knife until warm water, wipe dry and cut!