Easy Christmas Tree Cupcakes made with pretzels, sprinkles and melted green chocolate. This is the cutest Christmas cupcake around!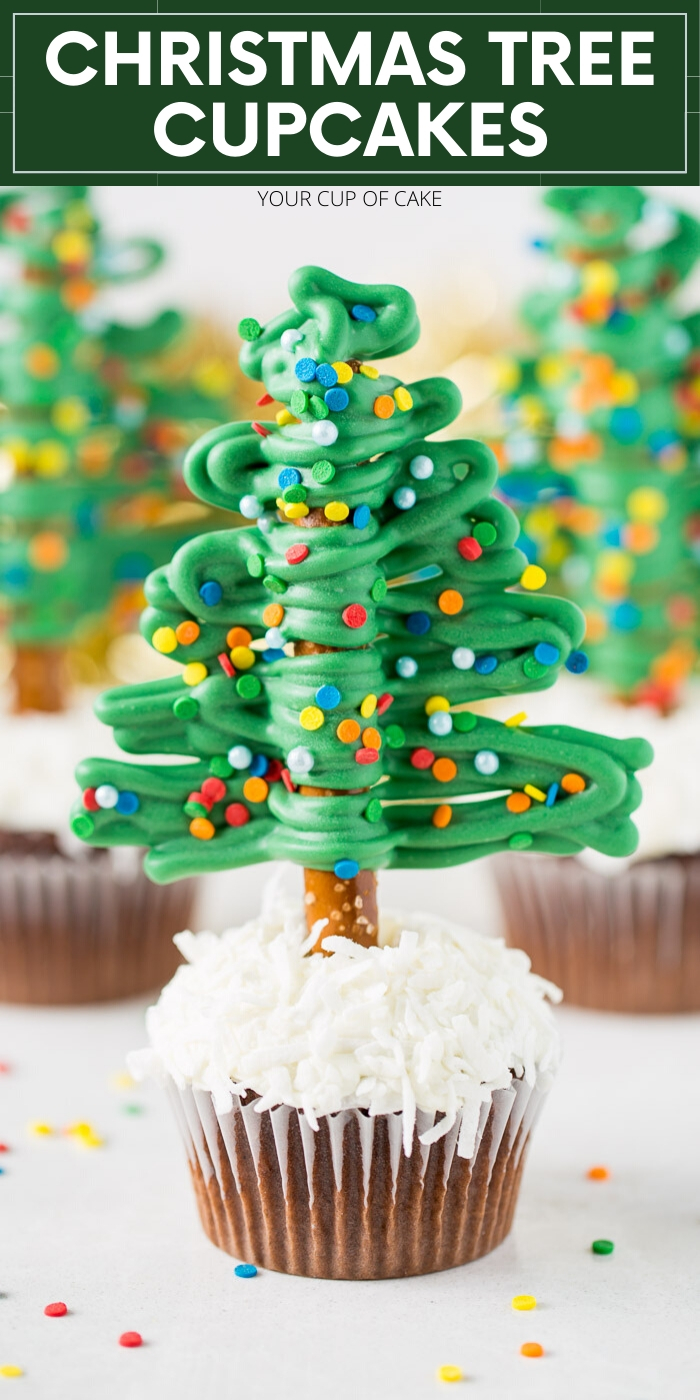 Easy Christmas Tree Cupcakes for Cupcake Decorating Parties!
These are the cutest cupcakes you've ever seen! Easy Christmas Tree Cupcakes made with pretzels and a snowy coconut frosting! I made a bunch of these cute "trees" and too them over to my little cousins for them to decorate cupcakes and then stick the trees into them! They couldn't get over how adorable they were. I made these with the help of my favorite cake mix… Pillsbury!
Here's a video on how I made those cute trees! You can also make them with regular sized pretzels for mini trees, press them into regular sized cupcakes or even minis for an entire Christmas tree forest!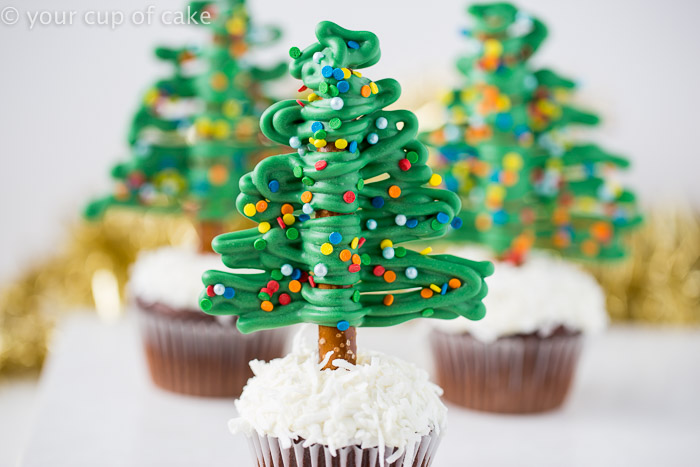 The Cutest Christmas Cupcakes
Here are a few step by step pics for how to make my Easy Christmas Tree Cupcakes! I gave a few tips in the recipe as well. Depending on how cold or warm your kitchen is the chocolate can harden quickly, so don't plan on drizzling all the chocolate and then sprinkling. Sprinkle as you go! This is a great job for the kiddos to have! Plus, you can use all sorts of sprinkles to get the same effect. You don't need anything fancy to make these trees, not even a piping tip!

I mixed some basic sprinkles and then added some light blue "pearls" to go with them. So fun!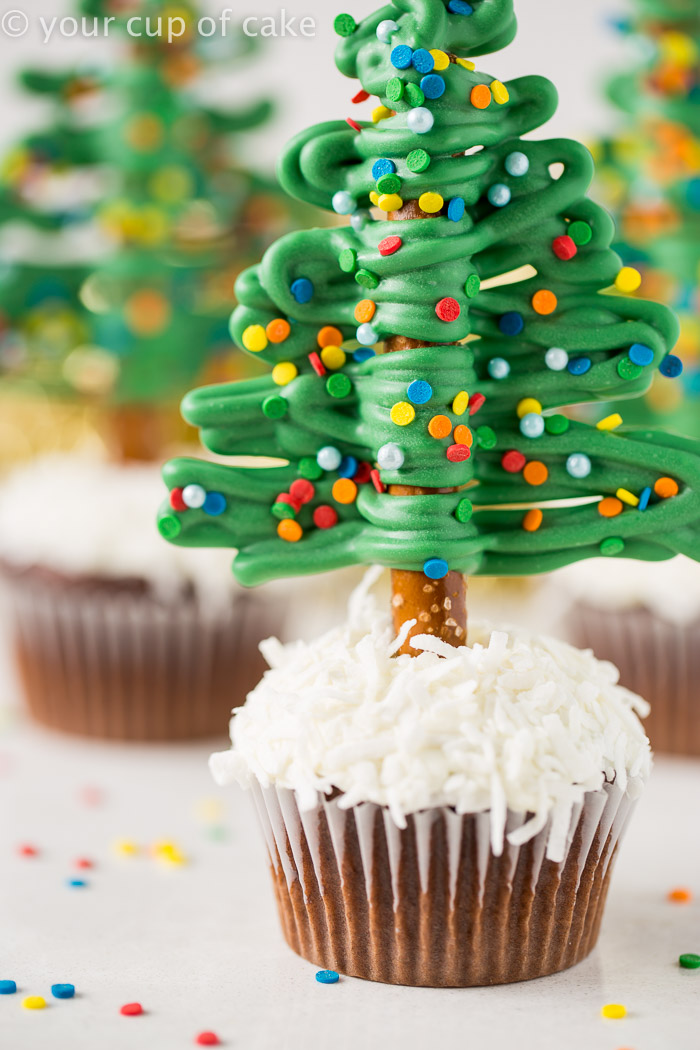 I love baking with cake mixes! Adding some sour cream and milk into the recipe makes it even better and no one ever guesses they're cake mix cupcakes. It's my secret weapon and I swear by Pillsbury mixes!
I can't even believe Christmas is next week! I hope everyone has their gifts wrapped and ready!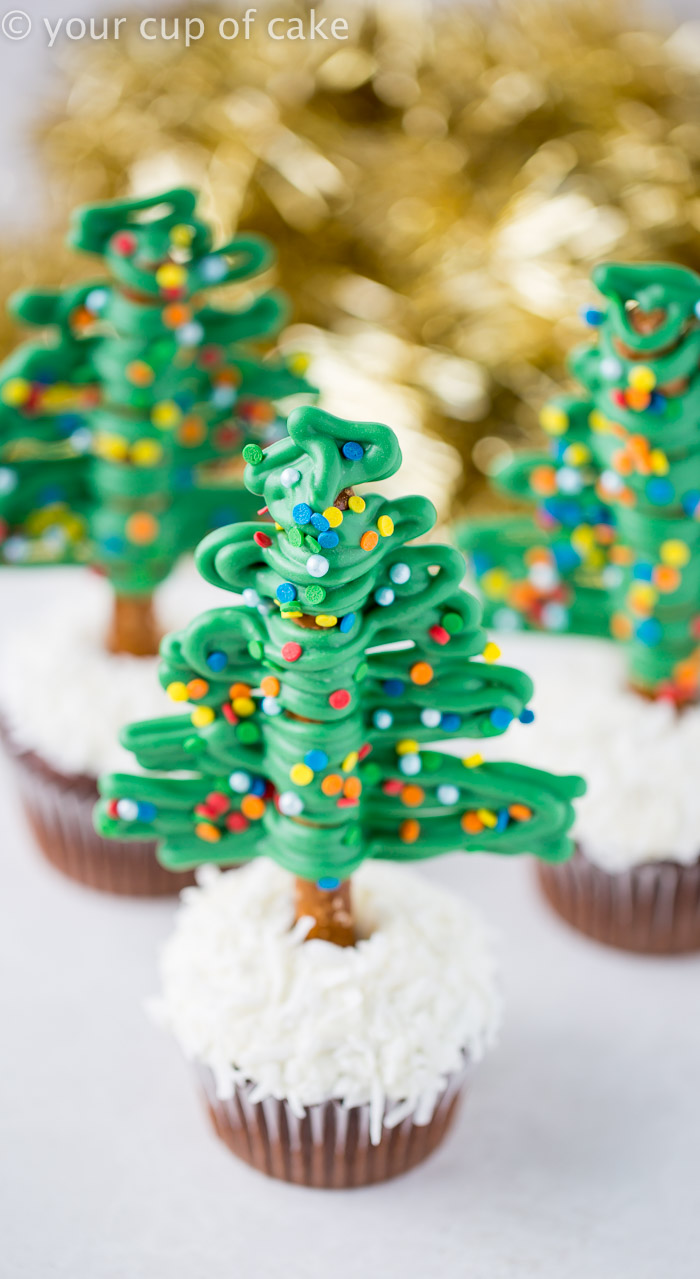 I rolled my frosting in shredded coconut to give it a "snowy" look, but if your kids or your don't like coconut then don't fret! Just frost with any colored frosting and call it good! The trees are the star or the show anyway 🙂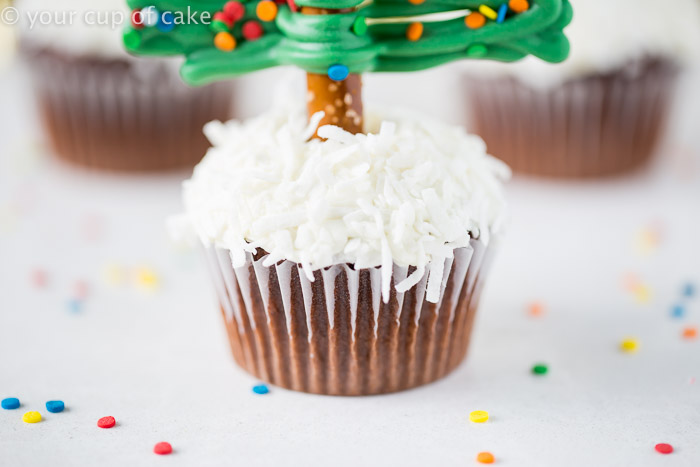 Haven't had your fill of Christmas cuteness? My Rudolph Brownies should do the trick!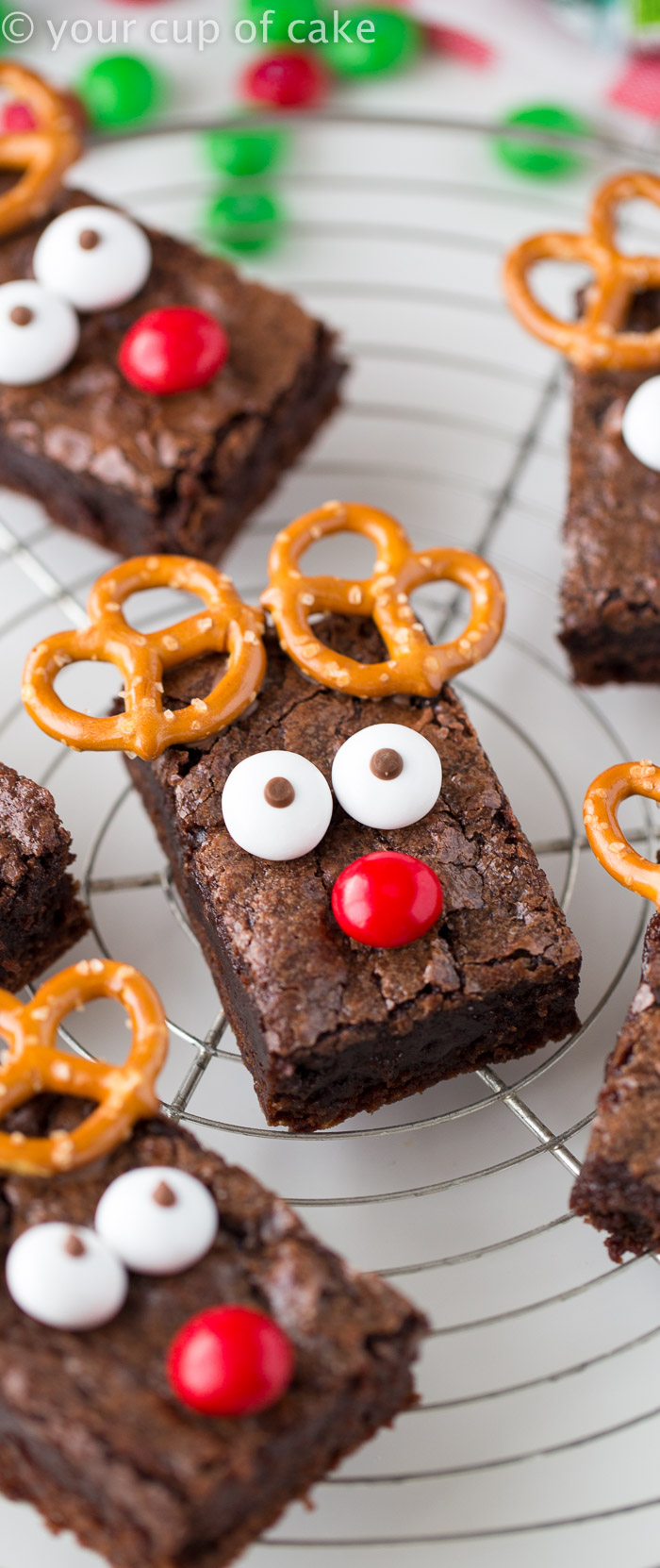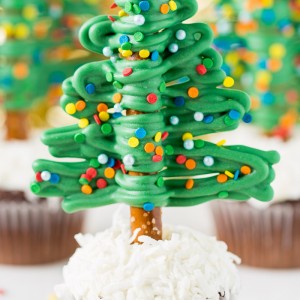 Easy Christmas Tree Cupcakes
Ingredients
CUPCAKES:

1

box Pillsbury Devil's Food Cake Mix

3

eggs

1/2

cup

oil

1

C.

milk

1/2

C.

sour cream

FROSTING

SHREDDED COCONUT

PRETZEL RODS

1-2 cups

GREEN MELTS

SPRINKLES
Instructions
1. Preheat oven to 350 degrees and line pans with cupcake liners.

2. Combine cake mix, eggs, oil, milk and sour cream.

3. Fill cupcake liners 3/4 full and bake for 15-20 minutes.

4. Let cool.

5. Break pretzel rods in half and lay out on parchment paper. Melt green melts (chocolate wafers meant for candy decorating, you can find them at Michael's or Hobby Lobby). Pour into a small plastic bag (see photo) and snip off the corner and drizzle over pretzels in the shape of a tree! (Be sure to leave plenty of room at the bottom of the pretzel to stick into the cupcake.) Because the chocolate melts rather fast, I would drizzle 3 trees and then top with sprinkles! Let cool for 5-10 minutes depending on the temp of your home!

6. Frosting cupcakes and roll in shredded coconut (that's totally optional, I like the "snowy" look it gives) and press in pretzel trees.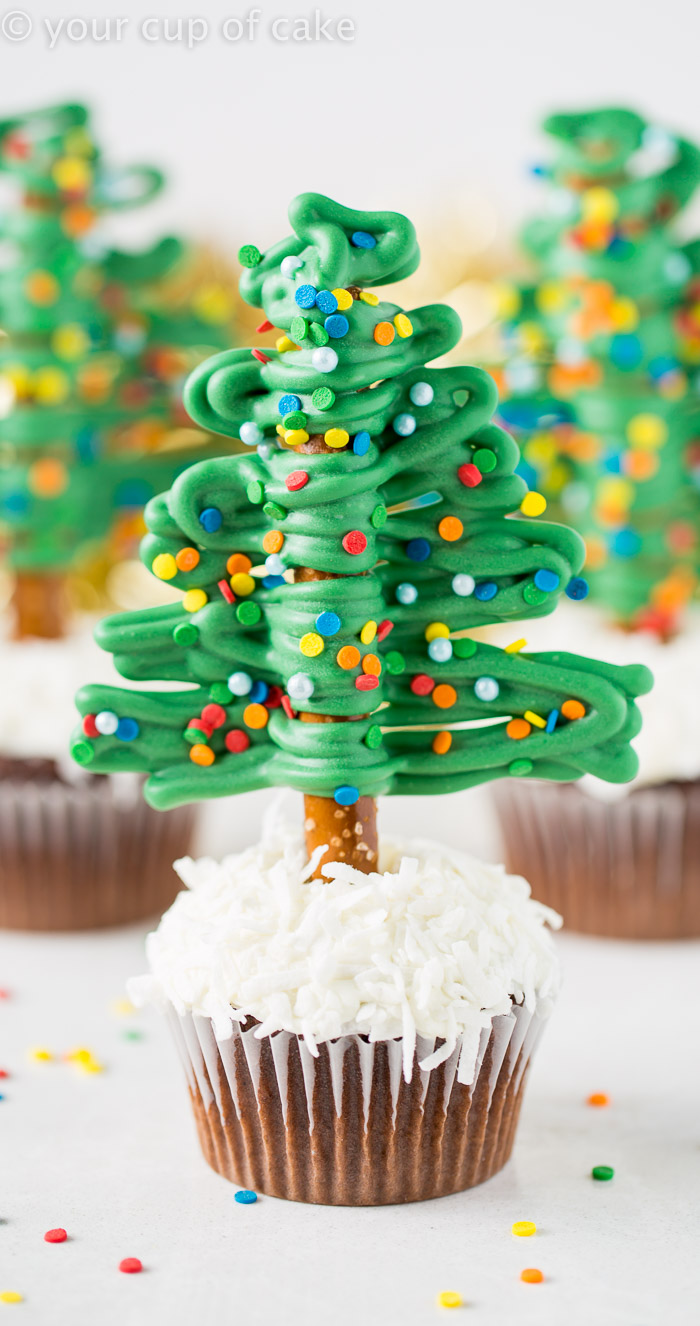 This post was sponsored by Pillsbury but all opinions and recipe ideas are my own. I only work with companies I love and know you will love as well.