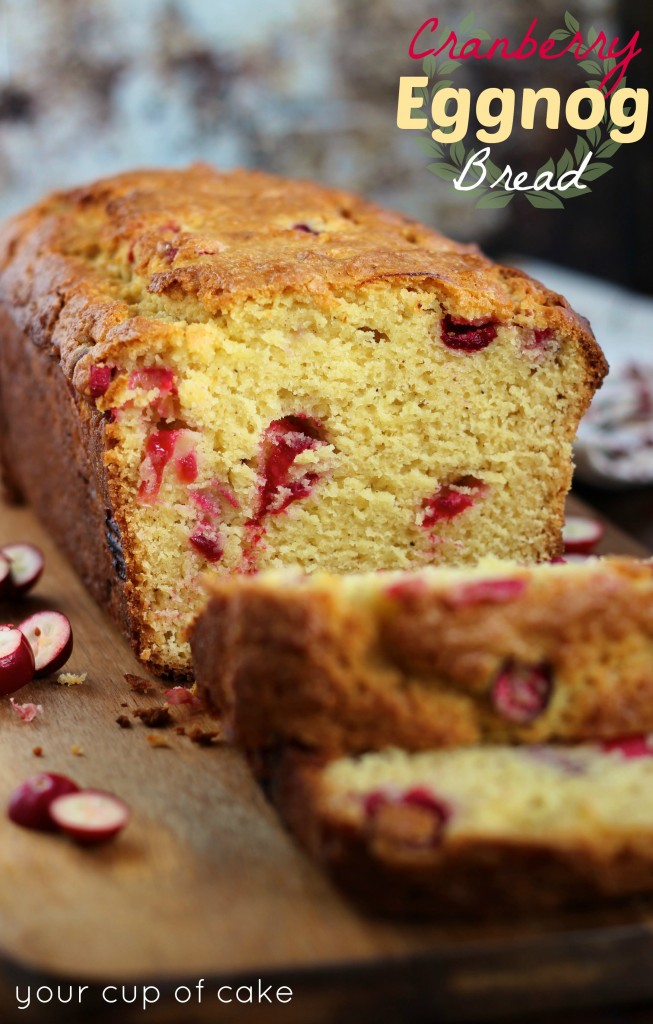 Story:
I would always hide the "good stuff" in the vegetable crisper in the refrigerator. No one looks there–well at least no one interested in stealing the calorie loaded treats I hid. Fudge topping, leftover cake, baklava, and the drink that marks the start of the holiday season–eggnog.
Dear Future Husband,
If you don't like eggnog that's actually a plus, because then I can have it all to myself 🙂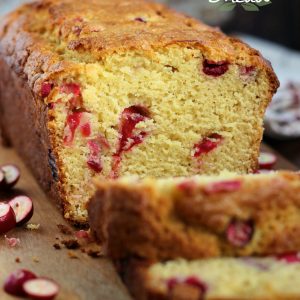 Eggnog Cranberry Bread
Ingredients
Eggnog Cranberry Bread:
1

C.

sugar

1

3.4 oz. box instant vanilla pudding mix

1/2

C.

butter

softened

2

eggs

2

tsp.

rum flavored extract

optional

1

tsp.

vanilla extract

1 1/2

C.

eggnog

2 1/4

C.

flour

2

tsp.

baking powder

1/2

tsp.

salt

1/2

tsp.

nutmeg

1 1/2

C.

chopped fresh cranberries
Eggnog Glaze: optional
1/4

C.

eggnog

1

C.

powdered sugar

more if you want a thicker glaze
Instructions
1. Preheat oven to 350 degrees and grease a large loaf pan (I like to line mine with parchment paper to help remove it after it bakes).

2. Cream sugar, pudding mix and butter together until smooth.

3. Add eggs, rum extract and vanilla extract. (It helps if the eggs are at room temp, I always run mine under hot water to warm them up!)

4. Add eggnog.

5. In a separate bowl, sift flour, baking powder, salt and nutmeg together. Add to butter/eggnog mixture and mix until just combined.

6. Stir in cranberries and fill loaf pan. Batter will be thick.

7. Bake for 50-80 minutes or until an inserted knife comes out clean from the center of the bread.

8. Let cool and then remove from pan.

9. Optional Glaze: Whisk eggnog and powdered sugar together and pour over bread! You can use a tooth pick to poke the bread and pour the glaze over the hot bread to let it soak into the cake if you want a juicier bread!
As always I use my fabulous T3i Canon Camera to shoot all of my recipes and I use this lens that is the BEST bang for your buck!(It's a PRIME lens though, so send me an email if you want to know more about that!) A little camera buying trick… buy the body of the camera only. That way, you can save money by only purchasing the lens that you want! The lens that comes in the "kit" is usually not very high quality…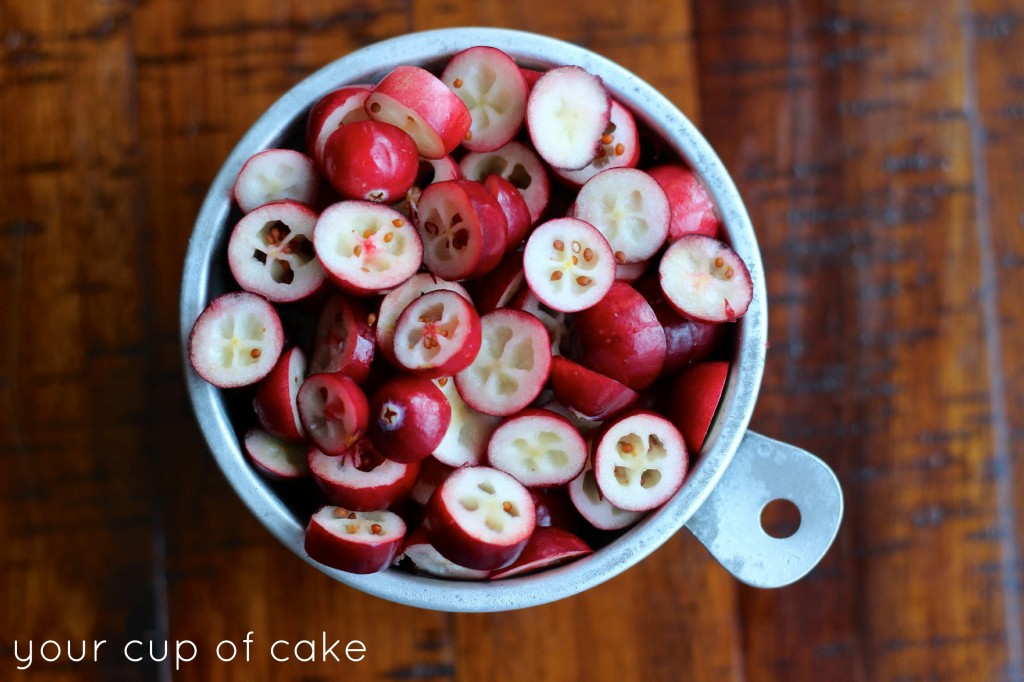 I always like to line part of the pan with parchment because then after the bread is cooled I can just lift up on the parchment to remove the bread! But don't leave too much parchment on the sides, because depending on your oven the parchment can burn….no fun.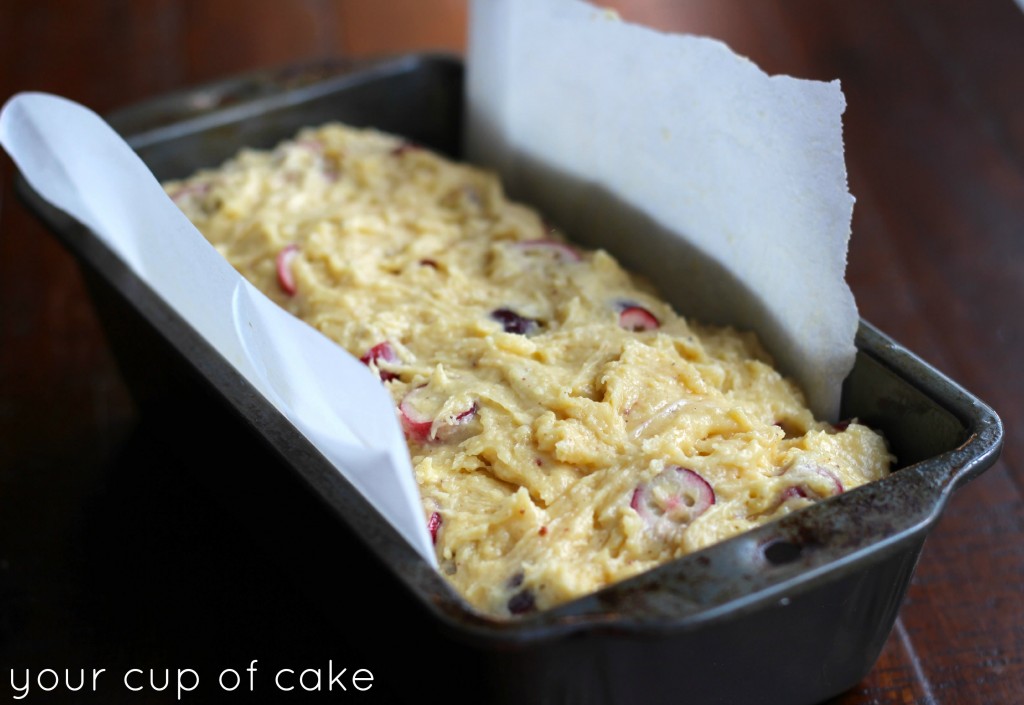 This bread did not last long in the house. I still have some eggnog left, so if I don't drink it all I'll make another treat with it!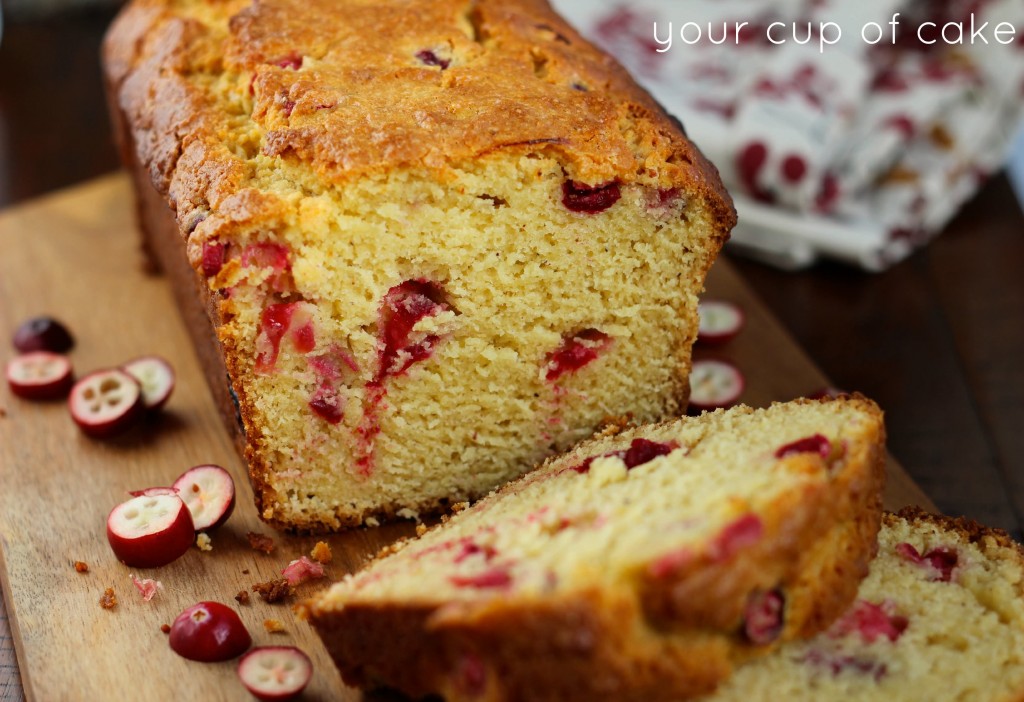 Fresh cranberries in the grocery store means it's time for turkey!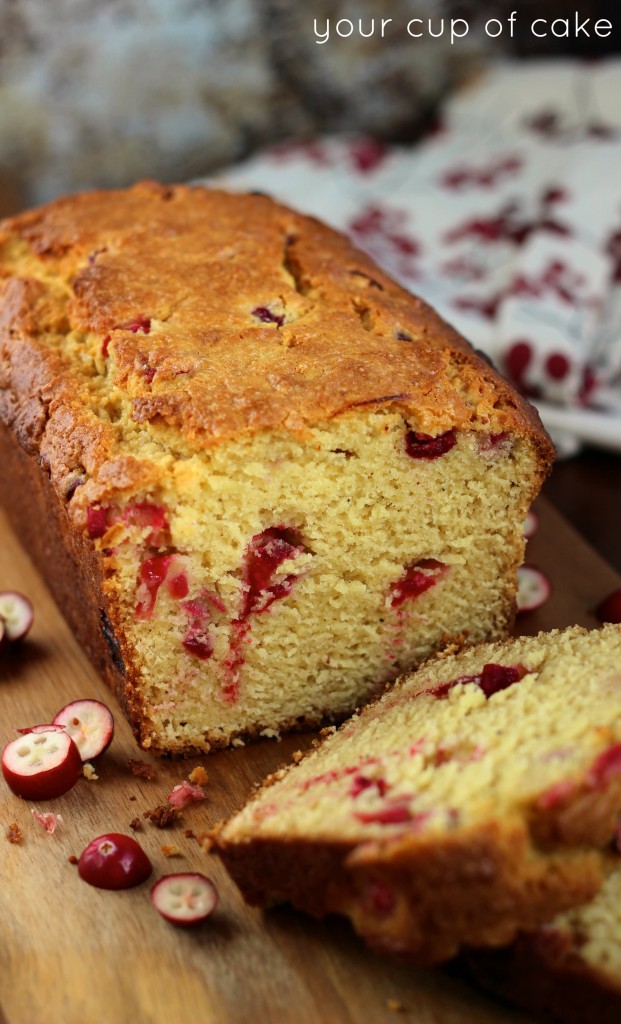 Just a reminder, the Kindle version of my cookbook "Your Cup of Cake" is only $1.99 right now, go and get it while the price is still this cheap! More than 70 cake mix recipes that are perfect for anyone, even for the gluten free people in your life, just use a gluten free cake mix!