Strawberry whipped cream on chocolate cupcakes makes the perfect Chocolate Covered Strawberry Cupcakes for Valentine's Day or summer parties.

Chocolate Covered Strawberry Cupcakes
Valentine's week has arrived!! I've already posted a handful of fun valentine's treats but this one is a classic… Chocolate Covered Strawberry Cupcakes! It's really two desserts in one because the chocolate covered strawberry is a treat all by itself! If you missed it, I shared my Secrets to Making Perfect Chocolate Covered Strawberries with all my tips and tricks and number one mistakes people make! This is also made with my Strawberry Whipped Cream that's light and fluffy and perfect for those people who say they don't like frosting.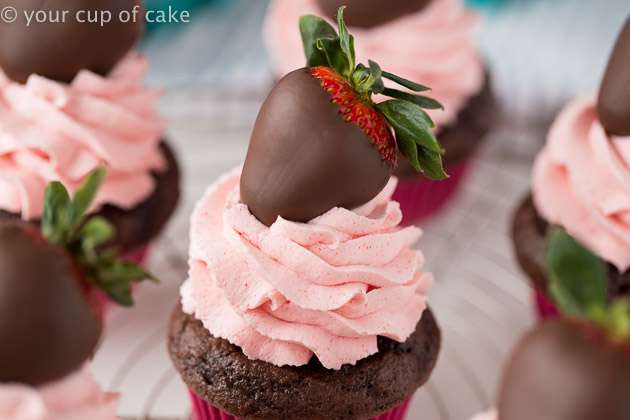 Valentine's Day Cupcakes
Valentine's cupcakes can be just about anything! You can pick a classic like red velvet with cream cheese frosting or double chocolate cupcakes! These Chocolate Covered Strawberry Cupcakes are obviously a great choice but if your man likes peanut butter, do PB chocolate cupcakes! All you need is some red sprinkles to turn any cupcake into the perfect Valentine's Day cupcakes! I made some incredible over the top peanut butter chocolate cookies this week for my husband, he's obsessed! I'll post the recipe later this week.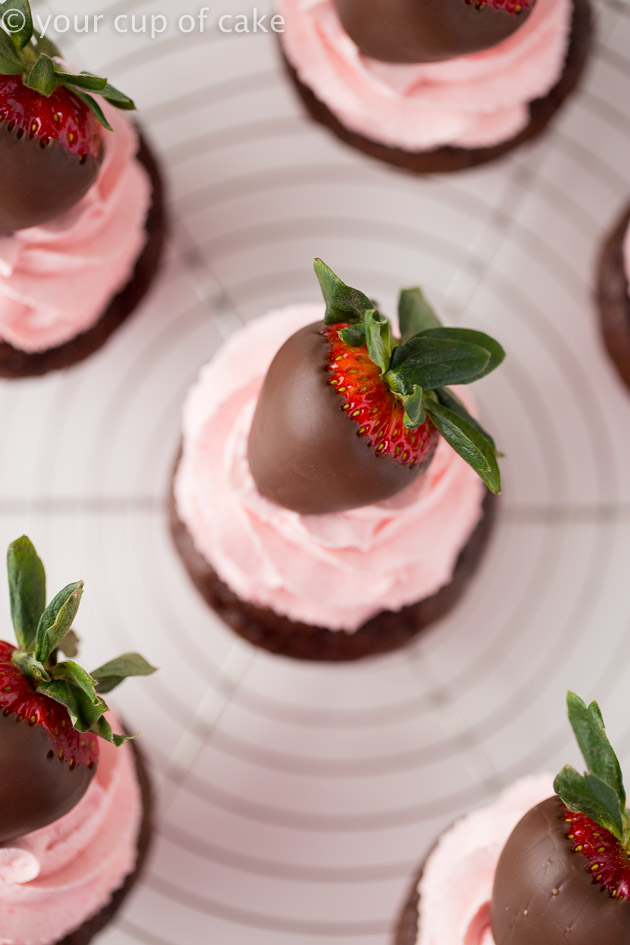 Chocolate covered strawberries have always been one of my favorite treats! Maybe because I can justify eating 8 of them because it's fruit.. right? Right.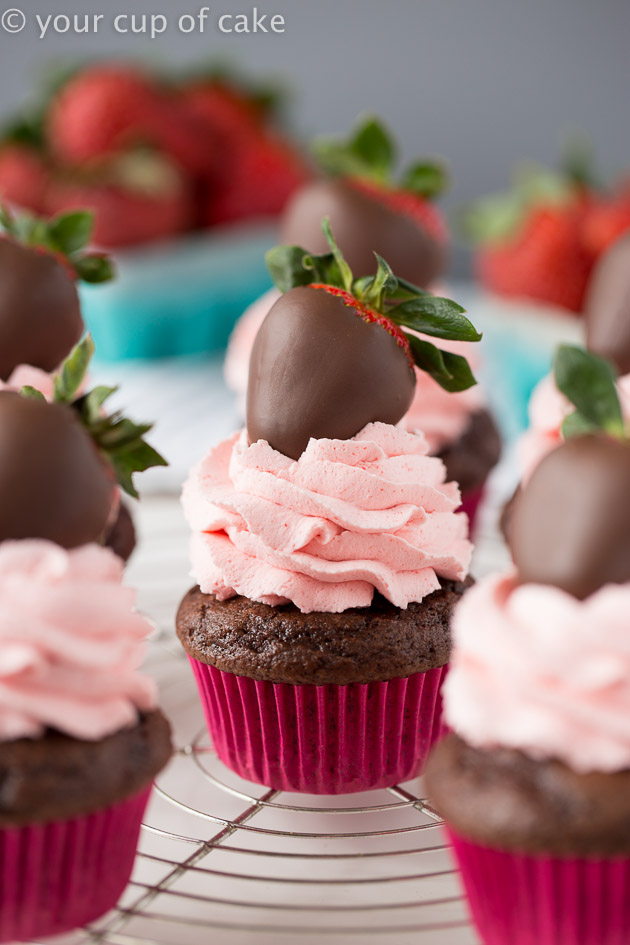 The Best Greaseproof Cupcake Liners
So many people always ask me about my cupcakes liners. They are amazing and crazy greaseproof…. meaning they keep their color after I bake them! I get all of mine from Sweets & Treats online! They have a ton of fun colors and patterns to pick from so you can match any party and theme. I used the plain white ones for my own wedding and they were just gorgeous!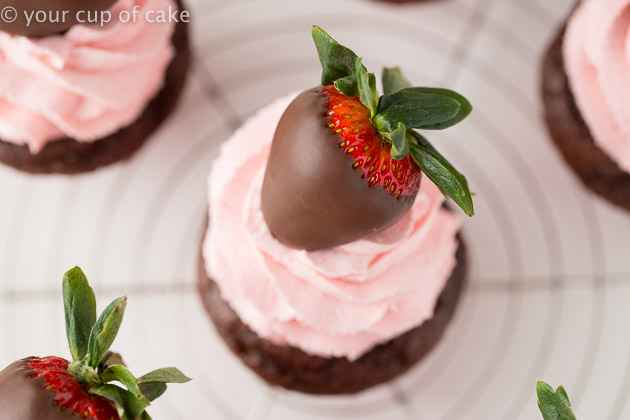 Happy Valentine's Day to all my lovely readers! I hope you find some way to show the people in your life how much you love them! Send a card in the mail, drop off some flowers, bake up some cookies! Enjoy my Chocolate Covered Strawberry Cupcakes!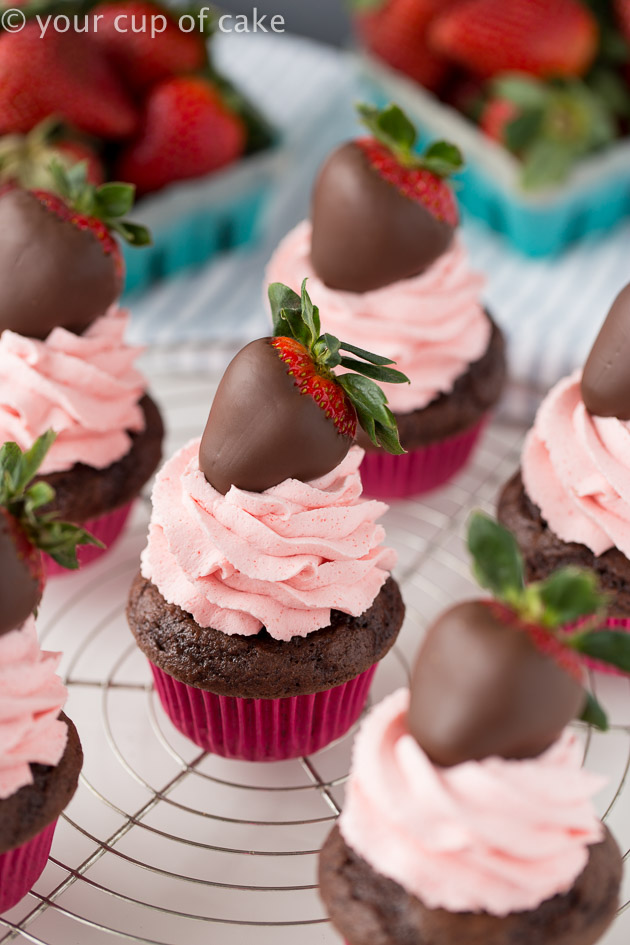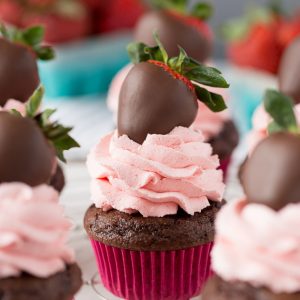 Chocolate Covered Strawberry Cupcakes
Ingredients
1

Box Devil's Food Cake Mix

3

eggs

1/2

C.

melted butter

or oil

2/3

C.

buttermilk

2/3

C.

sour cream

STRAWBERRY WHIPPED CREAM
Instructions
1. Preheat over to 350 degrees and line muffins pans with cupcake liners.

2. Combine cake mix, eggs, melted butter and sour cream.

3. Fill cupcakes liner 3/4 full and bake for 15-20 minutes.

4. Let cook and top with strawberry whipped cream and chocolate covered strawberries!