The perfect coffee cake has arrived, Banana Bread Coffee Cake with sweet icing and a cinnamon sugar swirl. This is my new favorite cake for fall!

I'm a huge banana bread lover. I was obsessed with creating the best banana bread recipe and I bake it a few times each month! But how could I make banana bread even better…? Make it into a coffee cake! The traditional cinnamon sugar coffee cake would be a perfect match for banana so it really was an easy combo. I'm shocked that bakeries don't serve this because it's really that good!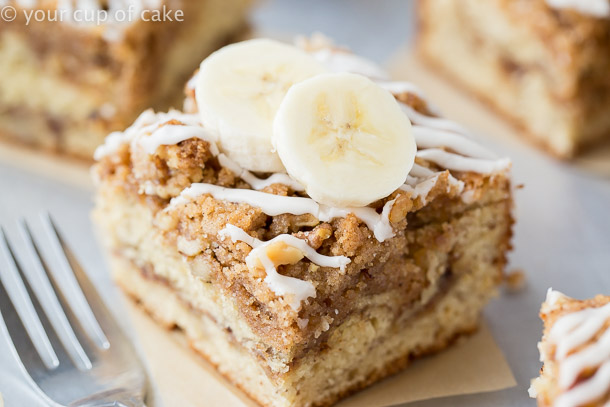 What is Coffee Cake?
First of all, coffee cake doesn't have coffee in it, it's just a type of cake that traditionally is eaten with coffee. So for all you non coffee drinkers, this cake is still for you! You can call it Banana Crumble Cake if you prefer! It has a swirl of cinnamon sugar, a walnut cinnamon sugar topping and iced with a simple icing.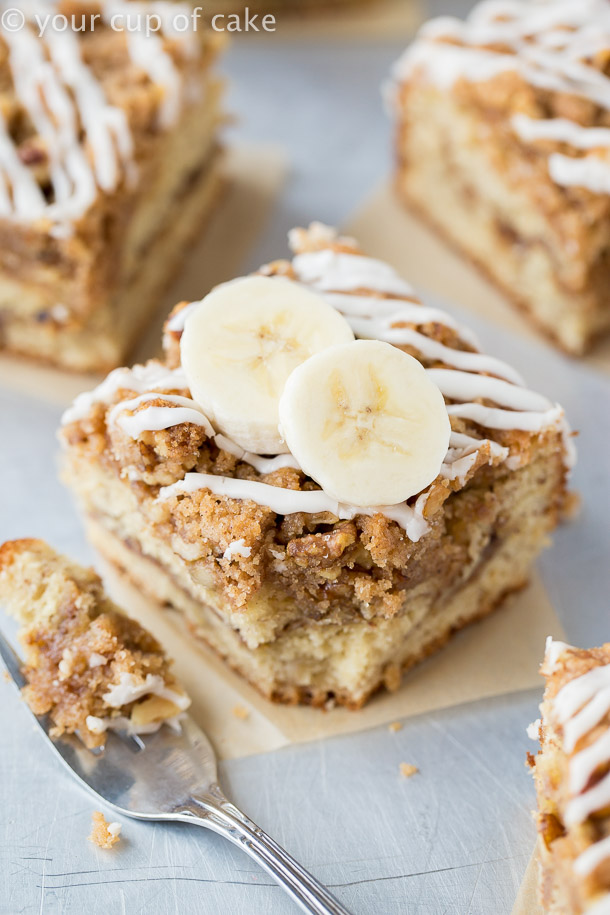 Book Club Anyone?
This cake is so good it almost made me want to start up a book club. My mother used to host a book club and she would always be serving up cute desserts like this one. This cake not only tastes incredible but it cuts easily and serves like a dream! I cut a few banana slices on top so that it was more obvious that it was Banana Bread Coffee Cake, but you don't have to do that! Just drizzle it with some icing (like my ziplock bag technique below?) and wait for that to harden and then cut! If you're in a hurry, you can always cut the cake and the drizzle so the drizzle doesn't have to dry.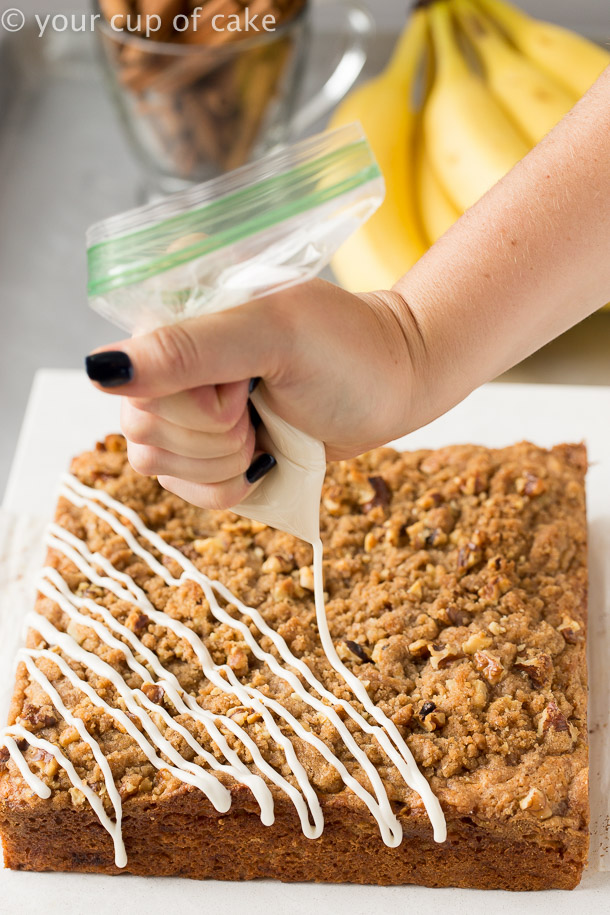 This recipe is for a square pan, about 8X8 inches, so if you want to make a full casserole dish, then double the recipe! The baking time will also need to be increased by a few minutes.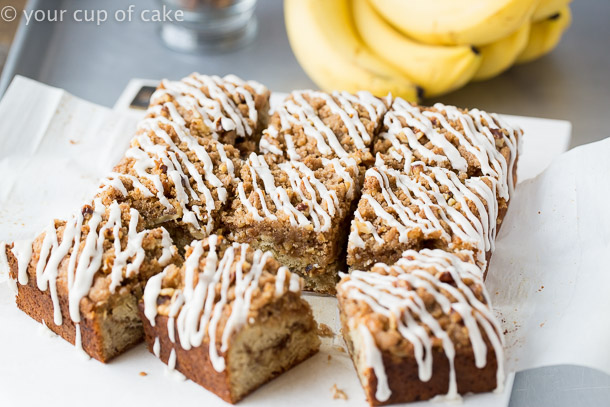 Check out that cinnamon swirl action. Oh my. This Banana Bread Coffee Cake really does have it all.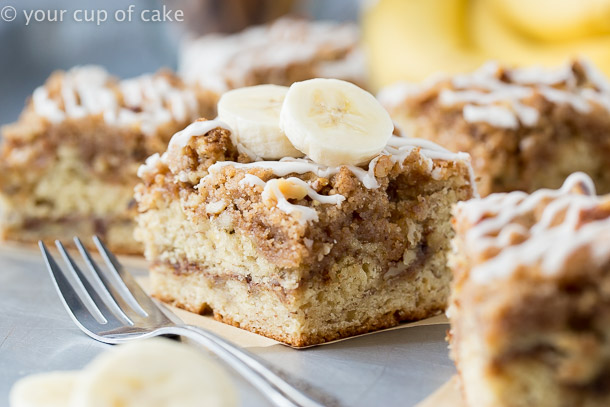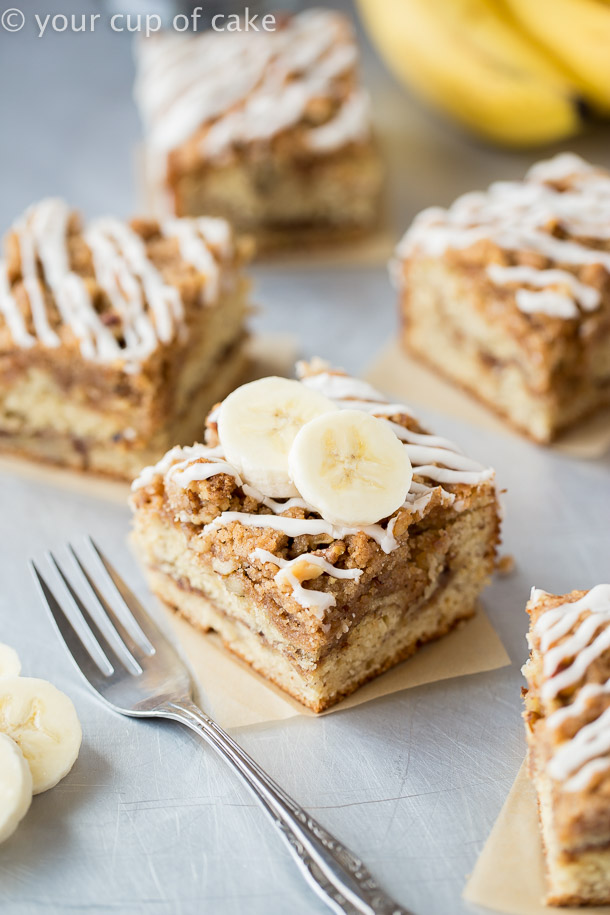 Here's the Banana Bread Coffee Cake slices without any banana pieces on top, it still looks delicious! I just needed a little more pizazz for the photos so I added the banana on top! My job is funny, sometimes I make the most incredible food but unless the photos are perfect, no one will try it.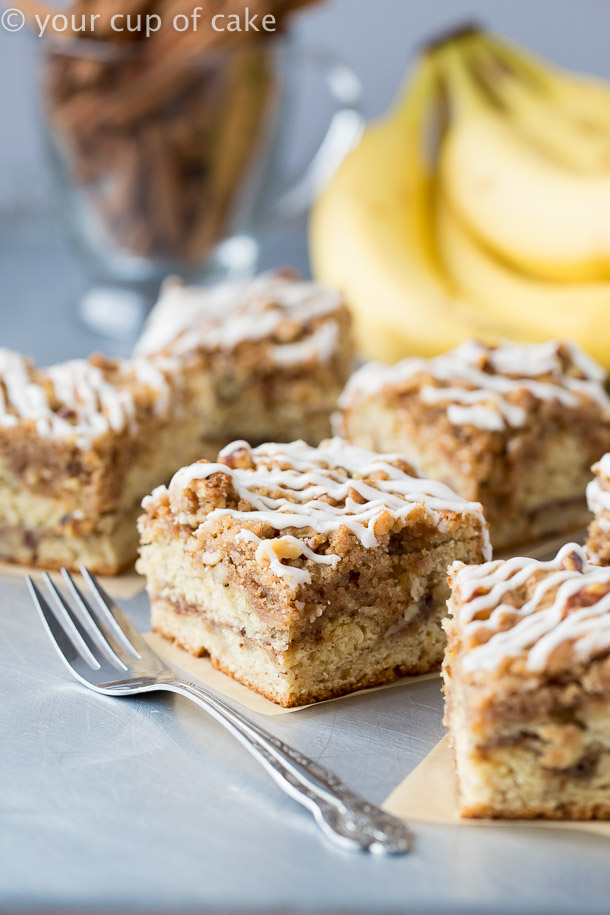 Banana Bread Coffee Cake
Ingredients
CAKE:

1 1/2

C.

flour

1 1/2

tsp.

baking powder

1/2

tsp.

baking soda

1/2

tsp.

salt

3/4

C.

mashed ripe bananas

1/3

C.

sugar

1/4

C.

brown sugar

packed

1/2

C.

sour cream

1/4

C.

oil

1

egg

2

tsp.

vanilla extract

TOPPING:

3/4

C.

flour

1/3

C.

walnuts

optional

1/2

C.

melted butter

1/3

C.

brown sugar

3

tbsp.

sugar

1 1/2

tsp.

cinnamon

pinch

salt

CINNAMON SUGAR FILLING:

1

tsp.

cinnamon

3

tsp.

brown sugar

2

tsp.

sugar

ICING:

1/2

c.

powdered sugar

2-3

Tbsp.

milk
Instructions
1. Preheat oven to 350 degrees and grease a 8X8 pan.

2. Combine flour, baking powder, baking soda and salt and set aside.

3. In a large bowl, mash bananas (I used two small ones). Add sugar, brown sugar, sour cream, oil, egg and vanilla. Whisk until smooth.

4. Pour dry ingredients into wet and gently fold until combined, but do not over mix.

5. To make crumble topping: combine all ingredients until mixture is crumbly.

6. To make cinnamon sugar filling: combine ingredients.

7. Pour about 2/3 of the batter into the pan and gently spread out evenly. Sprinkle on all your filling mixture and then cover with the rest of the batter. Top with crumble topping by gently dropping pieces onto the batter, don't flatten or pat down.

8. Bake for 30-40 minutes or until and inserted knife comes out clean. Let cool.

9. Icing: whisk powdered sugar with 2 tablespoons of milk, if you want it thinner, add more milk! Drizzle over cooled cake and cut!