Looking for an easy Christmas treat? Gingerbread Chex Mix takes the flavor of your favorite cookie and puts it into your favorite party mix with a drizzle of sweet icing!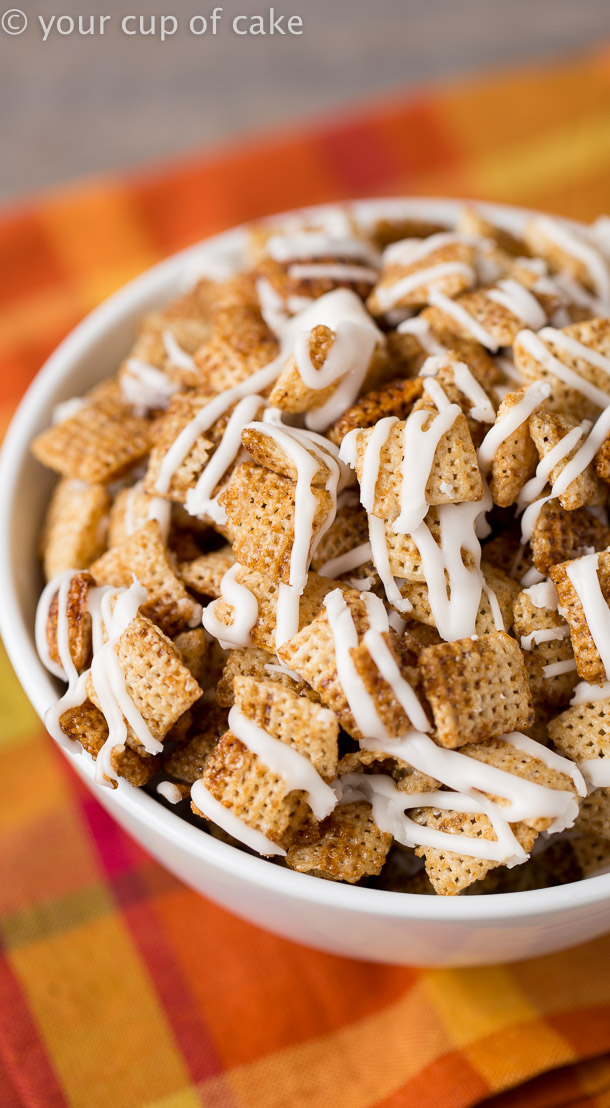 Gingerbread Chex Mix for an Easy Christmas Treat
I'm a huge fan of Chex Mix and Muddy Buddies (Puppy Chow), I have about 30 recipes here on the blog! I thought I had made every possible flavor, but I was wrong! My husband looooves gingerbread cookies so I wanted to surprise him with a sweet treat when he got home from school. He's been taking a full course load of all science classes, so it's been a tough semester! I took all the flavors of gingerbread and put them into this Gingerbread Chex Mix! The drizzle of icing on top really makes it taste like the cookies! And it has way less sugar and calories than popping cookies, so I'm happy about that…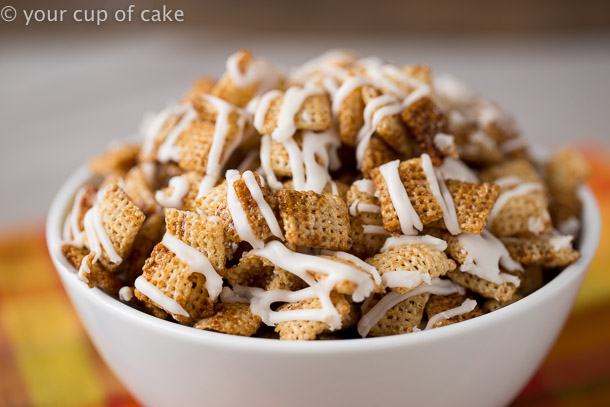 Chex Mix as Christmas Gifts for Neighbors
Whenever I drizzle anything I usually make a mini piping bag out a ziplock bag. I just snip off the corner and drizzle! It minimizes my clean up, so I don't add to my pile of dishes from blogging. You can use an icing to drizzle or melted white chocolate. If you use water in the icing or the melted chocolate than these make the prefect Christmas Gift because you don't need to refrigerate it. But if you use milk in the icing you technically need to refrigerate them over night.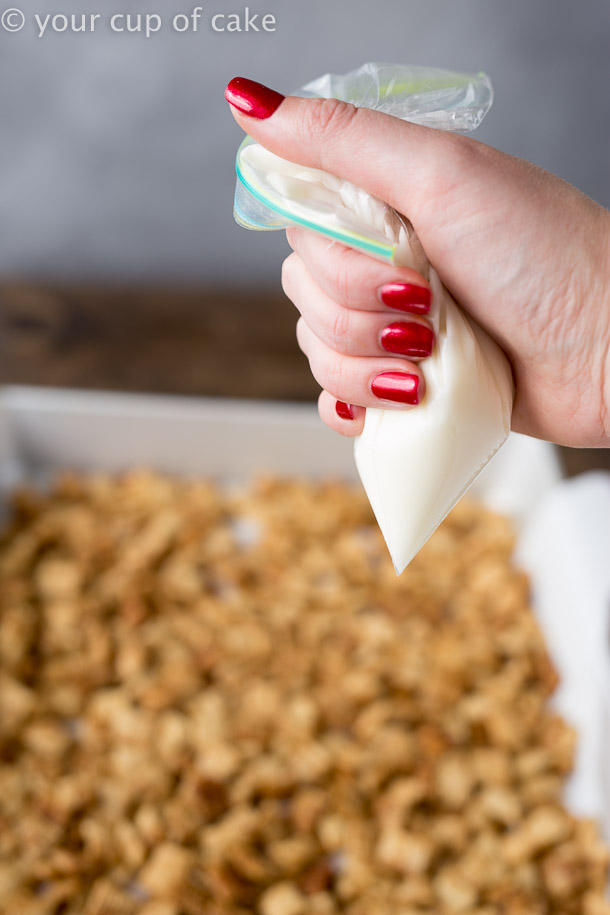 Drizzle away! Drizzle with a heavy hand because you're going to love it! My husband kept sneaking into the kitchen to grab handfuls of this stuff and refused to let me give any of it away!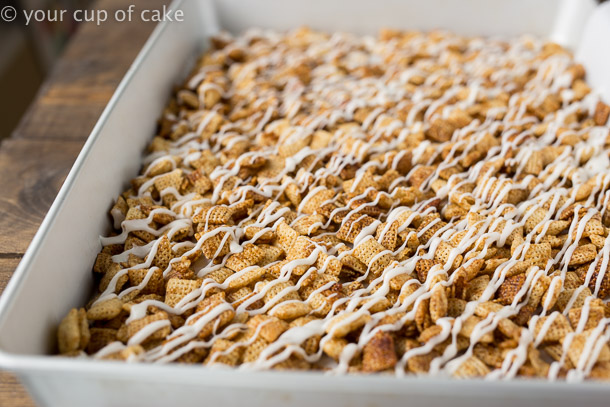 Don't be afraid to add more spice! Everyone likes their treats a little different, so you can boost the cinnamon and ginger if you want a stronger taste! Oh and I love using a larger pan with higher sides when I make Chex Mix in the oven so I can stir it without it going over the edge or even in this recipe so I can spread it out enough to drizzle it!
Enjoy my Gingerbread Chex Mix this Christmas!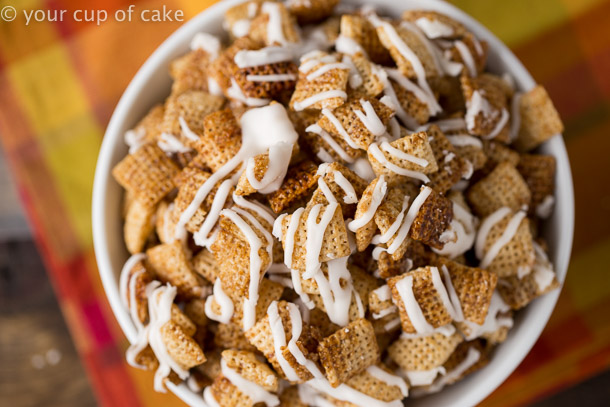 Gingerbread Chex Mix (gluten free, no-bake)
Ingredients
6

C.

Rice Chex Cereal

2/3

C.

butter

melted

3

Tbsp.

brown sugar

1

Tbsp.

molases

1/2

tsp.

cinnamon

1/2

tsp.

ground ginger

pinch

cloves

ICING:

or you can use melted white chocolate

1

C.

powdered sugar

1-2

Tbsp.

milk or water
Instructions
1. In a large (microwave safe) bowl add cereal.

2. In a small (microwave safe) bowl add butter, brown sugar, molasses, cinnamon, ginger and cloves. microwave for 1 minute and then stir. Pour over cereal and stir well.

3. Microwave for 2-3 more minutes, stir every minute.

4. Pour out onto a cookie sheet and let cool.

5. To make icing whisk your milk/water into you powdered sugar in a small bowl. You want your icing to be thick, so only add a little milk at a time! (You can substitute this icing for melted white chocolate!)

6. Drizzle icing onto cooled Chex Mix and enjoy!
Recipe Notes
If you use milk in your icing you technically need to refrigerate the mix over night, if you use water you don't have to!