Don't have a celebrity budget? That's okay, I'll share my top 7 tips on How to Decorate a Nursery on the Budget, no breaking the bank here! You'll love these Before and After photos!

How to Decorate a Nursery on a Budget
When I first found out I was pregnant I was a little overwhelmed (but still excited) to decorate a nursery! I always see these gorgeous nurseries on pinterest and instagram with chandeliers, wood floors, extravagant cribs and gorgeous finishes. But living in my reality, that was not going to happen. We don't have hard wood floors, we have brown carpet. We don't have chandeliers, just standard lighting. And we don't have any of the other fancy things either. We have spare room that's average sized and nothing special about it. But guess what, that's okay! I support my little family solely on the income from this blog, which isn't a ton. So having a new baby and with my husband starting medical school in August means we are on a tight budget! I had to shop sales and be very choosey about what I spent money on when it came to this little girl's nursery! I hope you enjoy my 7 top tips on How to Decorate a Nursery on a Budget! Now excuse me while I go enjoy another helping of my fav One Pot Bacon Alfredo Pasta!
Everyone loves a good Before and After shot (that's the only reason to watch HGTV) so let's start with a few of those. The room we used for our nursery was previously a spare room/my husband's office.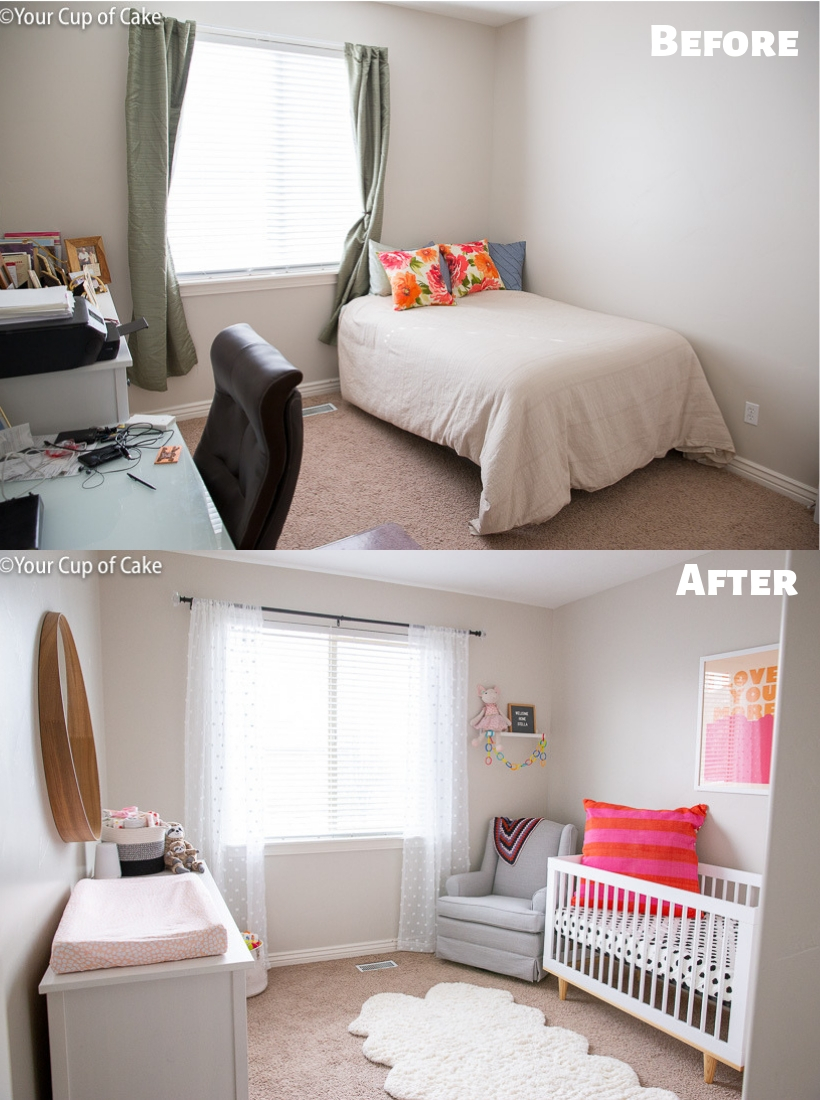 Nursery Makeover on a Budget
I'll be giving you all the tips I learned on how to decorate a nursery on a budget, a really tight budget! Some things were gifted to me by my mother in law, my mother and other friends. But that's also part of the challenge, registering for the right things! We'll talk all about that below. I'm also all about simple things that make a big impact! Look at the curtain rod above! Just adding that and installing it the right way (where the curtains hang covering part of the wall and not just over the window) makes the room look bigger and more polished!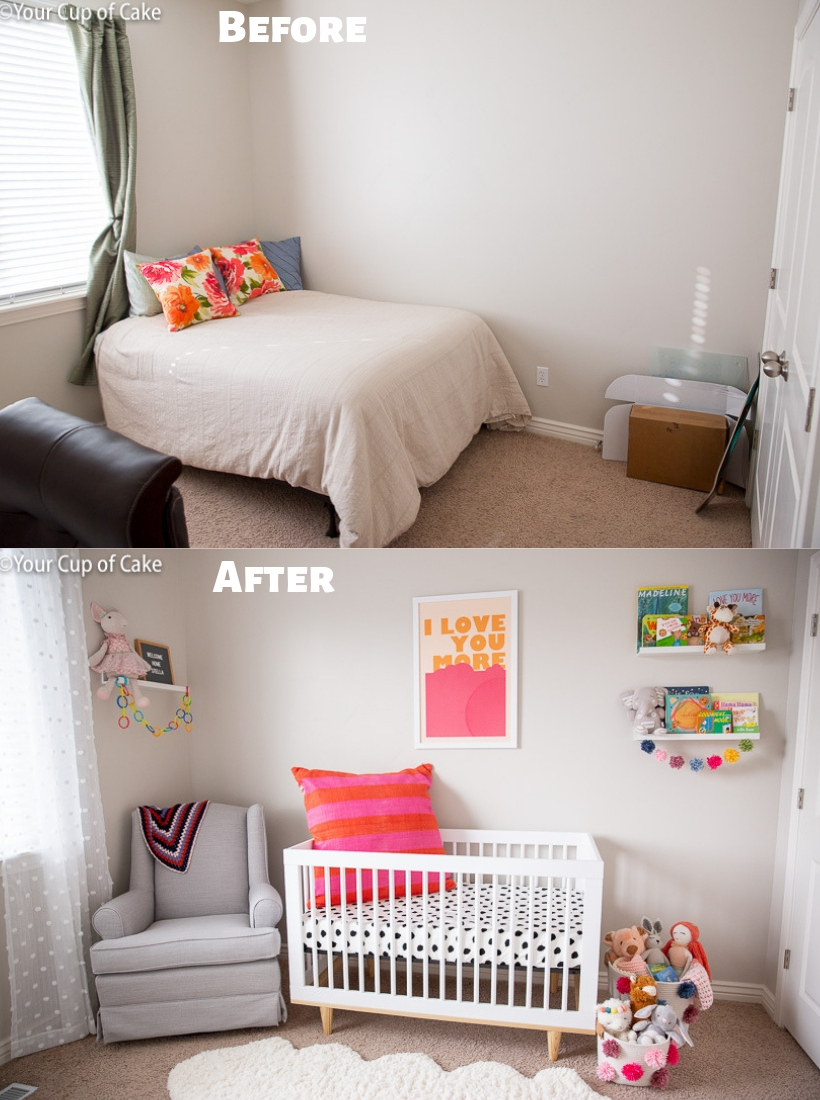 This shot below just shows some of the simple changes we made. We moved the existing dresser and mirror towards the center of the room to create a corner to tuck away spare toys and things. Babies have a lot of stuff, so having extra storage space is needed to keep things looking somewhat put together and tidy.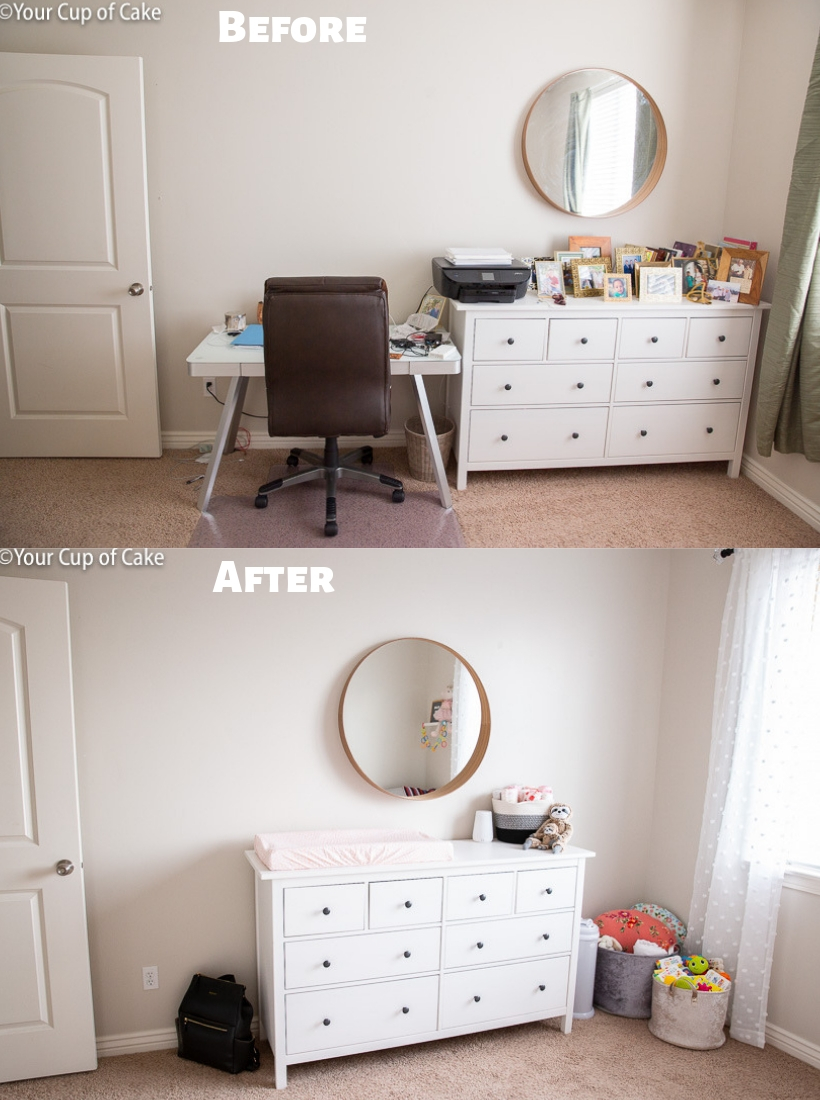 7 Tips on How to Decorate a Nursery on a Budget
Alright, let's dive in to some tips on how to decorate a nursery on a budget… a tight budget! These are the things I learned and followed when decorating Stella's nursery, of course there are other ways to save pennies as well! Let's learn how to decorate a nursery on a budget!
Tip #1: Use What You Already Have
Check out what furniture and decor you have around the house that you can use in the nursery. For us, we used the same dresser and mirror we already had in the room which saved us some major bucks! You could even update a dresser with a fresh coat of paint or new hardware (knobs) to spruce it up and make it feel new. Some of the cutest nurseries I've seen have an eclectic vibe because they use older dressers and chairs.
Tip #2: Small Things Can Make a Big Impact
Spend your money wisely! There are tiny, expensive things you can buy that make no big impact on the room. But if you spend your money on a rug, that can make a huge impact and really change the feel of the room. I went with a smaller rug and got it more than half off on Rugs USA , there are other sizes available for that same rug for anyone interested! I also decided to buy a real curtain rod ($18) and fun fuzzy polkadot drapes ($22) for the room (both from HomeGoods). My husband hung the curtain rod out beyond the window so that part of the drapes covered the wall and not just the window, this makes the window look a lot bigger and lets in more light!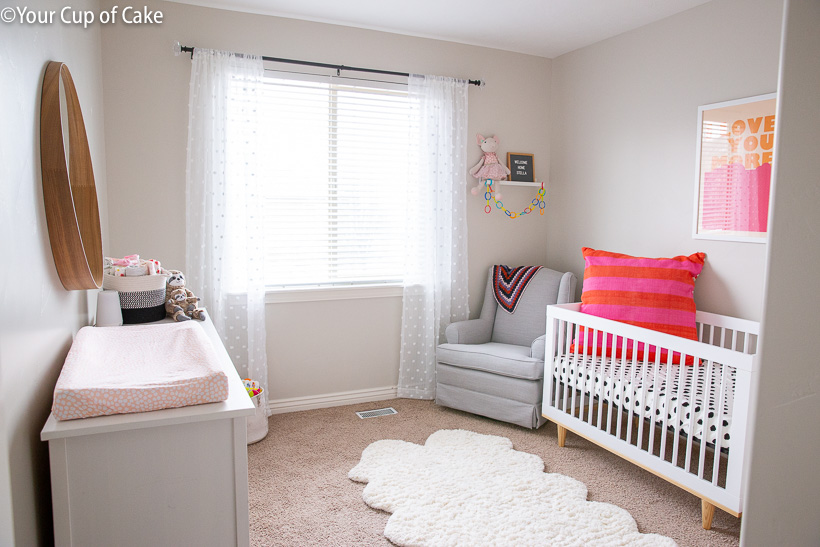 Tip #3: DIY What You Can
Do it yourself! Why pay someone to do something you can do yourself? This cute "I Love You More" poster I had a friend make for me, it's what I ended up basing the nursery colors on, a lot of bright pinks and orange tones. I made this cute little STELLA print out on Canva.com based on something I saw on etsy. We have this super comfy Boppy Baby Lounger for our baby girl but it didn't come with a cover, I could have bought one online for around $30 but instead I headed to the fabric store and spent $8 to make a cover. Pom pom party! I saw these really cute storage baskets on anthropologie with pom poms on them, but they were around $80! So I bought some plain white storage bins from Target, got some yarn and made my own pom-poms for them! I even took the spare pom poms and strung them up for added color.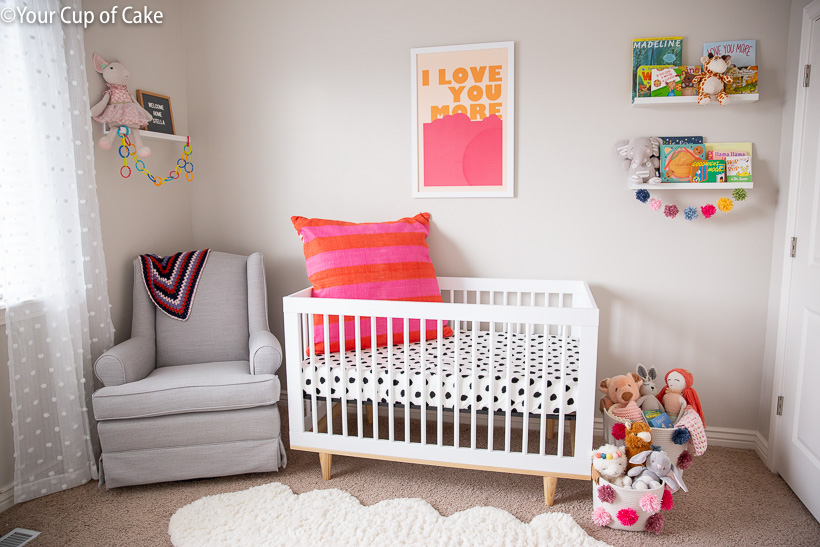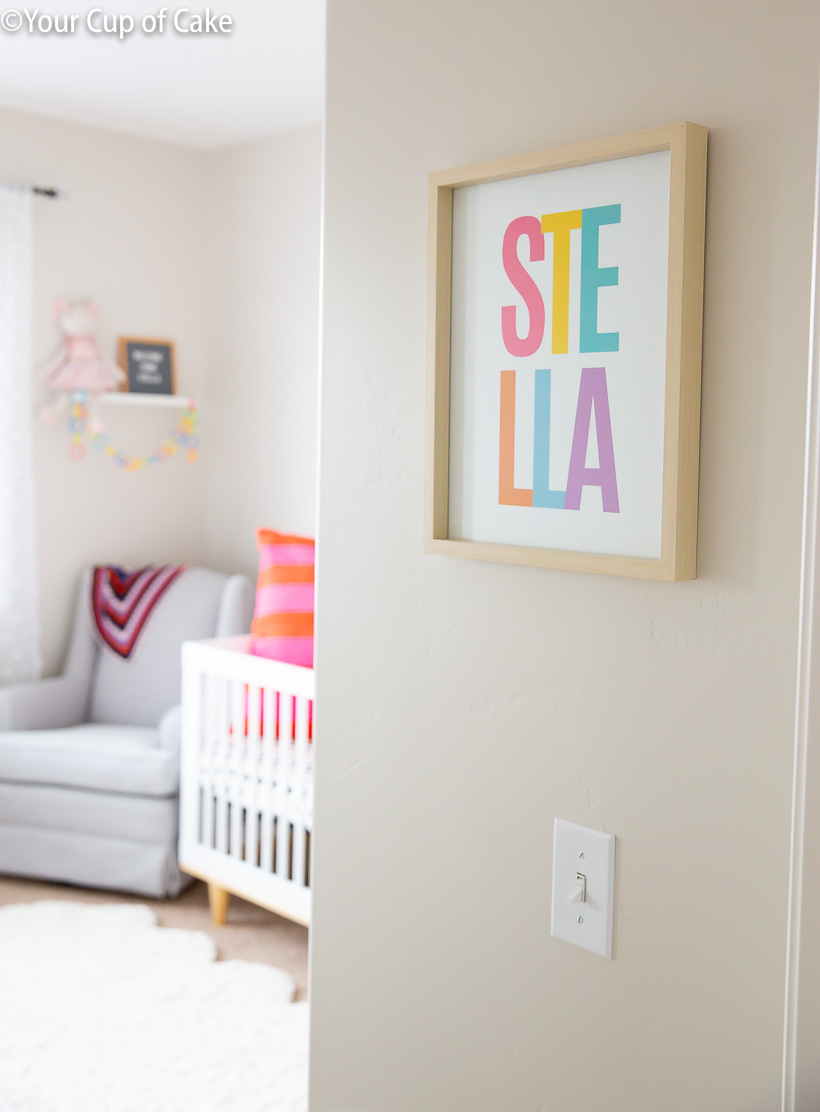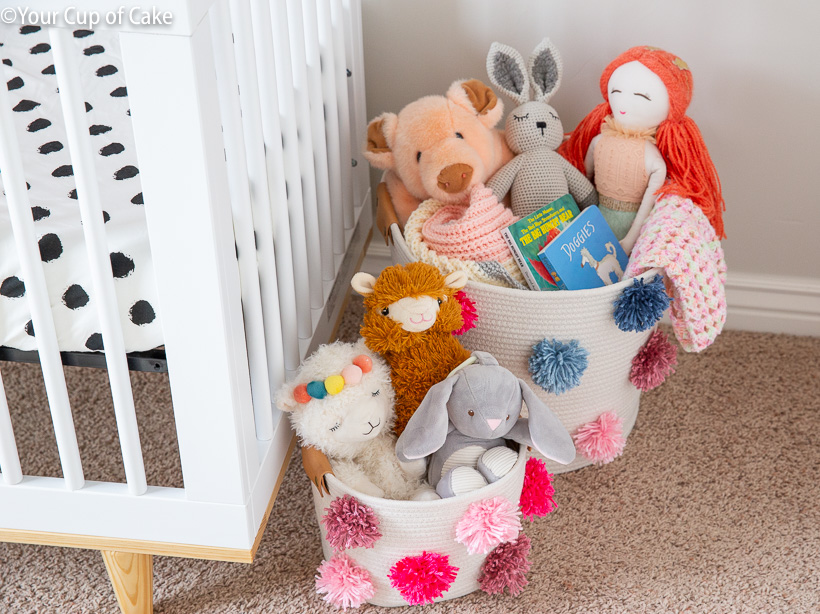 Tip #4: Register for the Right Things
Most people have a baby shower (at least for their first baby) and register for gifts! It's very easy to register for a bunch of things you don't really need, but think about what your nursery needs are! You could register for shelves, curtains, cute crib sheets, even do group gift options for larger purchases like your crib or rocker! My sweet mother in law gifted me my crib and my mother gifted me the glider, so that right there saved us a ton of money! Even think outside of the box, I'll explain in tip #7 that you can decorate with books and other things, so register for those too!
Tip #5: Be patient. Wait for Sales and Craigslist
If you start decorating your nursery early, you have more time to be patient and wait for sales and things to pop up on craigslist or facebook marketplace. Everything I bought was either from a discount place like TJ Maxx or HomeGoods or was on sale! My big frame for my "I Love You More" poster for 60% off from Michaels! Also, if you register online at target or amazon they will give you a discount code for 15% off anything baby related! (There are a few rules and time frames for those discounts so check on that.) Also, Buy Buy Baby has major coupons and discounts too! When my sweet mama got our glider from there we made sure to take advantage of the %20 off coupon! And if you order your glider in store you can pick out from a big booklet of fabrics exactly which fabric you want it upholstered in!!! No extra charge!! Like what? How come no one told me that before?!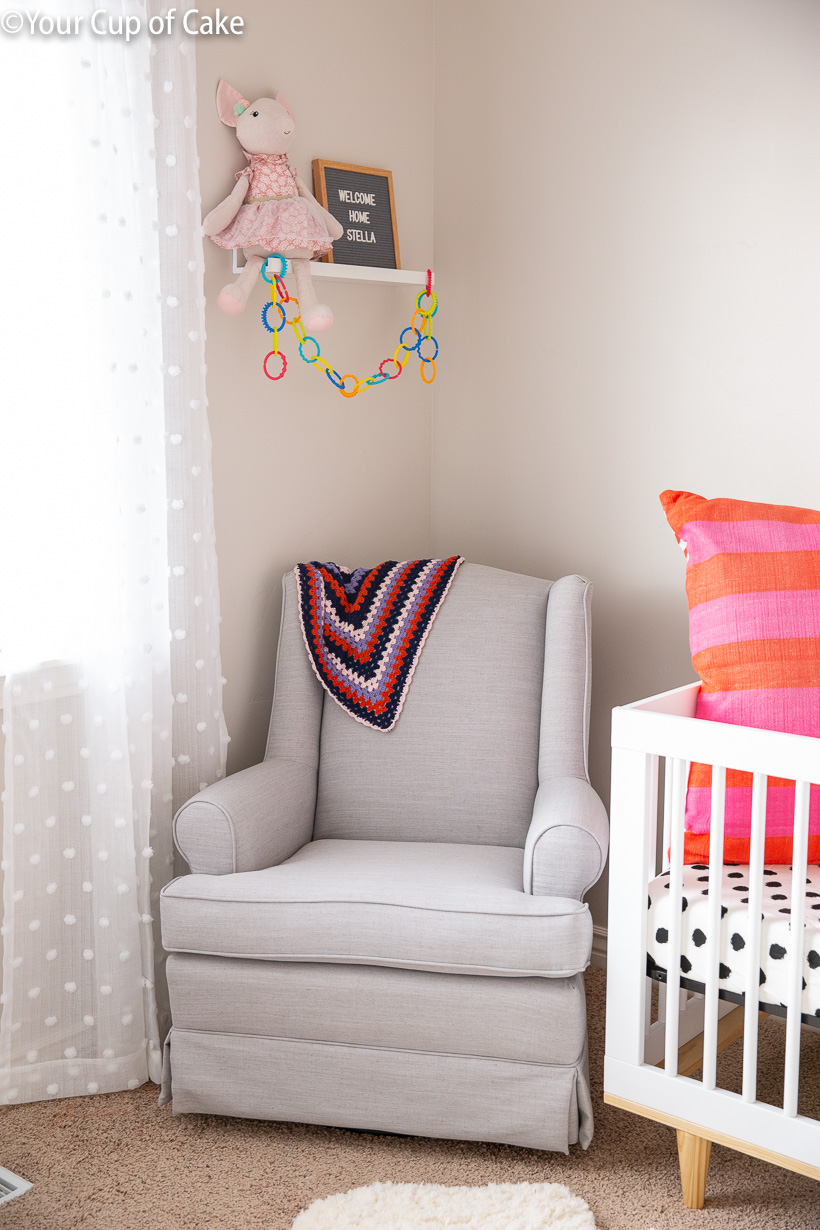 Tip #6: Shop Ikea Wisely
I'm not one of those big Ikea shoppers, the store actually gives me anxiety, but it can really come in handy for basic things! My dresser, mirror, picture ledge shelves, and dresser dividers are all from Ikea! Go to the store or online and look around to know what they have. They even have great options for poster/photo frames!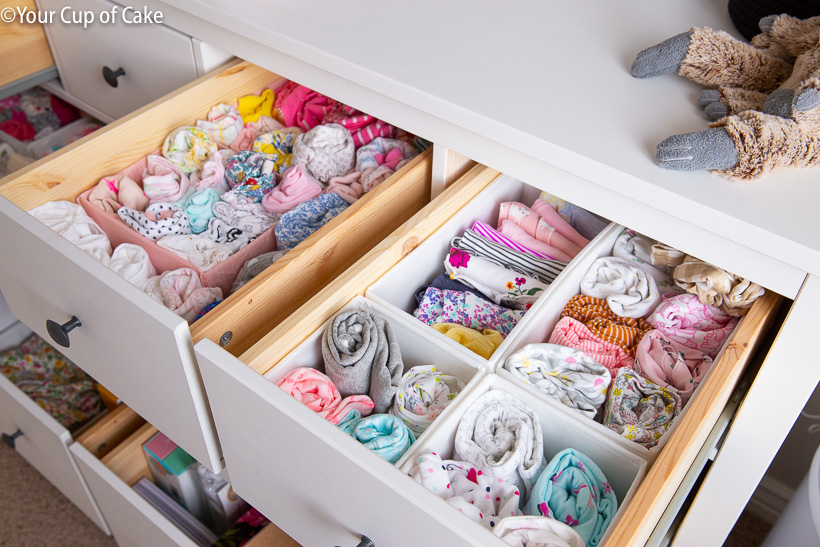 Another DIY tip, if you're having a girl and want to give it a try, make her hair bows! I get about 70 cents of fabric and can make a hair bow from it! That's better than spending $9 plus shipping for a bow! I made all the bows in this photo!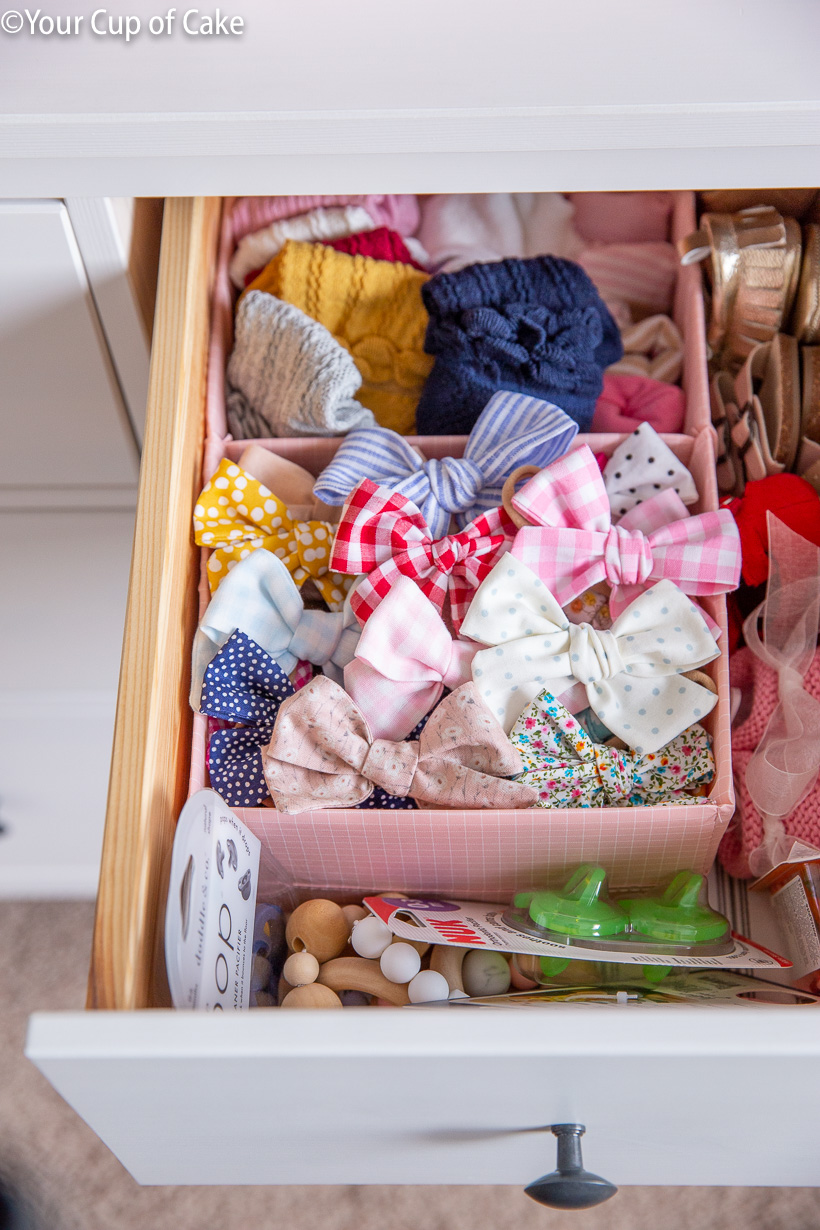 Tip #7: Decorate with Books and Toys
Your baby is going to be playing with books and toys anyway, so you might as well use them to help decorate the room! There's a reason these Ikea Picture Ledges are so popular in nurseries! It's because they work as storage and decoration at the same time! Throw on a few stuffed animals and it's adorable! I put some of the swaddles that matched the room in a basket and used them for a pop of color too! Bins with stuffies and spare books on the floor are always cute and add that "Aww" factor when someone walks in. I even strung up some baby links on one of the picture ledges since she won't be using them for a little while.
The cute little sloths are from Target, my husband is obsessed with sloths so I had to get them! The little one has a rattle in it! The storage bin is from HomeGoods!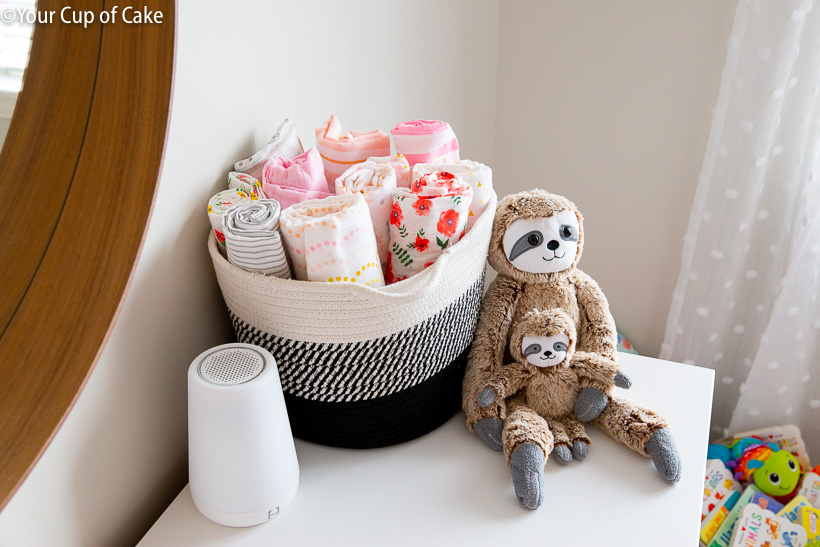 I'm all about cute board books!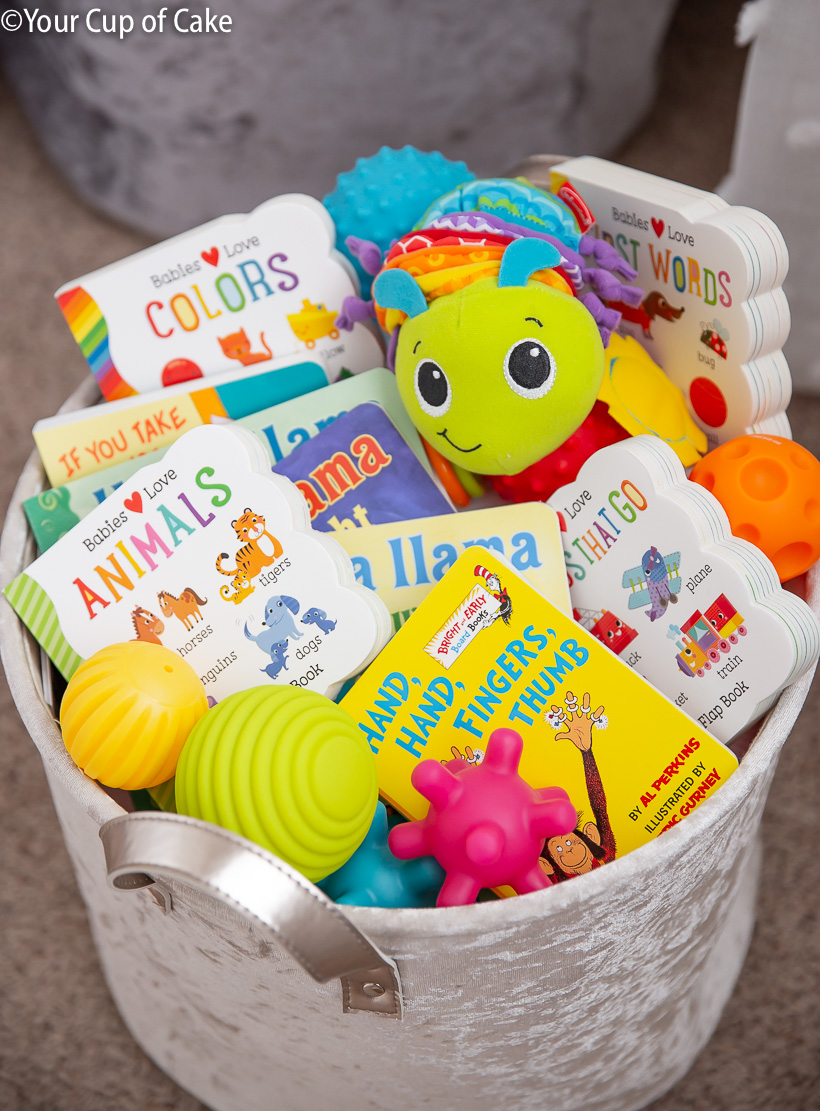 Our baby is born in the year of the pig and I loved pigs when I was a little girl, so this cute piggy from HomeGoods called out the me. She'll be my cheerleader while I sit up all night in that glider trying to nurse and keep Stella from crying.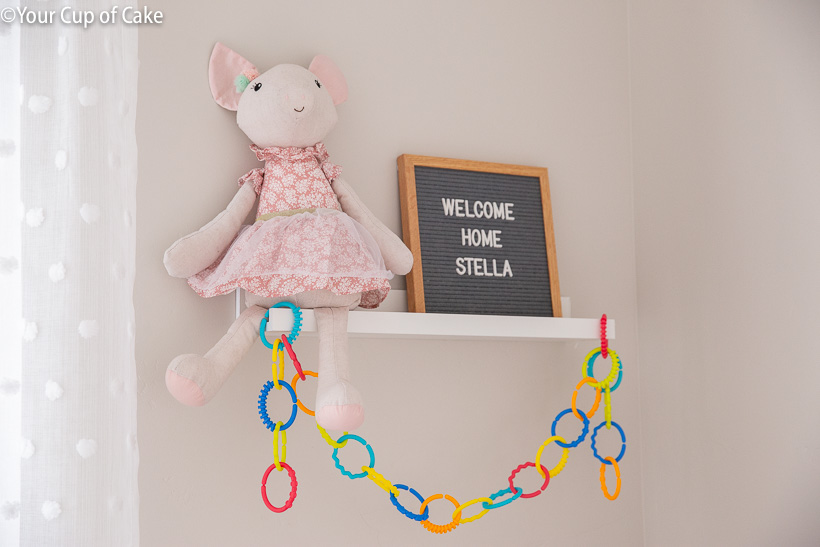 Cheap Nursery Decoration Ideas
So a little recap, spend your money wisely! Let a few things be statement pieces instead of trying to put too much on the walls. Let your baby's toys and books becomes decor! Find out what you can DIY to save yourself some money. But before any of this, adjust your expectations. No matter how many sales you browse you can't change your small spare room into a luxurious room with hardwood floors and a view of the ocean. Not gonna happen. Let pinterest be pinterest and enjoy your real life that you've worked so hard for. I hope you've enjoyed my 7 tips on How to Decorate a Nursery on a Budget!
Stay tuned, because later I'll be sharing my top baby products to have before baby arrives, including this baby must-have the DockATot! Need more sleep mama? This thing can help your baby sleep better at night because it gives them a "womb-like" place to rest their eyes. Just wait until you see the fun attachments for it!