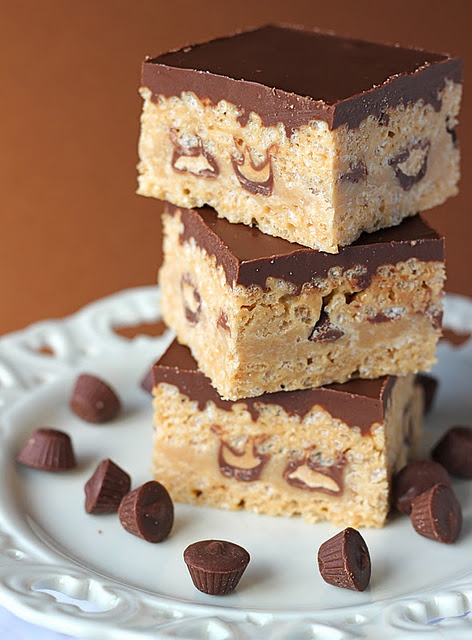 Happy Saturday! You made it, I made it, we all made it through another work week and now it's time to enjoy the sun, friends and family for two days before heading back to the office.
As you know, I've started these fabulous Saturday posts to talk about whatever I want and you have graciously endured my few dating rants and take on life but today I'm sharing one of my favorite recipes from the Your Cup of Cake recipe archive… Peanut Butter Chocolate Rice Krispie Treats. I made these more than 2 years ago and I still can't believe how good they are! Plus, it was a miracle the photo turned out as well as it did because back then I was still using my little Canon Powershot and had NO clue what I was doing when it came to cameras!
Oh my… let me tell you, these things will change your life and you will never be able to eat the regular Rice Krispie Treats again. If you want to take the easy way out and simplify this recipe, you can just do one big layer of peanut butter rice krispies and then pour on the chocolate ganache and top it with the Trader Joe's mini peanut butter cups (so you leave out the peanut butter fudge). And trust me, you will want to try Trader Joe's peanut butter cups because they are incredible (no they aren't paying me to say that I just love them that much!). This is a great treat to make for parties, game nights, sleepovers, potlucks, really anything! And I especially love them because I can make them the night before and serve them the next night! No need to refrigerate or fuss about serving them right after you them them, they'll taste great no matter what!
Utah readers: I'll be having a book signing for my brand new book "Make it with a Cake Mix" at the University Village Deseret Book in Orem, Utah on Saturday April 5th from 6-8 PM (during the Priesthood Session of General Conference). I would love to see you there!