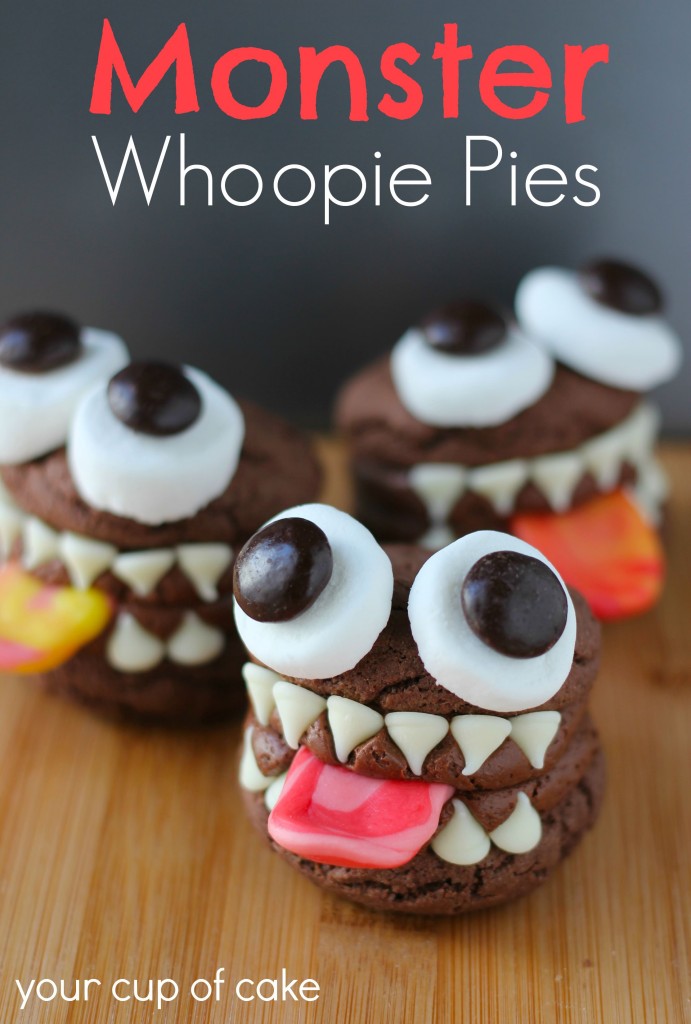 The Story:
I don't remember asking my parents to check for monsters under the bed or in the closet but I do have my fair share of quirky fears.
Crows, kayaking, car washes, cheese balls and yule logs.
I could live without them all.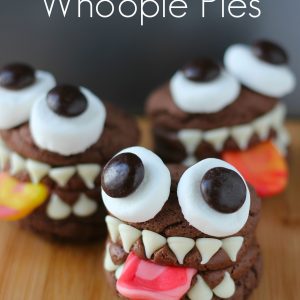 Monster Whoopie Pies
Ingredients
Chocolate Cookies:
1

box Devil's Food Cake Mix

1/3

C.

oil

2

eggs

2

Tbsp.

brown sugar

2

tsp.

vanilla extract
Chocolate Frosting:
1

C.

butter

2

tsp.

vanilla extract

1/3

C.

unsweetened cocoa powder

2

Tbsp.

milk

2-3

C.

powdered sugar
20 Starbursts, for tongues
White Chocolate Chips, for teeth
10 large marshmallows, for eyes
20 Junior Mints or M&M's, for eyeballs
Instructions
1. Preheat oven to 350 degrees and line pans with parchment paper.

2. Sift cake mix into a large bowl, add oil, eggs, brown sugar and vanilla extract. Stir until dough forms. It's thick, you'll have to work for your cookies if you stir it by hand 🙂

3. Make golf-ball sides dough balls and gently flatten them out a little so that they don't bake up too tall. (You don't have to flatten them as much as in my photos.)

4. Bake for 6-8 minutes and let cool.

5. Frosting: Beat butter. Add vanilla extract, unsweetened cocoa powder and milk. Slowly add in powdered sugar until you reach your desired consistency.

6. Tongues: Unwrap Starburst squares and heat 2 at a time in the microwave for 5-9 seconds. Each microwave is different, but be careful because they can melt really fast! Remove from microwave and twist and turn the colors together and form a long "tongue" shape. Let cool of parchment paper.

7. Prep the whites of the eyes by cutting each large marshmallow in half and set down sticky side up.

8. To assemble (see photos), pipe a small amount of frosting on the bottom of a cookie. Place a "tongue" on the cookie and pipe more frosting on top. Top with another cookie. Use white chocolate chips to make the "teeth." Place marshmallow halves sticky side down onto the cookie. Use a little frosting to stick the Junior Mints on the marshmallows.

NOTE: I placed the top cookie on at a slant like a mouth would open with the tallest point right above the tongue.
Cake mix dough is really stiff. I always mix mine by hand because I feel like it's a mini work out, so I get to eat more cookies, right?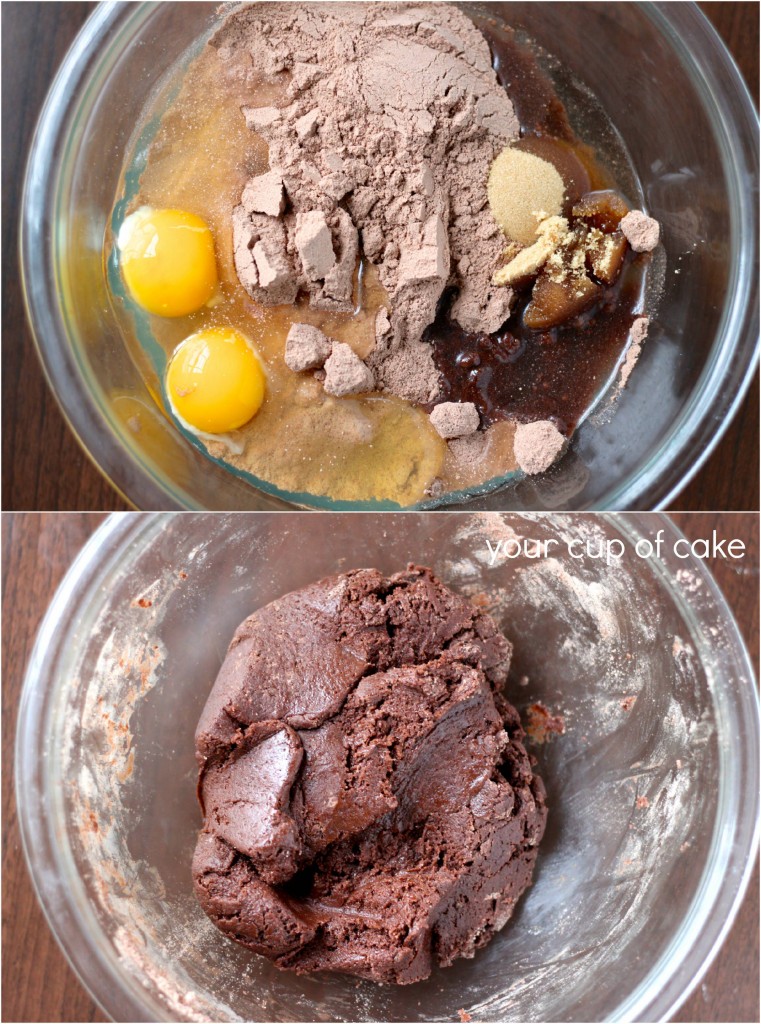 Flatten down your dough balls a bit, though maybe not quite as much as I did in this photo. Cake mix dough bakes tall, that's why you have to pat it down a bit.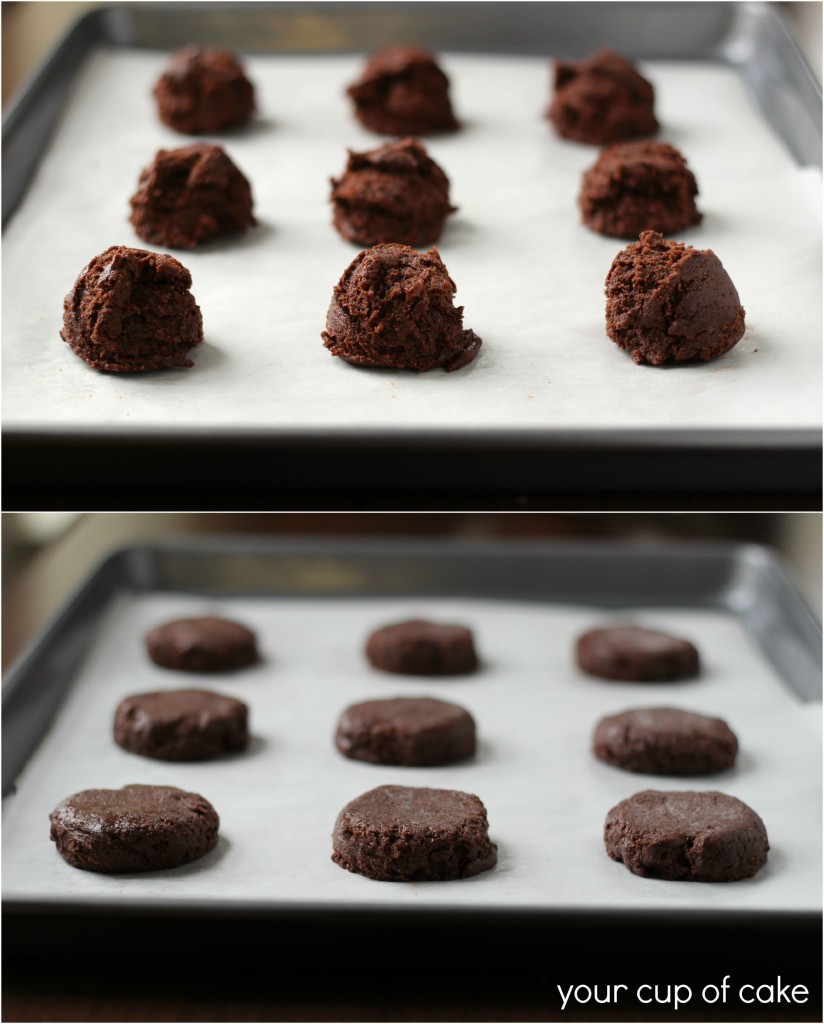 I combined colors in the tongue to give it a more "cartoon-y" look. Be careful microwaving them! They can melt REALLY fast! You can also use Laffy Taffy (take longer to melt) or Air Heads (which you don't have to melt at all)!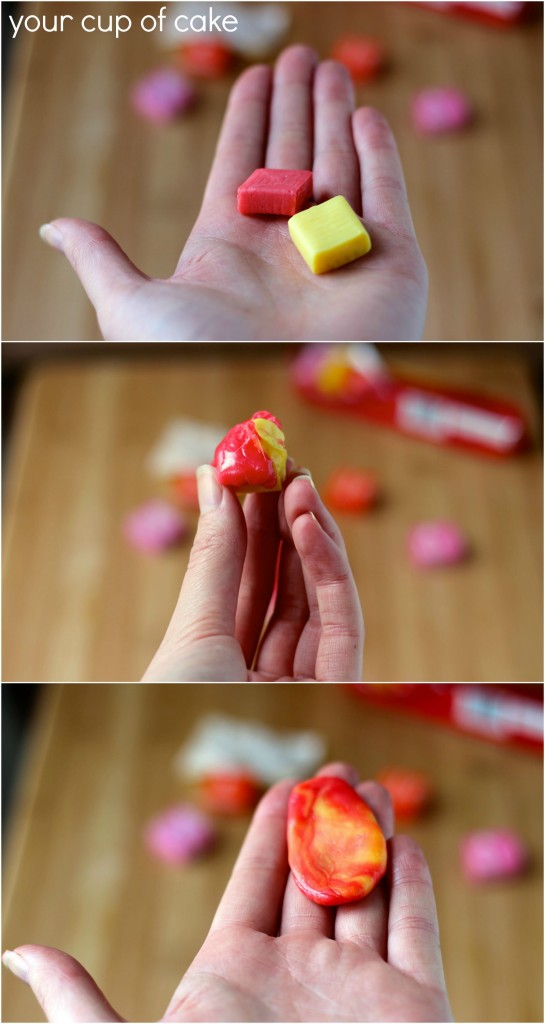 We all love step-by-step photos…

They really are pretty scary. NOTE: I cut some of my marshmallows into thirds and discarded/ate the middle third (sticky on both sides). I didn't want them all to have the big bug-eyes.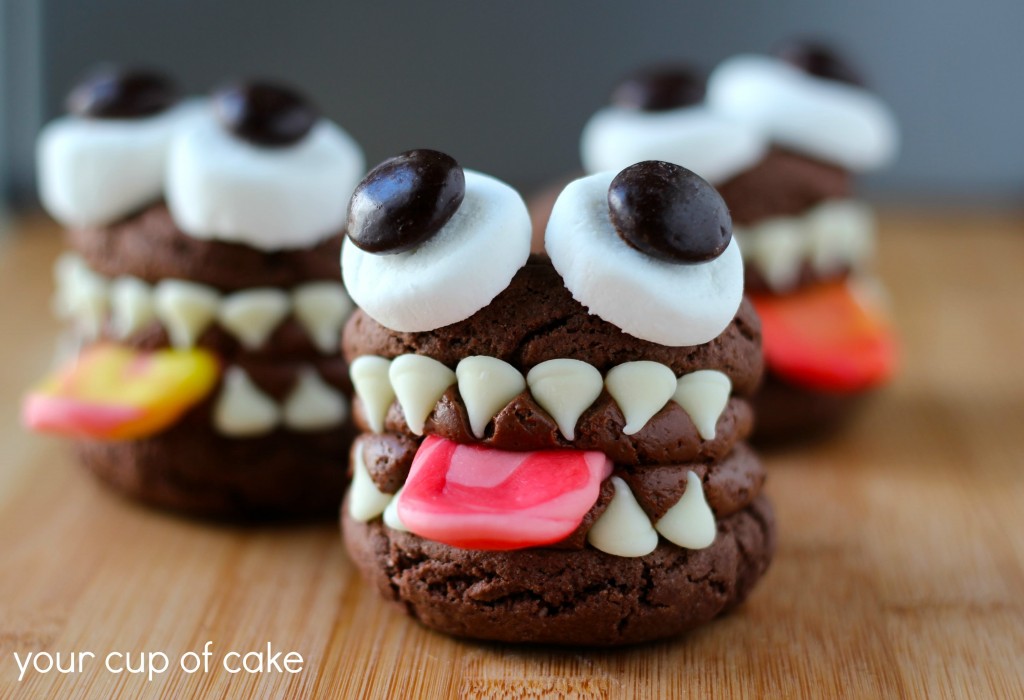 I used Ghiradelli's unsweetened cocoa powder, so good. I can't wait for hot chocolate season…