The Story:
Cookie dough seems to hold a place in everyone's heart. There is something about a spoon full of this sugary goodness that makes all your problems melt away as it melts in your mouth.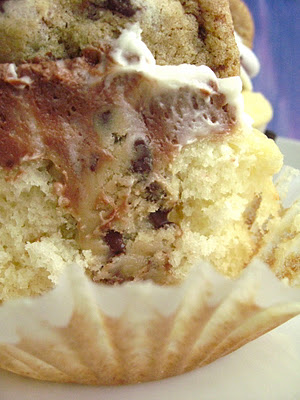 3 eggs
1 teaspoon vanilla extract
Vanilla Cake Mix (not white cake mix)
4 tablespoons butter, softened
1/3 cup brown sugar, packed
7 oz sweetened condensed milk
½ teaspoon vanilla extract
1/3 cup mini chocolate chips
Chocolate Vanilla Swirl Buttercream:
8 oz cream cheese, softened
1.
Preheat oven to 350 degrees and line pans with 20-22 cupcake liners.
2.
In a large bowl, gently combine eggs, oil, buttermilk and vanilla.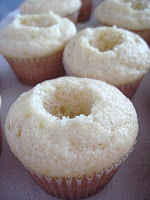 4.
Add cake mix and mix until smooth.
5.
Fill cupcake liners ¾ full and bake for 15-18 minutes, or until an inserted knife comes out clean.
6.
Filling: Beat butter and brown sugar until creamy and smooth. Add flour and let mix. Add sweetened condensed milk and vanilla. Stir in Chocolate chips. Place in a small Tupperware and let refrigerate until ready to use.
7.
When cupcakes are out of the oven, cut a cone shaped piece from the top of each cake.
8.
Remove the filling from the refrigerator and stuff about 1 ½ -2 teaspoons of filling into each hollow cupcake.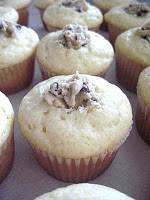 9. Buttercream: Beat cream cheese and butter until fluffy. Add vanilla and powdered sugar. Adjust the consistency using milk if it is too thick. Remove half of the buttercream from the bowl (this will be the vanilla). Add cocoa to the remaining half and beat well.
10.
Fill your piping bag by filling one side with vanilla and one side with chocolate. It is a little tricky, but it can be done!
11.
Pipe over cookie dough hole and top with mini chocolate chips or chocolate chip cookies.