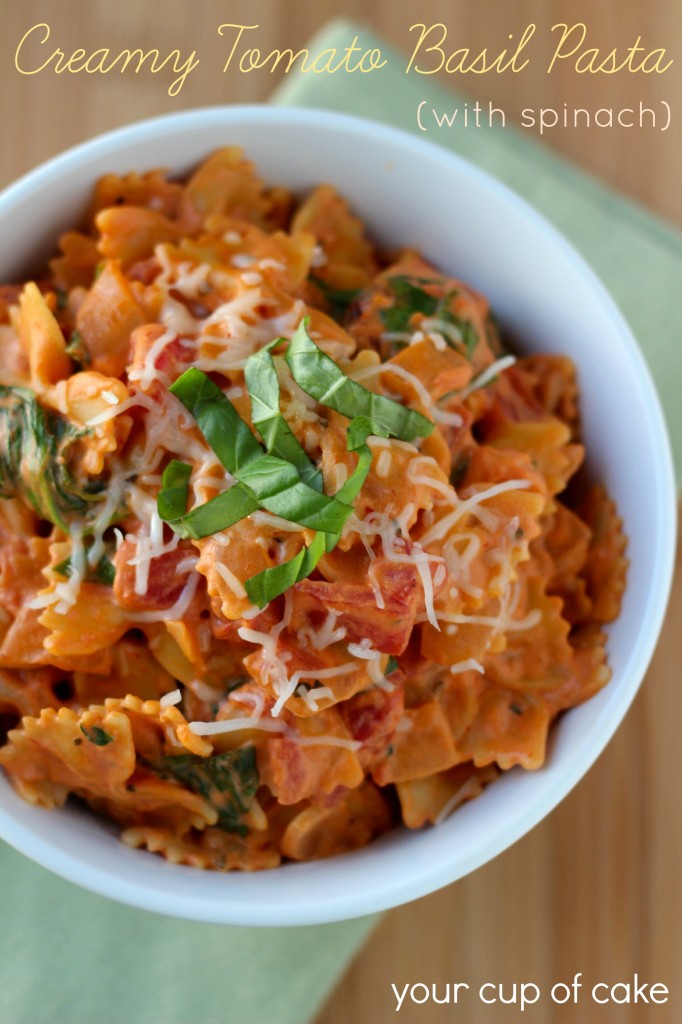 The Story:
Boot, scarf, glove and wool sock season has arrived. And with the cozy blankets and evenings on the couch usually comes soup. Now, nothing is wrong with tomato soup and a crispy grilled cheese sandwich, but sometimes you just want something a little more hearty. Tomato basil soup in a pasta! Feel free to add more basil if you feel so inspired (just taste the sauce and see if you want more). The spinach is added to get some more greens in there! It's a healthy leafy thing that some of us avoid, but once it's smothered in the sauce it tastes amazing. We all need the extra vitamins with flu season on it's way… Eat up!


Creamy Tomato Basil Pasta with Spinach
Ingredients
1 1/2

tsp.

salt

1/2

lb.

pasta

1

Tbsp.

olive oil

1

small onion

chopped

2

cloves

of garlic

diced

1

can diced petite tomatoes

1 1/2

tsp.

dried basil

3/4

tsp.

dried oregano

1/2

tsp.

red pepper flakes

optional

1/2

tsp.

pepper

more depending on your liking

1/2

tsp.

salt

1

Tbsp.

tomato paste

2

oz.

cream cheese

1/4

C.

grated Parmesan cheese

1 1/2

C.

spinach

more or less depending on your liking, remember it wilts down a lot
NOTE: 1/2 pound of pasta is usually half of 1 box, so if you want 8 servings use the whole box and double everything else!
Instructions
1. Fill your pasta pot with water, add salt and let it reach a boil. Add pasta, stir occasionally. Cook until al dente (still has some "bite" to it, it will continue to cook out of the water, so you don't want to over cook it). Drain pasta.

2. While pasta is cooking, place a large sauce pan over medium heat with olive oil.

3. When hot, add onions and garlic to sauce pan. Stir occasionally and cook for about 4 minutes.

4. Add diced tomatoes (including juice from can), basil, oregano, pepper flakes, pepper and salt. Stir.

5. Add tomato paste and stir again. Reduce to medium-low heat.

6. Add cream cheese and stir until evenly combined.

7. Add Parmesan cheese and stir until melted.

8. Add spinach and fold in until wilted.

9. Add pasta and stir well.

10. Serve with a little sprinkle of Parmesan cheese and freshly chopped basil on top!
Perfect for a cozy Fall night or when you're home sick in bed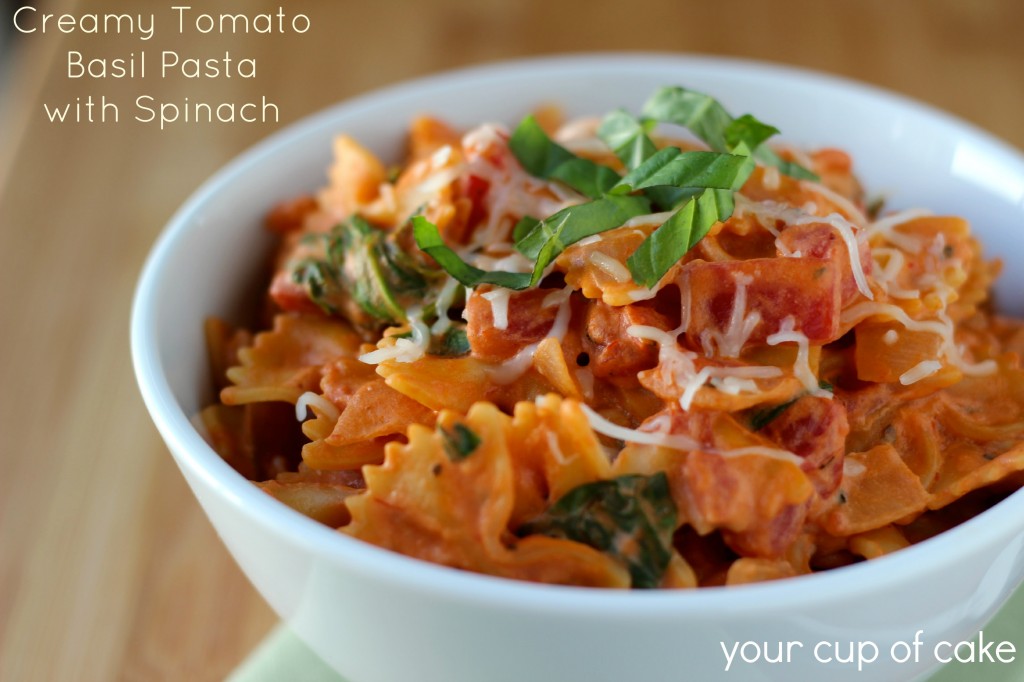 Sauté the onions and garlic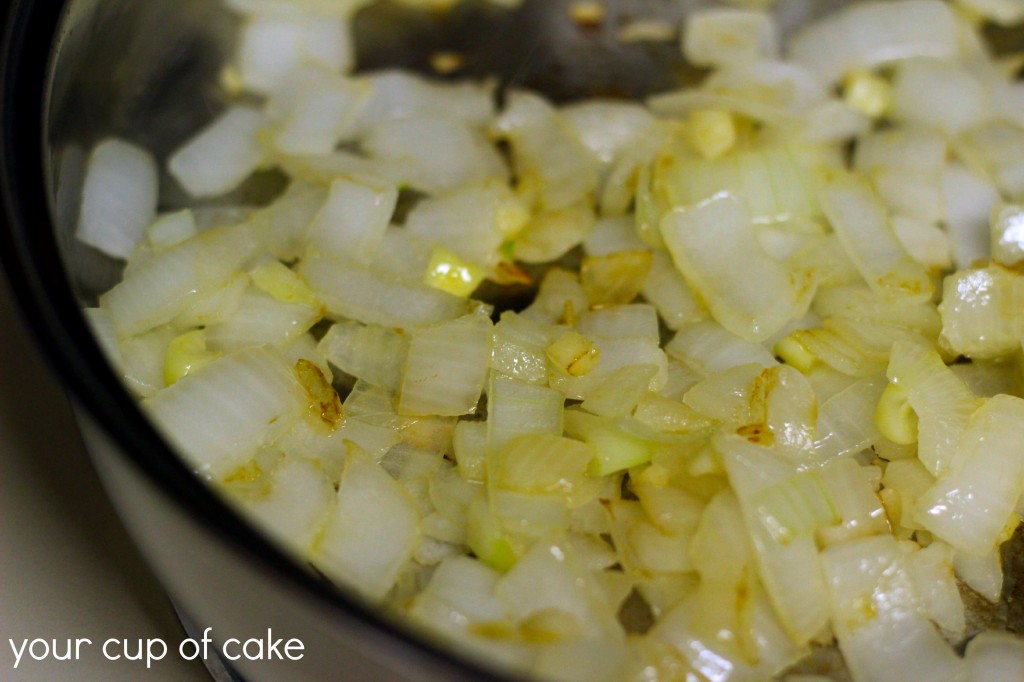 Pour on the tomatoes…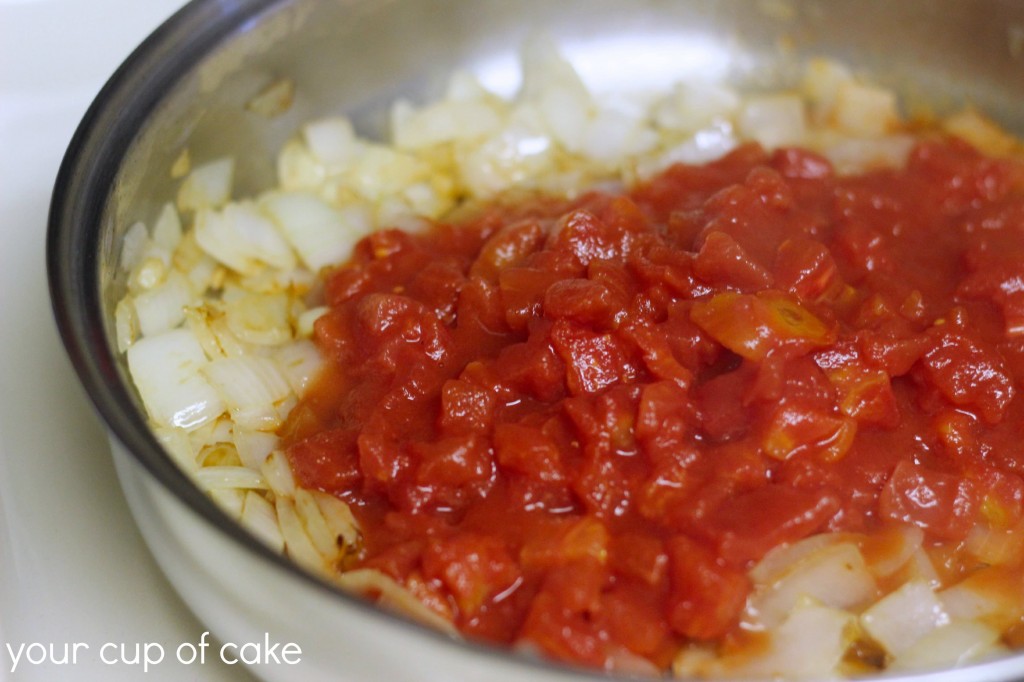 Spices! Feel free to taste test and add more as you go along!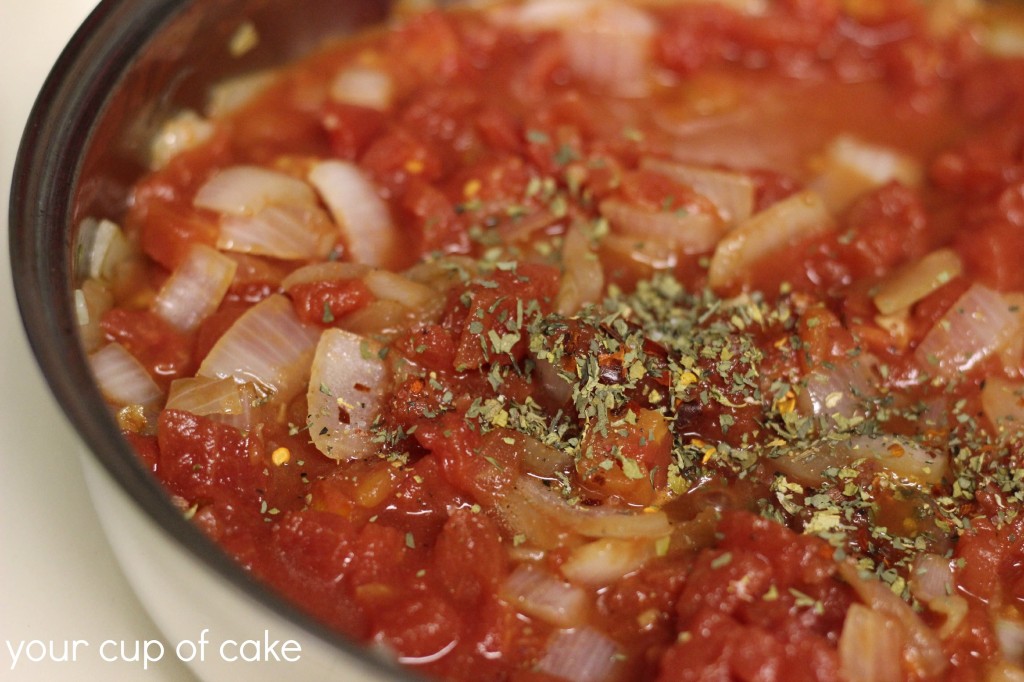 Cream cheese to make it perfectly creamy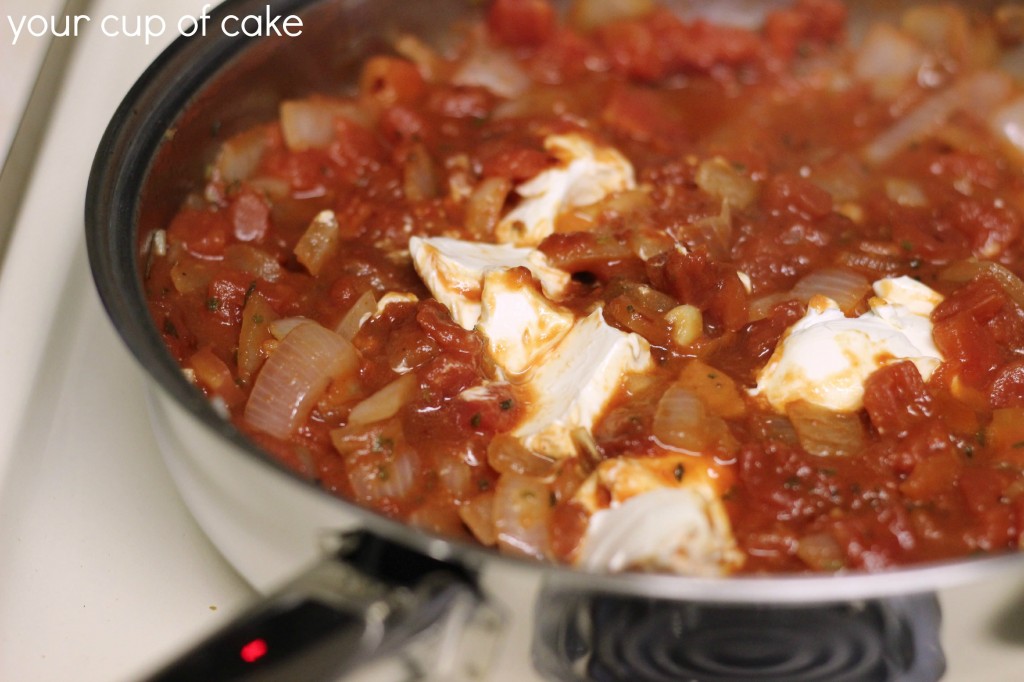 Can't go wrong with some Parmesan cheese!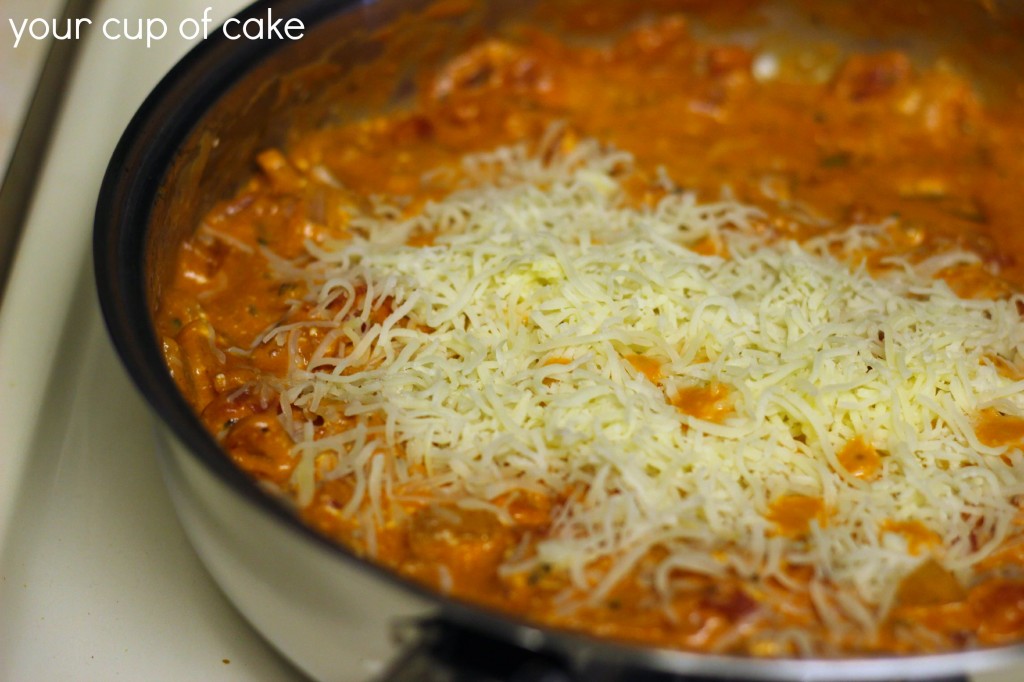 I added more spinach than is showed here. How much you add (if any) is totally up to you! It's a nice way to sneak in some vitamins and once it's covered in creamy tomato goodness, everyone will eat it their spinach 🙂
You can also add chopped fresh basil at this point if you want to make it really basil-y.
Mmm… half the bowl was gone 30 seconds after I set my camera down.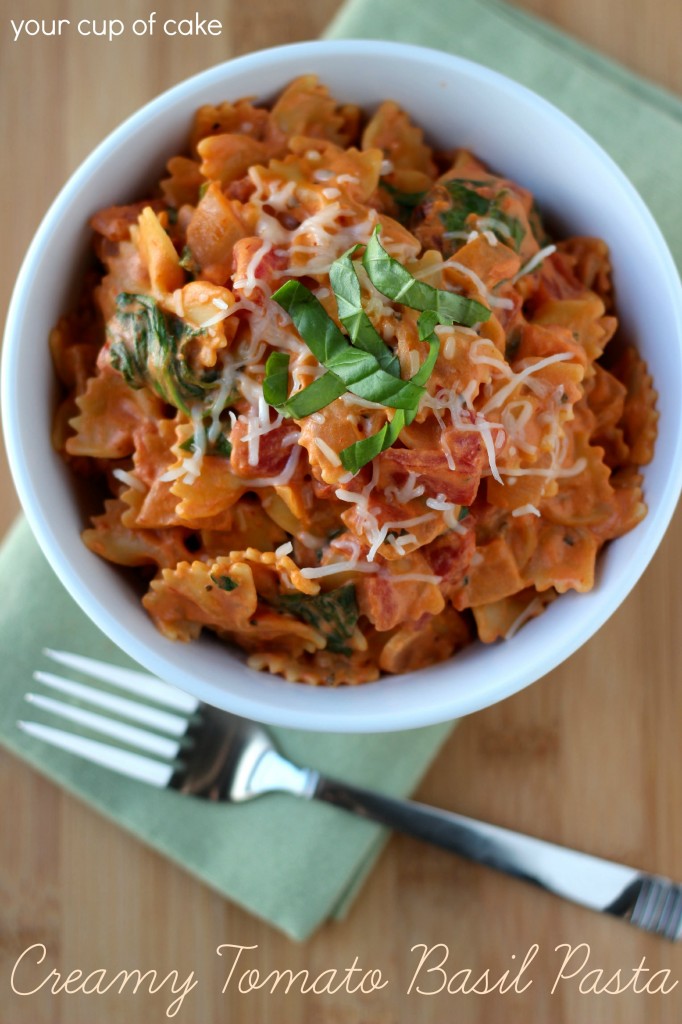 Still using my very simple photo set in the apartment (Only here for 2 more weeks!). Yes, that's cardboard from a box acting as my backdrop. The $7 cutting board from Home Goods is my new favorite "table top."