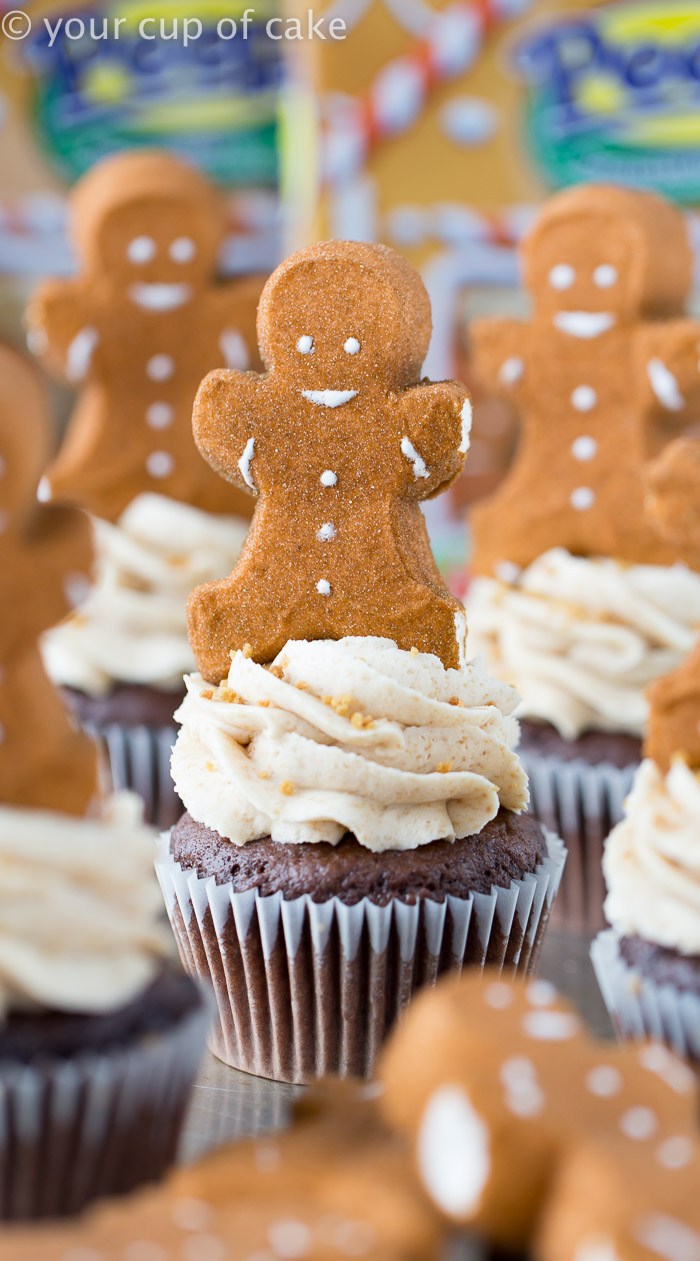 Chocolate cupcakes topped with gingerbread cooking frosting and PEEPS® Gingerbread-Flavored Marshmallow Men make adorable holiday cupcakes!  These toppers are just too cute and all you have to do is open the package and pull them apart!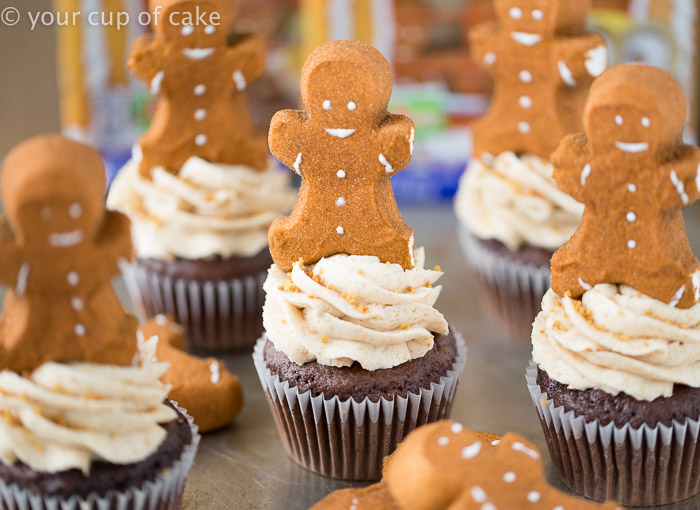 Whenever I make cupcakes for a party and really want to wow people, I make sure they they have some sort of topper. They really make any cupcakes to the next level.  But what should you top your cupcakes with?  Fresh fruit is perfect for the summer, pieces of candy bars are great for Halloween but big decorative marshmallows are exactly what you need for Christmas time!  These PEEPS® Gingerbread-Flavored Marshmallow Men were just what I needed!  There's also some adorable PEEPS® Chocolate Mousse-Flavored Marshmallow Reindeer, so watch out for those!  And if you want a discount code, I have that too!  SWEETINGS15 will get you 20% off!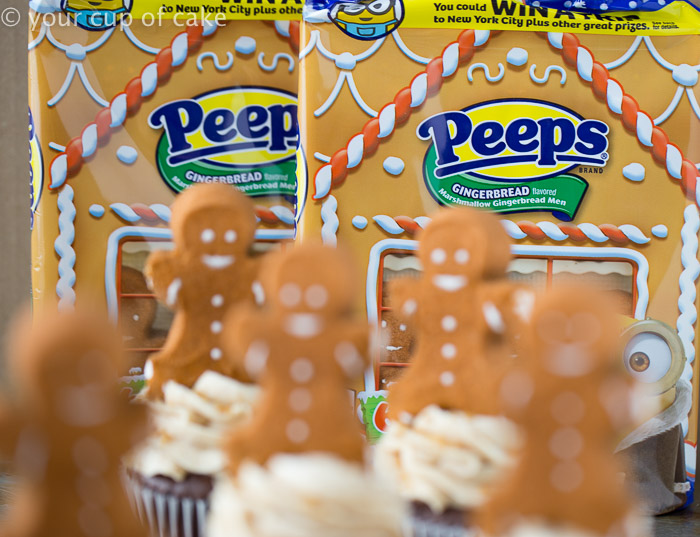 Perfect for a party!  You could even serve these with hot chocolate and guests could pull off the marshmallows and pop them into their drinks!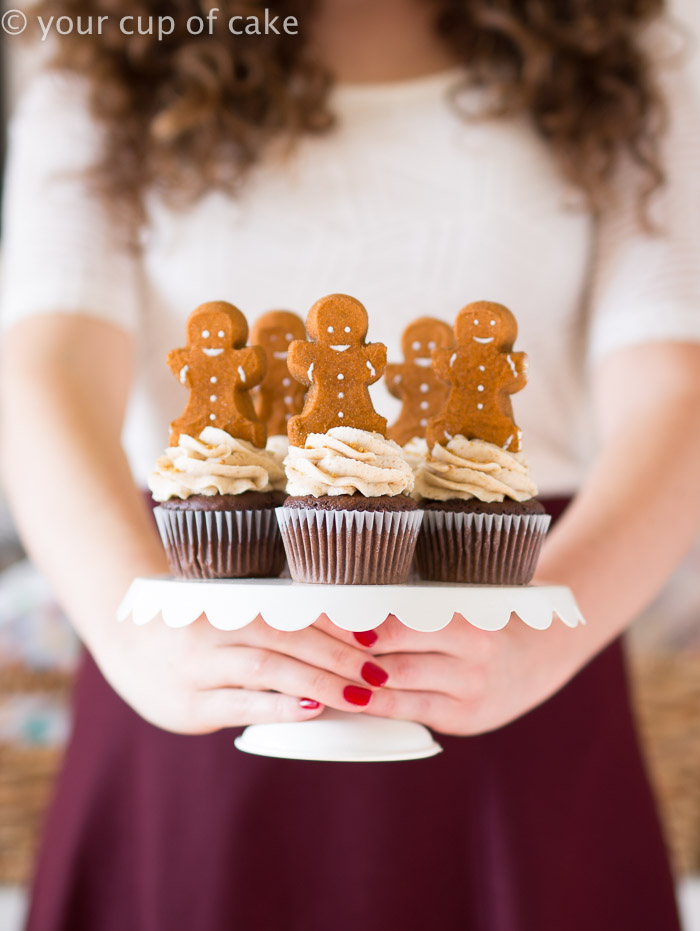 I crushed up gingerbread cookies for the frosting, I like doing that because it adds texture and flavor.  But you can just add a little bit of ginger or leave it plain and let the gingerbread man on top do all the work!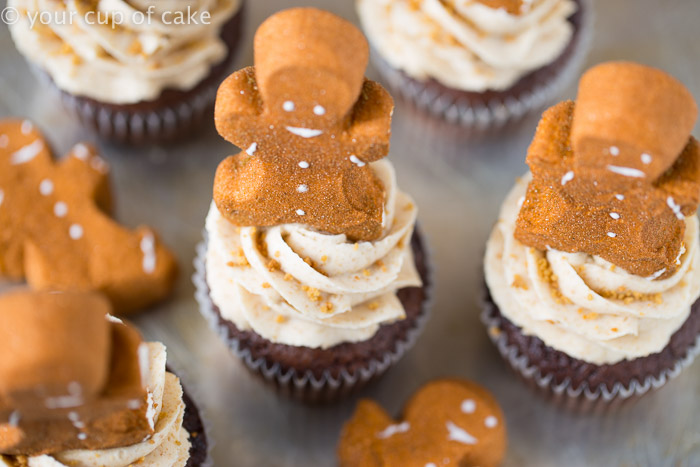 These Gingerbread Hot Chocolate Cupcakes are just what you need to kick off the Christmas season!
Gingerbread Hot Chocolate Cupcakes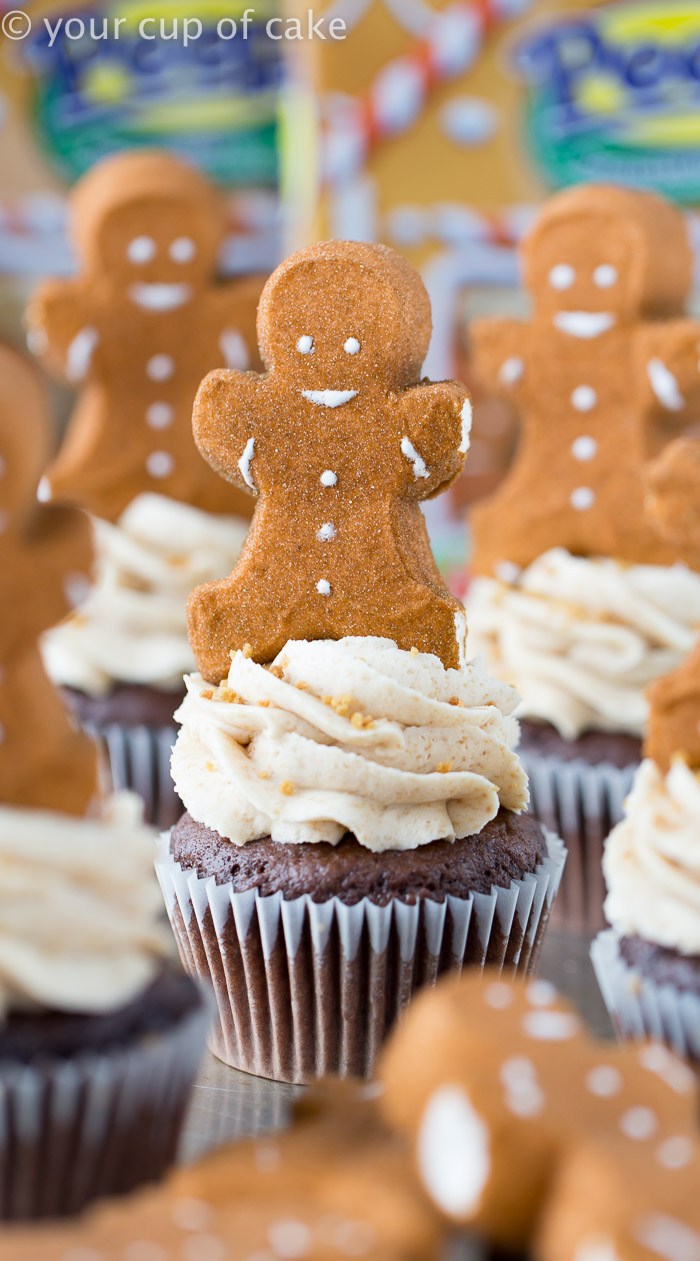 Ingredients
HOT CHOCOLATE CUPCAKES:
1 (15.25 oz) box chocolate cake mix
3 eggs
½ C. melted butter
½ C. sour cream
¾ C. milk
FROSTING:
1 C. unsalted butter, softened
3 C. powdered sugar (more if needed)
1 tsp. vanilla extract
1/3 C. gingerbread cookies, crushed in a blender
Gingerbread PEEPS®
Directions
1. Preheat oven to 350 degrees and line pans with cupcake liners.
2. Combine cake mix, eggs, melted butter, sour cream and milk until smooth.
3. Fill cupcake liners ¾ full and bake for 15-20 minutes or until an inserted knife comes out clean.
4. Let cool.
5. Gingerbread Frosting: Beat butter until smooth. Add 2 cups powdered sugar, vanilla extract and finely crushed gingerbread cookies. Slowly add in more powdered sugar until you reach your desired consistency. If it gets too thick, add in 1 tablespoon of milk.
6. Frost your cooled cupcakes and top with Gingerbread PEEPS!
NOTE: I crushed my cookies with a blender and then sifted them so that I only used the fine pieces. This way, I could pipe the frosting out with no clumps. If you don't want to use cookies, you can add a little cinnamon and ginger to the frosting instead!
Copyright © YourCupofCake
This post was sponsored by PEEPS® but the recipe and all opinions are my own!