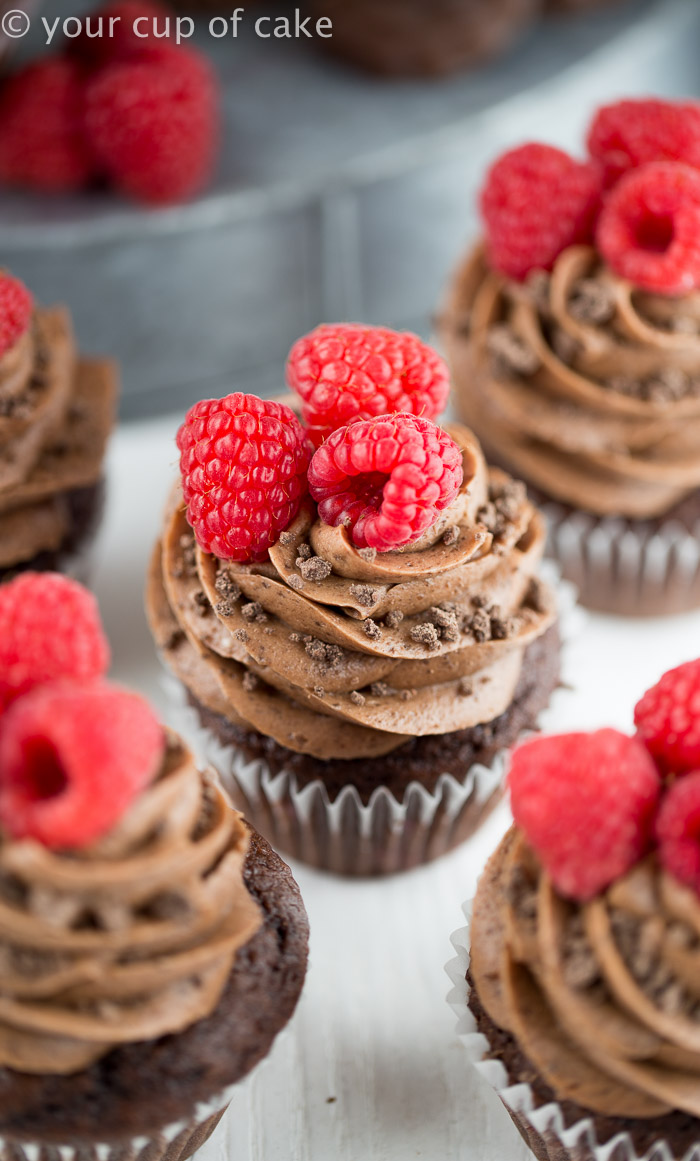 Thin Mint's have a new lover… the raspberry! It may seem like a strange combination but these Raspberry Thin Mint Cupcakes will blow your mind! They have raspberry chocolate cake and topped with a cookie crumble Thin Mint frosting so chocolatey I should get my own Girl Scout badge of honor!
I used the large pieces of Thin Mints that were too big for the frosting as "sprinkles" on top. I have a "Leave no Thin Mint Behind" policy in my kitchen.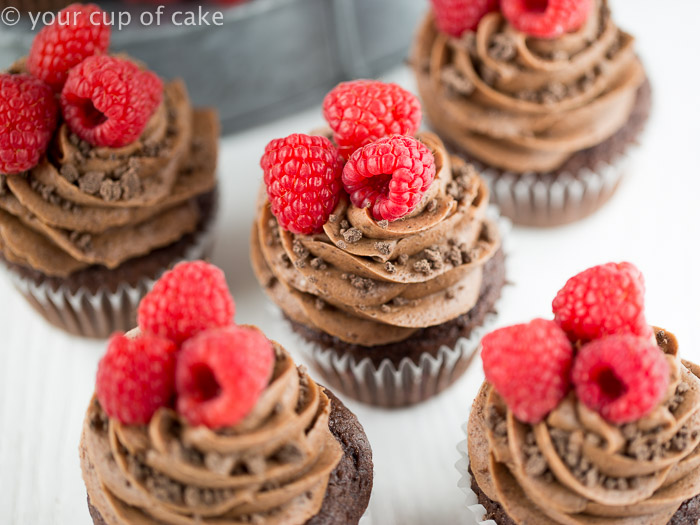 A few years ago I made these cute Raspberry Thin Mint Trifles and I was shocked by how good them were! I knew the chocolate and raspberry would go well together but the mint and the raspberry was what made this so good! So good that I have been thinking about it for years and finally got around to making a cupcake version!
On a side note, I have been changing how my emails for my blog posts go out. Let me know what you like or don't like about them! And make sure they're going to your inbox and not your spam folders! I had been getting a lot of feedback that people weren't seeing my emails any more because they were going right to spam, so sad!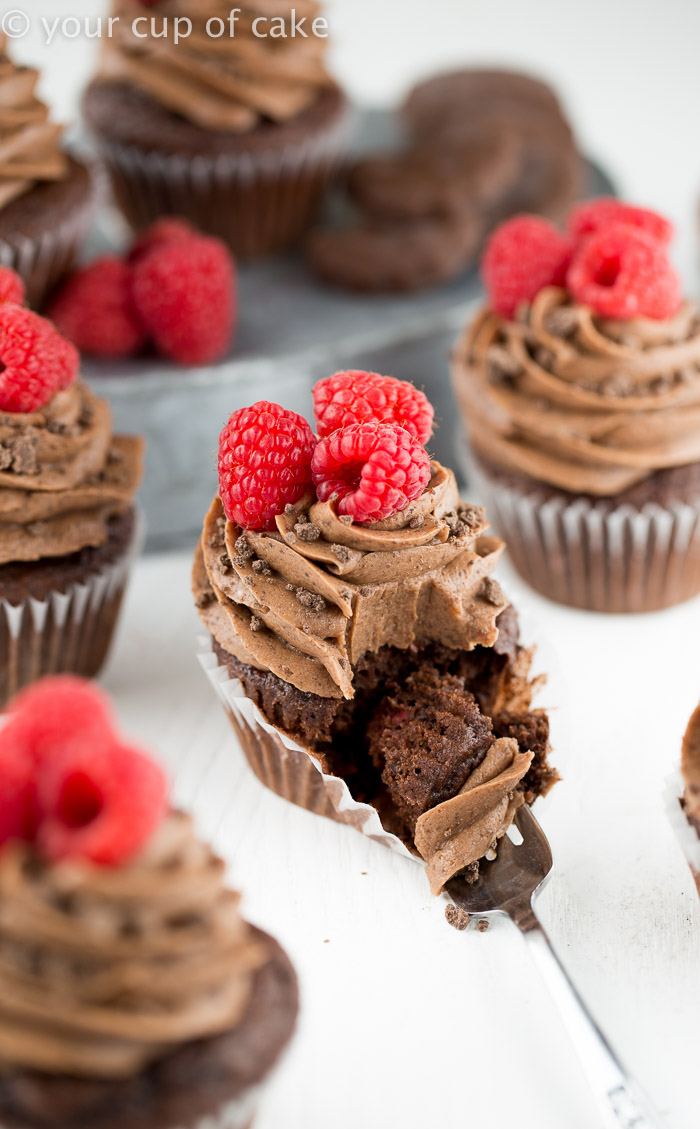 Is there anything more beautiful?
Nope.
I know I should be making green desserts for St. Pattie's but I'm not going to lie, I hate adding a ton of food coloring into things. A little is totally fine and I love my Andes Mint Cupcakes and Cake but I can't seem to bring myself to pour a whole bottle into vanilla batter to make something green! I'll stick with a few drops 🙂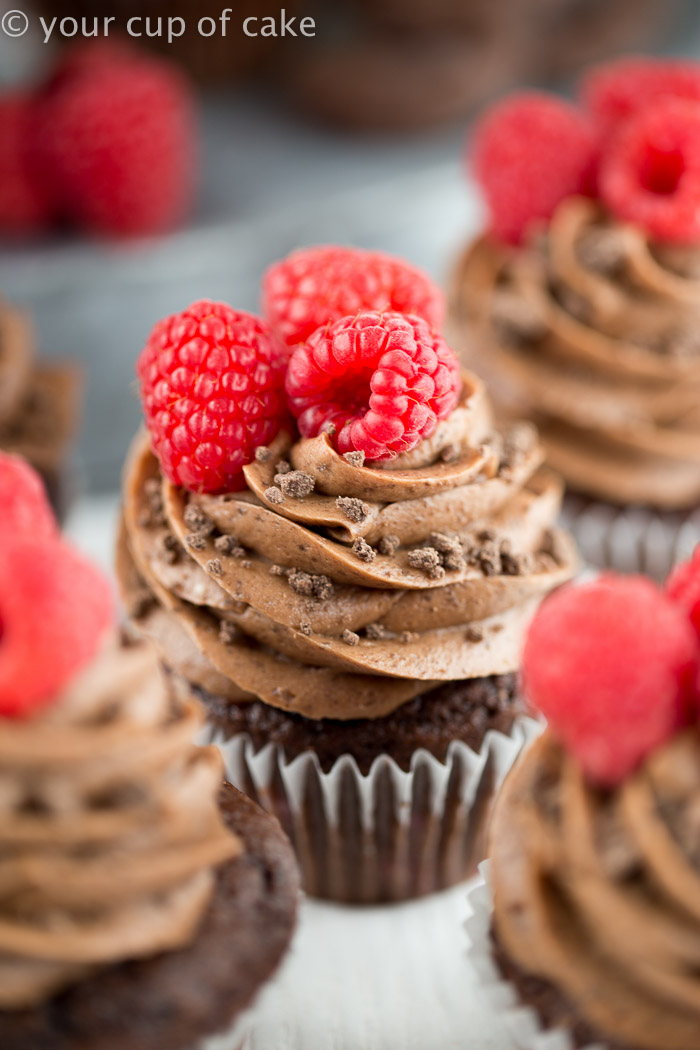 So just in case you needed another reason to go buy a box of Girl Scout Cookies… make it Thin Mints!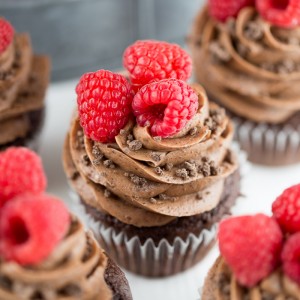 Raspberry Thin Mint Cupcakes
Ingredients
CHOCOLATE RASPBERRY CAKE:

1/2-3/4

C.

raspberries

fresh or frozen

3

eggs

1/2

C.

oil

3/4

C.

sour cream

1

Box Devil's Food Cake Mix

THIN MINT FROSTING:

1

C.

butter

softened to room temp

2 1/2

C.

powdered sugar

1/3

C.

unsweetened cocoa powder

2

Tbsp.

milk

2

ts.

vanilla extract

1/2

tsp.

peppermint extract

optional

10

Thin Mint Cookies

finely crushed
Instructions
1. Preheat oven to 350 degrees and line pan with cupcake liners.

2. In a large bowl, add raspberries (you can add as many as you want depending on how strong you want the flavor to be). Use a mixing spoon or spatula to mash the raspberries.

3. Add eggs, oil, sour cream and cake mix. Stir until smooth.

4. Fill cupcake liners 3/4 full and bake for 15-20 minutes or until an inserted knife comes out clean.

5. Let cool.

6. Thin Mint Frosting: Beat butter. Add powdered sugar, cocoa powder, milk and vanilla and peppermint extract and beat until your reach your desired consistency. Add more powdered sugar if you need it to be thicker or more milk to thin it out. Add crushed Thin Mints. If you want to pipe your frosting when you decorate, only add the finely crushed pieces and use the larger pieces as "sprinkles" at the end. I use a mesh sifter to separate the larger pieces.

7. Pipe frosting onto cooled cupcakes and top with fresh raspberries and Thin Mint crumbs!