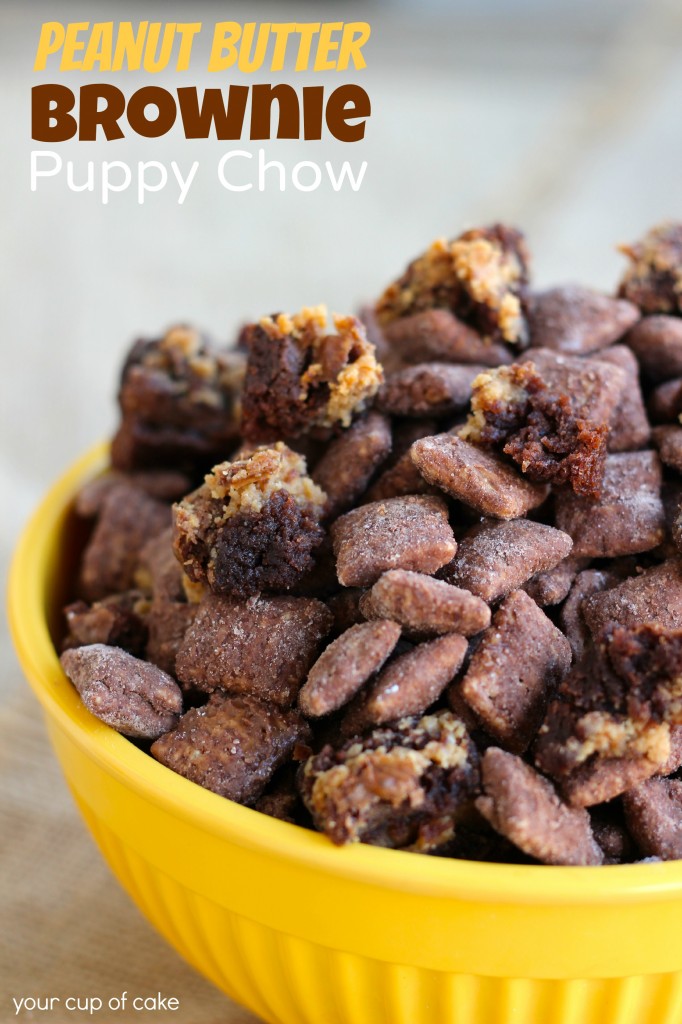 The Story:
The best part about my mother making brownies when I was a kid? I got to lick the spoon and bowl.
But I always hated it when she'd use a spatula to scrape the bowl clean leaving almost nothing for me. I would just sat there with puppy dog eyes looking like someone had stolen all my christmas presents. I watched her pour every last drop into the pan and give me a nearly clean white bowl with no gooey goodness left.
But remember, I was a rather chunky child. So sometimes when my parents were gone, I would mix up an entire bowl of brownie mix. I never bothered to preheat the oven though, because I ate the whole thing with a spoon. A good idea in theory but not in practice. The stomach ache made me pay for my gluttony.
Peanut Butter Brownie Puppy Chow
Ingredients
6

C.

rice Chex cereal

1

C.

milk chocolate melts or chips

1/2

C.

peanut butter

creamy

1

tsp.

vanilla extract

1

C.

brownie mix

from the box
Optional: Peanut Butter Brownies, Reese's Pieces, or Peanut butter cups (chopped)
Instructions
1. Place cereal in a large bowl and set aside.

2. In a microwave proof bowl, melt chocolate, peanut butter and vanilla extract and stir until smooth.

3. Pour over cereal and fold until covered.

4. Dump into a large plastic bag and add brownie mix, seal and shake until coated. (If you don't have a large plastic bag, pour brownie mix over cereal and stir well. Or you can use a pot with a lid to shake it in.)

5. Dump onto a cookie sheet and toss with pieces of brownie or peanut butter brownies (or even Reeses Pieces or peanut butter cups would be great!). But TRUST me, you will be addicted to this puppy chow, so beware.
Other Puppy Chow Recipes: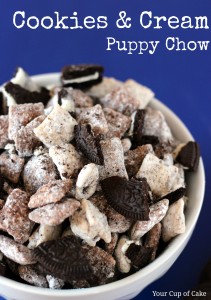 Red Velvet: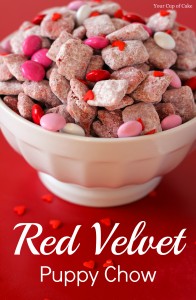 Chocolate Hazelnut: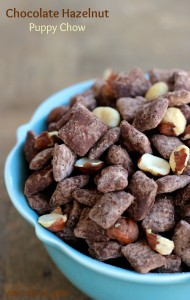 Thin Mint: