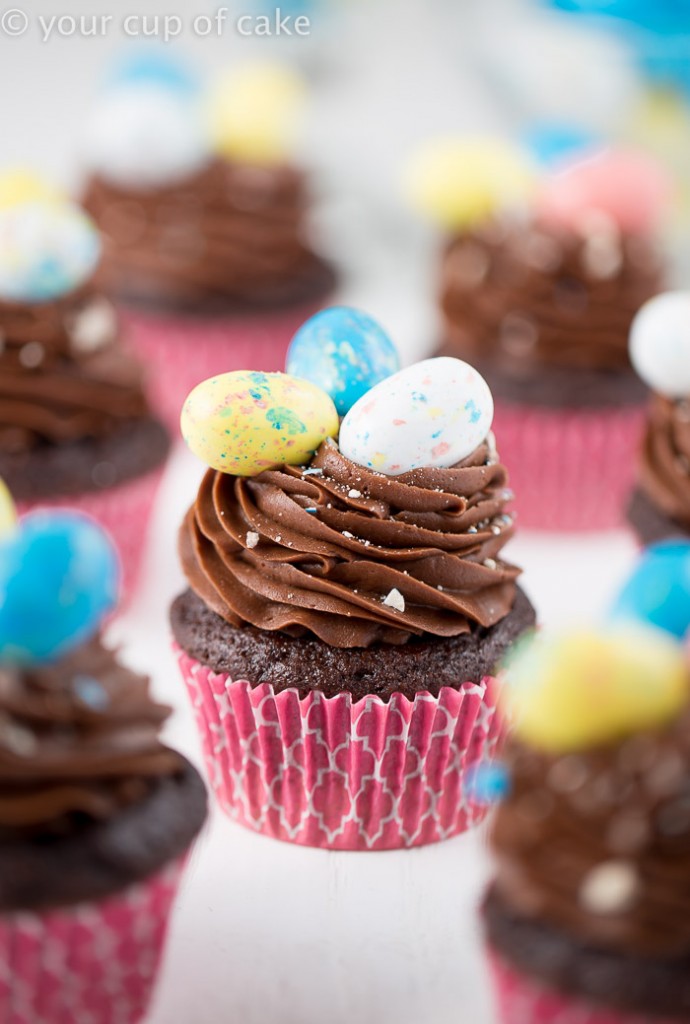 Turn the classic Easter candy into the best dessert! Chocolate Whopper Egg Cupcakes with chocolate malt frosting, yum! Decorate them however you want! You can turn it into an entire cupcake decorating party and have bowls of blue, yellow, pink and white ones. Even bowl of them all crushed up.
When I was a kid, my house was never stocked with a lot of Easter candy, but this was a staple! Probably because my father seemed to like them a lot. I never even tried a Reese's Peanut Butter Cup Egg until college! But let's be honest, the Whopper Eggs are so much cuter!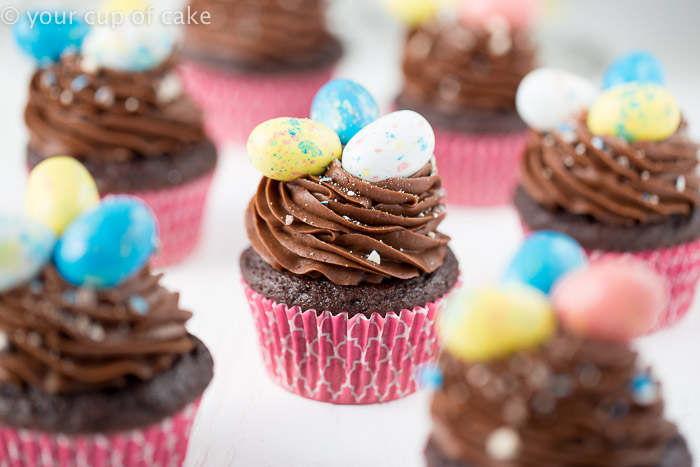 This stuff is magic! Add it to your homemade milkshakes to make them "malts" or put them in your baking like I do! I always seem to find it near the hot chocolate at the grocery store. Just a heads up, I put this stuff in my cookies all the time (just a few tablespoons) and it makes the cookies really soft (as well as adding the flavor) so if you like crispy cookies, you won't want to add it! But I love it in my chocolate frostings 🙂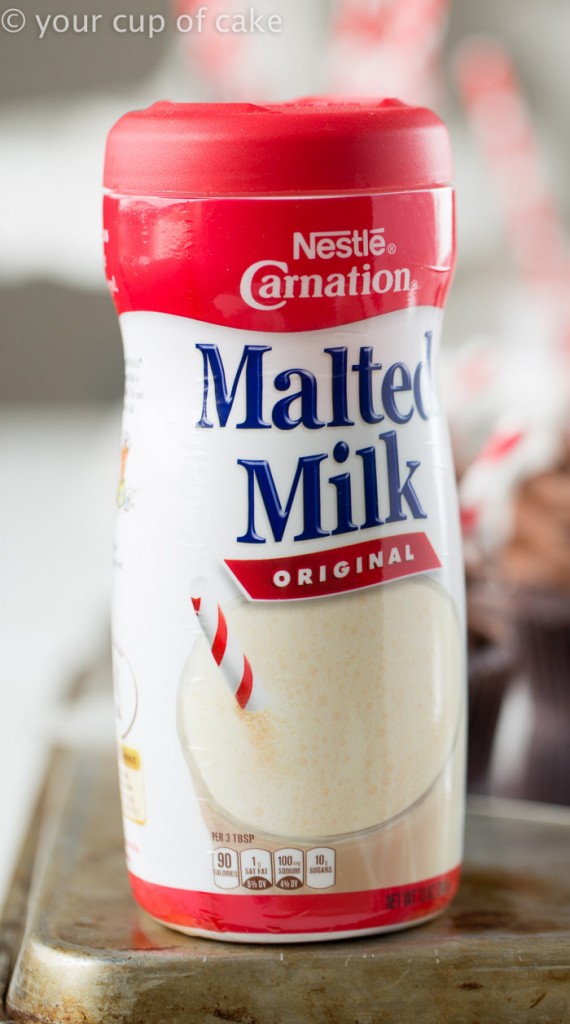 I put a few eggs on my cupcakes like a bird's nest and then used a few crushed pieces to add a few "sprinkles." Watch out for one other post this week where I'll show you how to use up all the leftover Whopper Eggs! Easter is just too early this year…. Enjoy these delicious Chocolate Whopper Egg Cupcakes!
PS: Don't forget about all my cute Easy Easter Cupcake Decorating Ideas!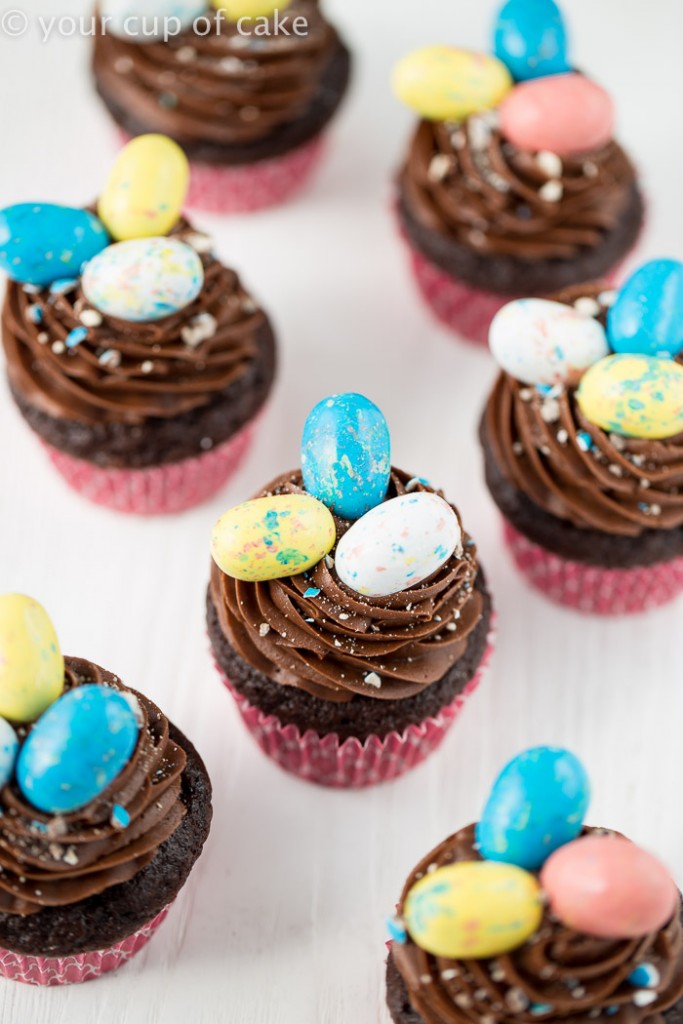 For my cake mix lover's out there… just use this quick recipe:
1 box Devil's Food cake mix (my fav mix is Pillsbury)
3 eggs
1/2 C. oil
1 C. milk
1/2 C. sour cream
1 tsp. vanilla extract
Bake at 350 degrees for 15-20 minutes!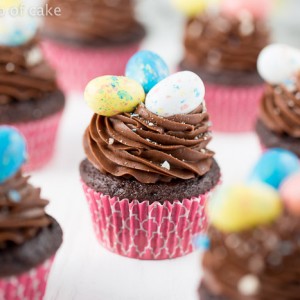 Chocolate Whopper Egg Cupcakes
Ingredients
CHOCOLATE CAKE:

for cake mix recipe see above

1 1/2

C.

all-purpose flour

1

C.

unsweetened cocoa powder

1

tsp.

baking soda

1 1/2

tsp.

baking powder

1/2

tsp.

salt

4

eggs

at room temp

1

C.

sugar

1

C.

brown sugar

packed

2/3

cup

oil

1

C.

buttermilk or milk

1

Tbsp.

vanilla extract

CHOCOLATE MALT FROSTING:

1

C.

butter

softened

2

tsp.

vanilla extract

1-3

Tbsp.

milk or sour cream

1/3

C.

unsweetened cocoa powder

1/4

C.

malt powder

see photo

2-3

C.

powdered sugar
Instructions
1. Preheat oven to 350 degrees and line pans with cupcake liners, I used green liners because I wanted them to look even more minty!

2. In a medium bowl, combine cocoa flour, cocoa powder, baking soda, baking powder and salt. Set aside.

3. In a large bowl, combine eggs, sugar, brown sugar, oil, buttermilk and vanilla extract.

4. Pour half the dry ingredients into the wet and stir. Then add the rest of the dry ingredients and stir again. Don't over mix.

5. Fill cupcake liners 2/3 full and bake for 18-22 minutes or until an inserted knife comes out clean. Let cool.

6. FROSTING: Beat butter until smooth. Add vanilla, 1 Tbsp. milk, cocoa and malt powder. Beat until smooth. Slowly add in a little powdered sugar at a time until you reach your desired consistency. Add more milk if it gets too thick!

7. Frost cooled cupcakes and top with Whopper Eggs, I put mine in like a little "nest" but you can crush them up and sprinkle them on top too!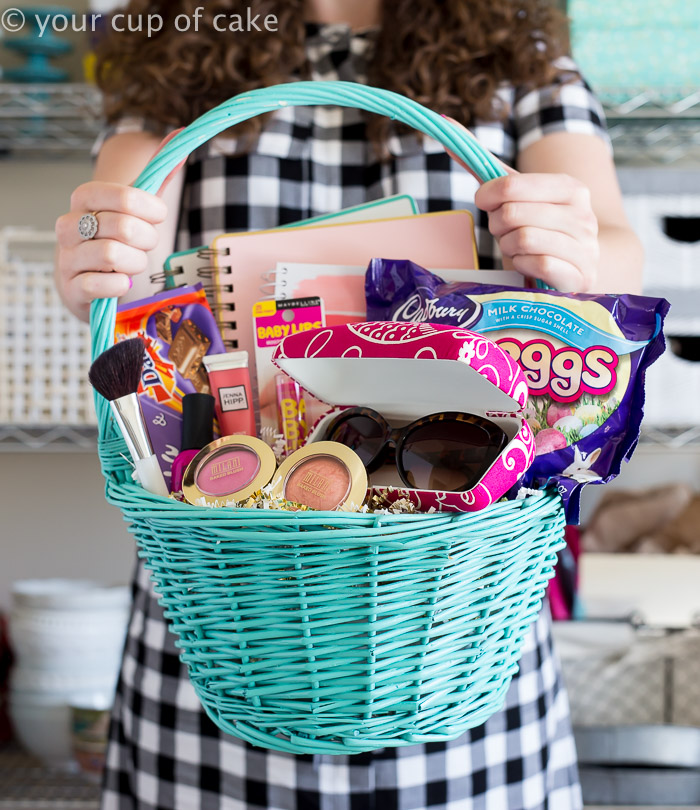 Okay, I had waaay too much fun making my own Easter basket! I usually just post these types of photos on my instagam page but I'll share here too! Kids get candy and stuffed animals in their baskets but what do you get girls in their 20's? Makeup has always been go-to easter item because the first makeup I ever got was in my easter basket in the 6th grade! I thought I was so cool with my purple and blue glitter eyeshadow crayons. I remember putting it on before church and feeling like a million bucks. Little did I know…
So what's in my basket this year?
-Some adorable journals I picked up from TJ Maxx
-Fabulous Sunglasses and a Vera Wang case for them (also from TJ Maxx)
–Mini Cadburry Eggs, duh. (I'll admit that I had to photograph an empty bag because I ate them all! I just stuffed it with a pair of socks to make it look full again.)
-My new favorite makeup… Milani Blush. Oh my, I'm obsessed! The Luminoso shade will change your life. (It's a peach shade so that sort of freaked me out at first but it looks so good on!)
-Milka Chocolate Bar, because they remind me of my trip to Paris with my mother. They're so good!
–Nail polish, Jenna Hipp lip gloss, Baby Lips (my go-to summer lip stuff) and a blush brush
-And the cute basket is from World Market!