Bakery style muffins got nothin' on these delicious Apple Snickerdoodle Muffins with sugar glaze. They taste like fall and will make you see orange and yellow leaves at every turn.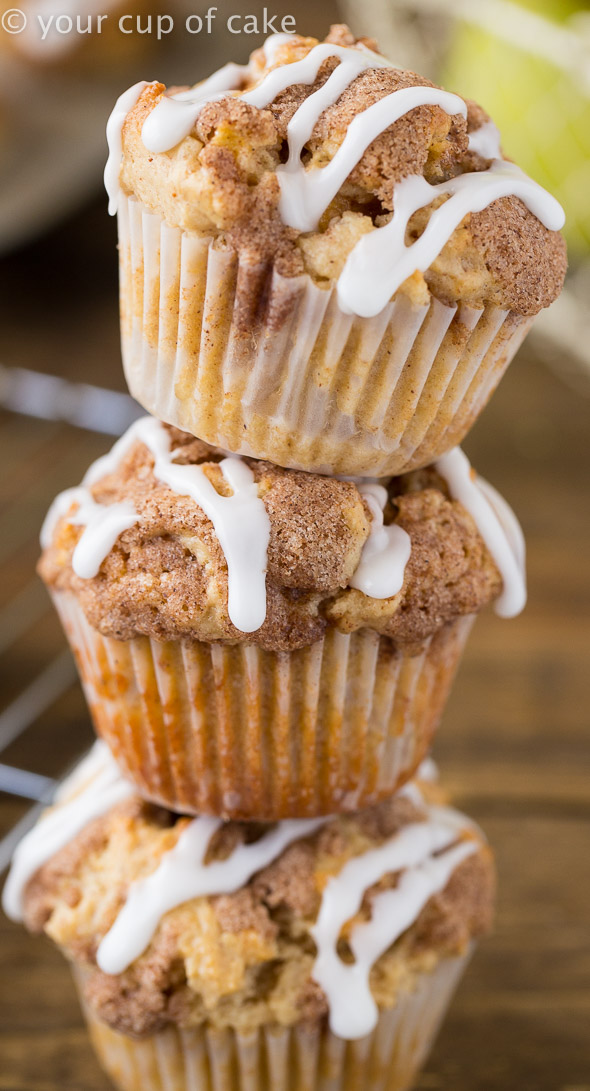 Well hello muffin lovers! Are any of you wearing boots or tights yet? I'm just so excited for all things fall! I've even started my Christmas shopping! I know, I'm a tad crazy. But since the holiday season is my busy season for work I always like to get my Christmas shopping done well before Thanksgiving.
So on to these Apple Snickerdoodle Muffins! I love snickerdoodles and apples go great with cinnamon so I decided to marry the two! (And by the way, thank you for all the congratulations emails and comments on my own wedding! I got married at the end of August! I'll share photos soon but if you want to see a handful you can check out our mini wedding website!) The muffins are topped with a cinnamon sugar crumble to get that snickerdoodle top and there are apple pieces baked right into it.
Ps: Pumpkin season is almost (depending on who you ask) here! I can't wait to make my favorite pumpkin dessert from last year!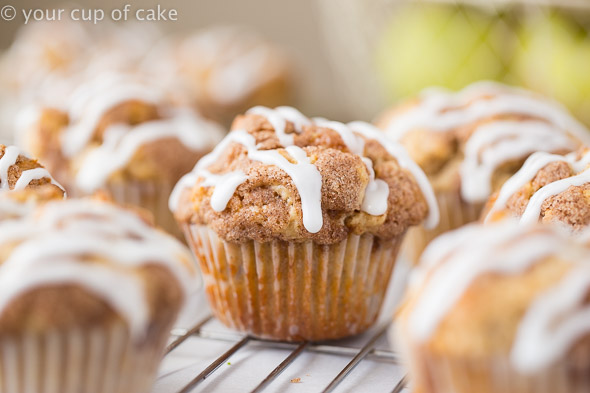 Sky High Muffins
Muffins are can be finicky. Sometimes they're gorgeously tall and other times they just fall flat! Now the type of muffin you chose to make can effect the rise but most importantly, it's all about the leavening agent. Baking soda? Baking powder? Both? How much? If you add too much you'll be able to taste it, but if you don't add enough they'll fall flat. This recipe has just the right amount to get the perfect height.
The second thing to pay attention to is the way you bake your muffins! These Apple Snickerdoodle Muffins go into the oven at 425 degrees but only bake for 5 minutes and then the temperature is dropped! This helps to get that perfect sky high rise on the muffin tops.
Another tip for tall muffins…. your batter should be thick and you should be over filling your tins! Look at that muffin batter, it looks dangerously over-filled right? Nope! And don't pay attention to my lame crumble, my house has been really hot so my room temperature butter is on the verge of melting, whoops!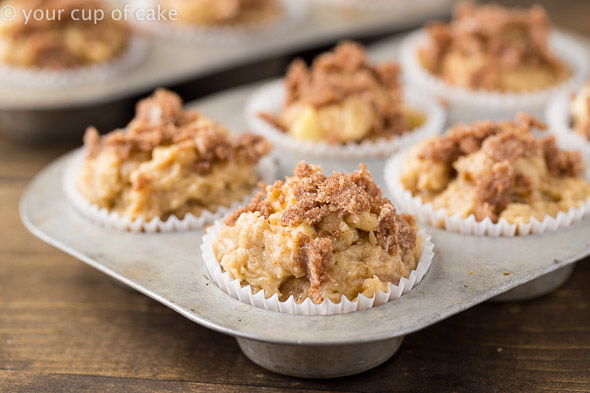 Major Muffin Tip
I can't stress this enough… don't over mix your batter. You can mix the wet ingredients as much as you want and the dry ingredients as much as you want. But when you bring them together just stir until barely combined. If you over mix you batter your muffins will be dense and tough.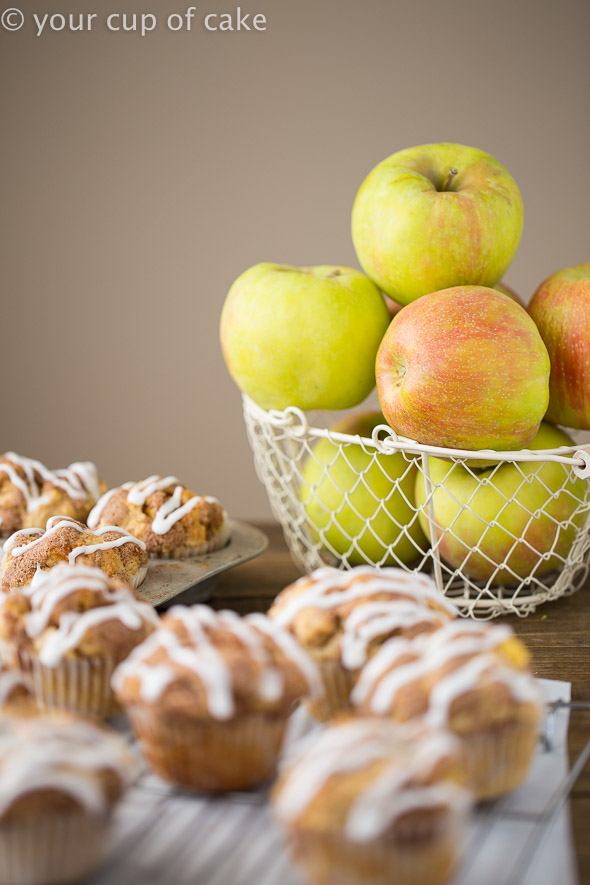 What Apples are Best to Bake With?
You need a sweet apple! Most people reach for Granny Smith because it's tangy and easy to pick out good ones at the store. But I found some amazing Honey Crisp and reached for those. If you're baking a pie, I would suggest doing a combination of Granny Smith with another type.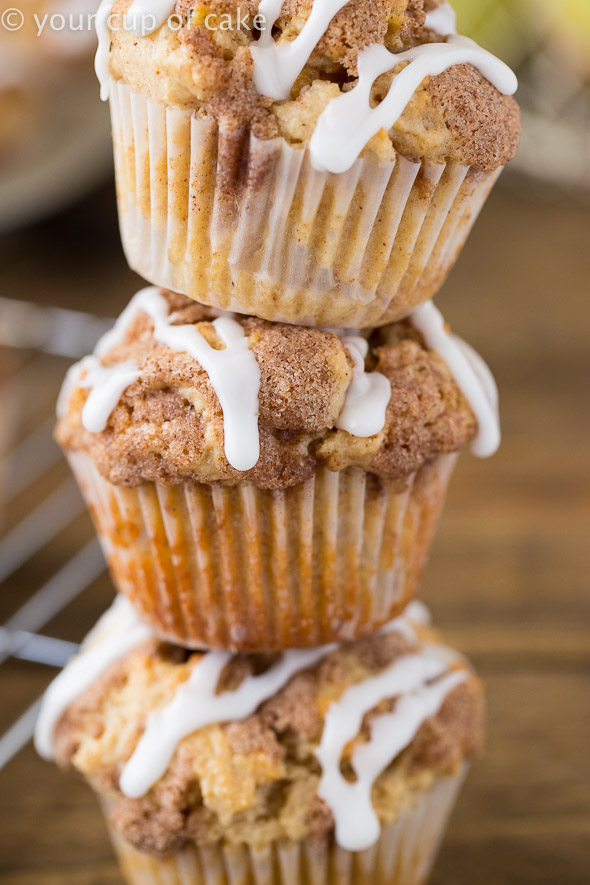 Check out that glaze! It's totally optional but boy do they look even more irresistible. It only takes about 30 seconds to whip up too, so you might as well!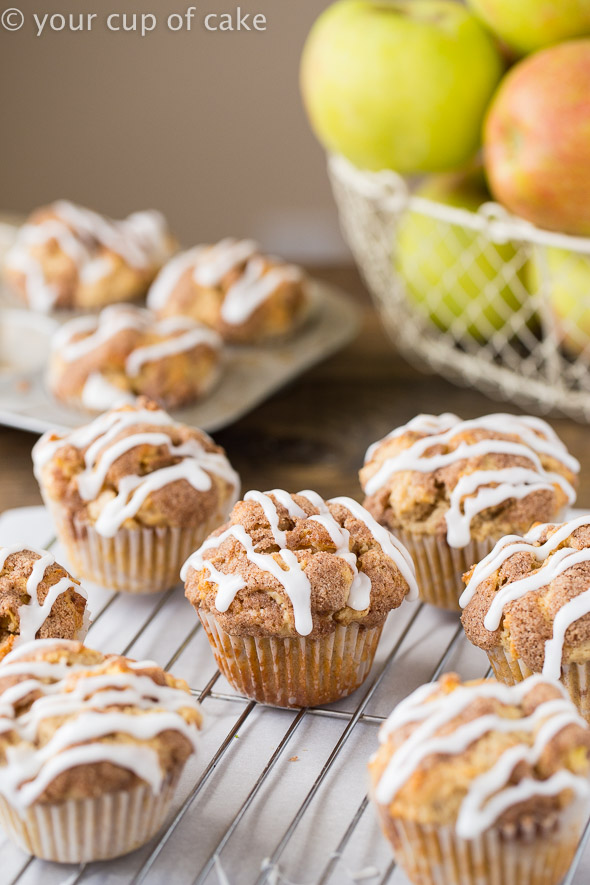 I love my colorful cupcake liners, but I have to say… muffins are fun to make because I can just use plain white liners and all the focus is on that gorgeous muffin.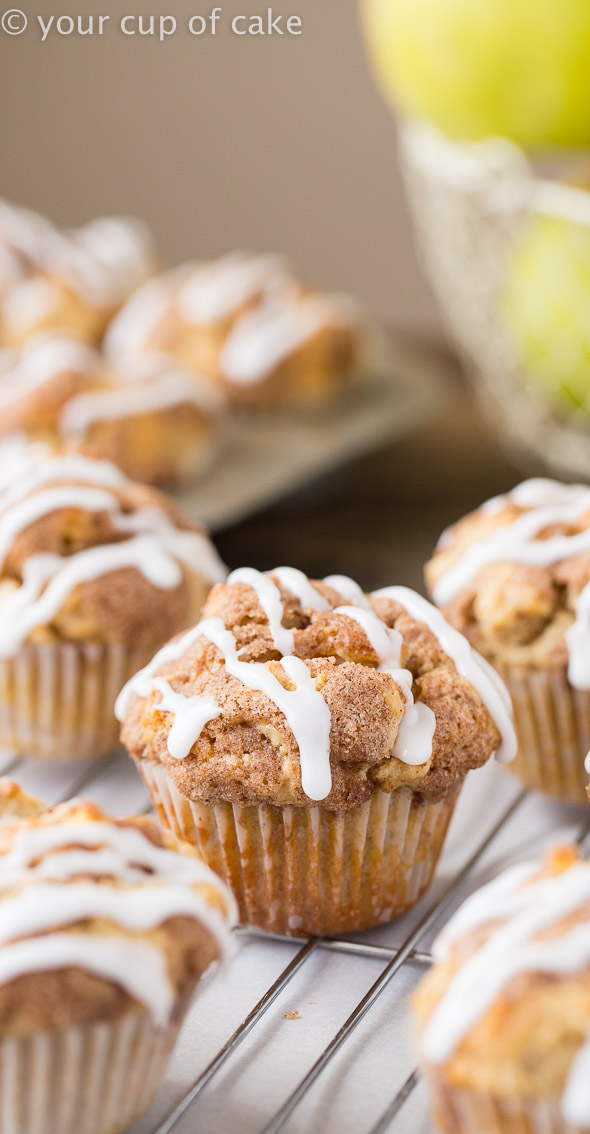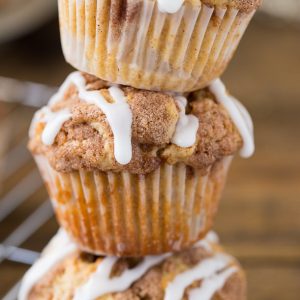 Apple Snickerdoodle Muffins
Ingredients
CINNAMON SUGAR TOPPING:

1/4

C.

sugar

2

Tbsp.

flour

2

tsp.

cinnamon

3

Tbsp.

butter

room temperature

APPLE SNICKERDOODLE MUFFINS:

1

large apple

peeled and chopped into small cubes

1

tsp

cinnamon (for apples)

1/4

brown sugar

packed (for apples)

3

C.

flour

1

Tbsp.

baking powder

1

tsp.

cream of tartar

1

tsp

cinnamon

1

tsp.

nutmeg

3/4

tsp.

salt

1/2

C.

brown sugar

packed

1/2

C.

sugar

1/2

C.

vegetable oil

2

eggs

room temperature

1

C.

sour cream

3

tsp.

vanilla extract

GLAZE:

2/3

C.

powdered sugar

1

Tbsp.

milk
Instructions
1. Preheat oven to 425 degrees and line muffin tins with liners.

2. Topping: Combine all ingredients until they form a crumbly mixture. Set aside.

3. In a small bowl, toss apple pieces with cinnamon and brown sugar. See aside.

4. In medium bowl, whisk together flour, baking powder, cream of tartar, cinnamon, nutmeg and salt.

5. In a stand mixer, combine down sugar, sugar, and oil. Scrape the bowl down as needed. Add eggs one at a time until combined. Add in sour cream and vanilla extract and mix again. From this point on, no over-mixing!

6. Slowly add in dry ingredients to the wet ingredients. Just before the flour is all combined, dump in your apple pieces coated in cinnamon/brown sugar and gently fold just until incorporated.

7. Fill muffin tins super full (see photo) and bake for 5 minutes (in your preheated 425 oven) and then decrease temperature to 375 and bake for an additional 12-16 minutes.

8. Let cool before glazing. Glaze: Whisk together milk with 1/2 cup powdered sugar. Add the additional powdered sugar if needed. I always glaze one muffin and wait a few minutes to see if I want the glaze any stiffer.