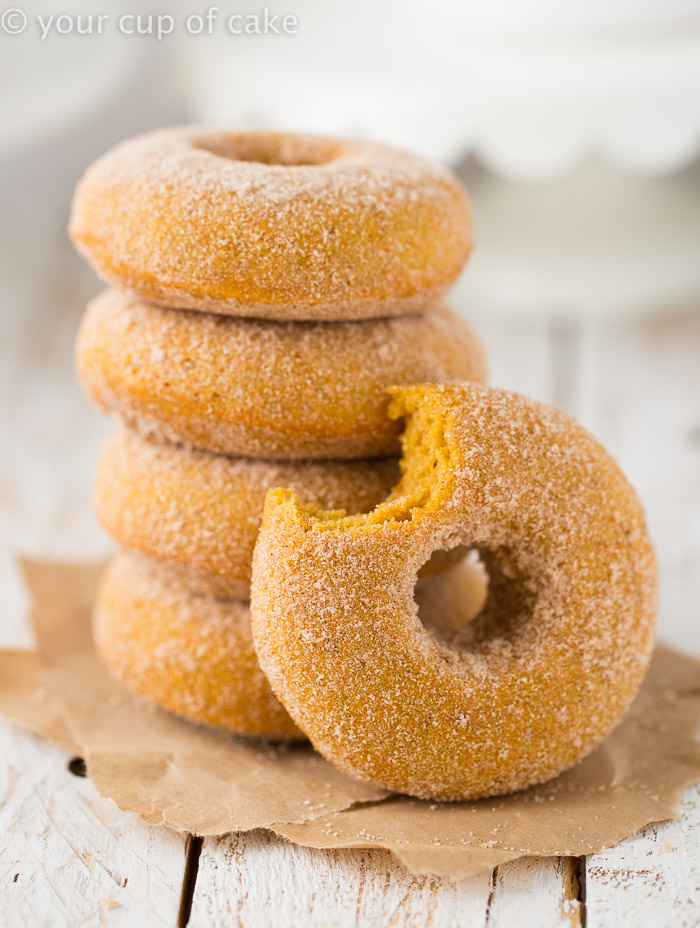 Baked Pumpkin Doughnuts with cinnamon sugar coating are the perfect treat for fall! This recipe is so good, it actually got me a date! That's right, I made them for a party and a handsome boy said they were too good to be homemade, they had to be from a bakery. Then I told him I baked for a living and he believed that I really made them. Well okay, okay he hasn't asked me out yet. But he did get my number and I'm crossing my fingers!
I've made these doughnuts three times in the last two weeks, so I knew I had to post them! Not only did they get me an introduction to dapper young man but they're also so good I ate nearly half of the first batch I ever made! Oops!
(Scroll down to the bottom to hear about the KitchenAid mixer giveaway!)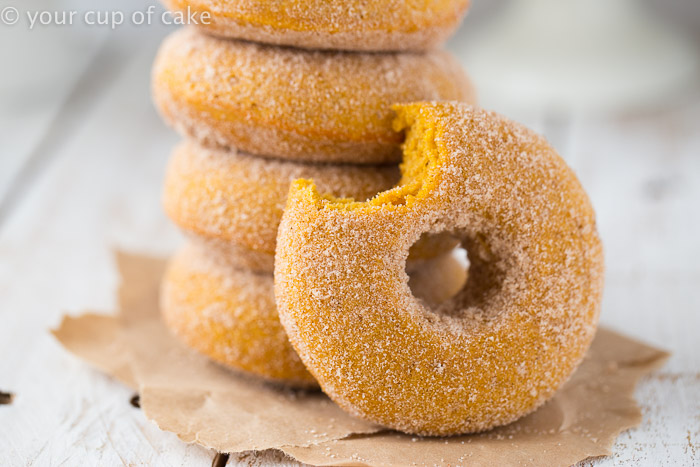 You can dip these in a glaze or frost them with maple or cream cheese frosting but I liked the cinnamon sugar because it saved me a few calories 🙂 Plus, they just looked so perfect! You can even serve them with a scoop of ice cream and really make a decadent dessert out of it.
I used this doughnut pan and I love it! baking doughnuts is so fun and everyone's always shocked to learn that I actually made them when I show up with a plate stacked high of perfectly fluffy doughnuts.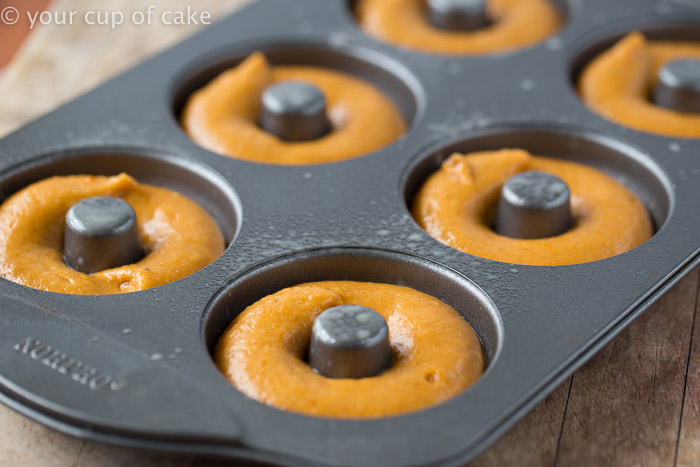 You can coat them in cinnamon sugar however you want, but I decided just to do it in a casserole dish, which meant using extra cinnamon-sugar.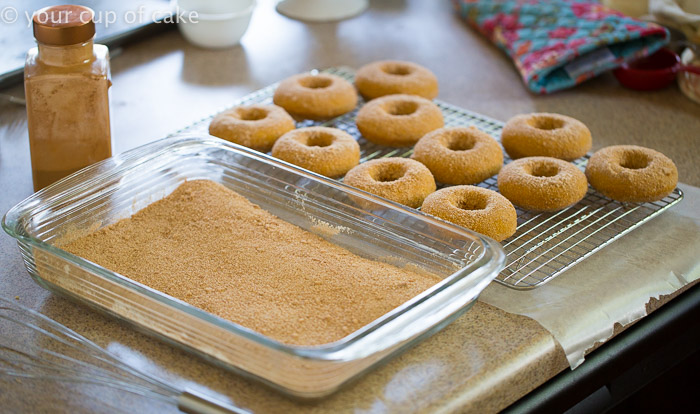 Yum… I could hardly keep away from these as they cooled. And I did sneak one… maybe two before the photo shoot.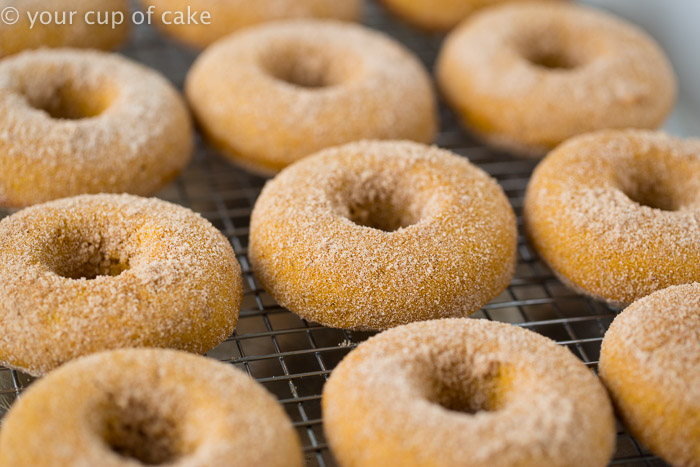 Really craving these and a big fuzzy blanket right about now.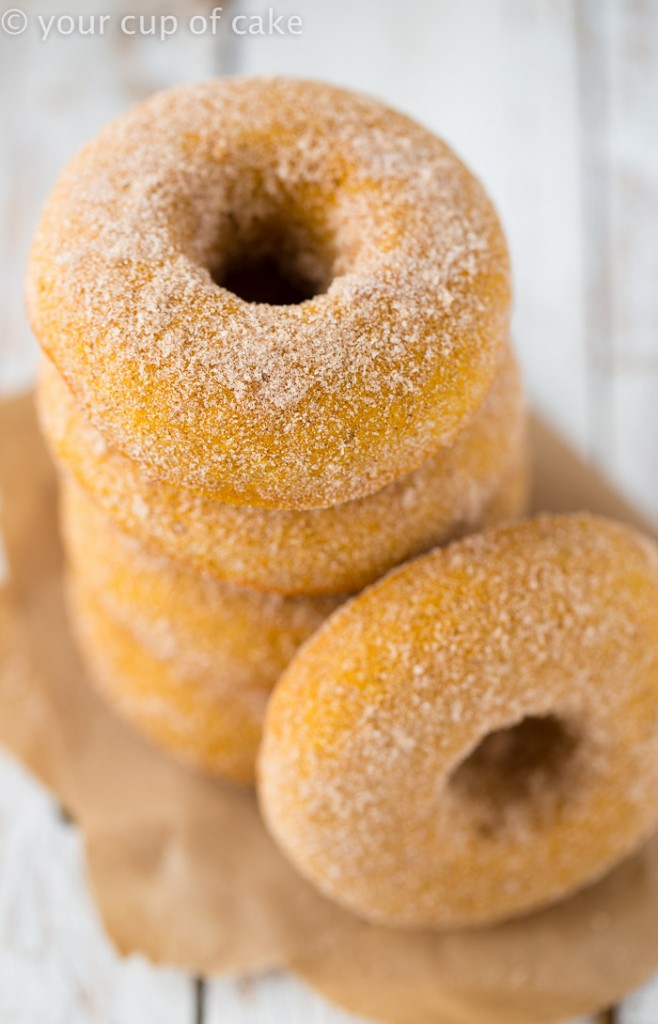 Pumpkin Doughnuts
Servings
14
-16 doughnuts
Ingredients
2

C.

flour

make sure you don't pack it, spoon it into the measuring cups

1 3/4

tsp

baking powder

1 1/4

tsp

salt

3

tsp.

pumpkin pie spice

or 2 tsp cinnamon and 1/2 tsp. nutmeg

3/4

C.

sugar

3/4

C.

packed brown sugar

1/2

C.

oil

3

large eggs

1 1/2

C.

canned pumpkin puree

1

tsp.

vanilla extract

COATING:

1/3

C.

sugar

1 1/2

tsp.

cinnamon
Instructions
1. Preheat oven to 360 degrees and grease doughnut pans.

2. Whisk together flour, baking powder, salt and pumpkin pie spice.

3. In a separate bowl, combine sugar, brown sugar, oil, eggs, pumpkin and vanilla extract.

4. Combine the wet and dry ingredients and stir. Don't over mix.

5. Fill doughnut pans 3/4 full (I used a piping bag to fill mine) and bake for 12-16 minutes or until an inserted toothpick of knife comes out clean.

6. Coat hot doughnuts in cinnamon-sugar mixture by either placing cinnamon-sugar in a bag with a hot doughnut and shake. Or I doubled the amount of cinnamon sugar and put mine in a casserole pan and turned my doughnuts out of the pan into it and continued flipping the doughnuts until coated.

7. Let cool and keep on cookie racks! When I put mine in a tupperware the cinnamon sugar soaked up into the cake, so I kept mine on the countertop on cookie racks instead!
Okay, now about this giveaway…. Because this week marks 5 years of blogging I'm giving away a 5 qt KitchenAid Stand Mixer to one of you lucky readers! As for color, you'll have about 10 colors to pick from and if you win I'll send you that list!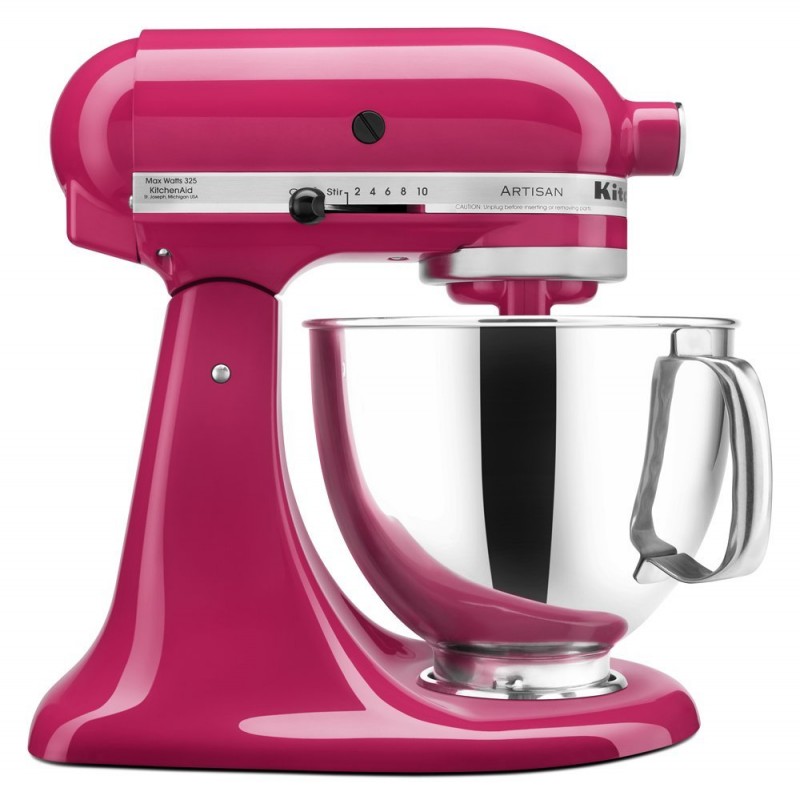 How to Enter:
1. Comment on this blog post telling me which of my recipes you would first make with your fabulous KitchenAid mixer!
For Additional Entries:
2. Pin any of my recipes to pinterest and comment telling me which recipe you pinned, make sure you make separate comments for each! (You can do this Pinterest entry up to 7 times!) Here's some of my favorite recipes right now…
Cute Reese's Pieces Turkey Cupcakes
3. Share links to my recipes on Facebook and comment here telling me which one you shared! (Up to 3 times)
Giveaway closes on October 20, 2015 at 11:59 midnight MDT. Must be 18 or older to enter and have a continental US mailing address. This giveaway is not associated with KitchenAid, Pinterest, Facebook or anyone but me. Because I'm paying for this gift as a small thank you to all your support! 🙂 Best of luck! The winner will be picked by a random number generator!