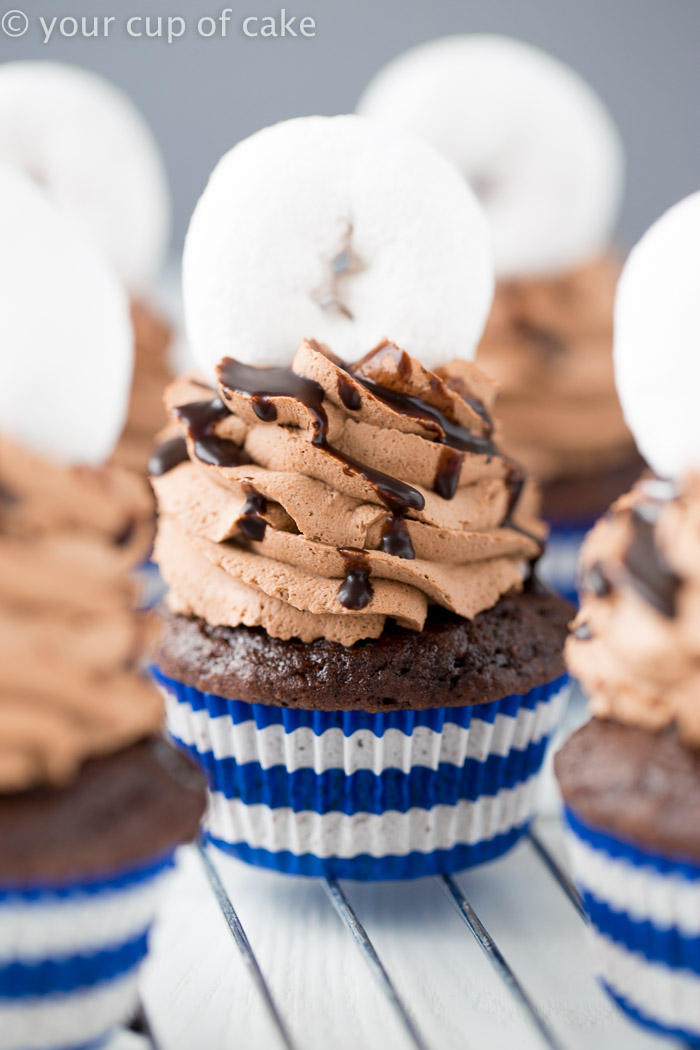 Cupcakes so rich, decadent and dripping in chocolate I've named them Better than a Boyfriend Cupcakes! Plus, they're topped with a mini powdered sugar donut, so that's better than a cherry! After all, we can't have "bald" boyfriend cupcakes!
Valentine's Day is next week and I have a bunch of red velvet recipes for all your red lovers out there! But if you need a humorous treat for your Gal-entines day party than these are them! If donuts aren't your jam then top with with Oreos or Samoa cookies! You can swap out the chocolate sauce for caramel sauce as well!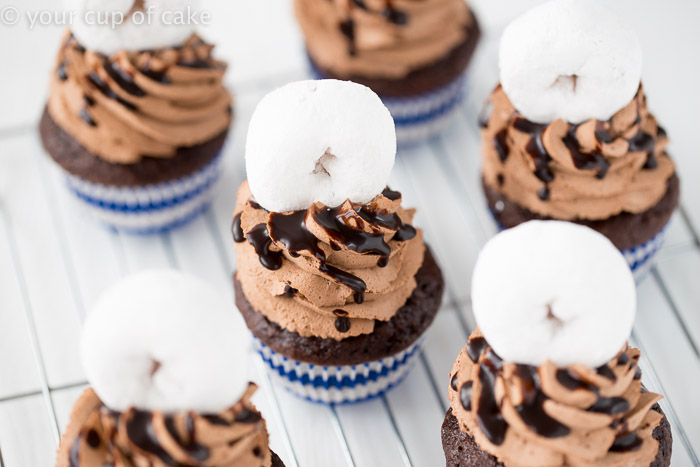 I dressed these up in cute blue liners because our cupcake boyfriend has to look sharp! And guess what, you can have as many "boyfriends" as you want and no one has to know!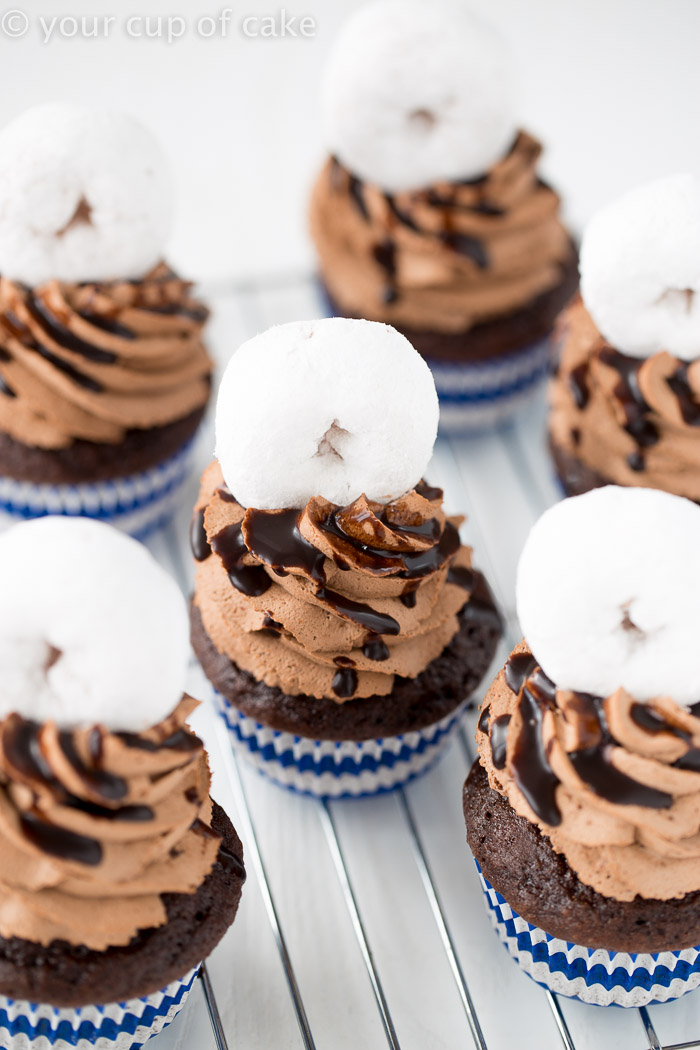 Your boyfriends might not be rich… but these ones sure are!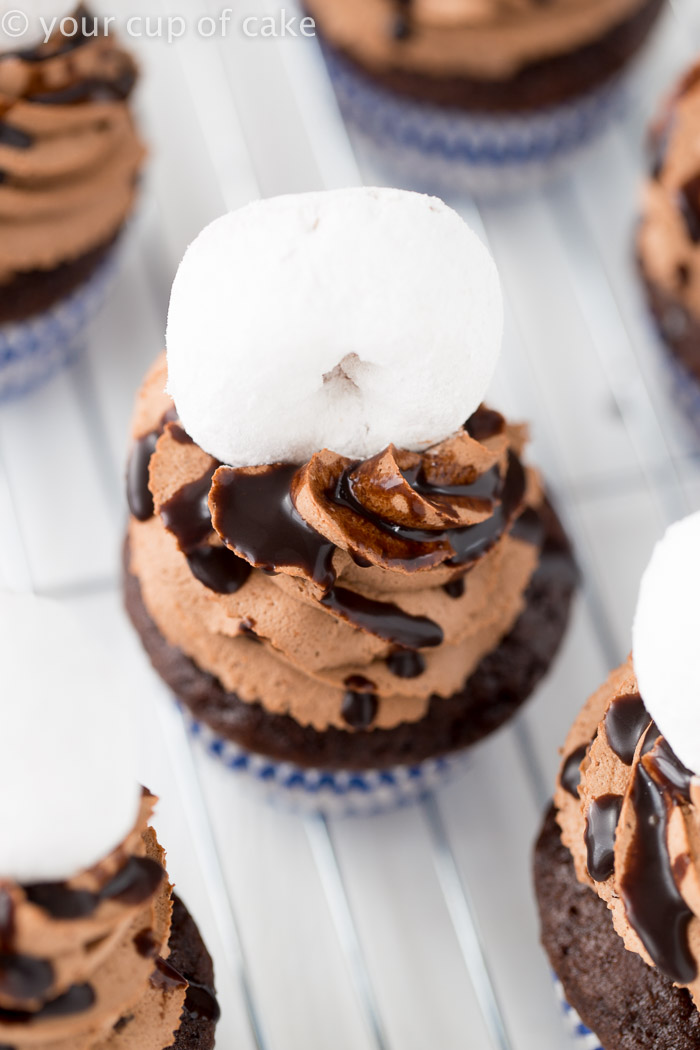 I don't know about you, but Valentine's Day was soooo much better as a kid! Making cute pink and purple boxes and getting a bunch of funny cards and candy from everyone in class! No stress! Now you have to find a date or if you're married you have to do something spectacular or stay in and feel semi lame because you didn't get all dolled up. Okay, getting dolled up is fun… but I still think I prefer the box full of candy and daffy duck cards from my classmates.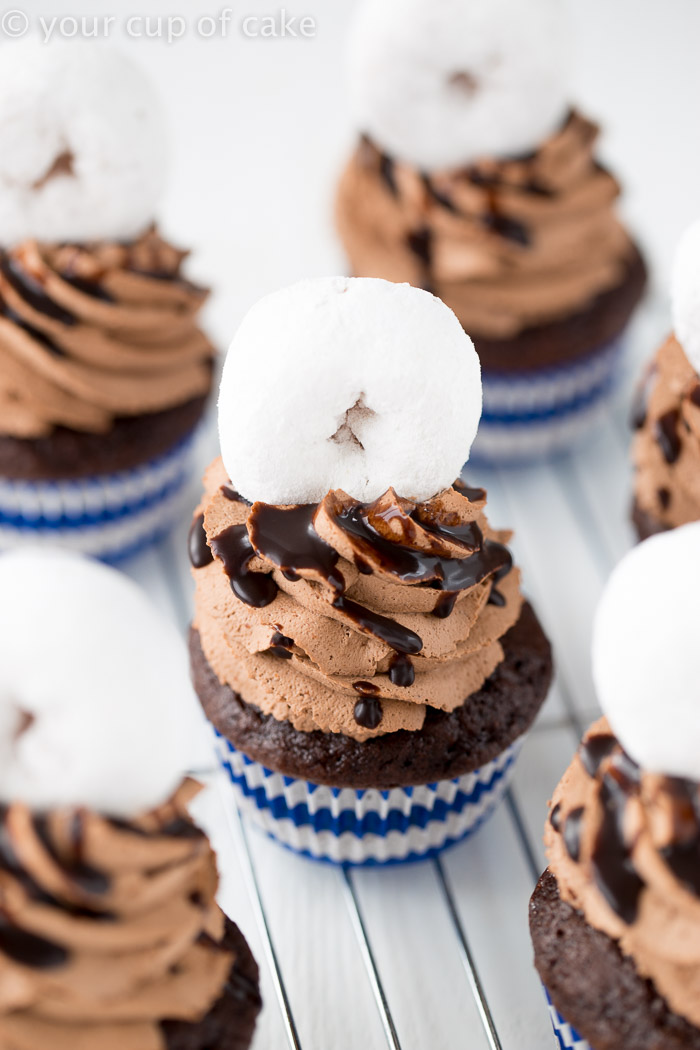 But these sure aren't better than my boyfriend.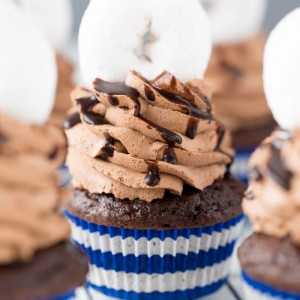 Better than a Boyfriend Cupcakes
Ingredients
CAKE:

1

box Devil's Food Cake mix

3

eggs

1/2

C.

butter

melted

1

C.

buttermilk or milk

FILLING:

optional

1/2

pint

heavy whipping cream

1

Tbsp.

Instant pudding

white chocolate, banana, or vanilla flavor

WHIPPED GANACHE:

2

C.

chocolate chips

1

C.

heavy whipping cream

1/2 cup powdered sugar if you want it to be sweeter

CHOCOLATE SAUCE

20

MINI DONUTS OR DONUT HOLES
Instructions
1. Whipped Ganache: Combine chocolate chips and cream and melt until smooth. You can do this in the microwave or over the stove but make sure to stir constantly so it doesn't burn. Let cool until you can drag a spoon through it and it leaves a mark.

2.Preheat oven to 350 degrees and line pan with cupcake liners.

3. Combine cake mix, eggs, melted butter and milk until smooth.

4. Fill cupcake liners 3/4 full and bake for 15-20 minutes or until an inserted knife comes out clean.

5. Let cool.

6. Filling: Whip cream and pudding mix together until stiff and then use a knife to cut out a "well" into the cupcake and fill with filling.

7. Whipped Ganache: Whip until stiff! Pipe onto cupcakes over the filling and top with chocolate sauce (I use Torani) and mini donuts!
Enjoy my Better than a Boyfriend Cupcakes and have a happy Valentines!