Topped with an almond glaze hot out of the oven, these really are Better Than Costco Almond Poppy Seed Muffins! This will be a family favorite recipe!
Better Than Costco Almond Poppy Seed Muffins
I'm a sucker for Costco muffins! I know they're basically cake and have a million calories but they're just so good! Luckily I never actually buy them, but when they hand out samples at the store I am the crazy woman going back for seconds and thirds of each flavor. I can't be stopped. So of course I had to try my hand at making a muffin to top Costco's! And wow did I find it! These really are Better Than Costco Almond Poppy Seeds Muffins! I always prefer my muffins to be standard sized anyway because they're just easier to eat! But these also have an almond glaze that go on them when they're hot out of the oven. That extra layer of sweetness just can't be matched.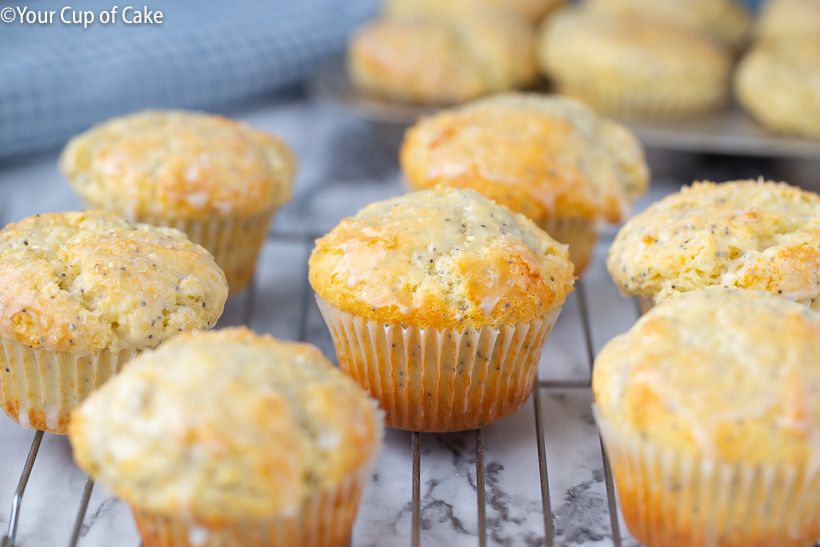 Costco Copycat Muffin Recipe
I love muffins! Maybe it's because I can trick my brain into thinking it's not a dessert and semi-healthy for me even though it's not. But either way, a warm muffin out of the oven is always a magical thing. The reason why I like these Better Than Costco Almond Poppy Seed Muffins more than the original Costco muffins is because they have more layers of flavor. The Costco muffins are the same all the way through. But these muffins have a crunch of coarse sugar on top, then a sweet almond glaze and then the muffin. It just takes the almond poppy seed muffin to a whole new level of deliciousness!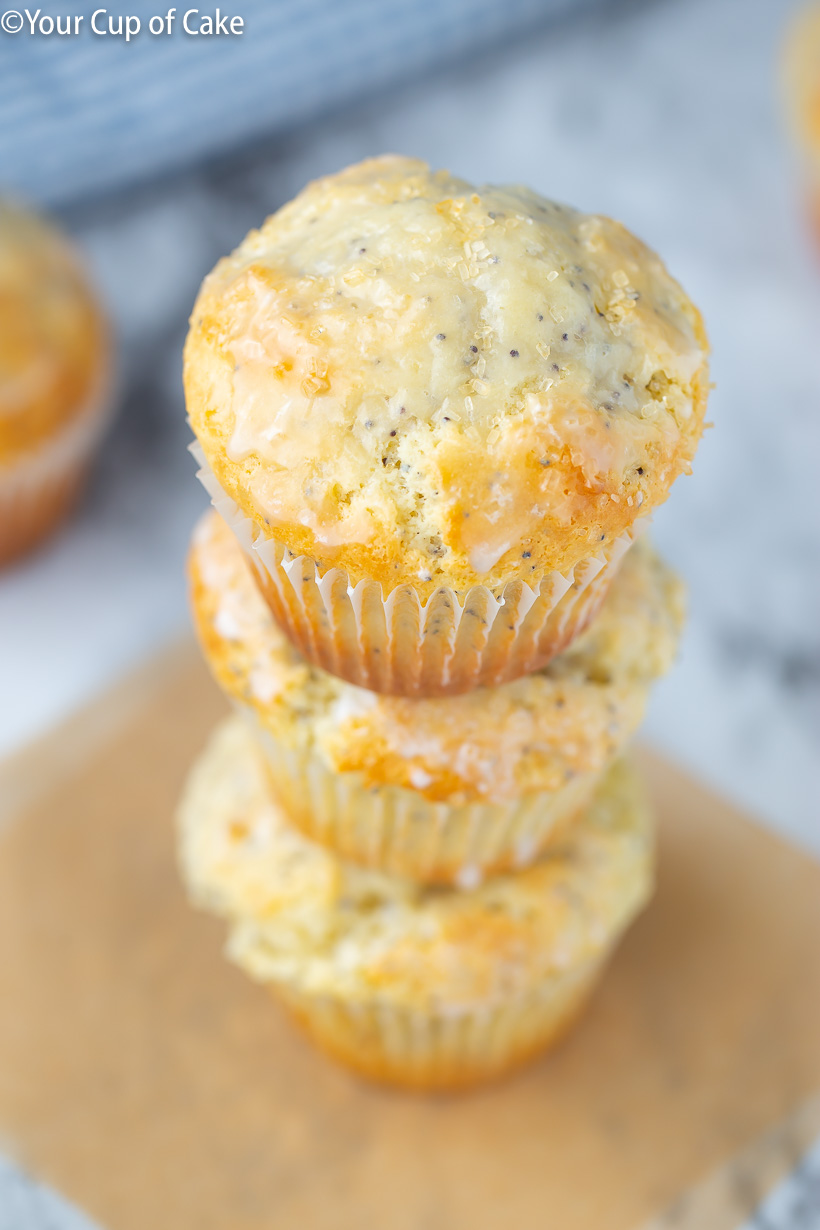 How to get Tall Muffin Tops!
There are two main tricks to getting those tall domed muffin tops! The first trick is to have enough baking powder in your recipe. Baking soda, though more powerful can leave a bad taste if you use too much, so most muffin recipes call for extra baking powder. The second trick is to start your oven at a higher temperature and then drop the temperature down when you put the batter in the oven. This sort of gives the batter a burst of heat which helps them to rise and not overflow your pan. But don't get frustrated, every oven is different.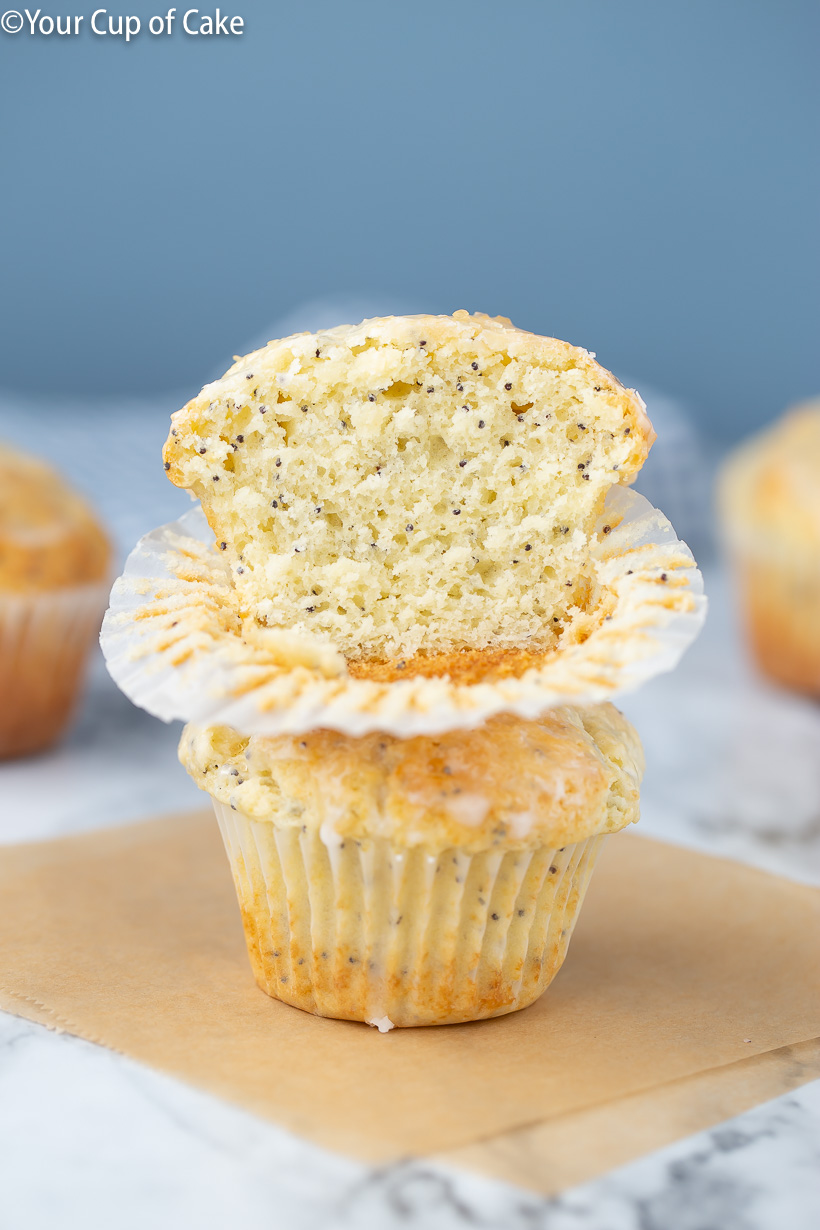 I mention in the recipe that you can make a lemon glaze for these muffins instead, and oh my! I glazed some of mine with the lemon glaze and they were amazing! Though, I'm really into lemon so that little bit of zing is my jam!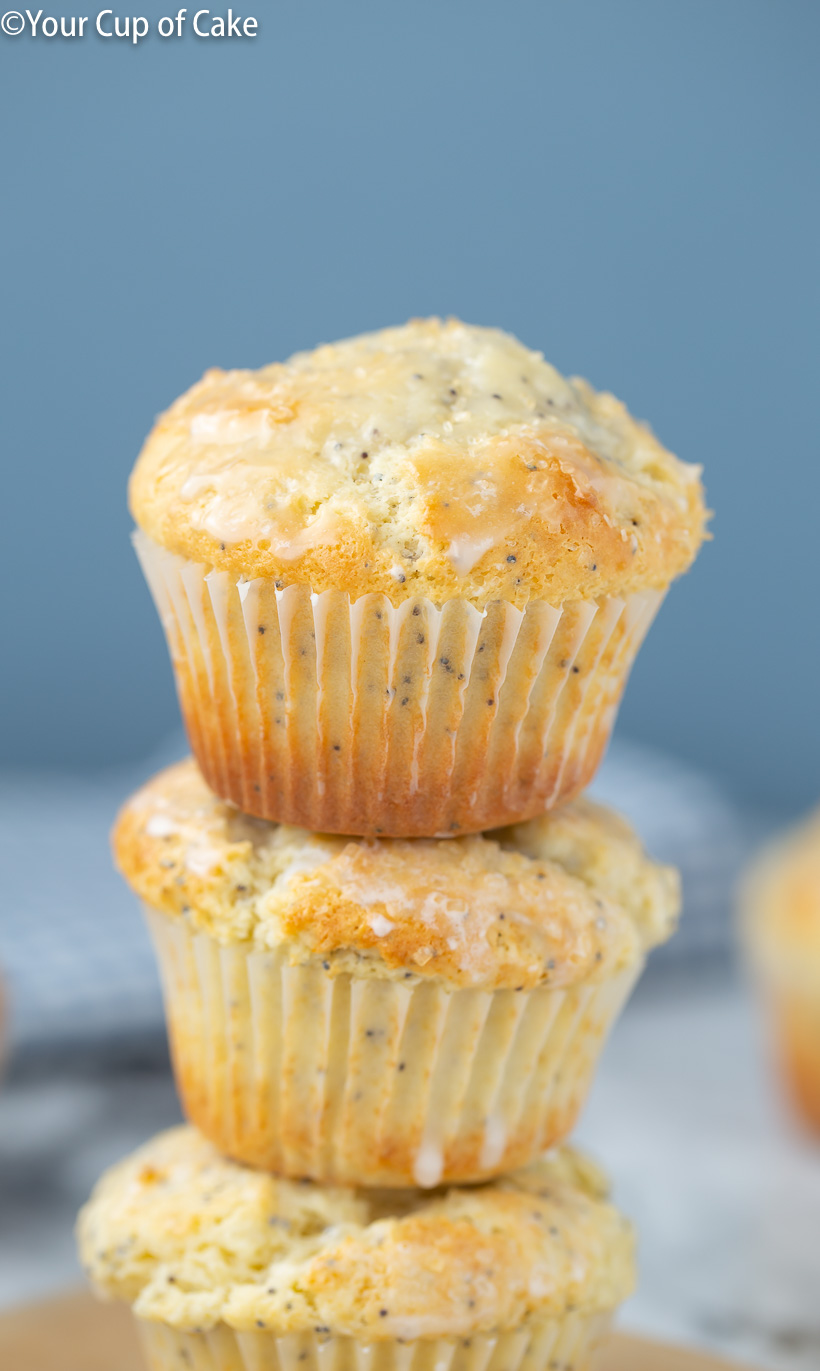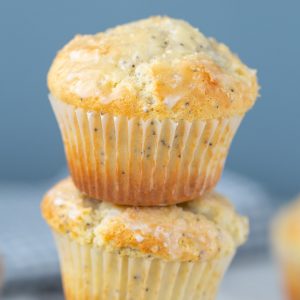 Better Than Costco Almond Poppy Seed Muffins
Ingredients
Almond Poppy Seed Muffins
3

cups

flour

1

cup

sugar

2

Tbsp.

poppy seeds

1

Tbsp.

baking powder

1/2

tsp.

baking soda

1/2

tsp.

salt

1 1/2

cup

sour cream or plain yogurt

1/4

cup

milk

1

tsp.

vanilla extract

2

tsp.

almond extract

2

eggs

room temperature

1/2

cup

butter, melted and cooled slightly
Almond Glaze
1/2

cup

powdered sugar

2

Tbsp.

milk or water

1/2

tsp.

almond extract
Instructions
Preheat oven to 400 degrees and line muffins tins with liners or grease the wells.

In a medium bowl, whisk together flour, sugar, poppy seeds, baking powder, baking soda and salt. Set aside.

In a small bowl, whisk to combine sour cream, milk, vanilla, almond, eggs, and melted butter.

Add wet ingredients to dry and stir just until combined. Batter will be thick. Fill muffin tins completely full with batter and place in over. TURN DOWN the temperature to 375 degrees and bake for 18-22 minutes or util an inserted toothpick comes out clean.

While muffins are baking, make your glaze by whisking together ingredients. If you want a thicker glaze, add more powdered sugar. Brush onto muffins when they come out of the oven and sprinkle with coarse sugar if desired. Let cool (or don't let cool) and enjoy!
Recipe Notes
You can make a lemon glaze if you prefer, replace milk with fresh lemon juice.  You can omit or still use the almond extract in it as well!