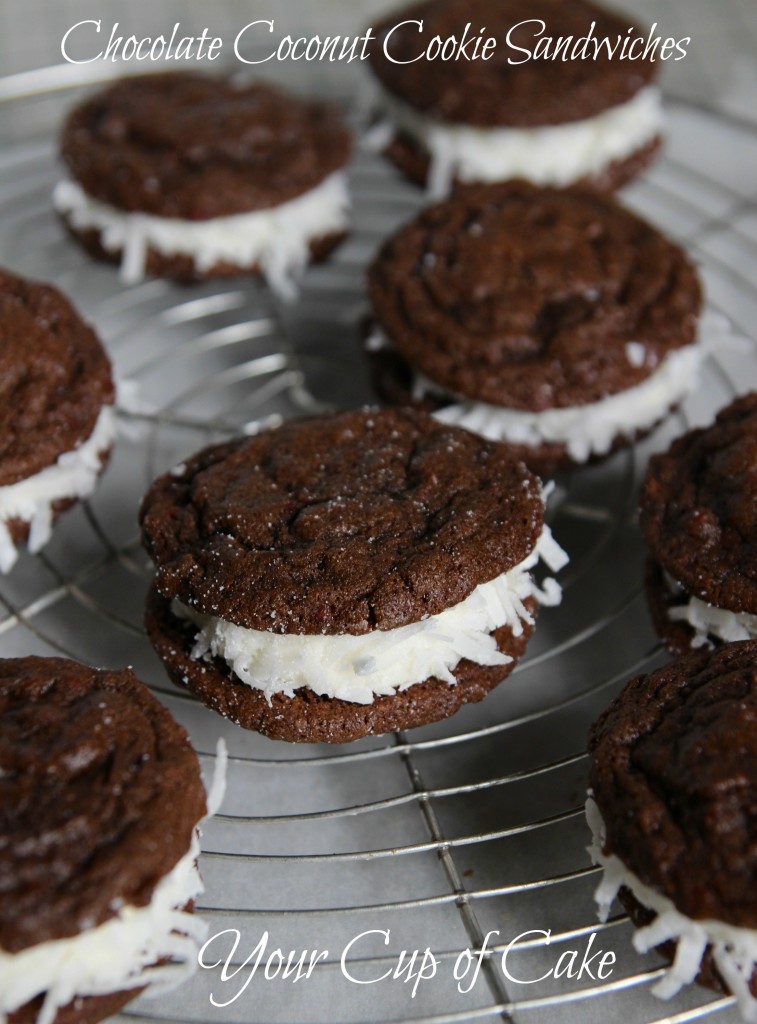 The Story:
Okay, you caught me. I LOVE chocolate and coconut. I will find any excuse to make the combo happen in any dessert. Plus, it doesn't take anything special to make these cute treats. Yes, I used a cookie scoop and a piping bag. But you can roll the cookie dough balls with your hands and just frost the cookies with a knife. But once you roll them in coconut, they were incredibly decadent and they taste amazing. Like a soft chocolate Oreo.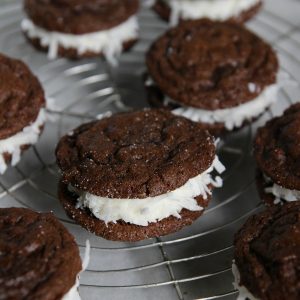 Chocolate Coconut Cookie Sandwiches
Servings 20 cookies, 10 cookie sandwiches
Ingredients
Chocolate Cookies:
1/2 cup butter softened
3/4 cup sugar
1 egg
1 1/2 teaspoons vanilla extract
1 cup flour
1/3 cup cocoa powder
1/2 teaspoon baking soda
1/4 teaspoon salt
1/2 cup mini chocolate chips optional
Coconut Filling:
1/4 cup butter softened
4 oz cream cheese softened
1 teaspoon coconut extract
1 1/2- 2 1/2 cups powdered sugar
Shredded coconut for decoration
Instructions
1. Beat butter and sugar.

2. Add egg and vanilla extract. Scrape down bowl to full incorporate.

3. In a separate bowl, sift flour, cocoa powder, baking soda and salt together.

4. Add dry ingredients to butter mixture and mix until combined.

5. Add mini chocolate chips (optional).

6. Make dough balls roughly the size of a table spoon each and place in the freezer for 30 minutes.

7. Preheat oven to 350 degrees and bake cookies for 8-10 minutes.

8. Remove from pans and let cool on cooling racks.

9 Coconut Filling: Beat butter and cream cheese until smooth, Add coconut extract and slowly add powdered sugar until you reach your desired consistency.

10. Frost the bottom of half the cookies, place another cookie on top to create your "sandwich."

11. Place shredded coconut in a bowl and roll the edges of the cookie sandwich into the coconut.

12. Devour.
If you want to use a cake mix to make your chocolate cookies, try my Homemade Oreo recipe, it will work wonderfully!