The best Jello salad recipe! Grandma's Cranberry Pineapple Jello is stuffed with goodness and topped with a cream cheese topping! It's a holiday must-have for my family!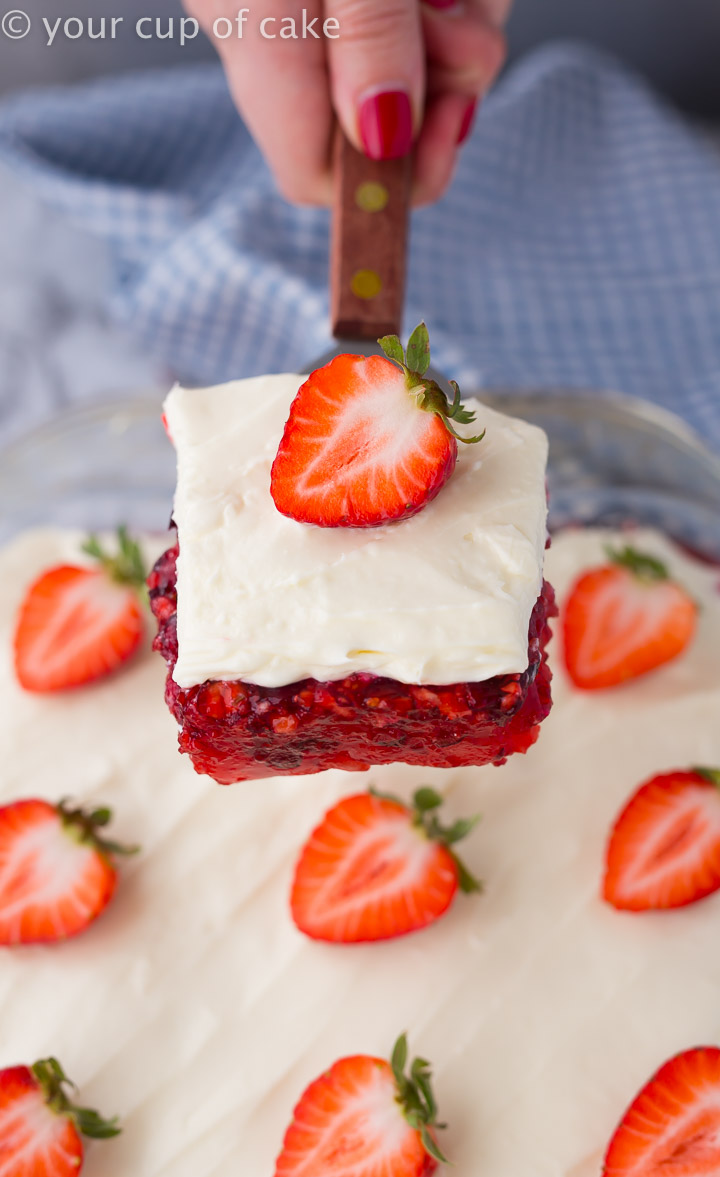 Grandma's Cranberry Pineapple Jello Salad Recipe
I'm usually not much of a Jello person but I make my Grandma's Cranberry Pineapple Jello every Thanksgiving dinner and Christmas with my family and it is so good! I just can never get enough! My sweet grandmother taught me this recipe when I was about 13 and having Thanksgiving with her in Arizona. It was the first time I has Jello salad and wow was it amazing! I loved all the textures and the creamy topping! She passed away in April so I decided I needed to revamp my post for this recipe. The first time I posted this recipe (I've updated it a little here) it was in 2010 and oh goodness my photos were terrible! If you need a good laugh check out Grandma's Jello!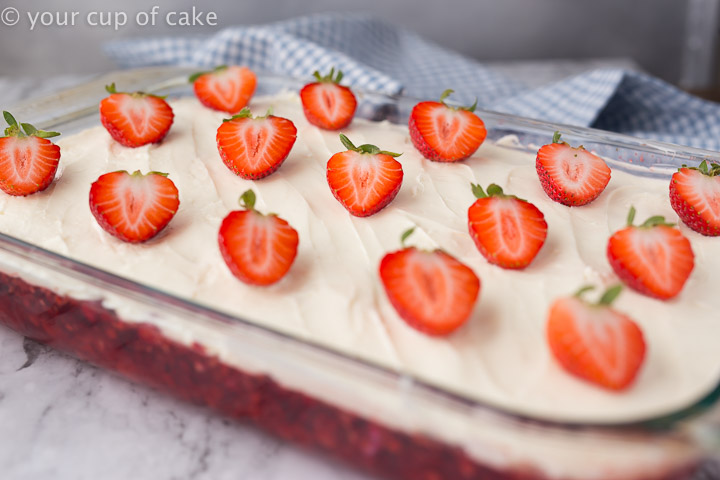 Holiday Jello Salad
This is a holiday recipe in my family only because it has fresh cranberries in it. The tartness of the berries balances out the sweetness of the jello and I love the texture of the fresh berries. Most cranberry Jello salad recipes call for cranberry sauce… no thanks! I'll stick with my fresh berries! Just roughly crush them in a food processor or a little at a time using a blender. You'll add those, a can of crushed pineapple, cold water and walnuts (optional) before letting the Jello set. I know gelatin desserts scare some people, and that's okay. They usually scare me too.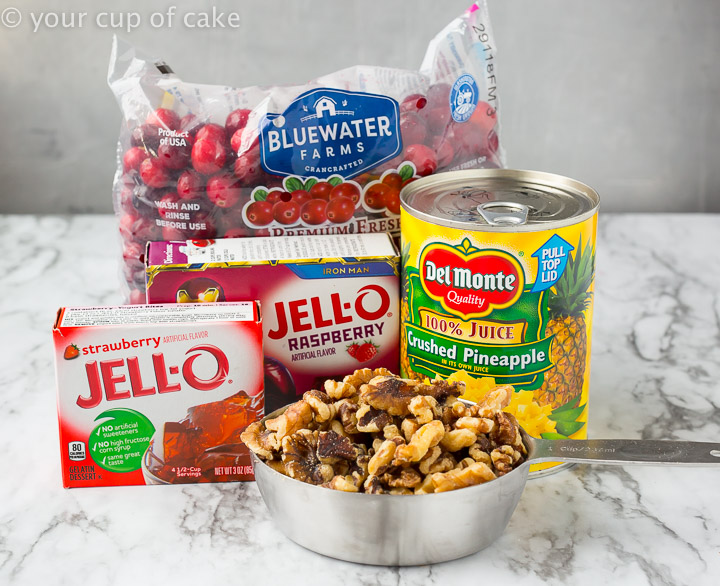 Thanksgiving Cranberry Salad
You'll notice I use raspberry jello and strawberry jello. I sometimes swap in cranberry jello when I can find it or I will use all raspberry jello! The strawberry flavor is just too sweet to me, but you can pick whatever red Jellos your family prefers! You can also use fresh pineapple if you want, but I always use the can. It's much easier for me. And when it comes to the Thanksgiving menu, I like to keep things as simple as possible. I'm no pro at cutting pineapples, ha!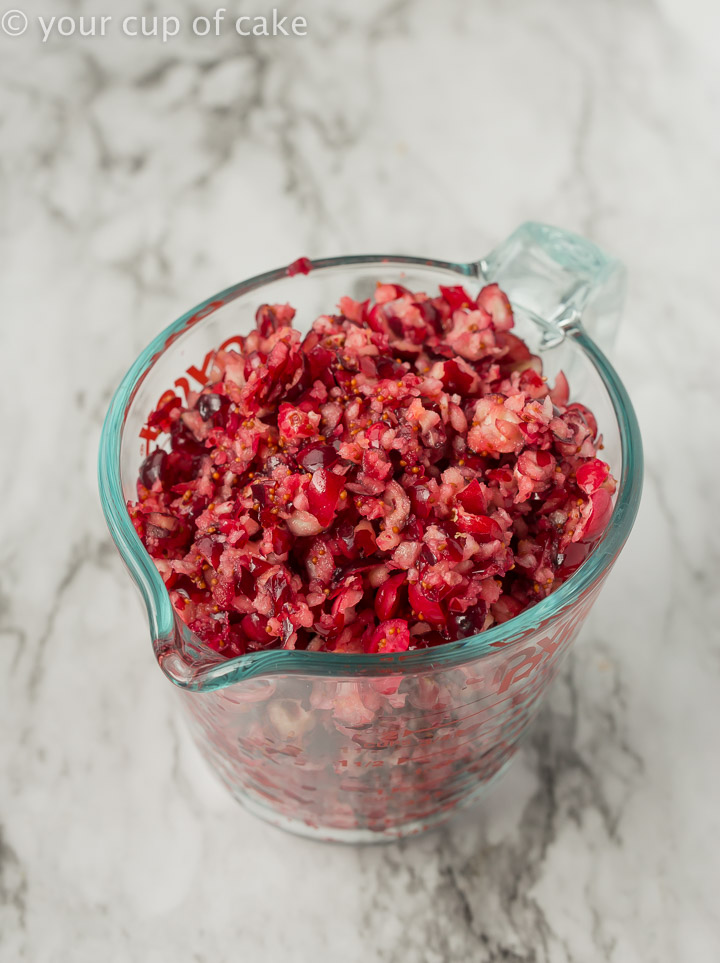 How to Make the perfect Jello Salad
Jell-o Salad can be tricky to get to look pretty! If you saw my old post I linked to you understand! I wanted part of this update to make it look as good as it tastes! I even experimented by making it in a bundt pan (I don't have a proper jello mold)! It's very pretty in the Bundt but I will say it's much trickier to serve. I'll probably stick with the casserole dish version and the added fresh strawberries on top is a new must for me, they taste so good with Grandma's Cranberry Pineapple Jello! And can we just laugh at the common name of "jell-o salad" or "cranberry salad recipes" for this dessert? It still always confuses me. I know many people add mandarin oranges and other fruits into it so that can make it more of a "salad" but still! It's jello people, not a salad! I don't even consider this to be a side dish. It's just too sweet!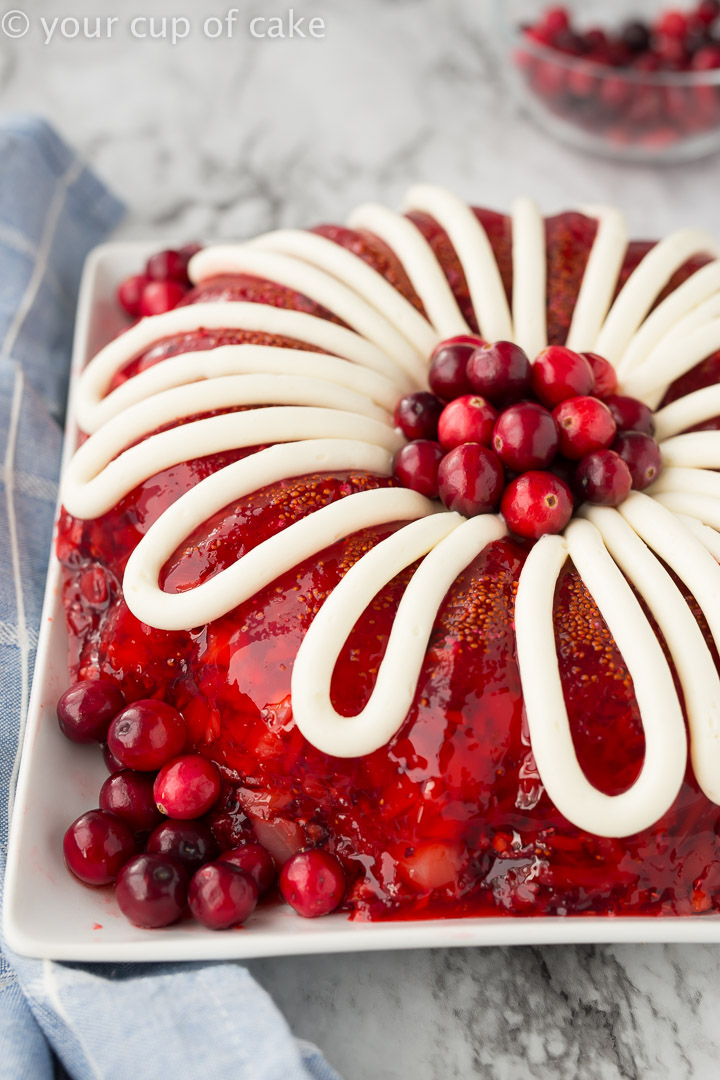 The trick to spreading on the topping is to place a few dollops all around the jello and then "connect" them by spreading them together!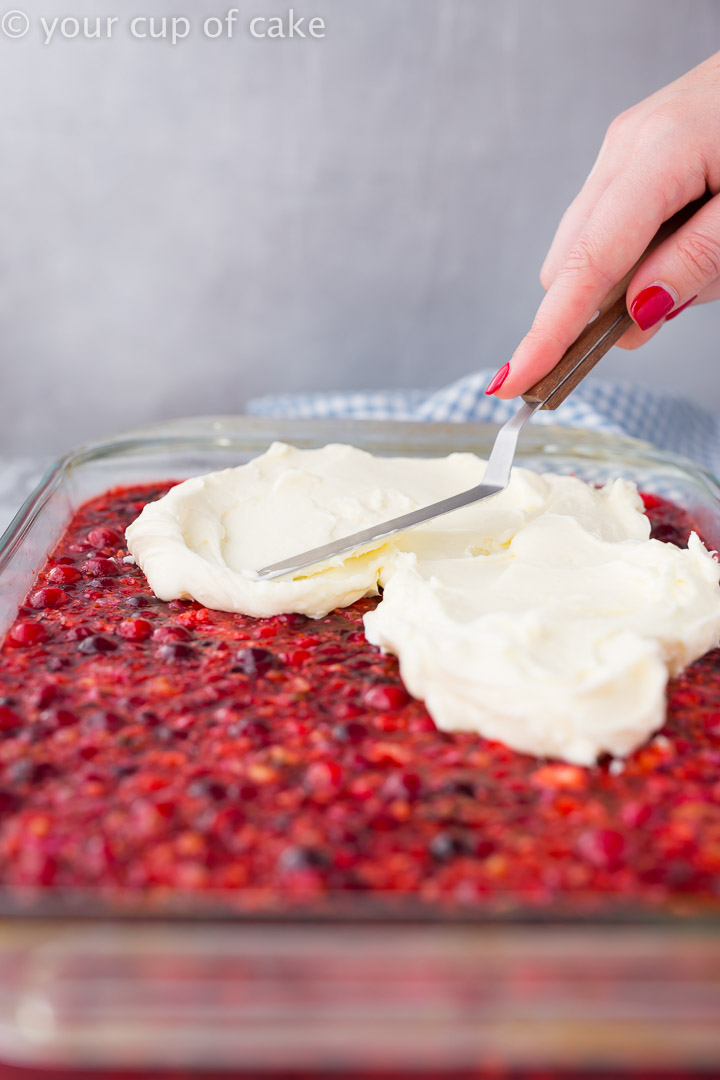 Mmm… I love having a slice of this Jello on my plate every Thanksgiving. Even when I'm with my in-laws I still make this jello! It's really just not Thanksgiving without it. One year we were out of town for Thanksgiving and ate at a restaurant. Well, when I got home the first thing I did was make myself a half batch of this jello! I just HAD to have it.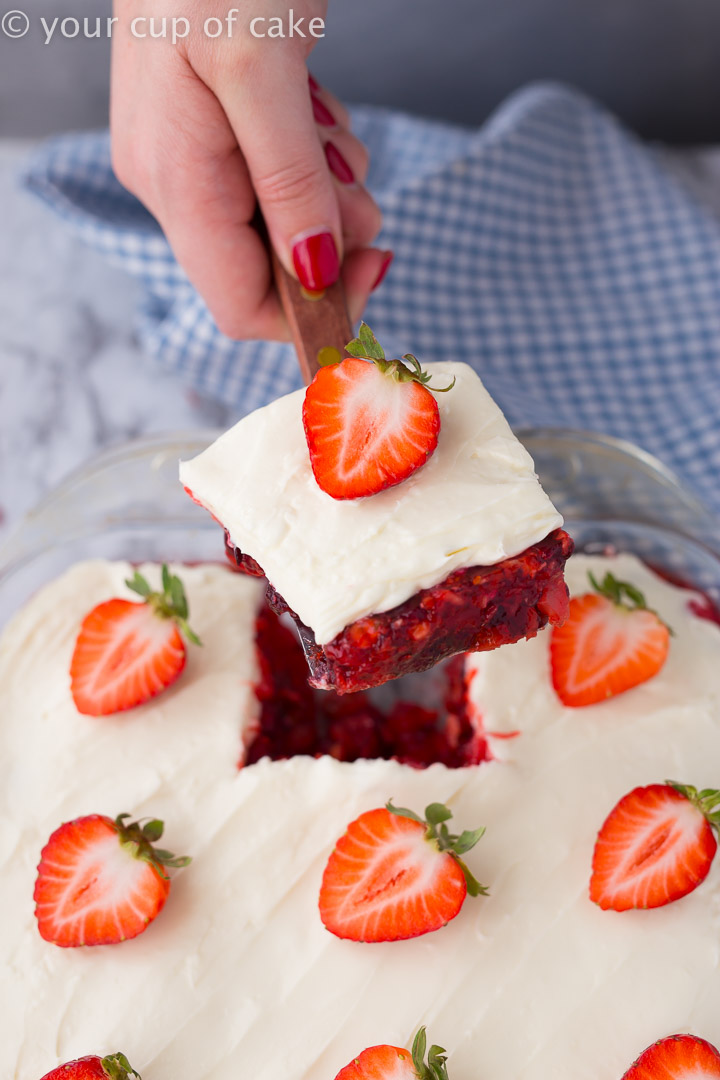 Jello desserts tend to be ugly, unless you do the pretty colorful layers. So I knew I needed to make this dessert as pretty as I could! You can add strawberry halves like I did, chop up the berries, do raspberries, walnuts or nothing at all! I change how I decorate the top depending on what I have on hand. If you do chop your berries, I would wait to put them over the topping until just before serving. You don't want the juices from the berries "bleeding" out onto the white cream cheese topping.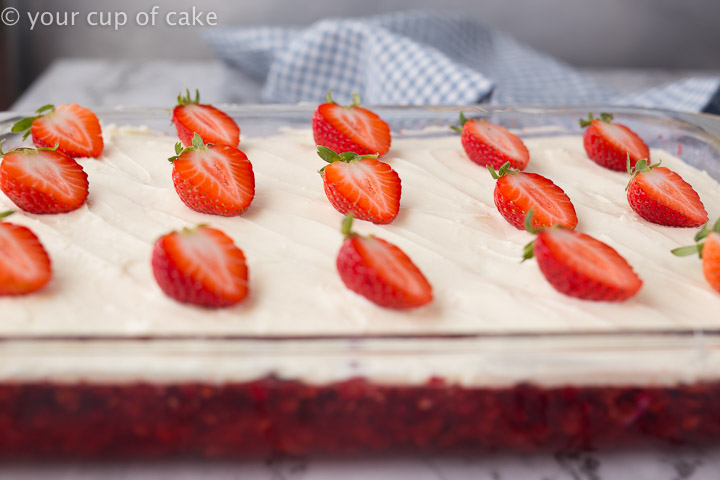 How pretty is this Jello in a bundt pan? I just piped on the topping instead of spreading it on! If I were to do the bundt pan again I would add a little less liquid to help keep the shape better.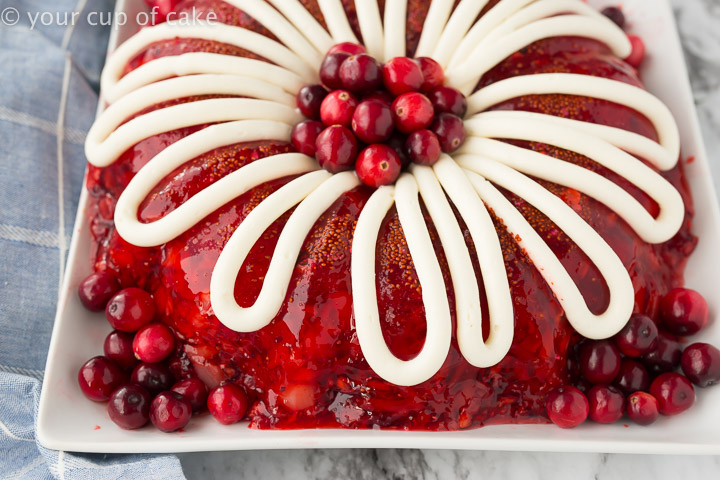 I hope you love my Grandma's Cranberry Pineapple Jello as much as I do! We make this for every Thanksgiving and Christmas dinner. It's not quite the holiday season until I'm on the couch with a slice of cranberry jello and watching a cheesy Hallmark movie.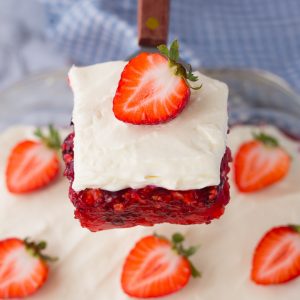 Grandma's Cranberry Pineapple Jello
Ingredients
1

large pkg

raspberry jello

1

small pkg

strawberry or raspberry jello

3

cups

boiling water

1 1/2

cups

cold water

1

20-ounce can

crushed pineapple, with juice

8

oz bag

fresh cranberries

chopped

1

cup

walnuts, chopped

optional
Topping:
12

oz

cream cheese

1/3

cup

sour cream

1

tsp

vanilla extract

1

cup

powdered sugar

1-2

cups

fresh strawberries, chopped

optional
Instructions
Pour jello packages into 9X11 casserole dish (or large bundt pan) and add boiling water.  Stir to dissolve jello. (You can pinch the liquid and if you feel any grains between your fingers keep stirring.)

Add cold water, crushed pineapple with juice, chopped cranberries (I'll chop them in a blender or food processor), and walnuts.  Stir mixture.

Let set in fridge for at least 4 hours.

Topping: Using a stand mixer (or hand beater and medium bowl) combine all ingredients until smooth.  Spread evenly over firm Jello and top with fresh strawberries!