The World's Best Potato Rolls will ruin you. You'll never want to make frozen rolls again after having these buttery, delicious, pillowy soft dinner rolls.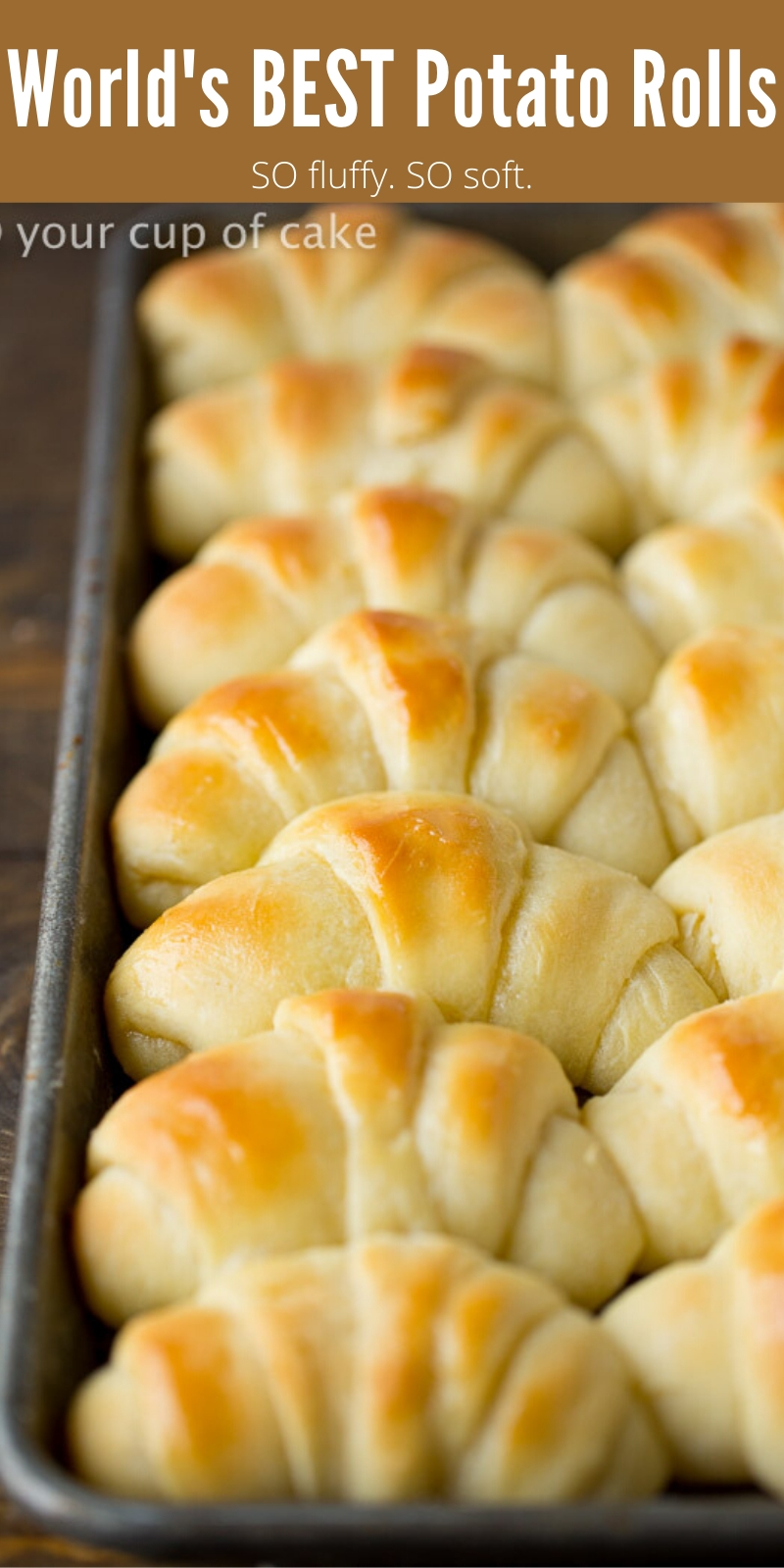 The Recipe for the World's Best Potato Rolls
You think I'm kidding. I dare you to find a better recipe! Every time I make these people beg for the recipe and say, "These are the best rolls I've ever had." I made them for my husband the first time last week and when he bit into one his eyes lit up like a little kid at Christmas! He was in love! They're just so unbelievably soft it's like a cloud! A warm, buttery cloud. Cloud Rolls. I don't think I'll be able to handle Thanksgiving this year with these rolls and my Brown Butter Pecan Pie.

These rolls just keep giving. They reheat in the microwave beautifully so make plenty because you'll want them for all your leftovers. Make turkey sandwiches, dip them in gravy is just devour them plain!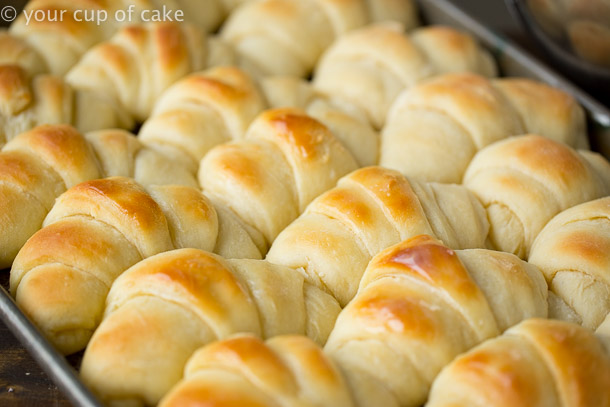 What is a Potato Roll?
Potato rolls have potato flakes in them! I use the Bob's Red Mill brand of potato flakes because that's the one I can easily find at Walmart's and other grocery stores. I just get a bag and it lasts me for several batches of these rolls. Plus, if you're ever in a pinch the potato flakes make great instant mashed potatoes! But will these rolls taste like potatoes? No. They just make the texture extra soft and pillowy. They really are dreamy and the perfect dinner roll for Thanksgiving, Christmas or any occasion. No bread machine needed! Just your oven!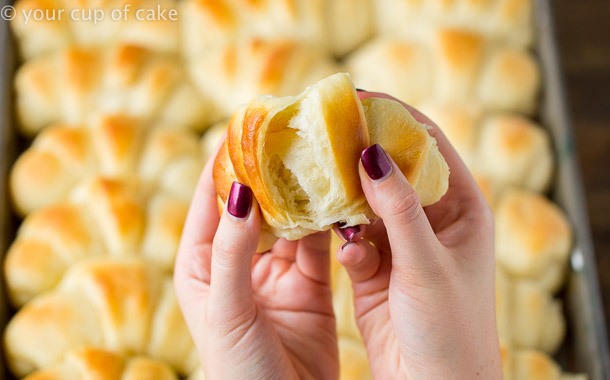 This is what your workout was for. Lather on that butter! Okay, they're great even without the added butter out of the oven but I just prefer it because then I don't add any butter when I eat them. These with jam is heavenly!
Don't let yeast breads scare you! It's just another ingredient. The only mistake you can really make is making the yeast mixture too hot! This will "kill" your yeast so it won't be able to do its job in rising the rolls.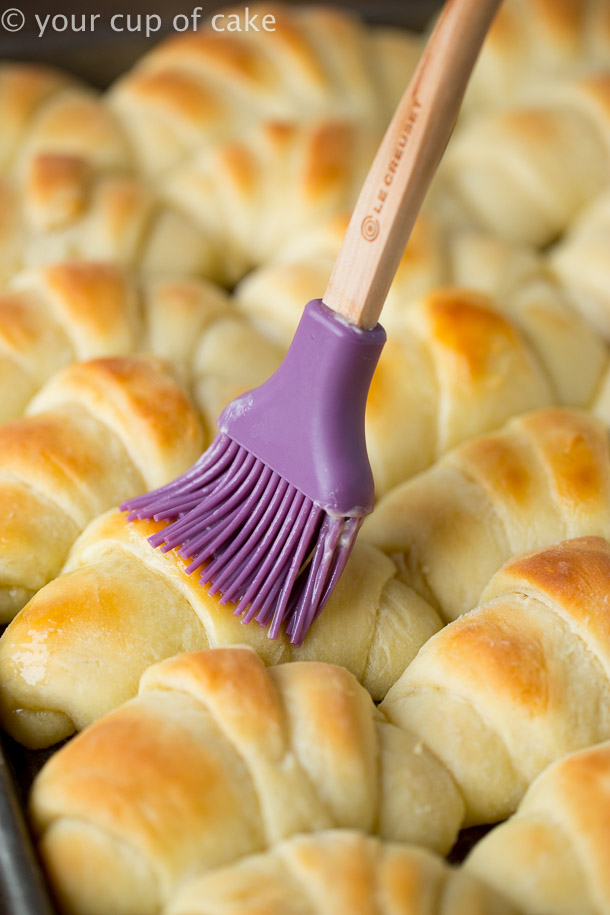 How to make Potato Rolls
The dough is quite loose, but don't fret! If it's too sticky when you start to roll it out later, just add flour then! Oh, and you do not need a bread hook! I don't even know why I used it this time because I usually just use my normal paddle. But you can also mix by hand! Though, using the bowl of a stand mixer makes it easier because you can let the mixer do some of the kneading!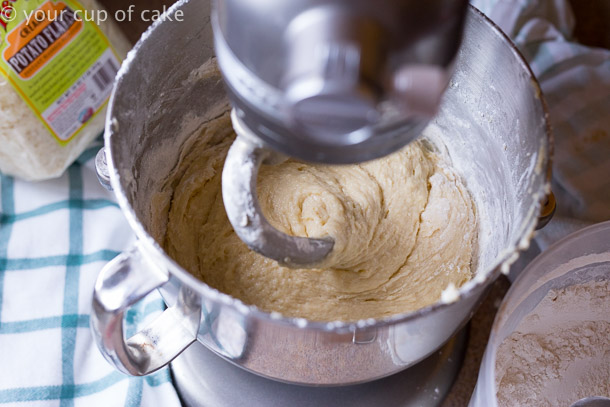 After the dough rises you'll separate the dough into 3 parts and roll each one out into a circle like a pizza. Try to get it somewhat thin so your crescents will have more layers. Don't forget to flour your counter!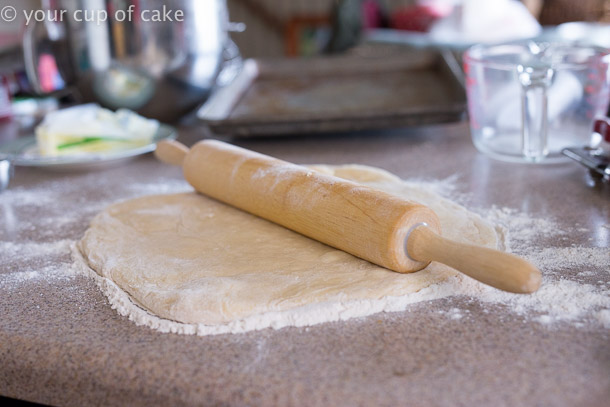 Then cut it like a pizza and roll each "slice" from the long end (where the crust of the pizza would be) to the tip to form your crescents. I'm obsessed with this pizza/dough cutter. It comes with a covering for the blade so I don't risk cutting myself in the drawer!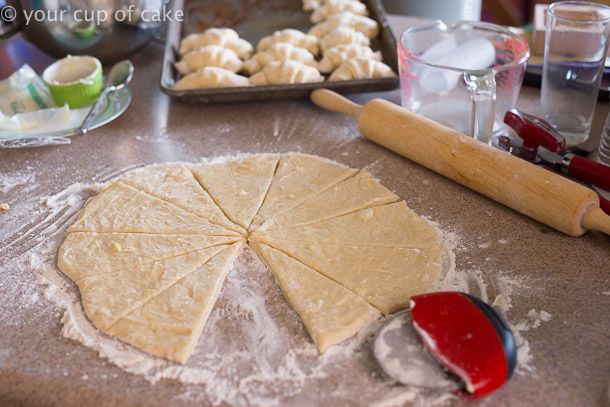 Then place on a greased baking sheet (I use a cooking spray) and let rise again. I like to use a kitchen towel to cover my dough as it rises. This photo is from after the second rise. Then… bake rolls!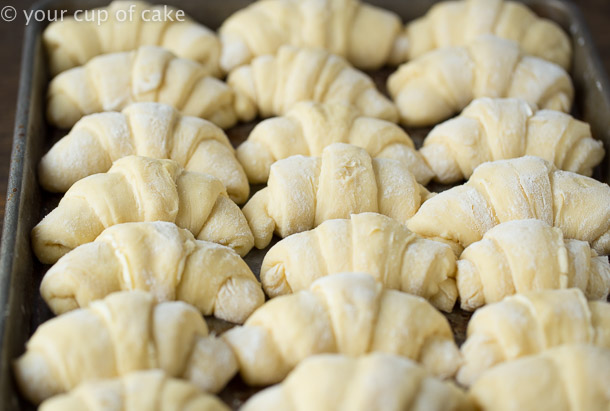 I wish you could taste these through the screen. We make these for Thanksgiving and we always run out! Each batch makes more than 30 rolls but somehow they just disappear! Enjoy the World's Best Potato Rolls!
What type of flour do I use for potato rolls?
This recipe calls for all-purpose flour which is SO great because I don't always happen to have bread flour on hand. But let me tell you, flour is different from brand to brand. That's why when you make any yeast bread you have to pay attention to the dough as you're making it. There's commonly a range of flour listed in the ingredients of recipes because each brand of flour is so different. My recipe calls for 7-8 cups flour. You want to add enough flour to have a soft dough and able to handle it but you don't want to add too much! I usually just put all the flour into a small bowl and shake some into the dough as its mixing. I stop adding it in when the dough comes together and is just firm enough to handle.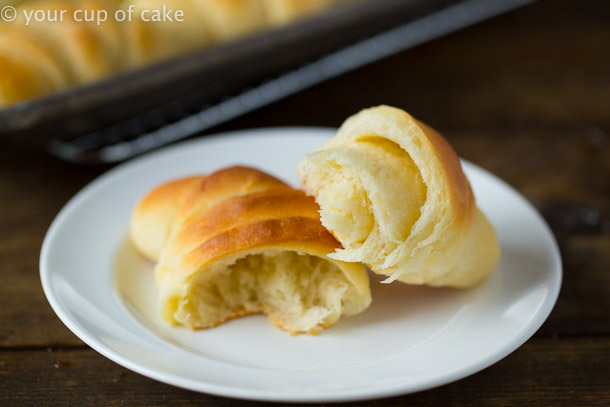 Secrets for the best rolls:
Okay, a few tips for apply to ANY roll recipe! Brush on some melted butter on top a few minutes before your rolls are done baking and add a sprinkle of kosher salt! The butter will add a golden brown color and the salt adds the most decadent taste. Your rolls will go from being amazing to "WOW what bakery did you these rolls from?"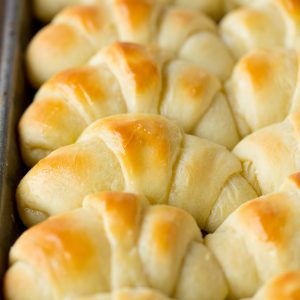 World's Best Potato Rolls
Ingredients
3

cups

milk

I use whole milk

3/4

cup

sugar

3/4

cup

unsalted butter

1

cup

potato flakes

1

Tablespoon

salt

4

large eggs

room temperature

1

Tablespoon

instant yeast

7-8

Cups

all-purpose flour

1/2

cup

unsalted butter

very soft
Instructions
In a small sauce pan add milk over medium heat. You want to scald the milk, not boil it. So when little bubbles and foam begins to form around the edge of the pan (a "skin" might also form on the top) then remove from heat.

In a stand mixer or large bowl. Add sugar, butter, potato flakes and salt. Add scalded milk once removed from heat and stir well. Let cool to luke warm, about 120-125 degrees if you have a candy thermometer. You don't want this to be too hot when you add your yeast!

Add yeast and then eggs and stir again. Add in flour a little at a time, only add as much flour as you need! Different brands of flour make it so the amount will vary. The dough will be very loose and may look shaggy, this is okay! My batter is still fairly sticky at this stage. I add more flour later if I need to.

Cover the bowl with a towel and let rise for 1 hour.

Push down and divide into 3 sections. (See photos above.) One section at a time, roll out into a circle like a pizza on a floured surface. Try to get your dough fairly thin like 1/4 of an inch. Slather on some of the super soft butter on top! This will help make the layers even more delicious. Cut like a pizza into 12 pieces and then roll up each slice starting at the wide end (where the crust of the pizza would be) to ward the point to form your crescent. Place on a greased cookie sheet. Continue until all three sections of dough have been formed. I used about 1 1/2 cookie sheets!

Let rise again until doubled in size (about an hour). Bake in a 350 degree preheated oven for 15-20 minutes. I butter my rolls with about 5 minutes left of baking!
Recipe Notes
Adapted from Oh Sweet Basil who introduced me to this incredible, to die for recipe.