The spookiest Halloween cupcakes are here! Cute Frankenstein Cupcakes that are easy to decorate and almost too adorable to eat! Almost…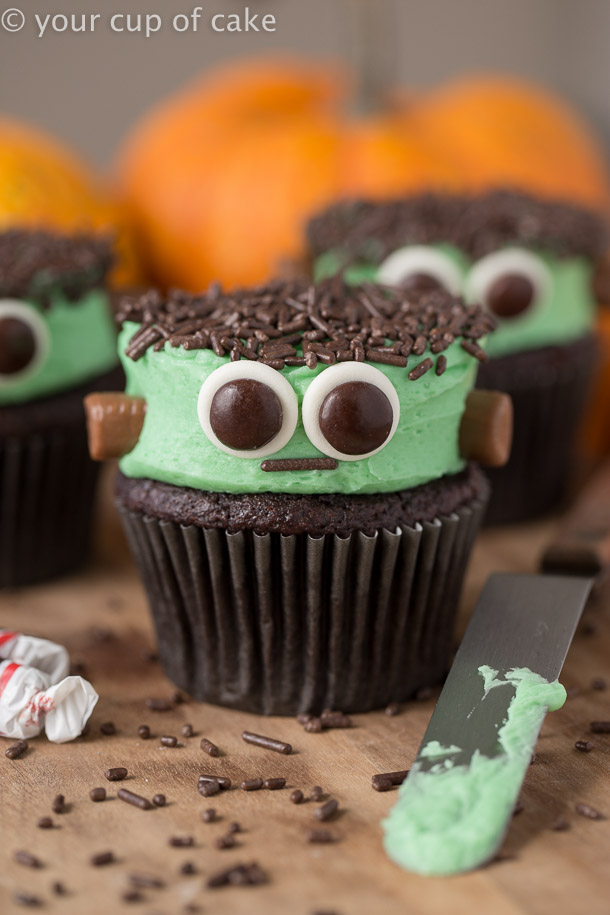 I made these Frankenstein Cupcakes years ago and they went crazy online! I mean, I shouldn't have been surprised because they're the cutest cupcakes for Halloween! But this year I decided to make an update and make a video for you all to see exactly how I make these!
Spooky and Cute Frankenstein Cupcakes
My favorite part about these little Frankenstein monster cupcakes is that I made my own candy eyes! As far as I know, I invited these myself! All it takes is some of those white Melts you can get from Hobby Lobby, Michaels or WinCo! And I used brown M&M's to make the pupils! You can also use the blue M&M's for friendly eyes or red ones for scary eyes…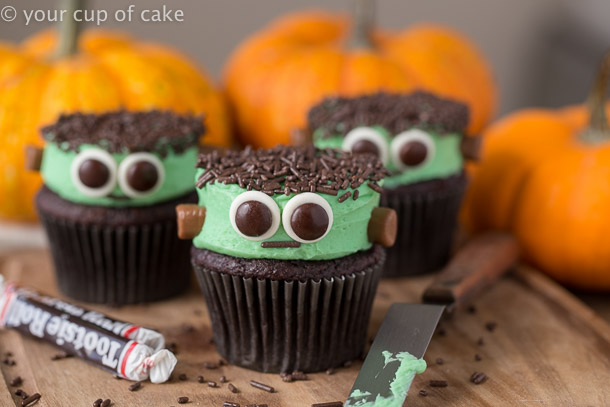 Lizzy's Favorite Cupcake Tools
People are always asking my about my must-have cupcake tools, so here are the two I'm obsessed with!
24-Well Baking Pan: This is awesome because some ovens don't fit 2 pans with 12 cupcakes in each, but this pan always fits! I LOVE it! It's also just a tad shorter than most pans so I don't get they dark rim around my yellow/white cupcakes.
Food Scoops: The yellow one is my favorite for cupcakes! The black and purple are great for small cookies!
Here's a video on how I made these little Frankenstein Monsters!
Frankenstein Hair is just a Sprinkle Away
Chocolate Jimmy sprinkles is how I get this cute hair look! I just dumped some in a little bowl (or a plate works great) and pushed the top of the frosted cupcakes into the bowl! You can fill in any bald spots by hand if you want. I even used a rather long Jimmy to make the mouth on these Cute Frankenstein Cupcakes for Halloween.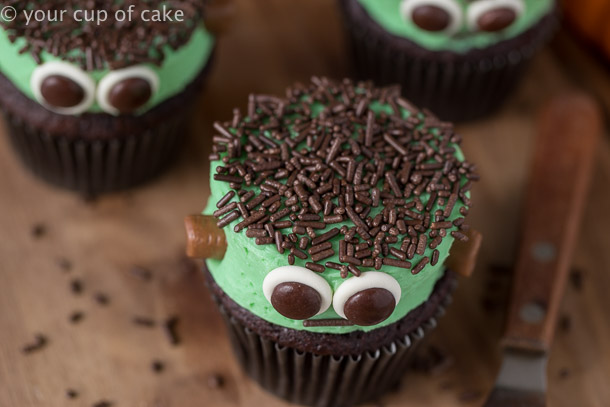 The Trick to Cute Cupcakes
Transforming candy, cookies and chocolates is how you make the cutest cupcakes! Like these adorable M&M eyes, the sprinkle hair and using these Tootsie Roll "bolts." The Tootsies is the update from my original Cute Frankenstein Cupcakes. I used to make them using melted chocolate… but that took unneeded effort.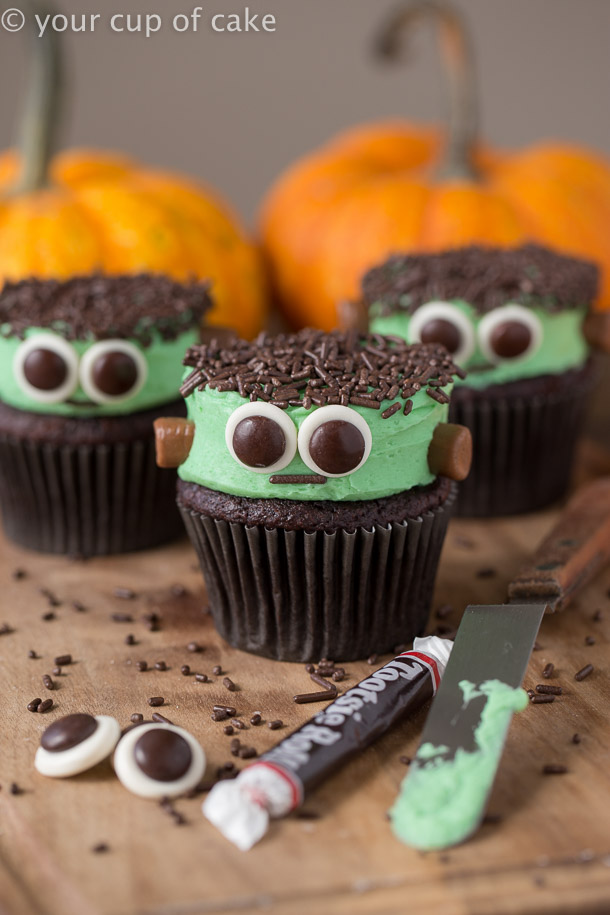 Happy Halloween everyone!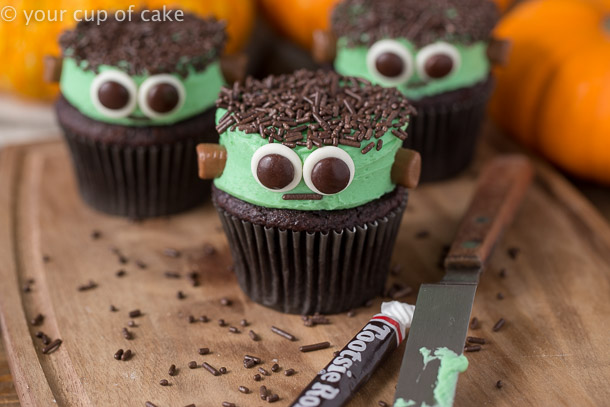 These were my original version of these cute monsters…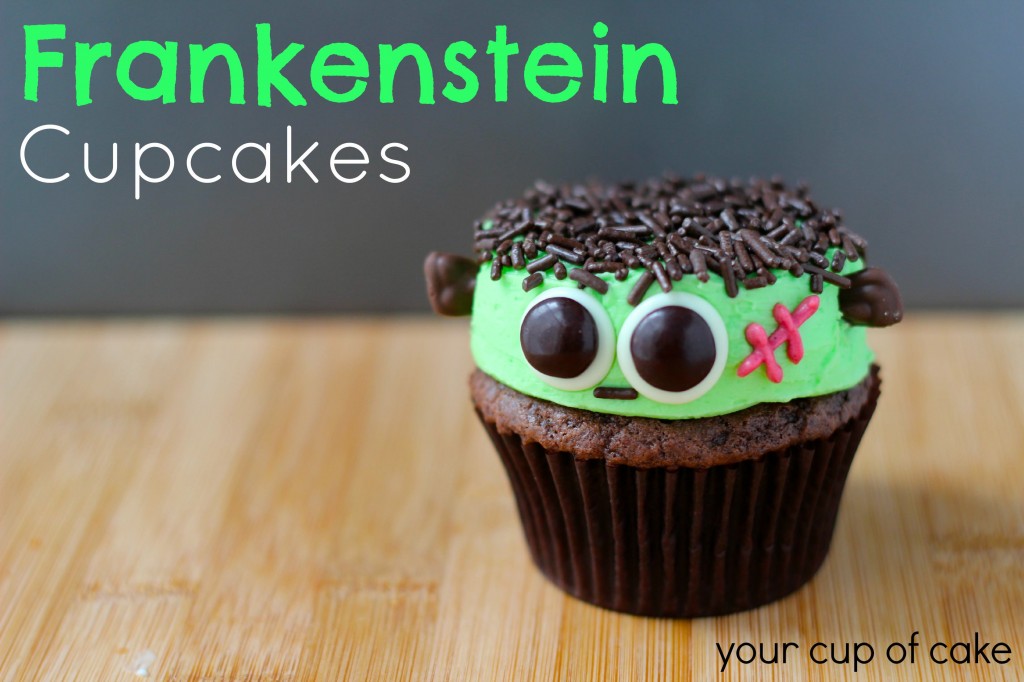 Frankenstein Cupcakes for Halloween
Ingredients
CAKE:

Devil's Food Chocolate Cake Mix

3

eggs

1/2

C.

melted butter or oil

1

C.

buttermilk

GREEN FROSTING:

1

C.

butter

softened

2-3

C.

powdered sugar

1

tsp.

vanilla extract

1

tsp.

peppermint extract

optional

green food dye

DECORATIONS:

Chocolate Jimmy Sprinkles

Tootsie Roll "Bolts"

1/3

C.

White melts

brown M&M's

blue and red also work for eyes
Instructions
1. Preheat oven to 350 degrees and line pans with cupcake liners.

2. Combine cake mix, eggs, melted butter and buttermilk. Fill cupcake liners 3/4 full and bake for 15-20 minutes.

3. Let cool.

4. Frosting: Beat butter and 2 cups powdered sugar. Continue to add powdered sugar until you reach the consistency you want. Add vanilla extract and peppermint extract if you want Frank to be minty. Add enough food dye as needed.

5. Make Eyes: Melt white melts in the microwave. I nuke mine for about 40 seconds, stir and then nuke for another 20 seconds. Make a mini piping bag using a ziplock bag, snip off the corner and pipe out little puddles about the size of dimes. Drop an m&m onto the puddle and then let them all cool to firm up. You can watch the video above if you need!

6. Pipe frosting onto cooled cupcakes and flatten out. Press the top of the cupcake frosting into chocolate jimmies.

7. Press eyes into the cupcakes and then cutTootsie Rolls to be "bolts" and push them into the sides of the frosting.