Adorable mini cupcakes of Frankenstein and his bride! These are so much fun to make perfect for any fall party or kid's activity. All you need are mini cupcakes, green frosting, sprinkles, candy eyes and Reese's Peanut Butter Cups!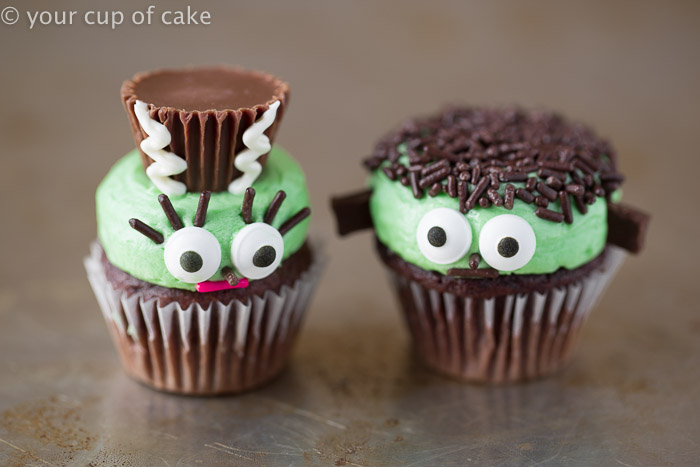 Usually I make my own eyes using M&M's and white almond bark, but this time around I wanted to do what most people do and buy the candy eyes! They're tons of fun and less of a hassle than making them, but I do love the look of my own… You can see them on my Frankenstein Cupcakes from last year the Reese's version or the original.
I bought my candy eyes at Michael's and you can always find a 40% coupon online or on the free phone app RetailMeNot. So never pay full price for anything at Michael's! I'm that weird person in line at the store always making sure everyone has a coupon…
Here are some step by step photos of Frankenstein… He's really pretty easy to make. If you want to get a little more creative you can also give him some stitches on the side of his face or some angry eyebrows!

And now the Mrs…. I actually came up with this Reese's hair do by accident but I really wanted to work it into the post so I hope you love it!The sprinkle eyelashes actually aren't that hard to do. Just poke in the tip of the sprinkle and then bend it back into place!

Aw, true Halloween love. If they had hands they would be holding them.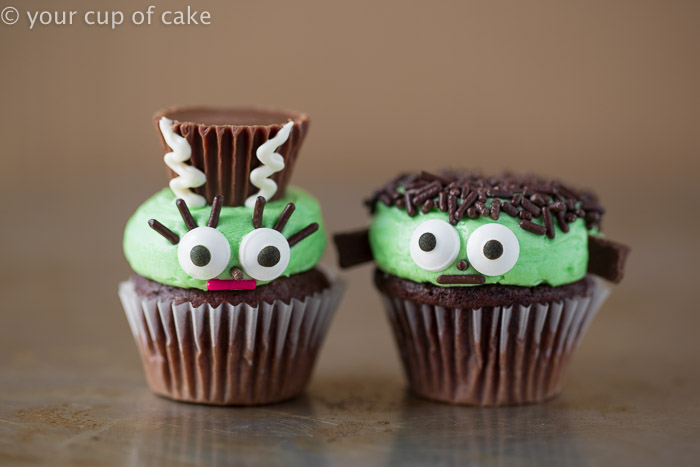 These Mr. and Mrs. Frankenstein Mini Cupcakes will be the cutest couple at any Halloween party!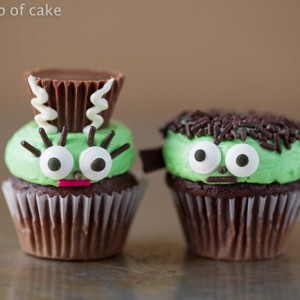 Mr. and Mrs. Frankenstein Mini Cupcakes
Ingredients
Mini Chocolate Cupcakes

green frosting

chocolate jimmy sprinkles

chocolate bars

candy eyes

Reese's cups

white almond bark or melts

red or pink sprinkles
Instructions
1. Bake and let cupcakes cool.

2. Frankenstein Cupcakes: Frost cupcake with green frosting and level out the top. Dip into a bowl of plate of chocolate sprinkles. Place on candy eyes then use sprinkles to make a mouth and nose. Chop little bits of chocolate off the chocolate bar and use those as "bolts."

2. Frankenstein's Wife: Frost with green frosting but her head does not keep to be flat. Then give her eyes and sprinkle eyelashes and mouth and nose. Melt your almond bark or Melts and use a mini piping bag (ziplock bag with tip cut off) to pipe on white streaks to a Reese's Peanut Butter Cup to make her hair. Then place on top of frosting!