Yesterday, I had the opportunity to be filmed by a local television station as I handed out cupcakes on campus. I needed to bring a cupcake that I knew everyone would like. This one tastes like a chocolate chip cookie and who doesn't like one of those?
Dark Chocolate Chip Cakes: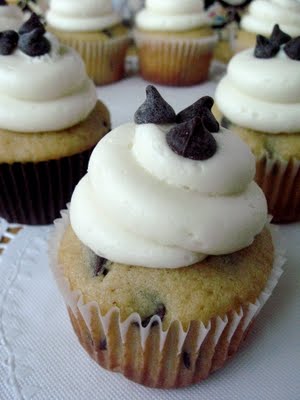 1 cup butter, softened
1 ½ teaspoons baking powder
1 ¾ cup dark chocolate chips
Cream Cheese Buttercream:
(half recipe if you don't plan on using much frosting)
1.
Preheat oven to 350 degrees and line tins with cupcakes liners (yields 30).
2.
Beat butter, sugar and brown sugar until light in color and smooth. Scrape the bowl as needed.
3.
On slow, add eggs one at a time until incorporated.
4.
In a separate bowl, combine flour, baking powder, baking soda and salt. (Sift if needed to get rid of lumps.)
5.
Alternate between adding your dry (flour mixture) and your wet ingredients (sour cream, buttermilk, milk and vanilla). Letting each one completely mix in before adding the next.
6.
Fold in chocolate chips.
7.
Filling cupcake liners ¾ full and bake for 17-20 minutes.
8.
Buttercream: Beat cream cheese and butter. Add vanilla, powdered sugar and milk and beat again. Adjust using powdered sugar and milk to create desired consistency.
9.
Pipe onto cooled cupcakes and top with chocolate chips.