The Story:
Last week, my kitchen was transformed into a studio. There were bright lights, a huge camera along with a fabulous camera woman, and a reporter asking me questions as I baked.
I learned one important thing, I really need to practice talking and baking at the same time.
Banana Cakes:
2 ½ ripe bananas, mashed<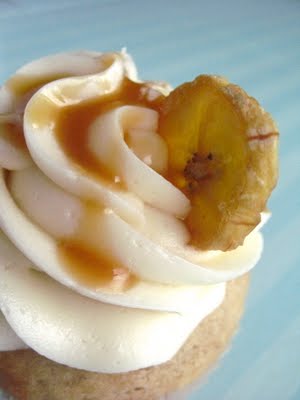 1 teaspoon baking soda
3 eggs
½ cup oil
1 teaspoon vanilla
¾ cup buttermilk
1 cup sour cream
1 ½ teaspoons cinnamon
Vanilla Cake Mix
(¼ cup flour for high altitude)
Caramel Infusion:
½ cup caramel sauce
¼ cup evaporated milk
Caramel Buttercream:
½ cup butter, softened
8 oz cream cheese
1 ½ teaspoon vanilla
¼ cup caramel
3-4 cups powdered sugar
Banana Chips Recipe
Directions:
1.Preheat oven to 350 degrees and line pans with cupcake liners (yields 26).
2.In a small bowl, mash bananas with baking soda.
3.In a large bowl, mix eggs, oil and vanilla.
4.Add buttermilk and sour cream, mix well.
5.Add cinnamon and cake mix and stir only until combined. (For easy mixing sift cake mix in to prevent lumps.) Add mashed bananas and stir.
6.Fill liners ¾ full and bake for 14-18 minutes or until an inserted knife comes out clean
7. Caramel Infusion: Whisk caramel sauce and evaporated milk together.
8.As soon as cupcakes come out of the oven, use a squeeze bottle to fill cupcakes with sauce, or cut out a small "well" in each cupcake and spoon the caramel mixture in. (The caramel will soak into the cake, so don't make a deep well unless you want hollow cupcakes.)
9. Caramel Buttercream: Beat butter and cream cheese until smooth. Add powdered sugar, vanilla and caramel. Adjust consistency using powdered sugar and caramel.
10.Pipe onto cooled cupcakes and top with banana chips and caramel sauce.