Soft, fluffy and easy to make! Mom's Best Dinner Rolls are the perfect homemade roll for any meal and they're fool proof to make!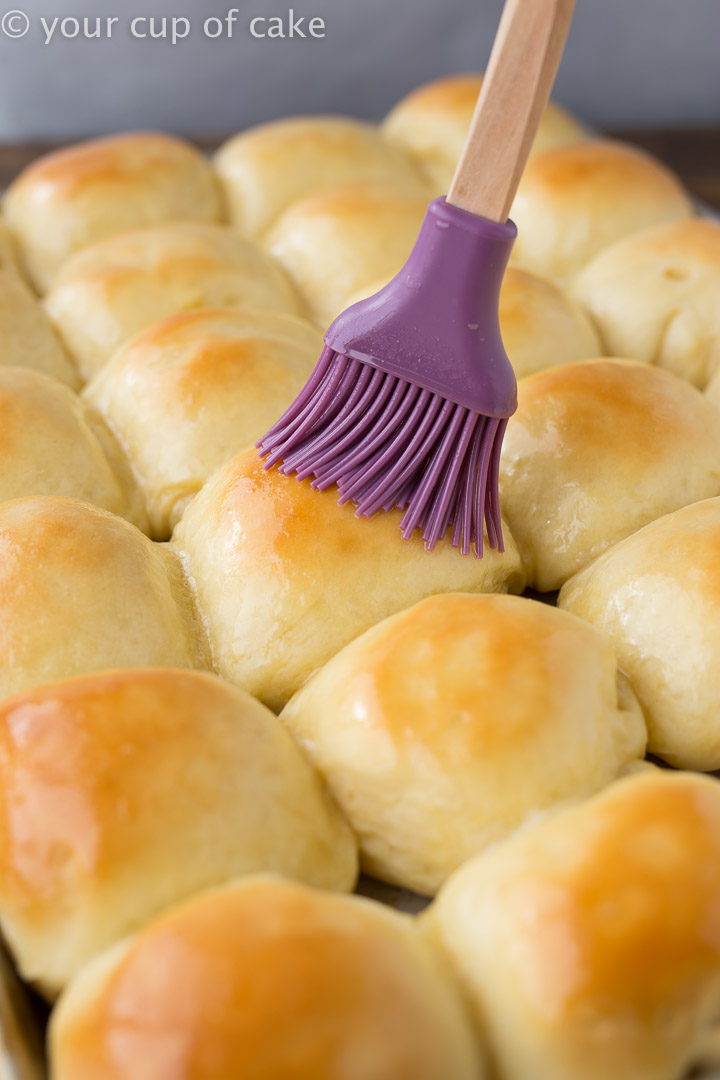 Mom's Best Dinner Rolls
Nothing is better than homemade rolls hot out of the oven! Put a little raspberry jam on there, butter or make a turkey sandwich with it! But in my house growing up, we never made homemade rolls! We stuck with frozen rolls for every big occasion. But once I got into baking I started making homemade rolls for holiday family dinners and my sweet mama fell in love with them! She has always loved homemade bread but isn't that comfortable in the kitchen, so she loves when I come to town because it means plenty of homemade rolls. So these dinner rolls are named in her honor, Mom's Best Dinner Rolls!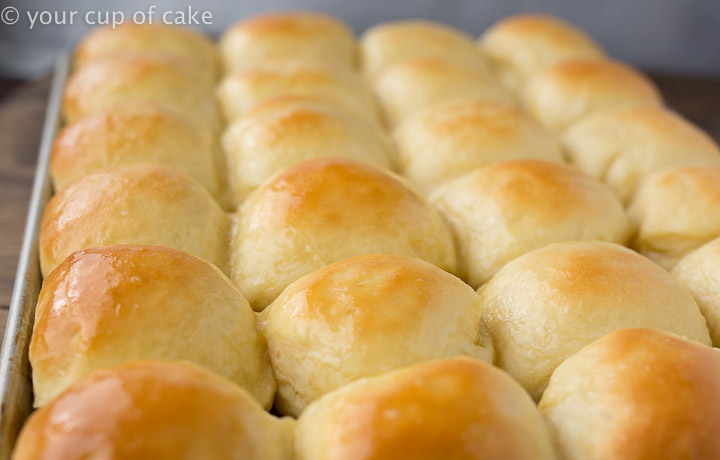 Best Homemade Rolls
Thanksgiving is this week! Can you believe it? I can't! I'm still trying to post all of my fun Thanksgiving recipes for you! If you are in search of an easy homemade roll recipe though, this is it! Making bread can be so intimidating but this recipe makes it simple. Let's talk yeast. I like to use Quick-Rise instant yeast (I think I used the Red Star brand for these). Using an instant yeast just means it will rise faster so less wait time for you! When you first look at any roll recipe, scan through the recipe and highlight any resting times, that way you know how far before dinner to start making your rolls!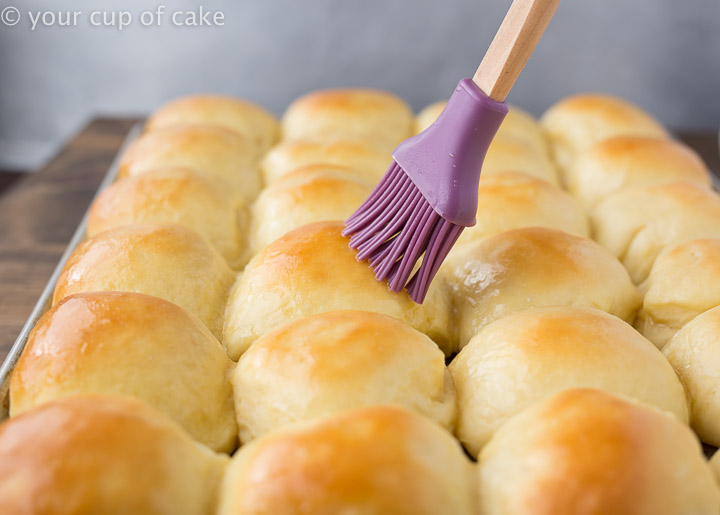 Easy Homemade Rolls
These dinner rolls are easy to make! No temperatures to take, no long kneading, no super long rises, nothing fancy just delicious rolls at the end of it all! Let's start with a few bread tips! First of all, every flour is different. Each brand has a different amount of gluten so most bread recipes will give you an estimation of how much flour to add, but it's up to you to figure out when your dough looks "right." Well, what is right? When I add my flour I add enough until the dough starts to pull away from the sides. When you touch it is will still be a little sticky, but it won't make a big mess if you grabbed a handful.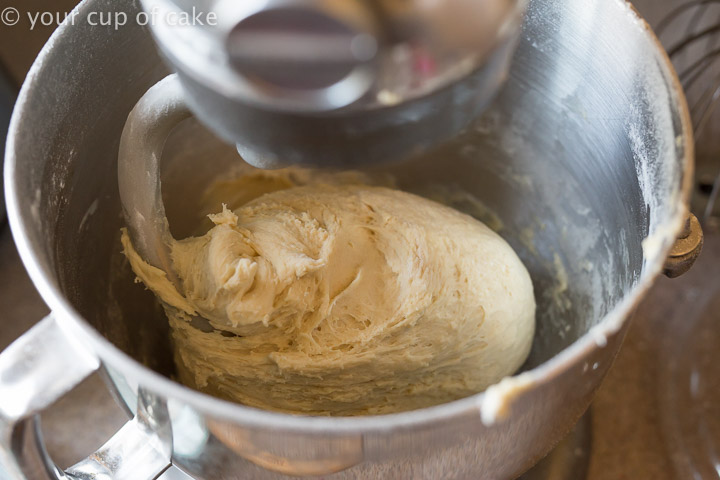 How to Make Homemade Rolls
Next, you'll let the dough rise! I like to put a tablespoon of oil in a large bowl and drop my dough into it, I'll flip the dough ball around to make sure it's coated in oil and then over it with a hand towel. My home is usually chilly so I'll put the bowl by a window with sun coming it or close to the warm oven. Oiling your bread dough keeps it from drying out and cracking as it rises. After it rises you'll need to punch it out and then form your dough balls. You'll cut the dough into 24 pieces (I love using a bench scraper for this) , but how do you get perfectly shaped rolls? I have some photos for you! Take the jagged piece of dough and fold the sides under itself, pinch the pieces together on the bottom if you need to and then you have your perfectly round dough ball! (Don't mind my pregnant belly trying to take over the photo!)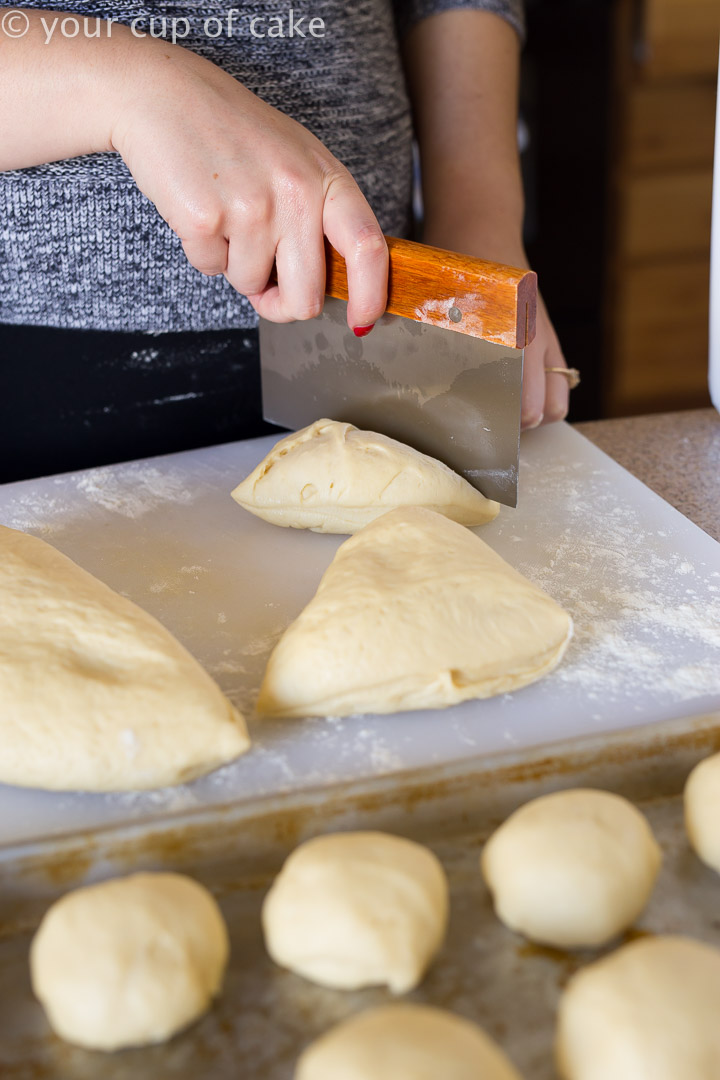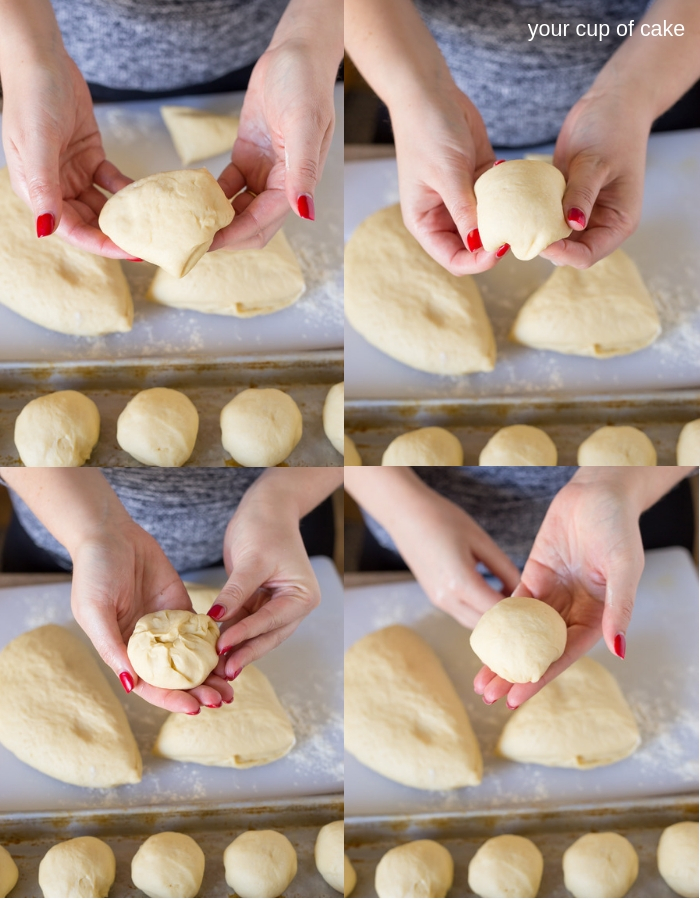 After Mom's Best Dinner Rolls do their second rise they will be ready to pop in the oven!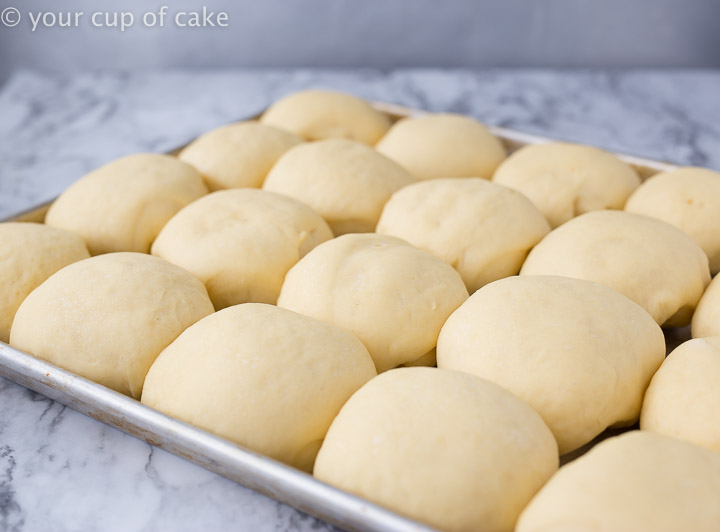 I married a man who loves butter, so I like to butter my rolls 2 minutes before they're done baking so that they get a little more color and then a little more hot out of the oven!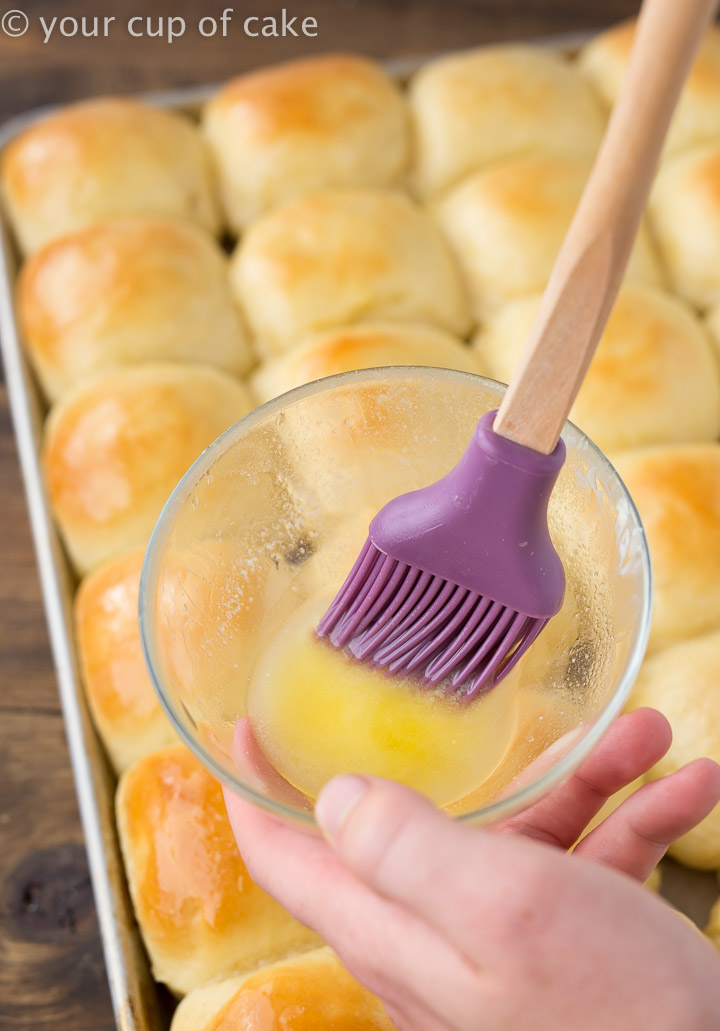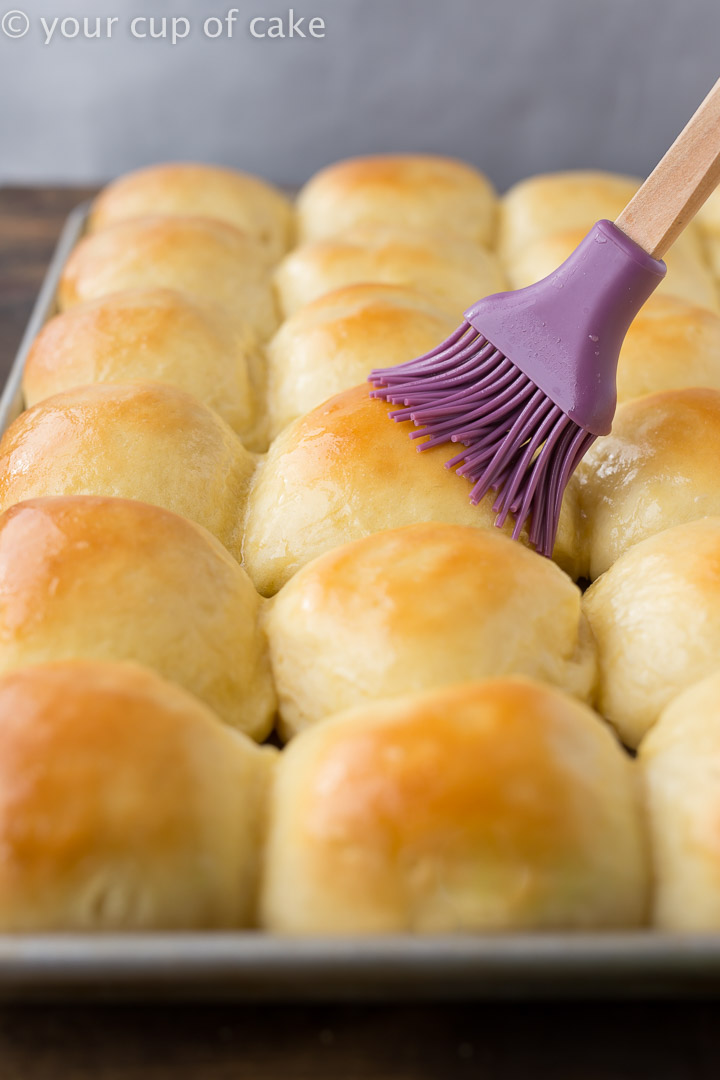 I hope you love Mom's Best Dinner Rolls with your family! I'm still eating a few of the leftovers and pop each one in the microwave for 10 seconds to make it all warm and steamy again! Mmm…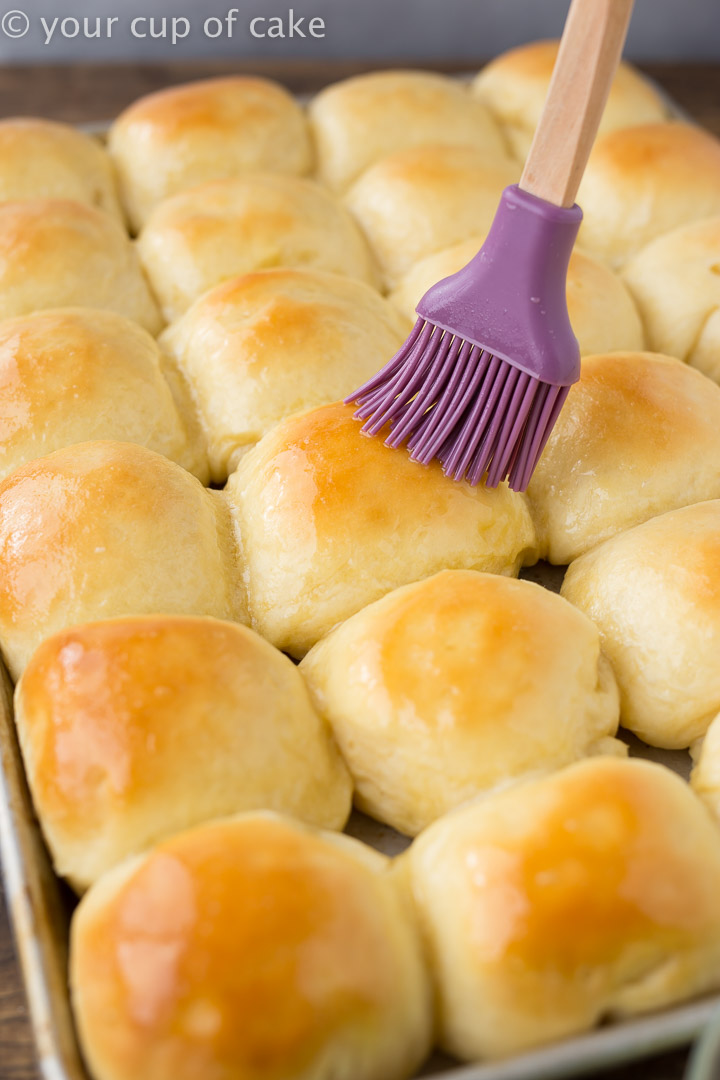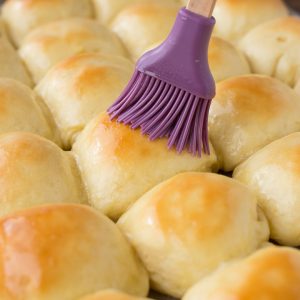 Mom's Best Homemade Rolls
Ingredients
2

cups

warm milk

2

Tbsp.

instant dry yeast

1/4

cup

sugar

2

tsp.

salt

6

Tbsp.

butter

melted

2

eggs

6-7

cups

flour

All Purpose

1

Tbsp

oil
Instructions
Using a stand mixer, combine warm milk (warm not hot), yeast, sugar, salt, melted butter and eggs.

Use the bread hook attachment and add 5 1/2 cups of flour a little at a time. Continue to add more flour until the dough starts to pull away from the sides of the bowl. The dough will still be slightly sticky when you touch it.

Add oil to a large bowl and dump the bread dough into the bowl. Flip the dough over to coat it in the oil, cover the bowl with a hand towel and let rest in a warm place of the house for 90 minutes.

Punch out dough, separate into 24 pieces and form dough balls. (See photos in post for my tips on how to make perfectly rounded rolls.) Place on a grease rimmed cookie sheet (4 rows of 6), cover with a hand towel and let rise for 1 more hour.

Preheat oven to 375 degrees and bake rolls for 12-15 minutes or until golden brown! (I like to brush mine with butter 2 minutes before they're done baking for added taste and color, and then I brush with more butter when they're done!)