All the tips and inside tricks you need to know to make a wedding cake! DIY at it's finest for those of you trying to figure out how to make a wedding cake… even if you're not a professional! I'll give you some great ideas on how to make a fabulous tiered cake look perfect!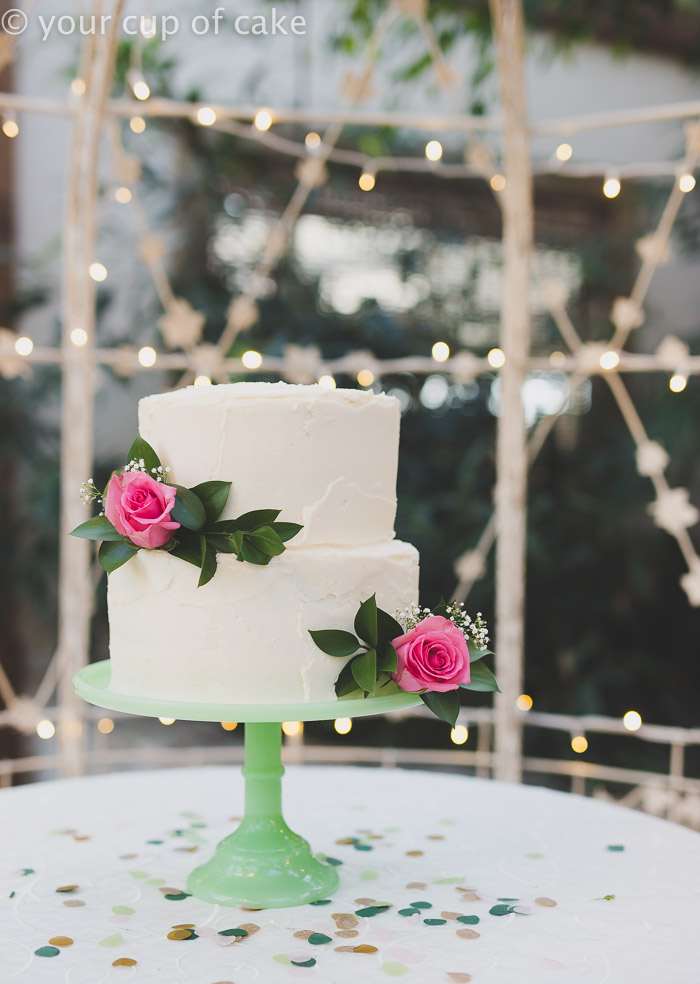 A friend of mine got married a few weeks ago, and he asked me to make his wedding cake. Uhhh… I've never made a wedding cake before. Sure, I've made some gorgeous cakes, but a tiered cake is a whole other ball game. Plus, what if I mess it up? It's not like I can say, "Hey, I'll try again tomorrow." I was stressed! But I decided to take the challenge.
I've catered plenty of weddings making cupcakes, and I even have a post on how to cater a wedding, but I wanted to turn my wedding cake experience into a how to as well!
First: Bake the cakes!
-Everyone has their own recipe preference so use whatever recipe you like best.
-But when it comes to choosing the pan sizes… the magic number to remember is you want a 2-inch different between your pan sizes. (3 inch will work fine too.) My bottom tier was made of 10-inch cakes and my top tier was 8-inch cakes. There's a 2 inch difference between the pans, that that's usually the look traditional wedding cakes have!
-Line the bottom of you pans with parchment paper for easy release.
–Freeze yo cake layers! I'm serious. This will keep your layers from breaking as you move them around. You can get away with smaller cake layers, but when it comes to the 10-inch cakes… it's dangerous. So freeze them! Just 30 minutes will do! I just go early to the reception venue and they will usually have a huge freezer there that I'll use.
Frosting:
–Make plenty of it. The last thing you want is to be running out of frosting. the trick to a professional looking cake is a sharp edge between the side and top of your cake.
Travel:
-Pack all of your cake layers and frosting up well. Assemble at the reception location.
-Drive like you have 10 babies in the car who are sleeping, but if you wake them they will scream bloody murder. 🙂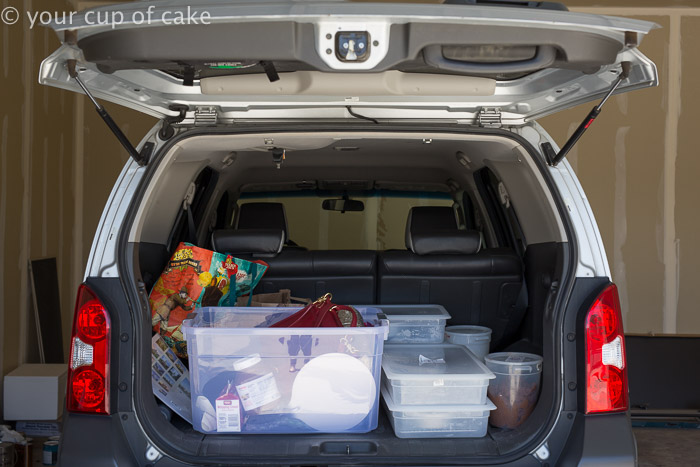 I find all my big food tupperware at restaurant supply stores! Most cities have them, so find out where one is close to you and go browse! I find the funnest things at those places… they're like my Disney Land 🙂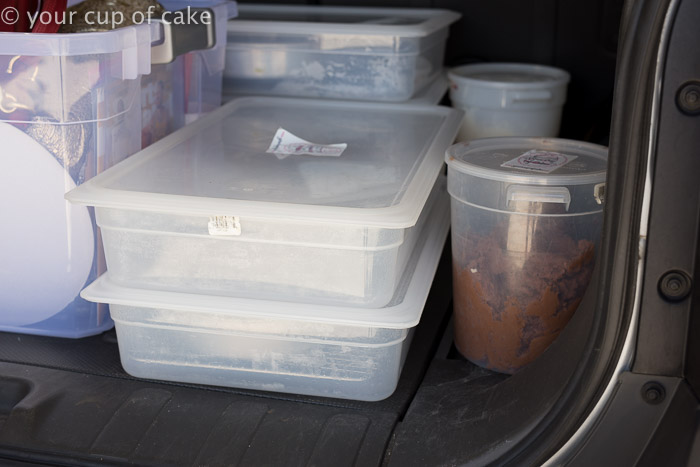 Bring:
-Besides the cake, frosting, and cake stand, you'll need some extra things… Mixing bowl, spatulas, offset spatula, piping bag and tip, powdered sugar, milk or cream, scissors, hair tie, straws, cake boards (bought or made from cardboard).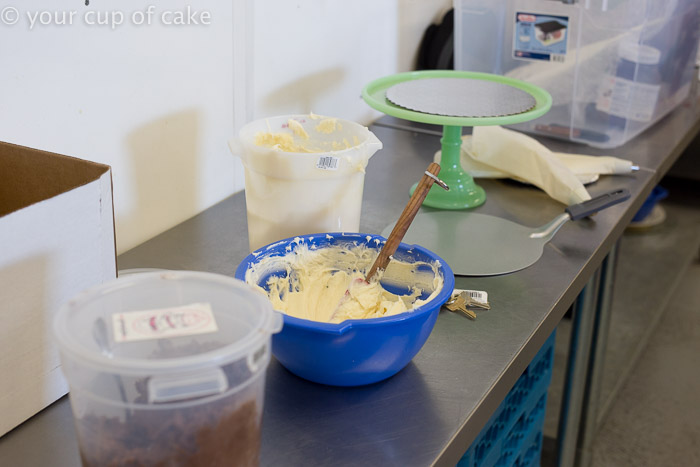 The hard part about decorating on site is that you never know what the temperature of the kitchen will be! It could be freezing cold or chilly! If you get to the venue and it's so cold your frosting is rock solid, you'll need to add milk or cream to your frosting to loosen it up. But if the kitchen is hot, you'll need some powdered sugar to make it more stiff. Always be prepared.
Decorating:
-I like to pipe my frosting on first and then smooth it out with an offset spatula. I feel like it's faster and less messy.
-You're probably saying "Where's the rotating cake stand for decorating?!?!" Well I have one, but I don't like using it! Plus, I'm trying to prove to you that you don't need one! Just use your offset spatula and smooth out all the frosting and do your best to make the sides straight up and down.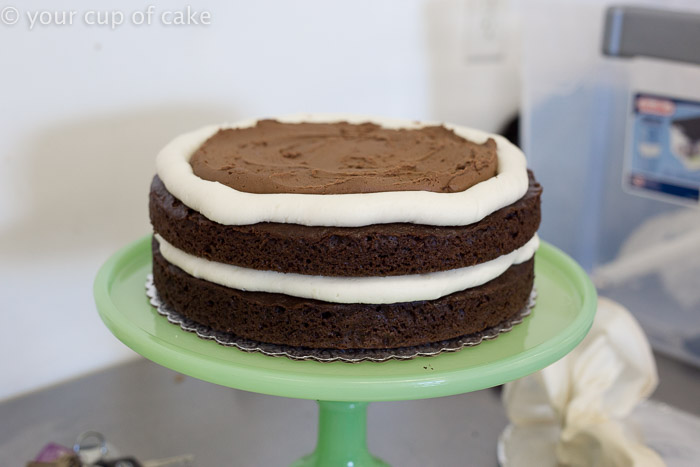 This cake had a Nutella buttercream filling and a hazelnut buttercream on the outside, since I didn't want the chocolate filling bleeding to the outside, I piped a dam around the filling on each layer.
Support System:
–Tiered wedding cakes need support inside. This happens with a combination of two things… the cake boards under your tier and using wooden dowels (or straws which is what I used because it's easier). The cake boards (which you can make by cutting out a cardboard circle and covering it with aluminum foil or you can buy them) distribute weight. But the straws help to keep the weight on the cake stand and not on the cake layers underneath. Have you ever seen a cake that "sags" and one of the tiers seems to be sinking into the bottoms layer? They didn't use supports! Simply insert your straws into the first tier and then cut them off (you'll want all the straws the same height) and then keep building your cake on top of them. (So you would put a cake board on top of the straws and then the cake layers with frosting.)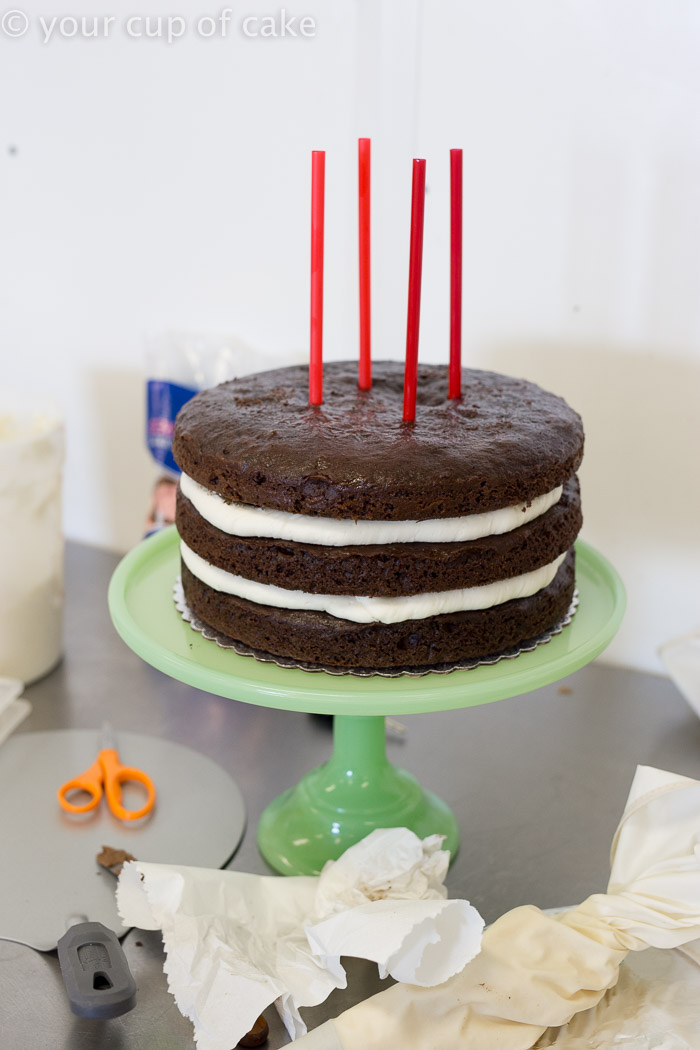 So above is when I stuck all my straws in, and then below I cut them off so that they were level with the cake!

I loved this photo because it looks like some middle school project, but it's going to be gorgeous.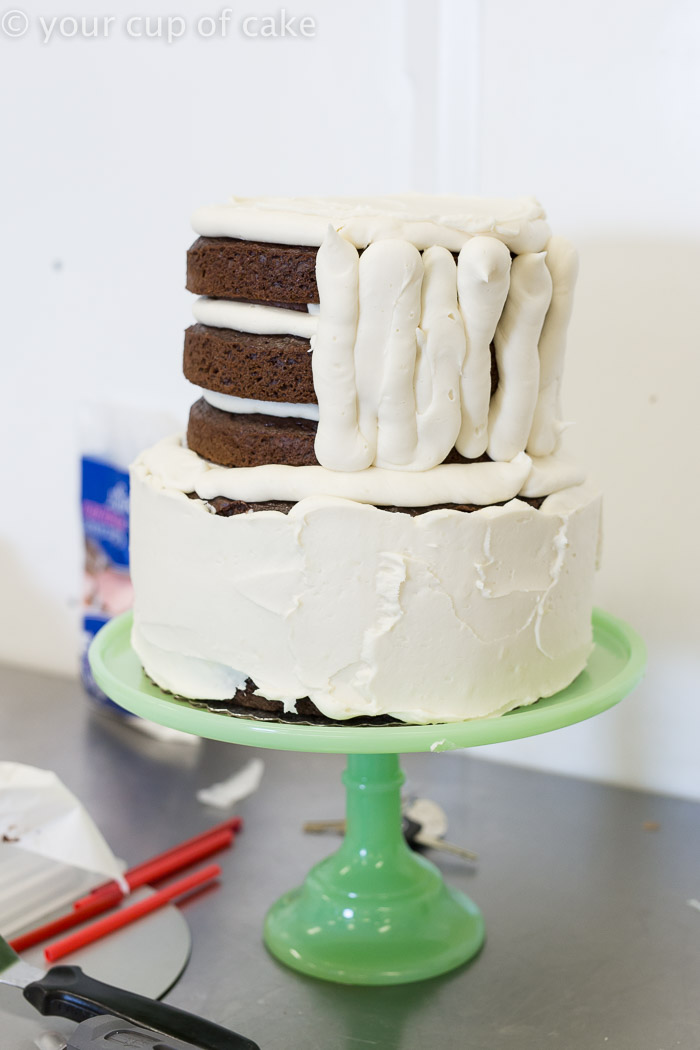 Not too shabby!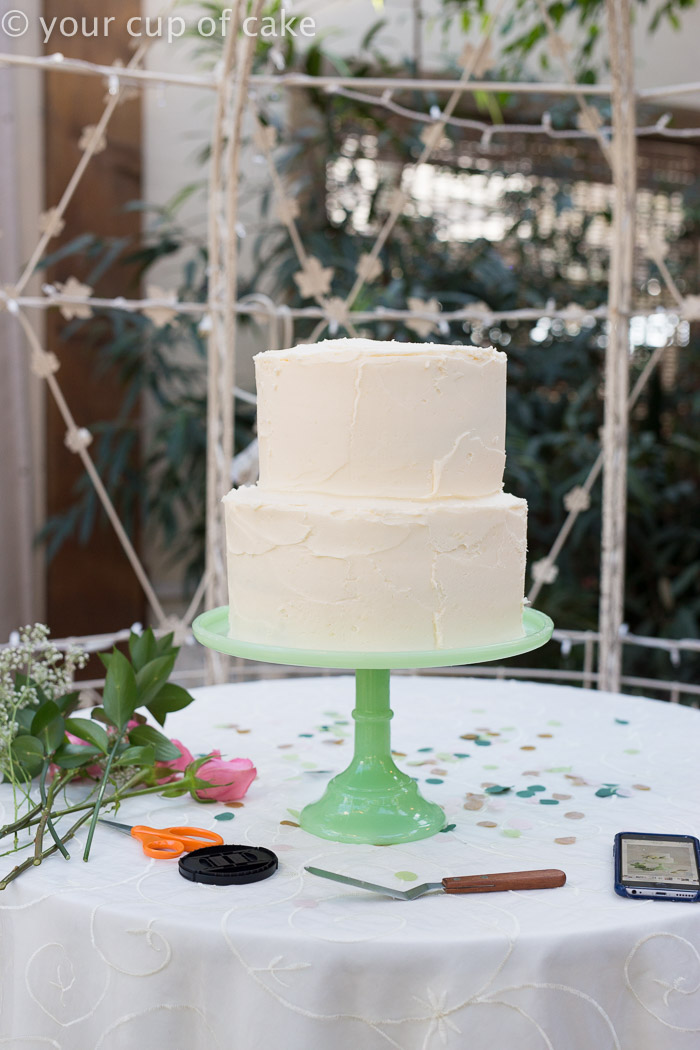 Fresh Flowers:
-These will add all the magic to your masterpiece. I just googled something like "fresh flowers on wedding cake" and looked at the photos while I tried to place them. I just stuck in the greenery into the cake and then used the roses to pin the leaves so that sort of curved around the cake.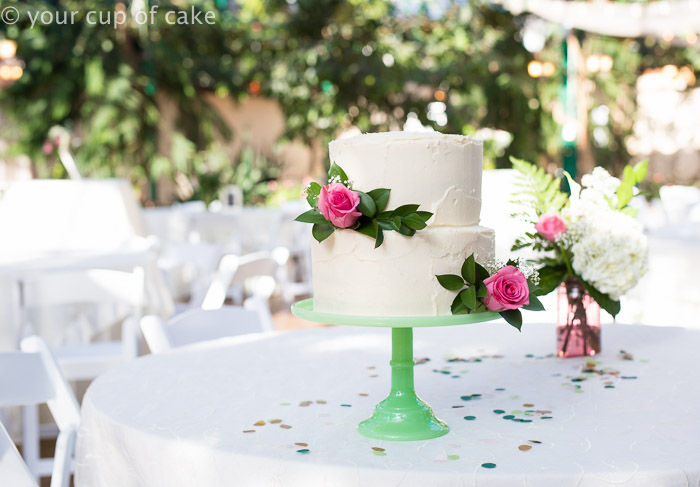 I just poked the stems right into the cake! If you decide you want to take it out, don't fret! Just use a little frosting to cover up the hole.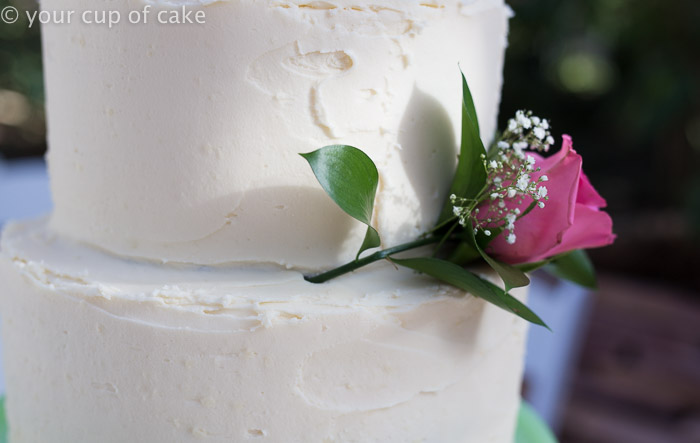 Tah-dah! It's really not too hard! Give yourself about an hour to decorate it on site and you'll be fine.