The cutest and easiest Oreo Spiders for Halloween! This treat tops my cookies and cream frosting to make Oreo Spider Cupcakes! Boo!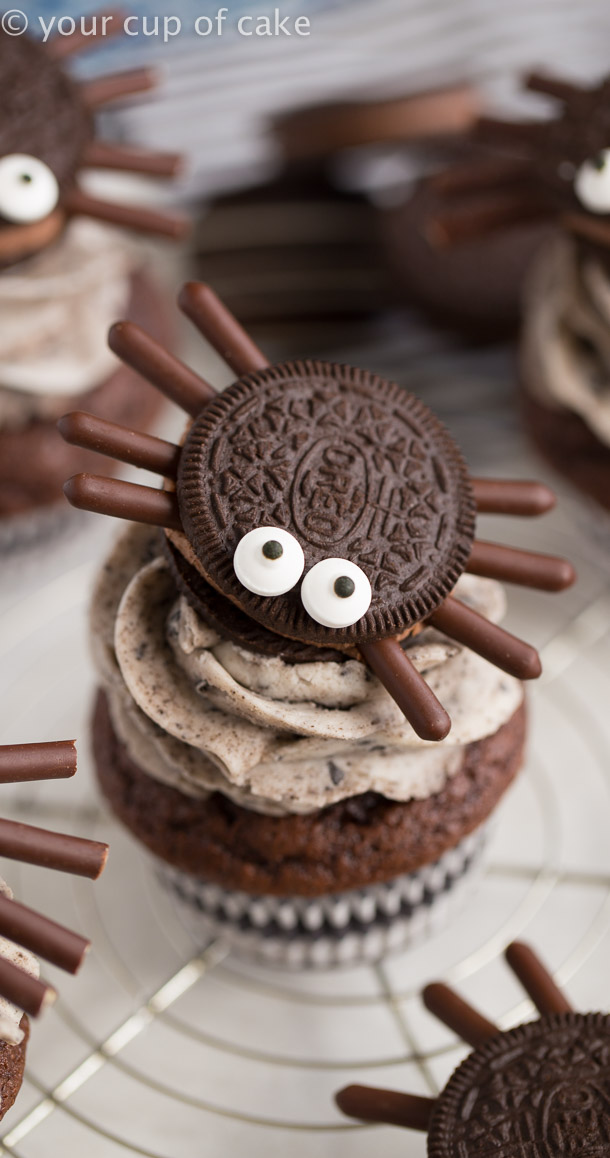 Cute Halloween Oreo Spider Cupcakes
Cute and easy treats for Halloween are a must! And these little Oreo Spiders are perfect because you can use them to top cupcakes, cakes, brownies or even just toss one to two into you kid's lunch box! I made a video on how to make these little guys so you can watch that to see just how easy they are to make. And of course I had to put these little guys on top of cupcakes to make them Oreo Spider Cupcakes! (If you need another adorable Halloween cupcake idea my Easy Skeleton Cupcakes are spook-tacular!)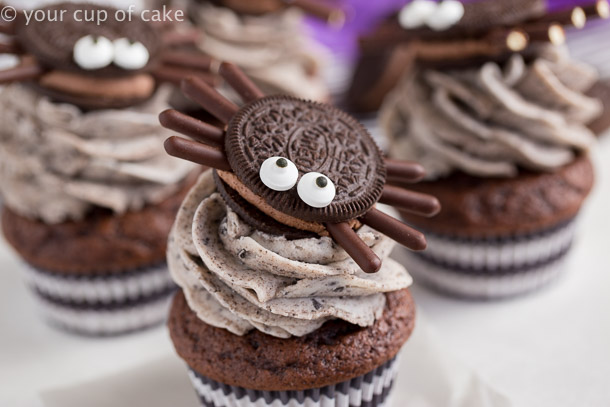 The Best Oreo Spiders for Halloween
Oreo Spiders are not a new idea, I've been people make them but with black licorice legs or with chocolate drizzle on to look like legs. Most people aren't fans of black licorice and the piping bag can be messy, stressful and never looks great! I wanted to improve the idea and make something that could be easy to recreate! So I used Pocky Sticks to make the legs! I bought mine at my local grocery store in the asian section, I see them at every grocery store so they aren't hard to find! I also use chocolate Oreos to try and make the spiders all black.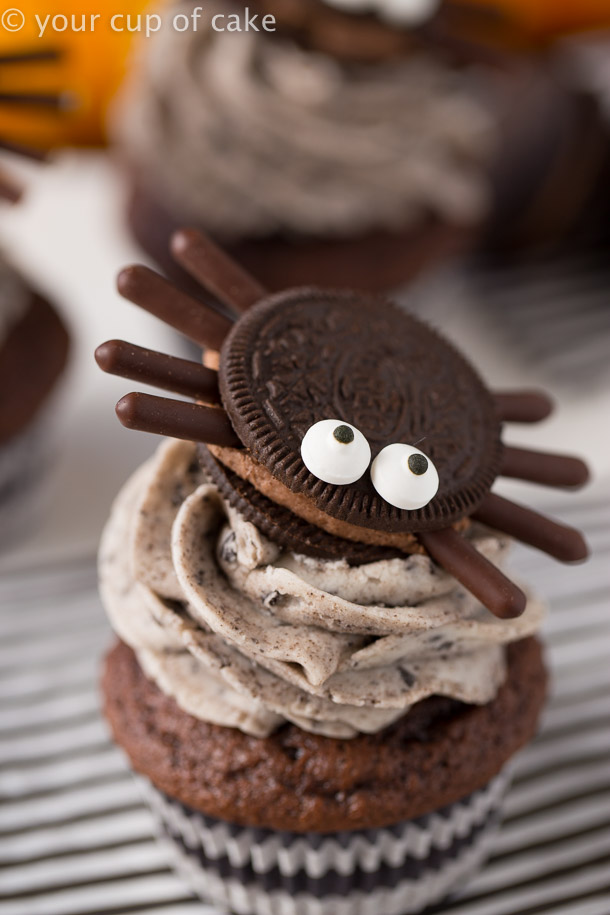 Easy Halloween Treat
Aren't they just so cute? And they're easy to make! Just cut the Pocky sticks, take one side off the Oreo, press the pocky legs in, replace the Oreo and add odd the candy eyes! I also got the candy eyes from the grocery store. More and more grocery stores are carrying them in the baking aisle, but places like Michael's and Hobby Lobby always have them.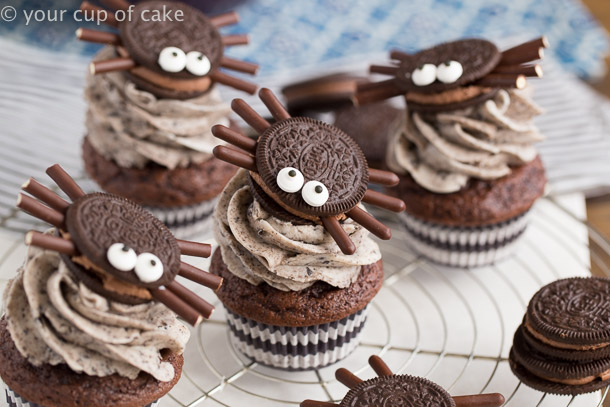 Tips for Making These Halloween Spider Treats
I used melted chocolate (Melts) to put the candy eyes on. I just dipped the tip of a toothpick into the chocolate and put a dot on the back on the candy eyes, it was pretty easy to do! You can also use frosting or some of the melted chocolate to better secure the top part of the Oreo back over the legs.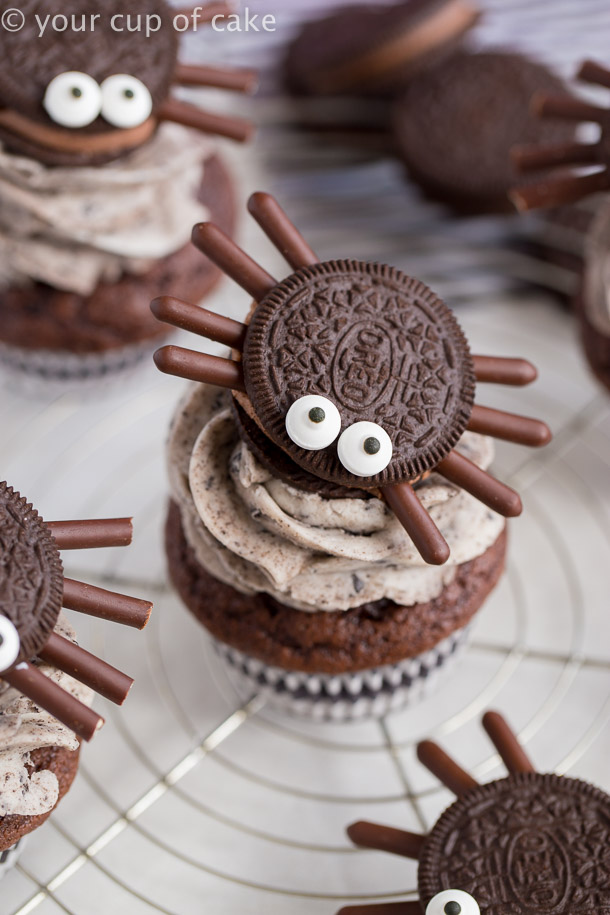 Did you miss my Cute Frankenstein Cupcakes?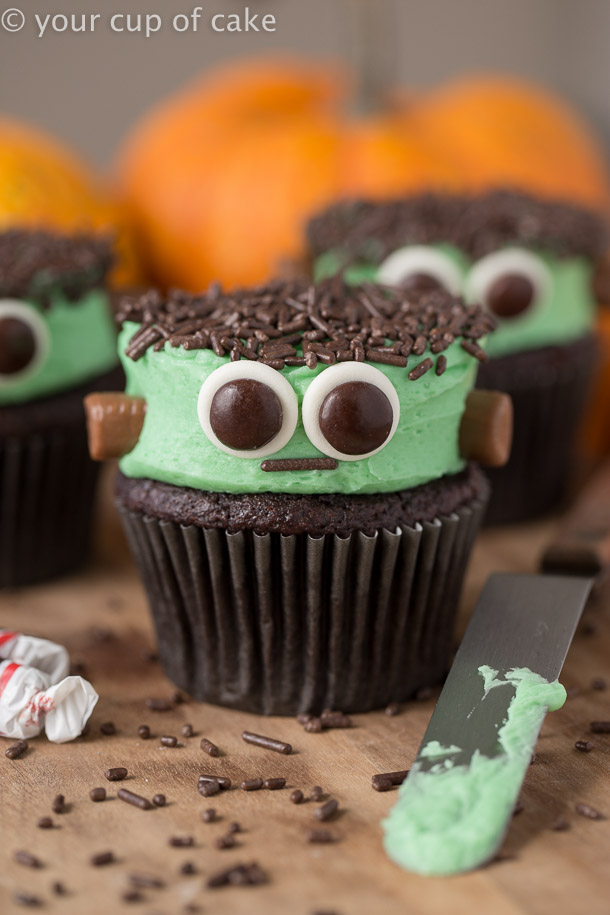 Enjoy my Oreo Spider Cupcakes
I have a handful of more new Halloween recipes coming, so watch out for those and please pin this post and share the links to my recipes on facebook! Happy Halloween everyone, enjoy the silly string and pumpkin carving!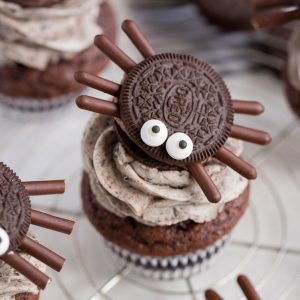 Halloween Oreo Spider Cupcakes (Spooky Spiders)
Ingredients
CAKE:

Devil's Food Cake Mix

3

eggs

1

C.

buttermilk or milk

1/2

C.

oil

OREO FROSTING:

1

C.

butter

room temperature

1

tsp.

vanilla extract

2-3

C.

powdered sugar

8

Oreos

finely crushed

OREO SPIDERS:

Chocolate Oreos

Pocky Sticks

See the video above to see what they look like, they're a VERY popular asian treat you can find at just about any grocery store

Candy Eyes

Extra frosting or melted chocolate to use as "glue"
Instructions
1. Preheat oven to 350 degrees and line pans with cupcake liners.

2. Combine cake mix, eggs, buttermilk and oil and until smooth. Fill cupcakes liners 3/4 full and bake for 15-20 minutes or until an inserted knife comes out clean.

3. Let cool.

4. Oreo Frosting: Beat butter until smooth. Add vanilla extract and slowly add powdered sugar until you reach your desired consistency. Fold in finely crushed Oreos, but I wouldn't recommend beating them in with a stand mixture, sometimes my Oreo frosting will turn gray if I beat it too much.

5. OREO SPIDERS: Cut Pocky Sticks to about 1-inch pieces. Remove the top of an Oreo (the 'blank' side) and press your Pocky legs into the cream-side of the Oreo. Press the 'blank' Oreo back on top of the legs (you can use frosting or melted chocolate to better secure the Oreo together). Use either the frosting or melted chocolate to secure the candy eyes. I just dipped the tip of a toothpick into the melted chocolate and dapped it onto the back of the candy eyes and set it on the Oreo to firm.

6. Place your Oreo Spiders on your frosted cupcakes and enjoy! Boo!