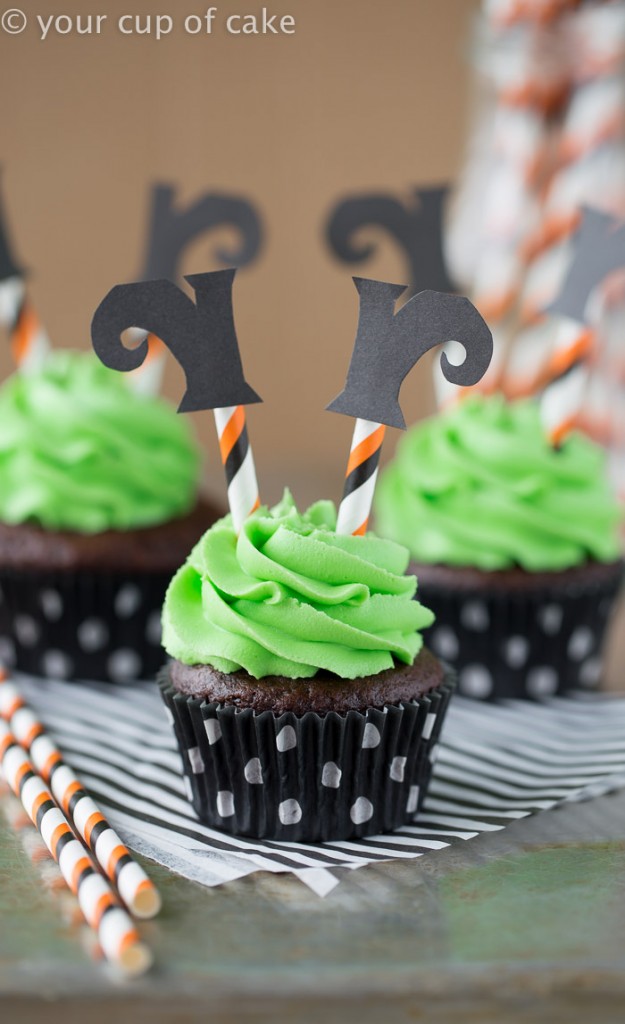 Ding-dong the witch is dead! These Wicked Witch Cupcakes are adorable and fabulous for Halloween parties! Just take some cute straws and black paper and turn any cupcake into the best dessert at the party! If you really want to get fancy you can draw on some laces or buckles, but I kept mine pretty basic. I love these because there's no need to fuss with creating a face or the hat, just witch legs! Never thought you'd want to eat a witch legs cupcake did you?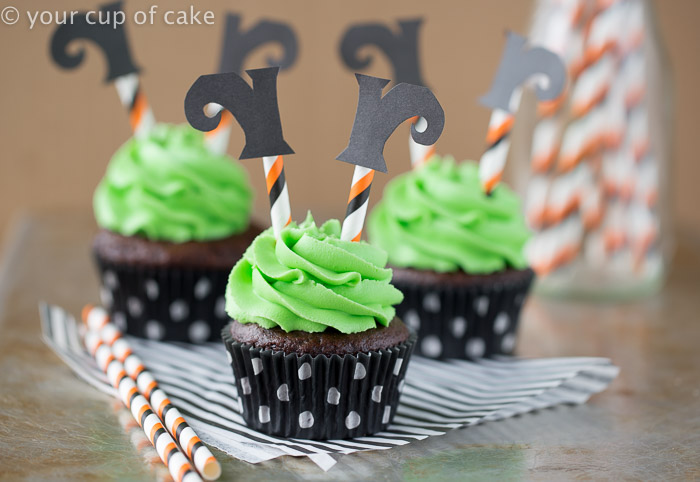 So… which, witch is which?
I used a bright green frosting and added a little minty flavor because I'm a sucker for chocolate-mint anything 🙂 But you can make these with vanilla cupcakes, pumpkin cupcakes, and whatever colored frosting you want. I just tried to keep mine with Halloween colors.
I was nervous about cutting out the boots but they were so easy to do! It would make for a fun kid's decorating party and let them cut out the boots and decorate them with Milkies (wow- I just had a 90's flashback. But they show up so well on black paper!). You could even have all different types of straws for the kids to pick! Each witch could be different and maybe some aren't dead…just diving into a pool of frosting to eat 🙂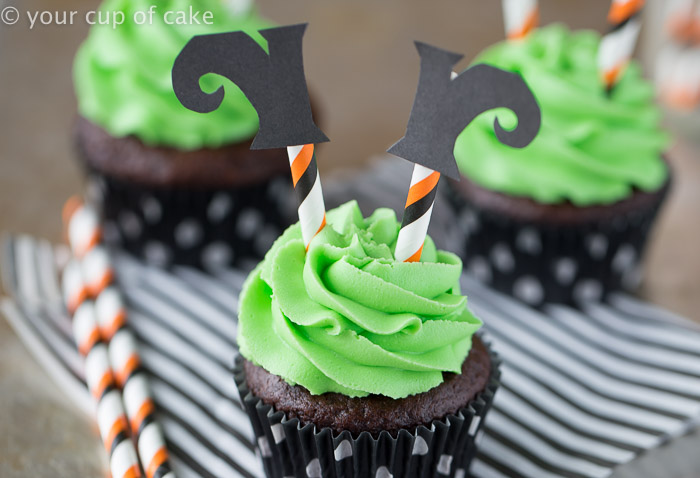 My adorable straws and cupcake liners come from Sweets & Treats Boutique, there stuff is great! And their cupcake liners never lose their color when you bake them, which is a must for me.
Skeleton Cupcakes I made a few weeks ago! Pretzels never looked so spooky!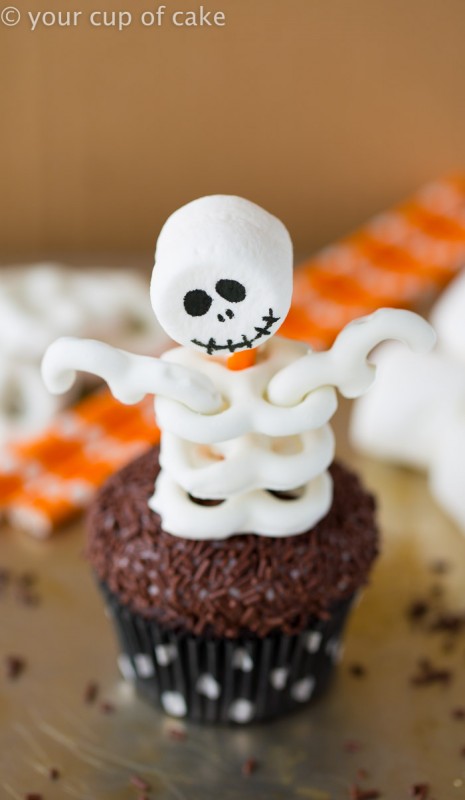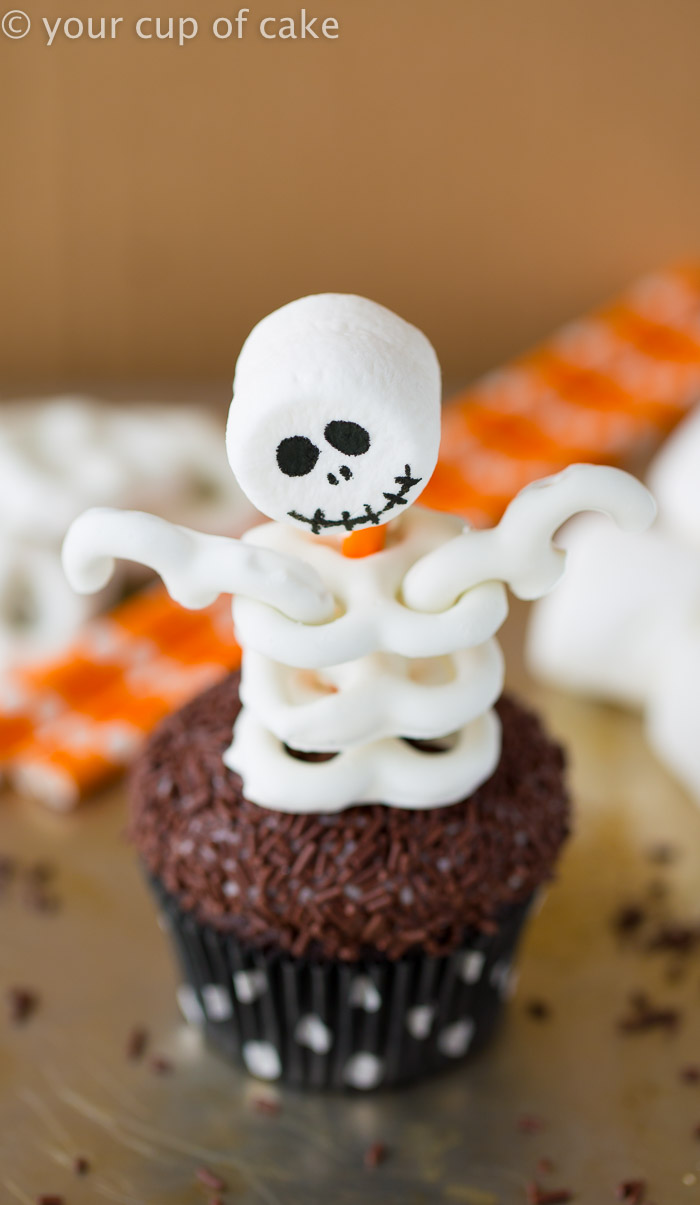 Pumpkin Patch Cupcakes using Tootsie Rolls and Laffy Taffy!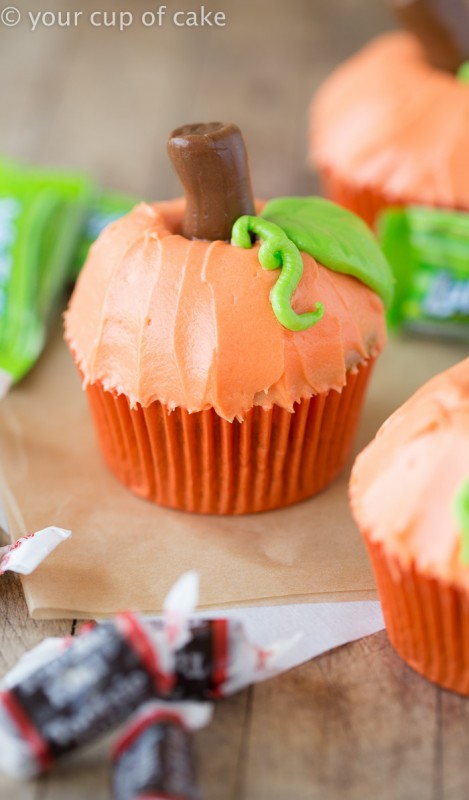 Frankenstein Cupcakes using sprinkles and M&M's make quite a delicious monster!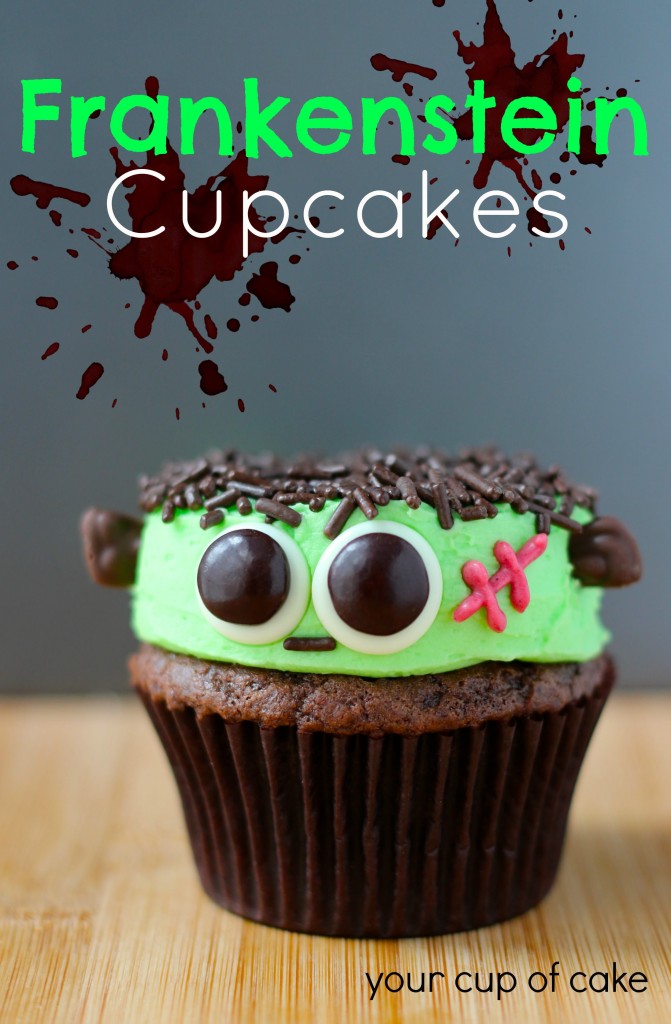 I'm posting so many new recipes this week! One was so good I even got a date from it! And a fun announcement and something shiny and KitchenAid-y for you to get…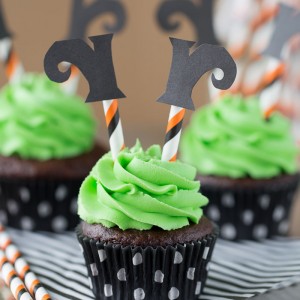 Wicked Witch Cupcakes
Ingredients
CHOCOLATE CAKE:

1

box devil's food cake mix

3

eggs

1/2

C.

oil

1/2

C.

sour cream

1/2

C.

buttermilk or milk

2

tsp.

vanilla extract

FROSTING:

1

C.

butter

room temperature

1

tsp.

vanilla extract

1

tsp.

peppermint extract

optional

3-4

C.

powdered sugar

green food dye

STRIPED STRAWS AND BLACK PAPER
Instructions
1. Preheat oven to 350 degrees and line pans with cupcake liners.

2. Sift cake mix into a large bowl ( to help remove any lumps) and add eggs, oil, sour cream, buttermilk and vanilla extract. Stir until smooth.

3. Fill cupcake liners 3/4 full and bake for 15-20 minutes or until an inserted knife comes out clean.

4. Let cool.

5. Frosting: Beat butter, vanilla extract and peppermint extract until smooth. Slowly add in powdered sugar until you reach your desired consistency. Add milk if it gets too thick!

6. Cut out little witch boots and cut straws in half. Hot glue or tape your boots on the straws.

7. Frost cupcakes and then stick in straws with the boots! Ding dong the witch is dead!