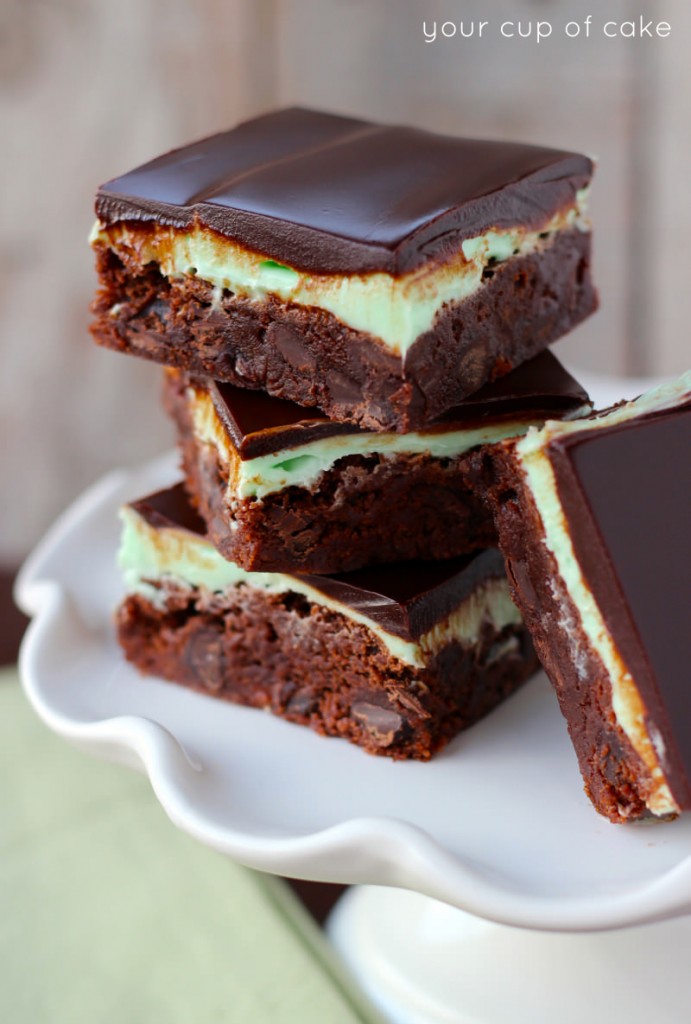 Heavenly layered Mint Brownies. I am so excited to finally post these/make them. They are so delicious and mint and chocolate is my favorite flavor combination! Brownies like these were sold on my college campus (BYU), and they were good, but always a little dried out. These? No. Not dry at all! They are perfectly amazing and everyone needs to give them a try. The chocolate topping is so silky and just melts in your mouth.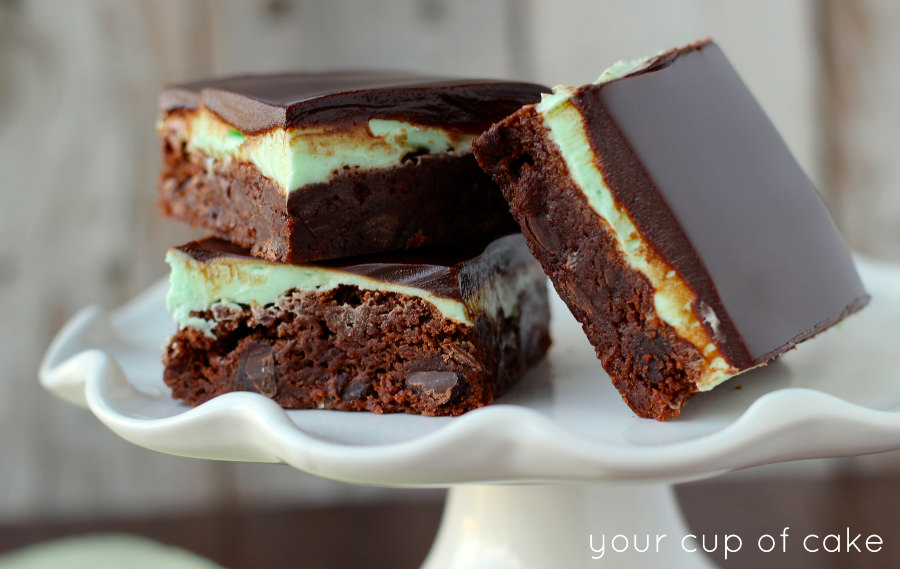 The Story:
Sometimes taking food photos is a struggle. Cupcakes always look cute and as long as you "top" them with something fun, the photos are easy. But brownies… they can be a pain. They're brown, gushy, and…blah. Plus, everyone knows what a brownie looks like so it's hard to make them say "Wow, check out that brownie!"
I did my best.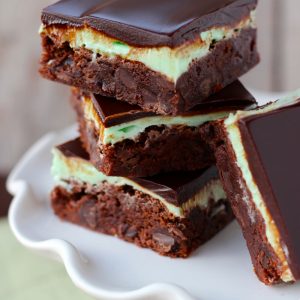 Mint Brownies
Ingredients
Brownies:
1

C.

butter

melted

2

C.

sugar

1/2

C.

cocoa powder

2

tsp.

vanilla

4

eggs

1 1/2

C.

flour

1/2

tsp.

salt

3/4

C.

semi-sweet chocolate chips
Mint Filling:
2 1/2

C.

powdered sugar

2

Tbsp.

butter

softened

4

oz

cream cheese

softened

1/2

tsp.

peppermint extract

2-3

drops green food coloring

3

Tbsp.

whipping cream
Chocolate Ganache:
1/3

cup

whipping cream

1 1/3

cup

semi sweet chocolate chips

add 1/3 C. extra if you live in a hot place

1/3

cup

butter
Instructions
1. Preheat oven to 350 degrees and grease a 9x13 pan. I like to line mine with parchment first so it's easy to remove in the end 🙂 Set pan aside.

2.In the bowl of your stand mixer, combine butter, sugar, cocoa powder and vanilla. Mix on low until combined and smooth. Add eggs one at a time, mixing well after each one.

3. Add flour and salt and stir just until combined.

4. Stir in chocolate chips.

5. Pour batter into your prepared pan and spread out evenly. Bake for 25-30 minute, careful not to over bake! You want them fudge 🙂

6. Let brownies cool completely.

7. Mint Filling: Combine all ingredients in a stand mixer (I used my whisk attachement) and beat until smooth and fluffy. Add only as much green dye as you want, or none at all!

8. Chocolate Ganache: Place all ingredients in a microwave proof bowl and microwave until the chocolate chips start to melt (about 1 minute) then stir. Microwave a little longer and stir until smooth. Let cool a few minutes

9. To assemble: When the brownies are completely cool spread the mint filling over the top of them then refrigerate the two layers for about 20 minutes to let the filling set up a little bit. Then pour the chocolate ganache over the top of the mint filling, spreading carefully with a knife to the edges. (If the chocolate ganache starts to thicken up, just zap it again in the microwave for a few minutes. My ganache was quite thin, so a just shook the pan to spread it out!) Place the pan back in the fridge for an hour, or until the chocolate layer is set. To serve, cut with a sharp knife and enjoy! (You can speed up any of the chilling times by placing in the freezer 🙂 That's what I did because I couldn't wait!!
Recipe from The Farm Girl Recipes and Jamie Cookies it Up
Poured out the batter, baked it, spread out the fluffy mint filling, then poured on the ganache. (Ganache is a fancy word for "chocolate topping"). Make sure to chill the brownies after you put on the mint filling to help it set up a little before pouring on the ganache. AND also pop them back in the fridge/freezer after the ganache to get that top layer firm enough to cut. Little tip… when you slice, wipe off your knife between cuts if you want them to look really pretty 🙂