This Easy Philly Cheesesteak Rigatoni Pasta is perfect for when you need a delicious meal that's quick to whip up! Cheesy and packed with veggies and protein!

Easy Philly Cheesesteak Pasta
Philly Cheesesteaks are so good! I mean, how can you go wrong with cheese, peppers and steak? Parker and I wanted to turn it into a pasta so we could have all those wonderful flavors more often. After one bite, we were hooked! You can make this pasta with any type of noodle but we had a box of Rigatoni in the pantry so that's what we used. I like to make sure my noodles stand up to the other ingredients and are similar in size, so rigatoni or a bowtie noodle would be great. Enjoy our Philly Cheesesteak Rigatoni Pasta, it will be your new family favorite!
On a side note, I love my enameled cast iron pan! It's my go-to anytime I have to sauté and it cooks like a dream! I seriously feel all fancy like Rachael Ray! Plus, you can make and incredible cobbler in the oven with it too!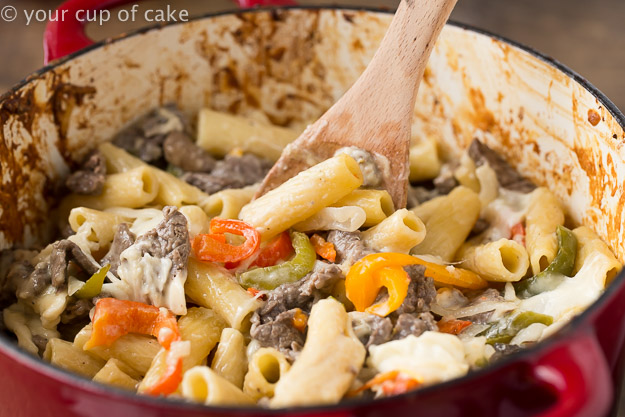 Easy Dinner Recipe
Easy pasta recipes are great to have for busy weeknights! This recipe is great because it has veggies and a protein in it, you can even double up the veggies or swap the steak for chicken if you want! The next time we make this I want to add mushrooms too! How long does this take to make… only 25 minutes! Cook the pasta while you chop the veggies and you'll have dinner on the table in no time!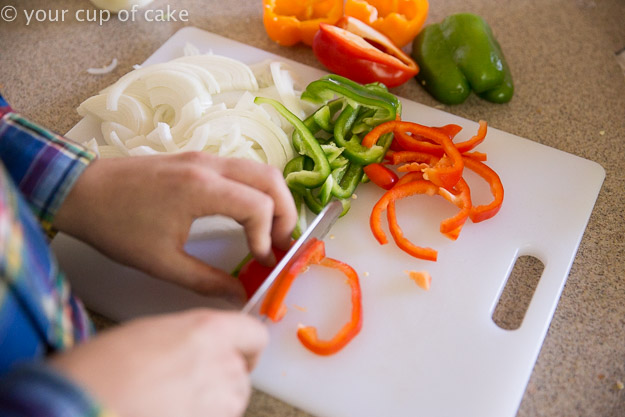 Let all your veggies cook down together and get soft! The thicker you cut the peppers the longer it will take for them to cook, so if you're trying to make dinner fast, cut them thin! We used some leftover bell peppers in our fridge that were half used so we had a colorful pasta!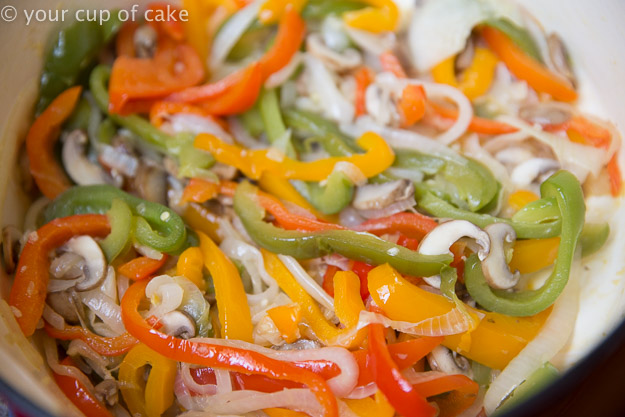 Philly Cheesesteak Rigatoni Pasta
While the veggies cook down you can start your roux (pronounced ROO). This is just a fancy french word for the start of a sauce, so don't let it scare you! It's very easy to do! The one trick I'll tell you is you don't want to rush it! The flour takes a little time to cook the taste out, so make sure it's on the heat for a few minutes. Add the cheese sauce to the veggies and noodles and you're done!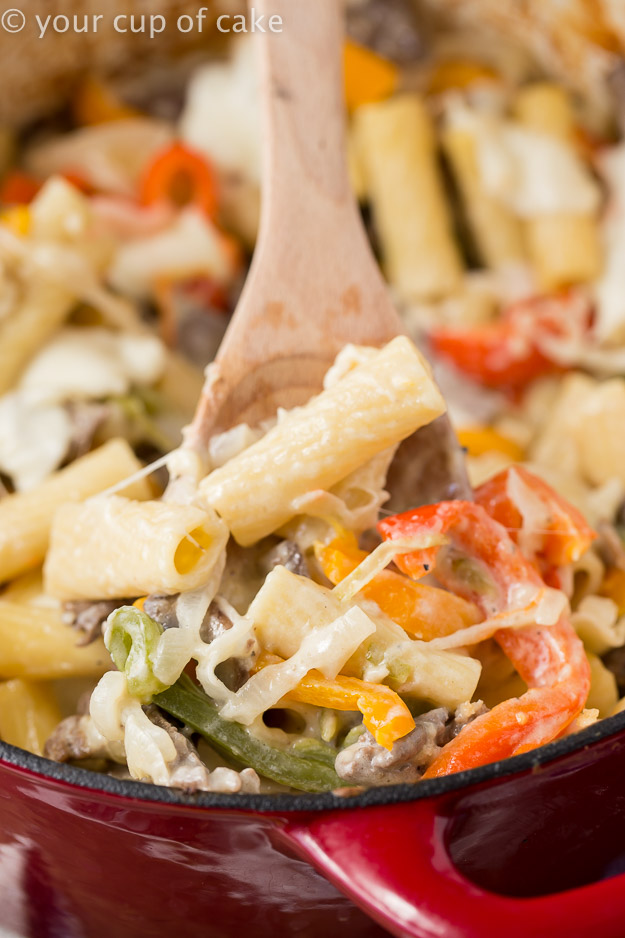 We topped our Philly Cheesesteak Rigatoni Pasta with a little extra cheese and popped it into the oven to keep it warm and let the cheese melt… yummm.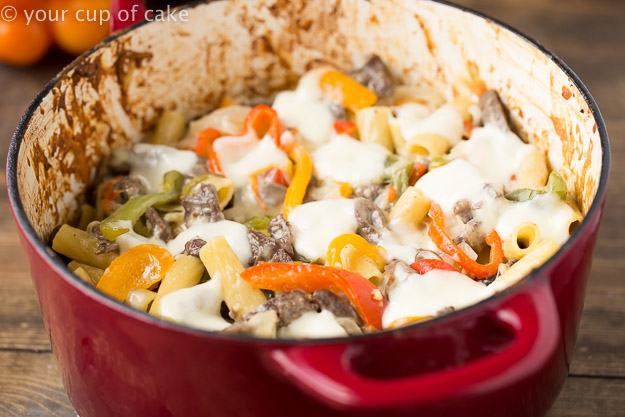 How can you resist? If I wasn't typing this up at 11 at night I would be in the kitchen whipping up another batch!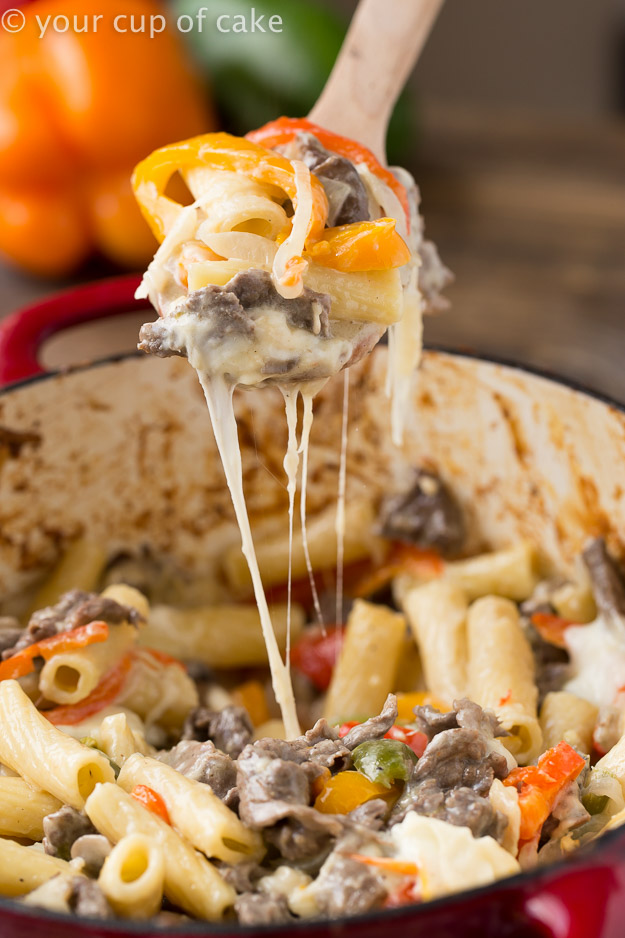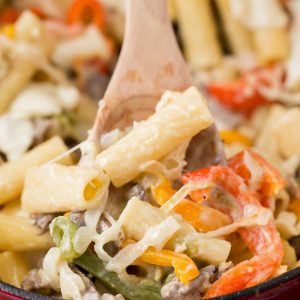 Philly Cheesesteak Rigatoni Pasta (easy dinner recipe)
Ingredients
1/2

C.

Stick of Butter

4

Tbs.

Flour

1 1/2

C

Milk

1

C

Provolone Cheese

Cut into 1/2 Pieces

1

C

Shredded Mozzarella Cheese

1 1/2

lb.

Sirloin Steak

Cut into Strips, Seasoned with Salt and Pepper

2

Bell Peppers

Sliced

1

Yellow Onion

Sliced

1

Box of Cooked Rigatoni

Drained

Salt and Pepper to Taste
Instructions
1) In a medium saucepan, melt 4 tablespoons of butter over medium-low heat. Be careful not to burn the butter.

2) If the butter is hot enough that a sprinkled pinch of flour added begins to bubble then add the 4 tablespoons of flour to the melted butter.

3) Wisk the flour into the melted butter until a rough, thick paste forms. Continue whisking constantly until the mixture begins to become smooth and slightly thinner

4) Add the milk while stirring. Turn the heat to medium-high and stir until smooth. Heat the milk until it is lightly bubbling then turn the heat back to medium.

5) Add both kinds of cheese 1/4 cup at a time, waiting until all the cheese is melted before adding more again.

6) Once all the cheese has been melted and the sauce is consistent turn the heat the low to maintain thickness until it is time to add it to the pasta.

7) In a large skillet over medium-high heat melt 4 tablespoons of butter.

8) Add the bell peppers and onion. Add a pinch of salt and saute until the onions are slightly browned

9) Once the peppers and onions are sauteed add the seasoned steak and cook for 4-5 minutes or until it reaches desired doneness

10) Add steak and vegetables to the pasta and pour the cheese sauce over. Mix.

11) Salt and pepper to taste and serve warm!

NOTE: You can melt additional cheese over the top!