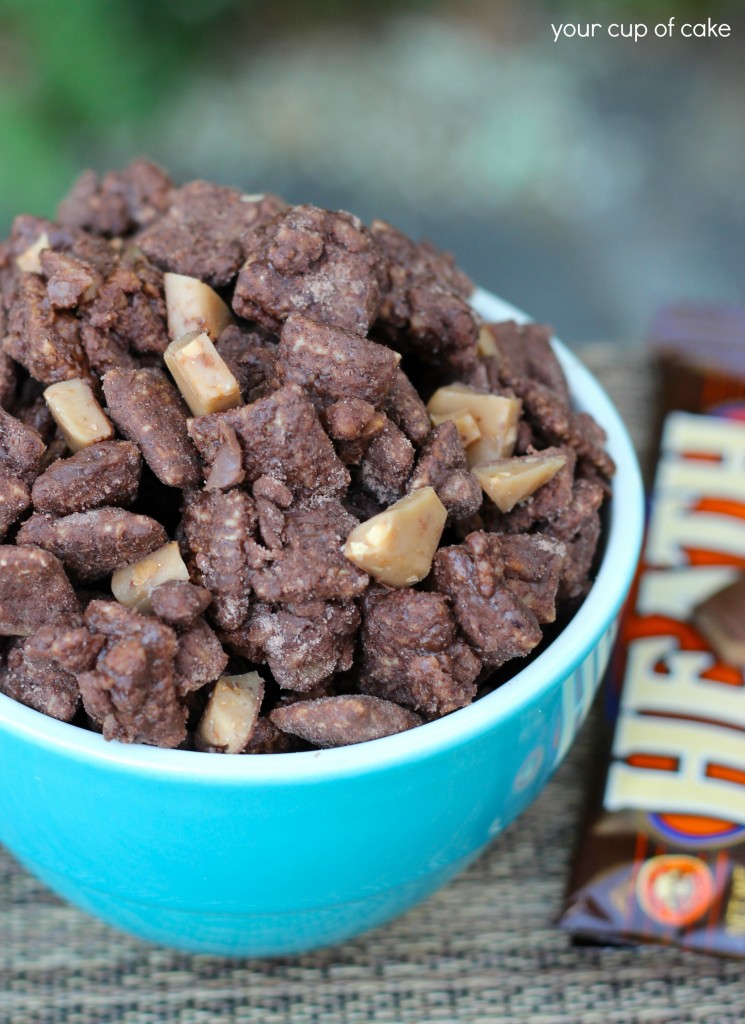 The Story:
A post on a Friday? I know, your world has been turned upside down. But I decided most people were a tad busy yesterday, so I waited to share another recipe.
Puppy Chow.
Some people call them Muddy Buddies, some people get mad at me and tell me I'm killing dogs by calling it "puppy" chow… well whatever your opinion, it is crazy popular stuff. And I have to admit, I love making it because it's SO EASY. In 6 minutes you can be done, start to finish. No waiting for the oven to preheat, or waiting for the timer to buzz–none of that! Just melt, mix, shake and pour.
My Peanut Butter Brownie Puppy Chow recipe gets a ton of traffic and rave reviews. So I thought…throw in some pieces of toffee and it's even better!
Heath Bar Puppy Chow
Ingredients
6

C.

rice Chex cereal

1

C.

milk chocolate melts or chips

1/2

C.

peanut butter

creamy

1

tsp.

vanilla extract

1

package Heath Baking Bits

1/2

C.

brownie mix

from the box

Extra Heath Bars chopped up for more decoration

optional
Instructions
1. Place cereal in a large bowl and set aside.

2. In a microwave proof bowl, melt chocolate, peanut butter and vanilla extract and stir until smooth.

3. Pour over cereal and fold until covered.

4. Dump into a large plastic bag and add Heath Baking Bits and brownie mix, seal and shake until coated. (If you don't have a large plastic bag, pour brownie mix over cereal and stir well. Or you can use a pot with a lid to shake it in.) NOTE: The baking bits also have chocolate in them which will start to melt when it hits the warm puppy chow, just keep shaking and maybe add a little more brownie mix to coat it all.

5. Dump onto a cookie sheet and toss with chunks of Heath Bars. Don't taste test it... unless you're okay with eating the entire batch right there by yourself 🙂 Because once you start, you won't stop.