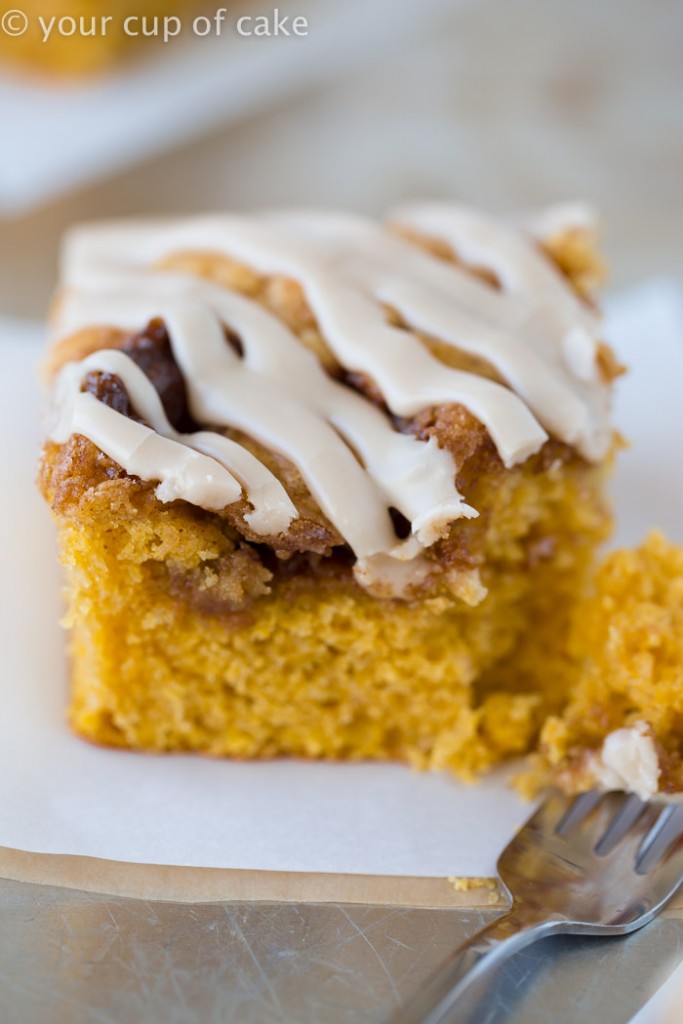 Warm Pumpkin cake with a cinnamon sugar swirl and maple glaze. This Pumpkin Cinnamon Roll Cake is your new favorite dessert to cozy up with on the couch. Serve it warm and let the glaze sink into the cake, mmm… This cake is so good I couldn't stop tasting it while I was shooting the photos!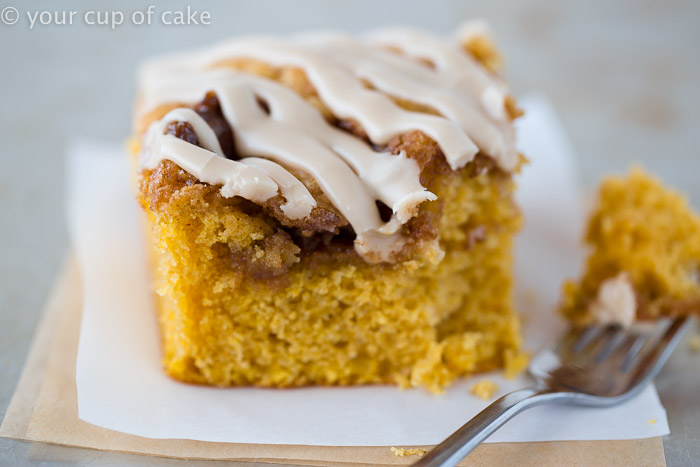 I'm still missing this cake. I had to give most of it away because I couldn't stop eating it! I'm a sucker for cinnamon rolls, but combining cinnamon rolls and pumpkin is dangerously delicious! Plus, the maple glaze is genius. But I did figure out that the cake is so much better hot or warm. Just like a cinnamon roll is better warm with the the cinnamon sugar filling all melty, it's the same thing for this cake. So time it to come out of the oven before your guests come over or zap it in the microwave before serving.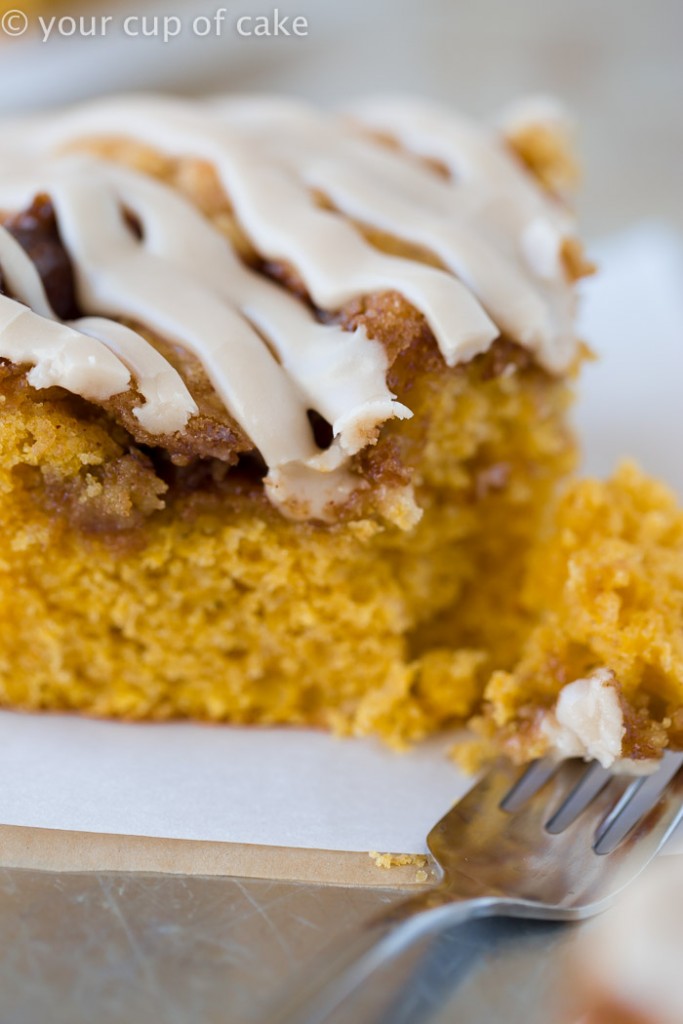 I used a little plastic bag and cut off the corner to drizzle my icing on. I wanted a little more control so that the photos would look good and I wanted a thicker icing that couldn't be spooned on very evenly.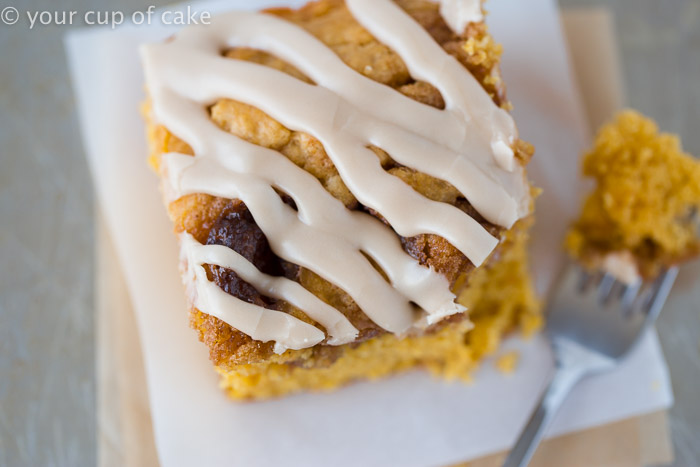 Some step by step photos for you! The most important thing is when your swirl the cake! I dragged my knife right and left about 10 times and then up and down about 15 times. So swirl more than you think you need to! Because when the cake cools the brown sugar sections sink into the cake and will leave mountains and valleys in your cake! Which isn't bad, but the morn evenly the brown sugar is spread out the more level your cake will be.

Want a bite? I do.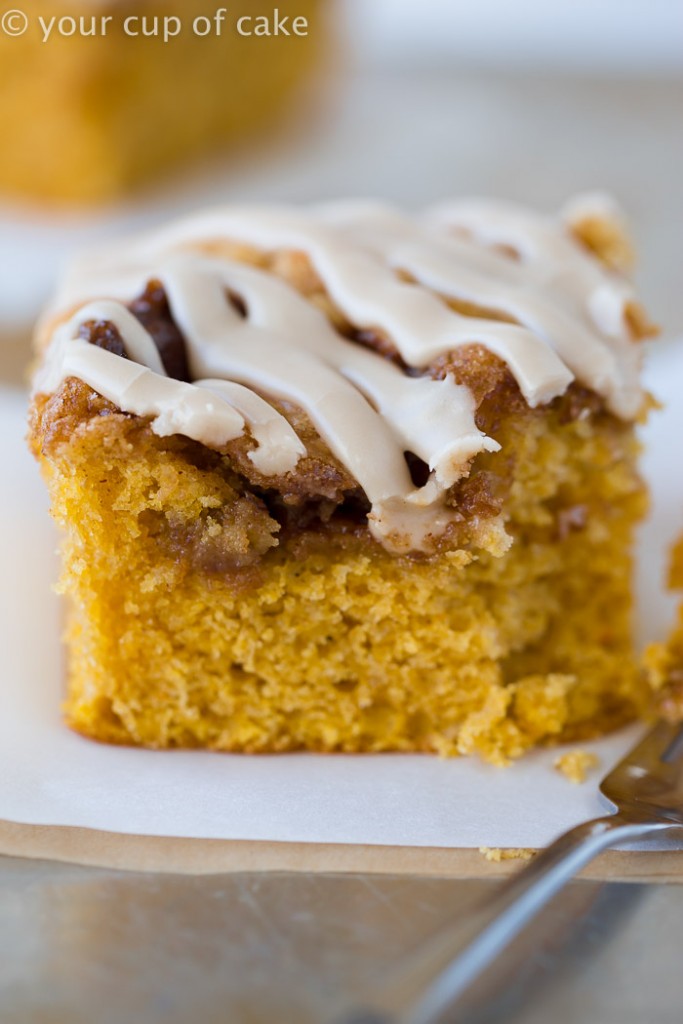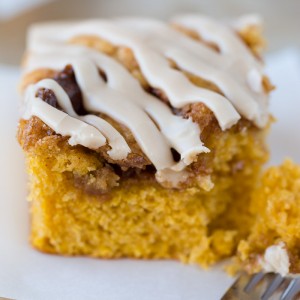 Pumpkin Cinnamon Roll Cake
Ingredients
PUMPKIN CINNAMON ROLL CAKE:

3

C.

flour

4

tsp.

baking powder

1 1/2

tsp.

cinnamon

1/2

tsp.

nutmeg

3/4

tsp.

salt

1

C.

sugar

2

Tbsp.

brown sugar

2

eggs

1

C.

milk

3/4

C.

canned pumpkin

not pumpkin pie filling

2

tsp.

vanilla

1/2

C.

butter

melted

CINNAMON SUGAR TOPPING:

1

C.

butter

softened

1

C.

brown sugar

1

Tbsp.

cinnamon

MAPLE GLAZE:

2

C.

powdered sugar

1

tsp.

mapleine

maple flavoring OR 2 Tbsp. maple syrup

1

tsp.

vanilla

2-3

Tbsp.

milk
Instructions
1. Preheat oven to 350 degrees and grease a 9X13 casserole pan.

2. Combine flour, baking powder, cinnamon, nutmeg and salt. Set aside.

3. In a large bowl, combine sugar, brown sugar, eggs, milk, pumpkin, vanilla and butter.

4. Mix the dry and wet ingredients together and pour into prepared pan.

5. Cinnamon sugar topping: Combine butter, brown sugar and cinnamon together. Drop spoonfuls of topping over the pumpkin cake batter and then drag a knife back and forth through the batter to swirl the topping into the cake. Swirl a lot!!

6. Bake for 25-35 minutes or until an inserted knife comes out clean.

7. Glaze: Combine all ingredients using a whisk. It should be fairly thick. I used a ziplock bag with the corner snipped off to drizzle my glaze over the top of the cake.

8. Serve cake warm! Cinnamon rolls are 100% percent better when warm and so it is with this cake!
Recipe based on The Recipe Critic's cake, I saw it on her instagram feed and I knew I had to give it a try! But I wanted to make mine using canned pumpkin so I needed to make a few adjustments.