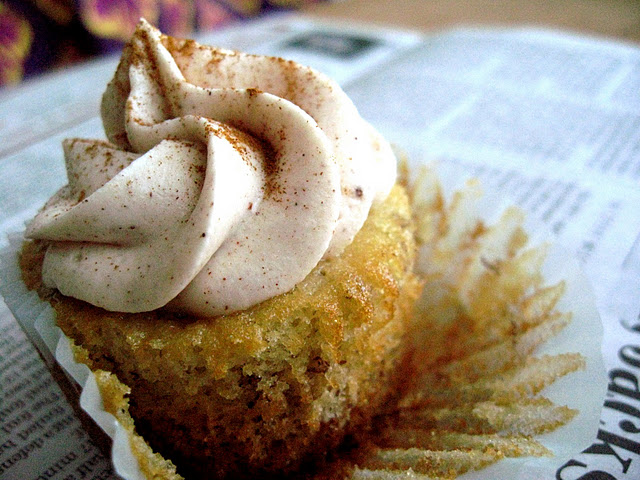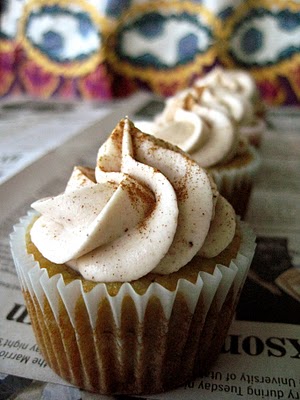 Banana Cakes:
3 ripe bananas (1 ½ cups)
2 teaspoons lemon juice
2 ¼ cup sugar
¾ cup tablespoons butter, softened
2 teaspoons vanilla
3 eggs
3 cups four
1 ½ teaspoon baking soda
¼ teaspoon salt
1 ½ cups butter milk
(I use 1 ½ cup milk and 1 ½ teaspoon lemon juice)
Cinnamon Cream Cheese Buttercream:
½ cup butter
8 oz cream cheese
2-3 cups powdered sugar
1 teaspoon vanilla extract
2-3 teaspoons cinnamon
Directions:
1. Preheat oven to 350 degrees F.
2. In a small bowl, mash bananas and stir in lemon juice. Set aside.
3. In a separate bowl, beat sugar and butter until light and fluffy.
4. Add eggs to sugar and butter, then add vanilla.
5. In a separate bowl, sift flour, baking soda and salt together. Slowly add to wet ingredients.
6. Stir in buttermilk and mashed bananas.
7. Spoon into cupcakes liners and bake for 15-20 minutes or until a toothpick comes out clean.
8. Place cupcakes straight into the freezer for 15 minutes. (Sounds crazy I know.)
9. Buttercream: Beat butter and cream cheese until light and fluffy. It will take at least 4 minutes. Add vanilla and cinnamon. Slowly add as much powdered sugar as desired, then beat for a few additional minutes.
10.Pipe onto cooled cupcakes.