The easiest peach cobbler recipe you'll ever find! This 4 Ingredient Peach Dump Cake is a must have recipe all summer long!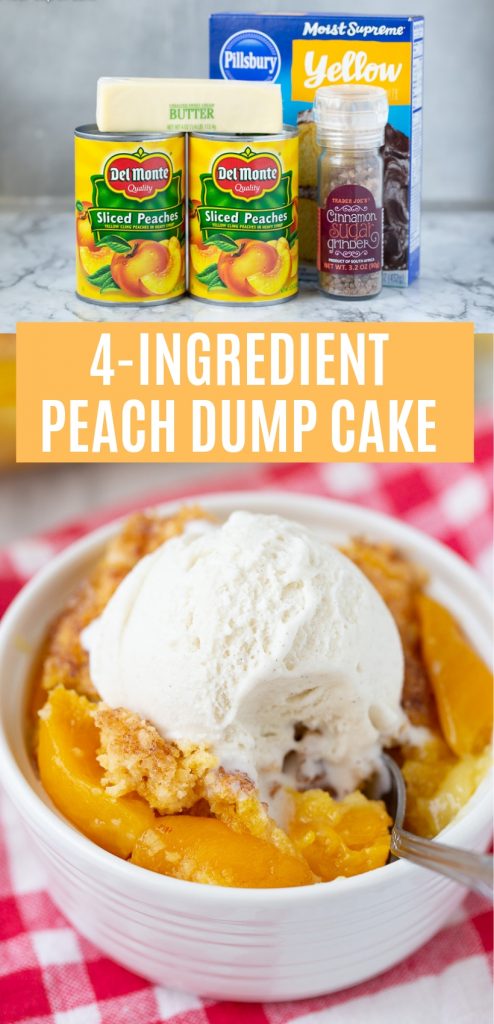 Super Easy 4 Ingredient Peach Dump Cake
If you need a super easy dessert recipe, this is it! I explain all about what a "dump" cake is below so don't let the name scare you away. This was the first time my husband ever tried a dump cake and he was in love!!! I kept catching him sneaking bites from the pan after we were done shooting the recipe. Top this 4 Ingredient Peach Dump Cake with a big scoop of ice cream and it will be the hit at any party!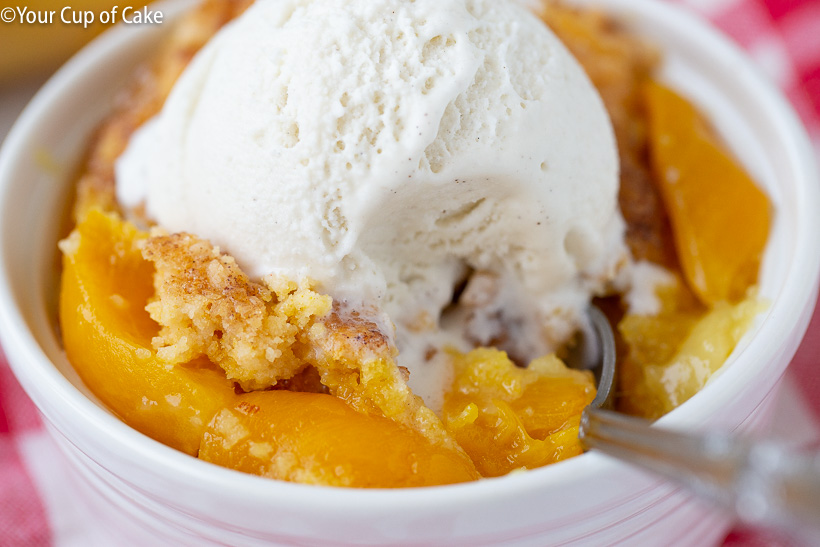 Cake Mix Peach Cobbler
If you aren't familiar with dump cake recipes you are missing out! I explain a little more about the strange name below, but if you want to call this recipe a peach cobbler you can! All this simple dessert is, is peaches topped with a sweet cake crust. The topping is sweeter than a traditional cobbler because it's made with cake mix, but the idea is still the same. I love dump cake recipes because this dessert feeds a crowd and can be in the oven in 5 minutes. It's hard to beat this convenience of this cake mix peach cobbler.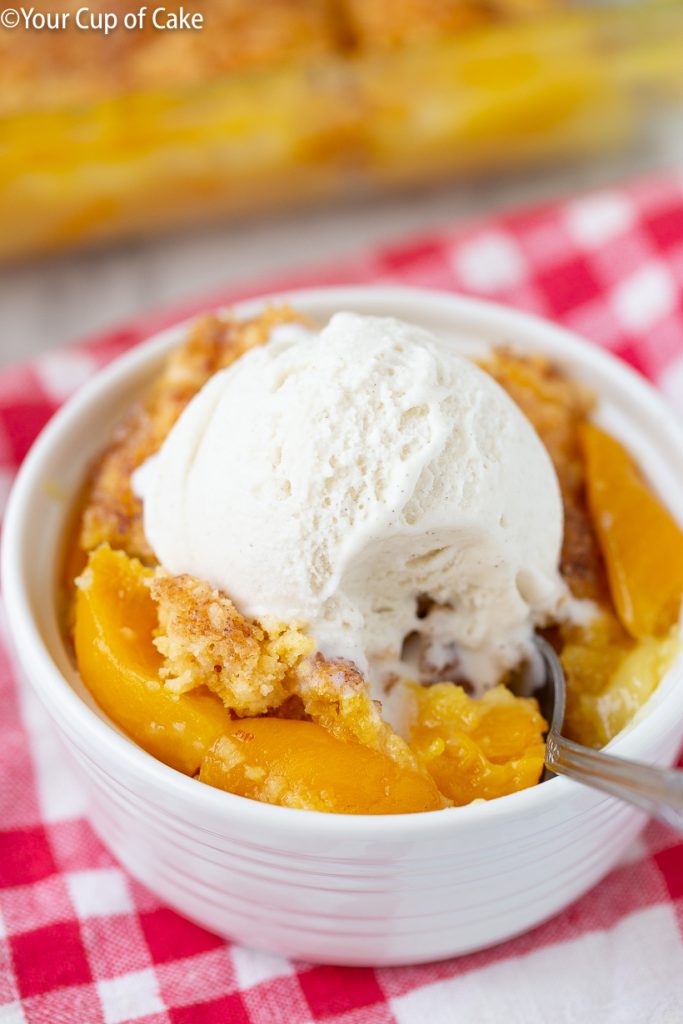 What is a Peach Dump Cake?
When I posted my recipe for Cherry Dump Cake I explained what a "dump cake" is. The name is totally weird but it just means that all you need to do is dump the ingredients into your pan and bake. No mixing or bowls required! Remember, you can always just call this a cake mix peach cobbler if you want to. But no matter what you call it, it still tastes amazing! My most popular recipe to date is a recipe from waaaaay back when. I got dumped by a boyfriend so I made my first "dump" cake on the blog and it was this pumpkin pie dump cake and it goes crazy every fall!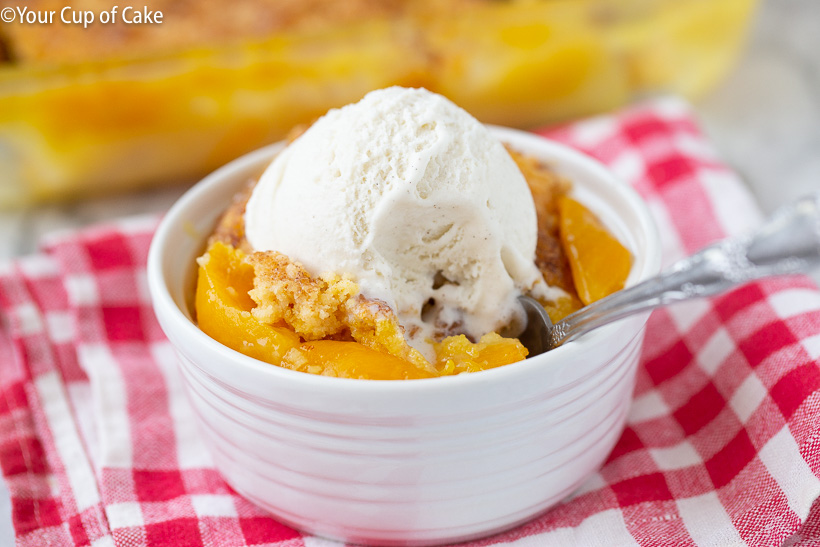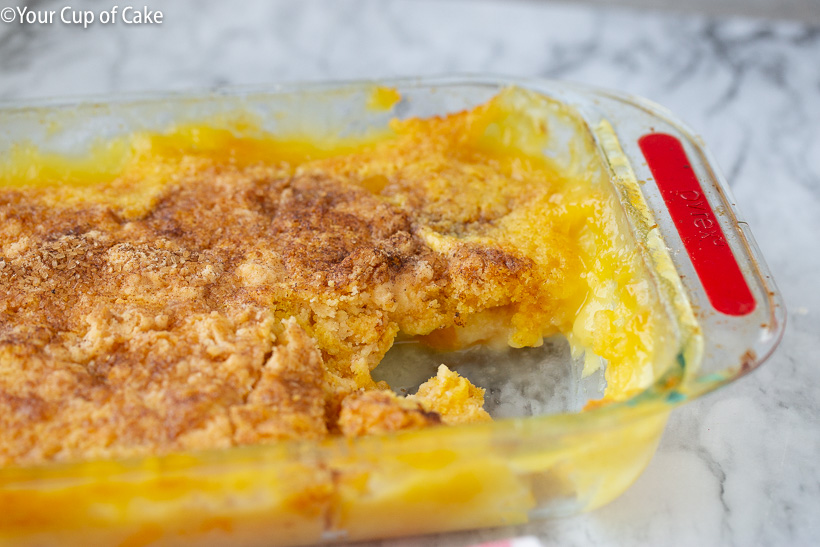 How to make Cake Mix Peach Cobbler:
Because this is a "dump" cake, just grease your dish and then dump in your canned peaches, then cake mix, melted butter and top it with some cinnamon. Done!! Another great part about dump cakes is they are very easy to bake in different dishes. If all you have is 2 pie dishes, use those! Or a few loaf pans, use those! If you don't have a 9X13 inch pan but you do have a 8X10 then use that! It's a great recipe for college kids who may not have the recommended dishes for some desserts.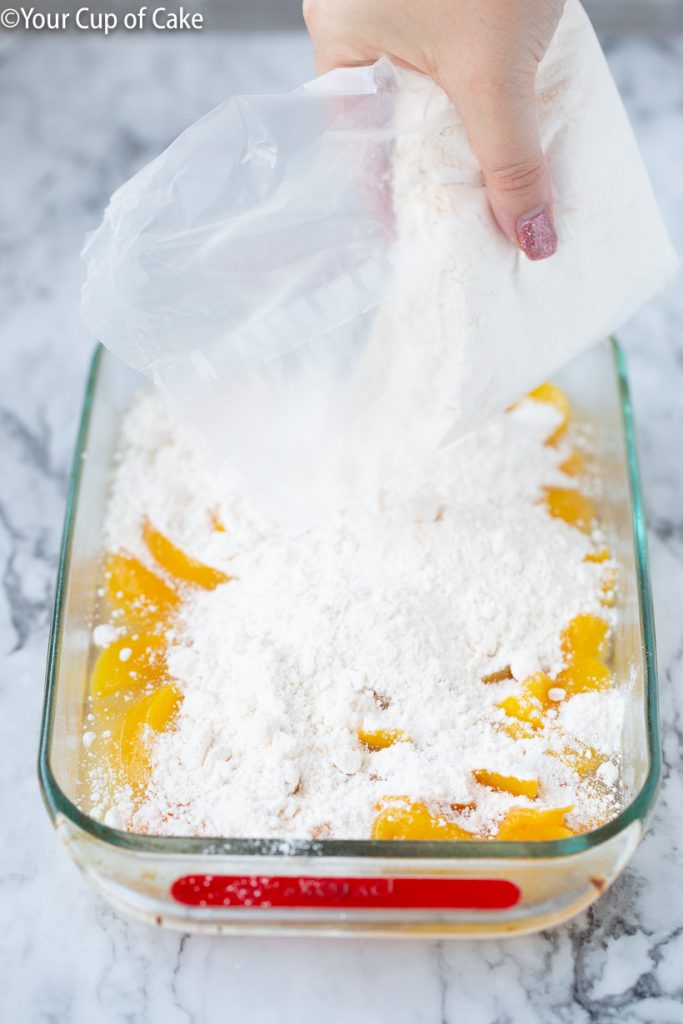 Yum. Can it get any easier than this? Summer is meant to be spent with friends and family out having adventures and making memories. Don't get stuck in the kitchen all day long. Make this easy cake mix recipe in just a few minutes and eat it around the backyard campfire.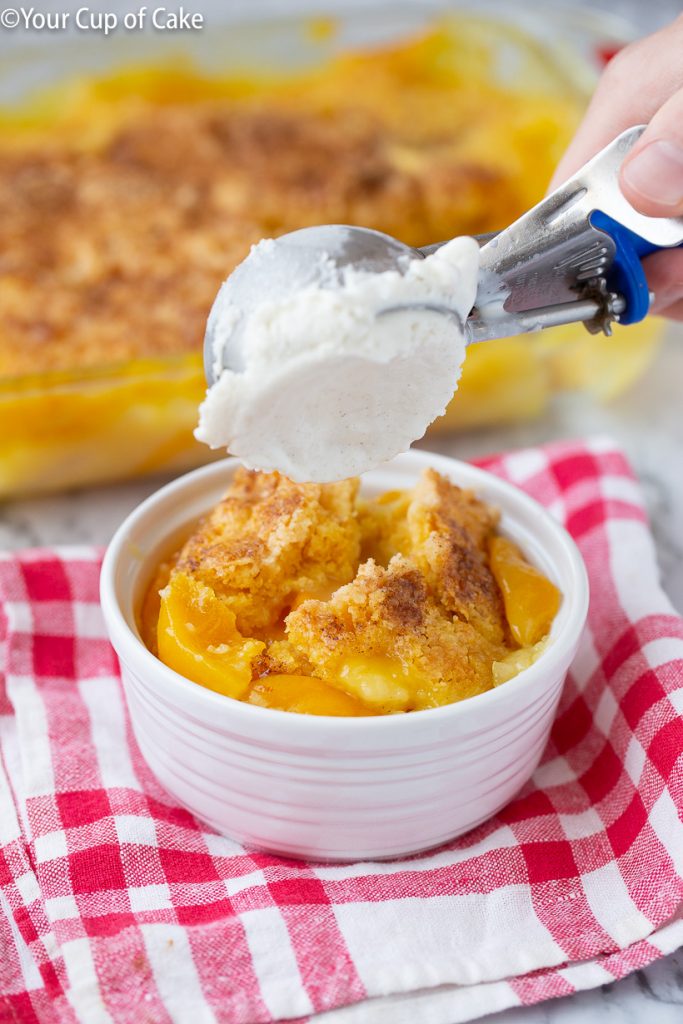 Enjoy this super easy 4 Ingredient Peach Dump Cake!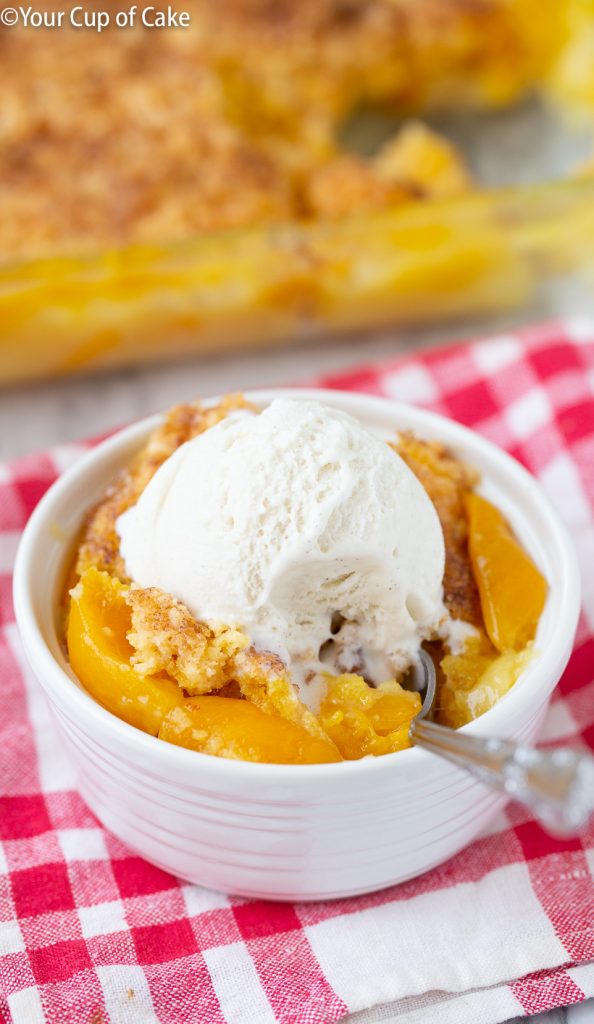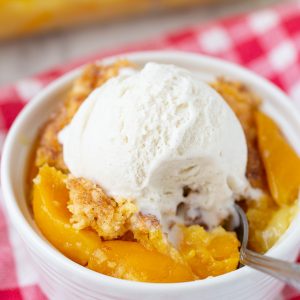 4 Ingredient Peach Dump Cake
The easiest peach cobbler recipe you'll ever find! This 4 Ingredient Peach Dump Cake is a must have recipe all summer long!
Ingredients
2

cans

sliced peaches

in heavy syrup

1

box Yellow Cake Mix

3/4

cup

melted butter

Cinnamon
Instructions
Preheat oven to 350 degrees and grease a casserole dish (approximately 9 X 13).

Open cans of sliced peaches and pour into prepared pan with heavy syrup.

Sprinkle cake mix over pie filling.

Pour melted butter over the top as evenly as you can and sprinkle with cinnamon.

Bake for 50-65 minutes or until bubbly and golden brown! Serve warm with ice cream!
Recipe Notes
If you want to cheat the "dump" part of the recipe, you can use a small bowl to combine your cake mix and melted butter. Then sprinkle that over your filling. You'll have one dirty bowl but then you don't have to worry about any dry cake mix spots.