The Story:
Whenever I was at the grocery store this last summer, I would buy Reese's Pieces. Whenever I saw them, they would just magically appear in my hand or in my cart.
The funny thing?
I don't even really like them.
But my best friend of the time really loved them. And I didn't get to see him nearly all summer, so buying those silly Reece's Pieces just made me feel like I wasn't so far away from him.
I wasn't about to eat the Reese's Pieces all alone—now that would be pathetic. So instead of eating them, I just let the bags pile up on a table. Once the pile reached a height I could decently measure with a ruler, I decided it was time to make good use of the candies.
I needed something simple and playful.
Cakes:
3/4 cup buttermilk
1 cup sour cream
Peanut Butter Buttercream:
¾ cup creamy peanut butter
Directions:
1.
In a small bowl, mix oil and eggs. Add milk and sour cream.
2.
Add to chocolate cake mix (sift for easy mixing). Add cinnamon and vanilla.
3.
Bake according to box instructions
4.
Frosting: Whip peanut butter and butter until light and fluffy, should take a few minutes.
6.
Add as much powdered sugar as desired.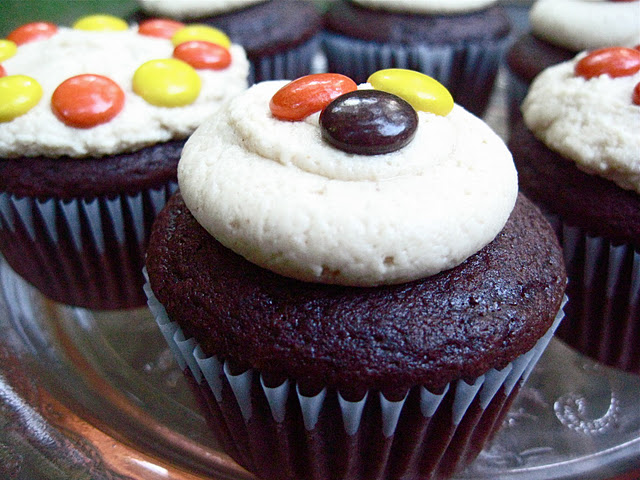 * You can also bake these with a Reese's Peanut Butter cup in the center.