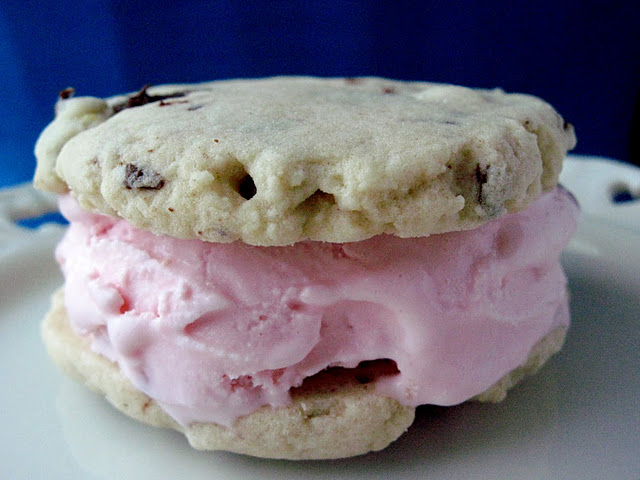 Congratulations to Sabrina from Eat Drink and Be Merry for winning the apron giveaway, email me your information so I can get that to you!
The Story:
I have been on a cookie craze lately. When I think about shortbread cookies, they don't quite make sense to me. A short bread cookie really doesn't make much sense at all when you think about it. No chocolate, no nuts, no color, nothing gooey in the center. Boring.
So this is the shortbread cookie that makes sense to me, with some extra strawberry lovin' in between.
1.
Preheat oven to 350 degrees and line baking sheeting with parchment paper.
2.
Cream butter and sugar until light and fluffy.
3.
On low speed, add eggs one at a time, letting them become fully incorporated. Add vanilla.
4.
In a separate bowl, combine flour and salt.
5.
Slowly add flour/salt to wet ingredients. Mix only until well blended.
6.
Add chocolate chips and stir.
7.
Make dough balls, slightly larger than a golf ball, and flatten them using the bottom of a measuring cup until they are about ½ inch thick.
8.
Bake for 12-15 minutes, or until the edges are barely golden.
9.
Let cool, then add strawberry ice cream and sandwich cookies together. Assemble only when ready to serve.