Need an easy dessert recipe to serve a crowd? These Chocolate Chip M&M Cookie Bars are perfect for any party! Just mix, bake, slice and done!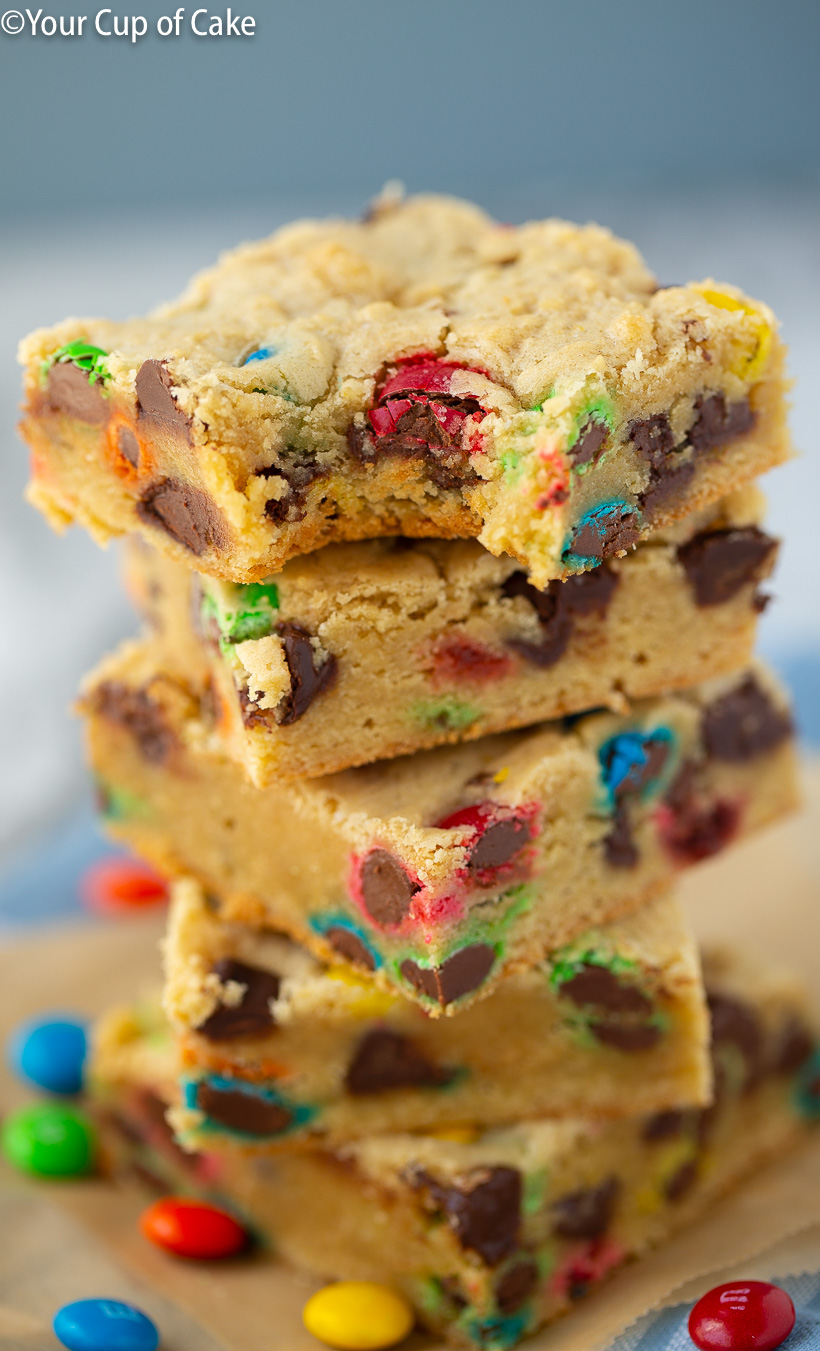 Chocolate Chip M&M Cookie Bars
I love making dessert recipes that are easy and delicious! These Chocolate Chip M&M Cookie Bars are perfect all year long for any type of party or celebration, or even just as an after school sweet treat. Chocolate chip cookies are such a classic dessert so adding colorful M&M's and turning them into cookie bars is a great twist on the classic! Everyone will love these! Get ready because this will be a new staple in your recipe book!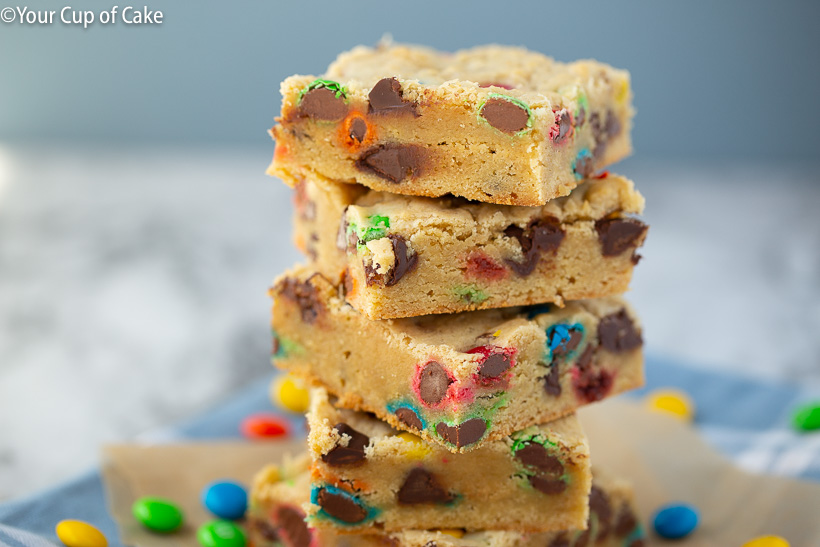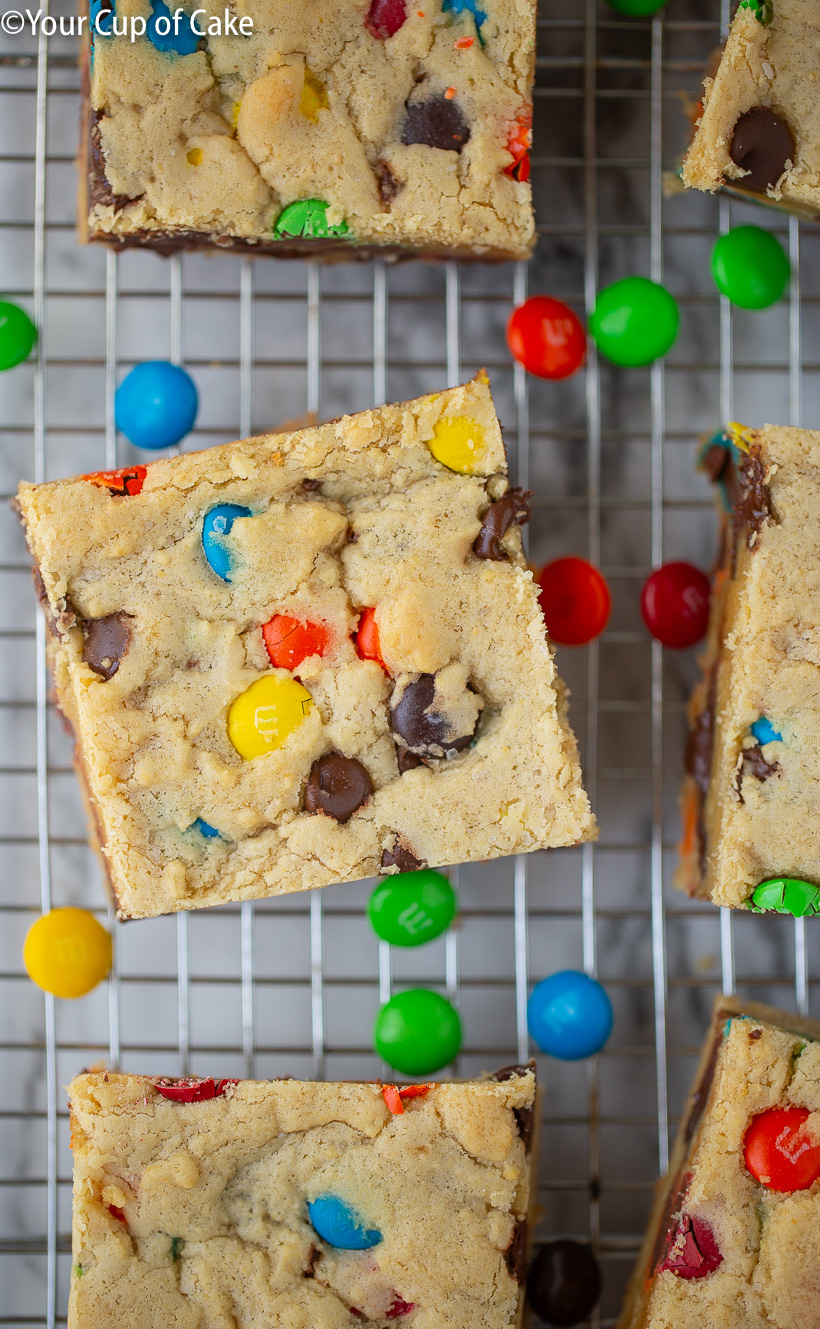 The Best Cookie Bars
Cookie bars should be your best friend. What are cookie bars? They're essentially a massive cookie casserole. After you bake it, you cut it up into squares to serve! It saves you so much time because you don't have to make individual dough balls or sit in the kitchen pulling cookie sheets in and out of the oven. Just bake one biiig cookie and then cut it up into smaller portions, genius! I love these Chocolate Chip M&M Cookie Bars because the texture is perfect and the color from the M&M's make them all dressed up for a party. If you love cookie bars make sure you check out my Sugar Cookie Bars and 7th Heaven Bars!
How to Make Cookie Bars
To make cookie bars, mix cookie dough as normal. Then you'll dump the dough into your casserole dish and use a spatula to spread the dough out evenly. Sometimes I like to sprinkle a few extra M&M's on top to make them extra colorful. I also like to sprinkle a little kosher salt on top, this makes the flavor really pop. Bake the cookie bars until they start to brown around the edges and then they're done! You'll see in my photo I have big squares, but when I served these to friends I actually cut these big squares into 4 smaller squares! They're quite rich so I liked giving people the option to have just a bite or two at a time.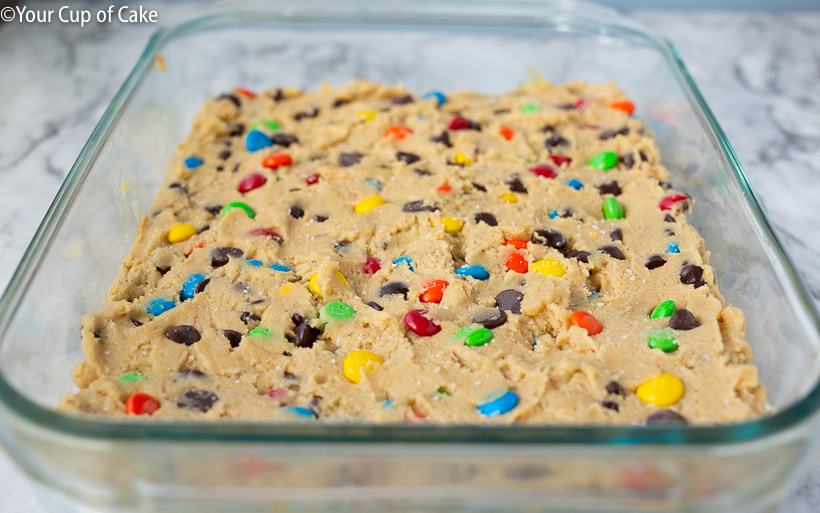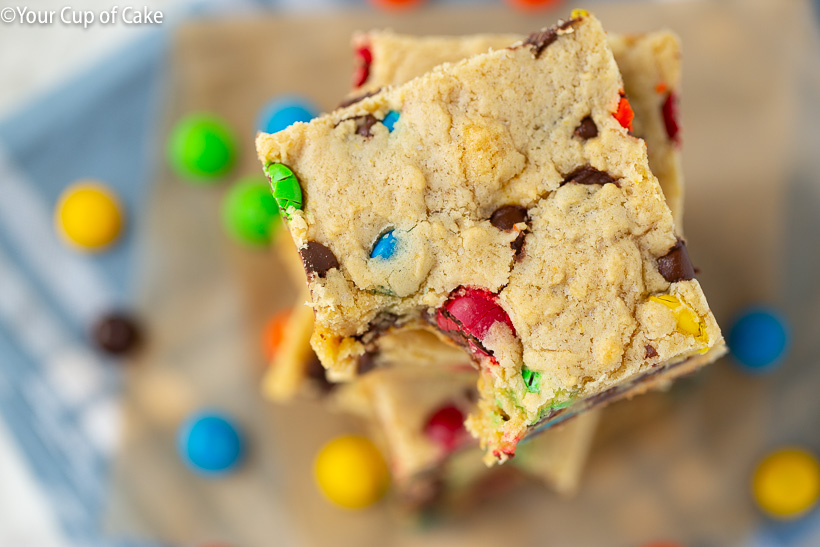 How to Cut Cookie Bars
Cutting cookie bars can seem a little daunting. Getting the perfect looking cookie squares requires 3 things, prep, a knife and a little patience. Prep your pan! Either lightly grease it or line it with parchment paper! If you line it with parchment paper and leave a little hanging over the edge of the pan you can lift up on the parchment to take the entire cookie "casserole" out of the pan. This will make it easier to cut. The knife. Your knife doesn't need to be chef quality, but it still needs to be sharp and somewhat long. Don't try to cut these with a butterknife! I also don't use a serrated knife unless my bars have nuts in them. Patience. If you want your bars to look like mine, the M&M Cookie Bars need to be almost completely cooled. If you don't wait for them to be cooled the chocolate will drag and bleed across your slices. (But these bars are super delicious warm!) But guess what, some recipes are easier to cut than others. This recipe cuts like a dream! So do my Sugar Cookie Bars!
So when do you cut cookie bars? Well, that depends how you will serve them. If you're serving them cooled, then wait for them to cool to cut them. But if you want to dive into them warm from the oven, wait until the last possible moment to cut them.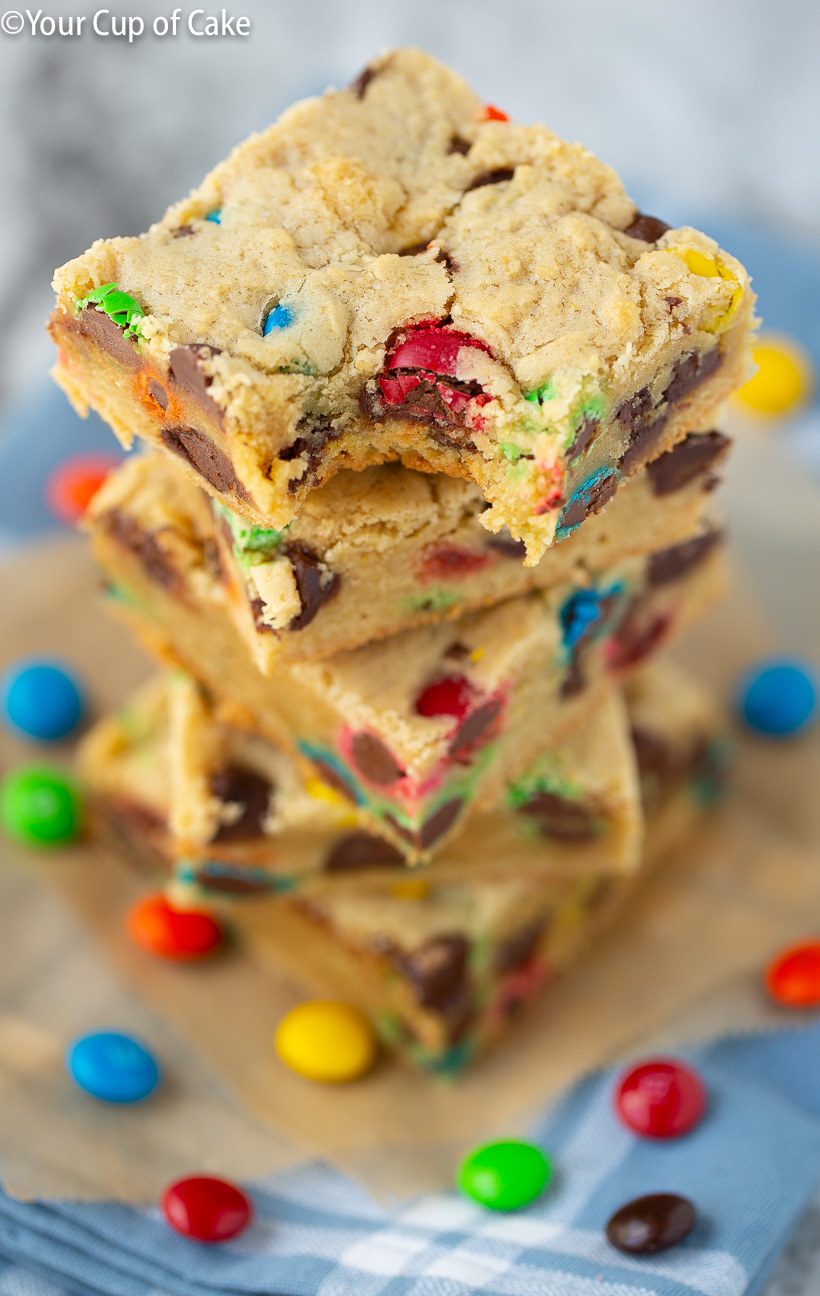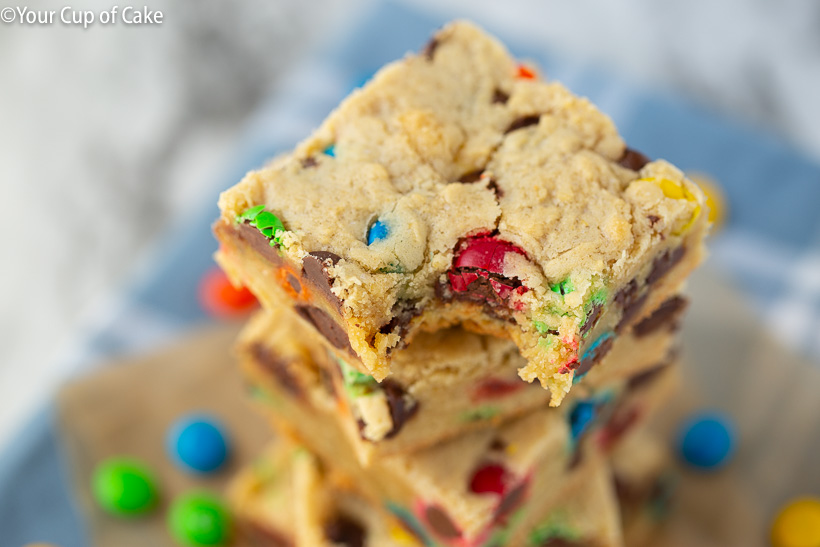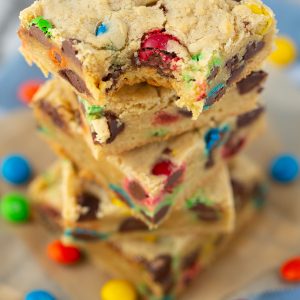 Chocolate Chip M&M Cookie Bars
Need an easy dessert recipe to serve a crowd? These Chocolate Chip M&M Cookie Bars are perfect for any party! Just mix, bake, slice and done!
Ingredients
1

cup

unsalted butter melted

1

cup

brown sugar

packed

3/4

cup

sugar

2

large eggs

room temperature

1

egg yolk

room temperature

2

teaspoons

vanilla extract

2 2/3

cups

flour

2

teaspoons

cornstarch

1/2

teaspoon

baking powder

1

teaspoon

salt

1 1/4

cups

chocolate chips

1 1/4

cup

M&M's
Instructions
Preheat oven to 350 degrees and prepare a 9X13 pan by lightly greasing it or lining it with parchment paper.

In a large bowl, combine butter (make sure it's not super hot or it will cook the eggs), brown sugar and sugar. Then add eggs, egg yolk and vanilla extract.

In a separate bowl whisk together flour, cornstarch, baking powder and salt.

Add the dry ingredients to the wet and just before it's all combined add in your chocolate chips and M&M's. Stir and then dump into your prepared pan and spread out evenly.

Bake for 25-30 minutes or until the edges start to turn golden brown. Let cool for 5-10 minutes and then serve warm or completely cooled.