A sugary pumpkin snack that's addictive and perfectly salty! These White Chocolate Pumpkin Pretzels are made in the microwave so they're ready to eat in minutes!
Pumpkin Pretzels Drizzled with White Chocolate
Tis' the season for pumpkin recipes coming at you on facebook, instagram, twitter, coffee shops… you name it! Well, this is not just another pumpkin bread or pumpkin cookie recipe this is something very special. Pumpkin Pretzels! These White Chocolate Pumpkin Pretzels are sugary, sweet, crunchy and covered in creamy white chocolate. To make them even better, this is a MICROWAVE recipe! That's right! This is perfect for dorm rooms, busy moms on the go, late night snacks and everything in between!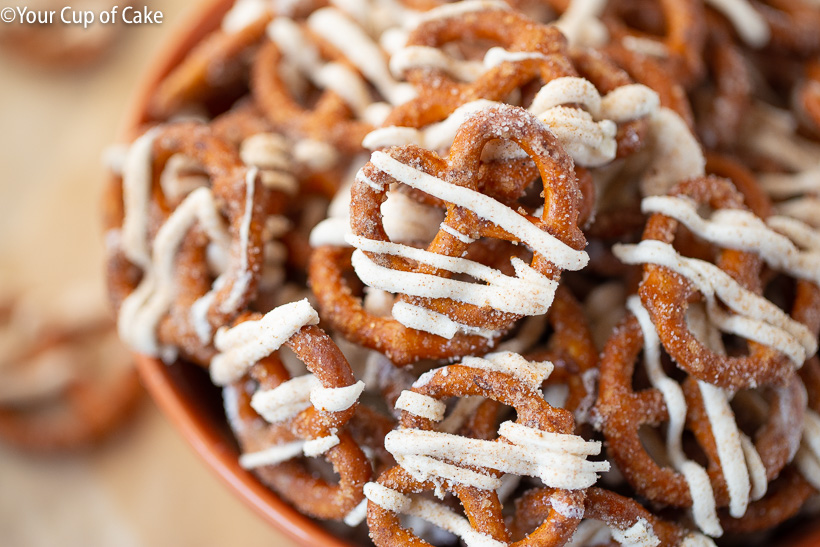 Sweet and Salty Pumpkin Pretzels
I made these delicious pumpkin pretzels because my husband's friend told me about some store bought pumpkin pretzels covered in white chocolate. She said they were delicious and I needed to make my own spin-off of them. Well, no one has tome to individually dip pretzels so I opted for a drizzle instead. And I based this recipe off of my favorite thing to make for neighbors during the Christmas season, my White Chocolate Cinnamon Sugar Pretzels. I love recipes like these because they're budget friendly and quick to feed a crowd!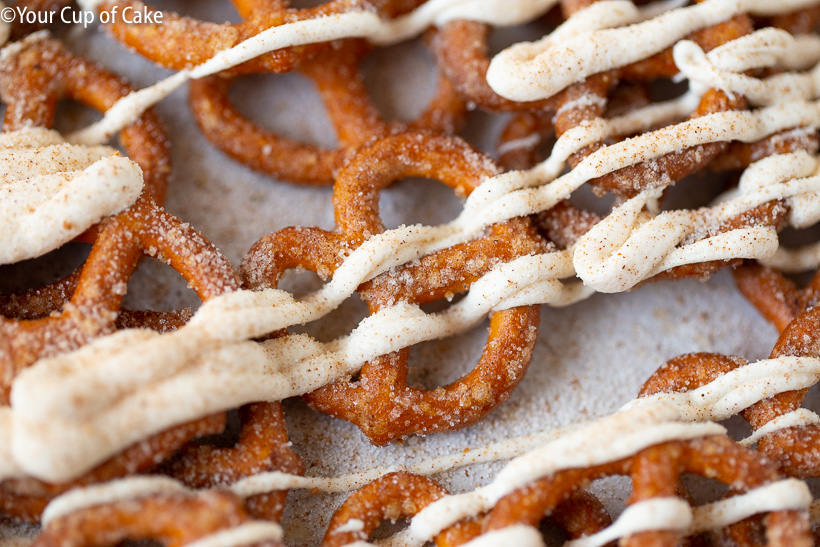 How to Make Pumpkin Spice Pretzels: Microwave Recipe
First, you'll mix up your oil, sugar and spices in a large microwave safe bowl. Dump in the bag of pretzels, stir to coat in the sugary mixture and them microwave! You'll take a quick break from the microwave to give it another good stir. Then you'll add part of your sugar coating to added flavor. Once you dump out your pretzels you'll want to spread them out so they each can get a good drizzle of white chocolate. Before the white chocolate, you'll add the finishing touch of sugary coating to really make them look incredible! This is usually the time I'll sneak a bite.
This is seriously the perfect fall snack to munch on! It's lunchbox safe too! I sent these off with my husband since he's back in school and all his friends were texting me about how obsessed they were!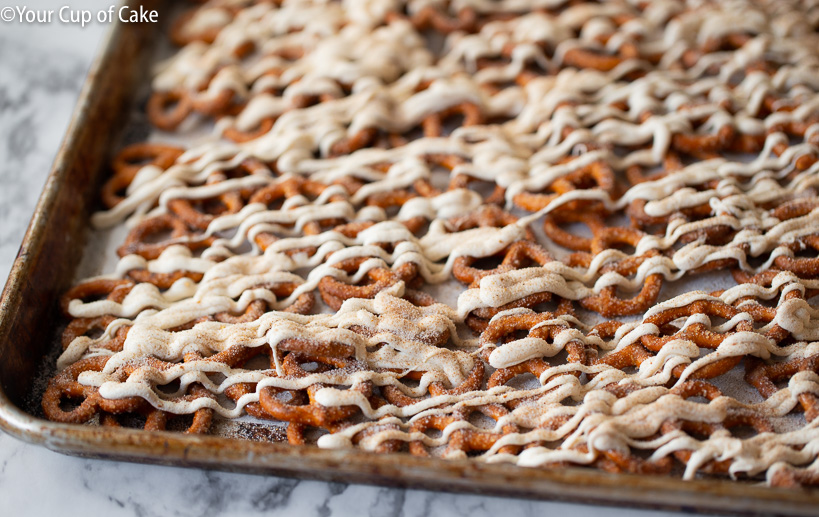 I love using the white "Melts" for all my candy decorating needs. What are they are where can you buy them? You can get them from places like Hobby Lobby and Michaels but groceries store also commonly carry them! They're sometimes called chocolate wafers or candy coating. Vanilla Almond Bark also works great! When you use something that is meant for candy coating like the wafers, melts or almond bark it melts down to a very thin consistency so it's easy to drizzle!
I love making little baggies of these cute pretzels and handing them out as treat bags to friends and neighbors! I hope you love these White Chocolate Pumpkin Pretzels as much as I do!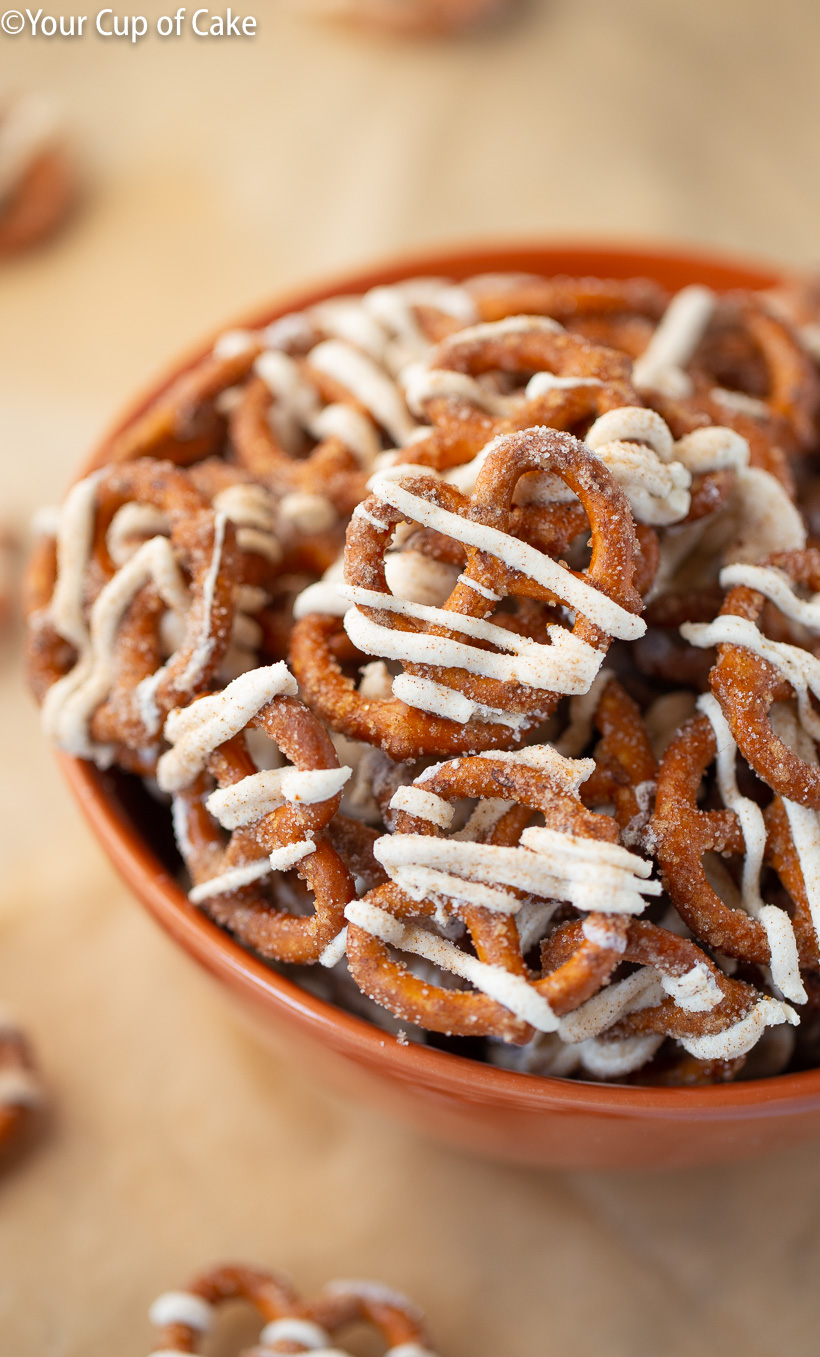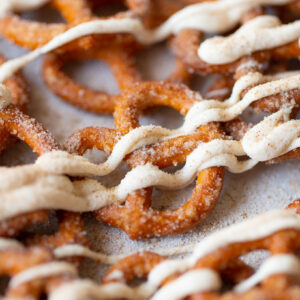 White Chocolate Pumpkin Pretzels
A sugary pumpkin snack that's addictive and perfectly salty! These White Chocolate Pumpkin Pretzels are made in the microwave so they're ready to eat in minutes!
Ingredients
1

bag pretzels 16-18 oz.

2/3

oil or butter

see note

1/3

sugar

2

tsp.

pumpkin pie spice

see note
Sugar Coating:
1/3

sugar

2

teaspoons

cinnamon

1 1/2

teaspoons

pumpkin pie spice
For Drizzling:
1 1/2

cup

melted white chocolate chips or Vanilla Almond Bark

I use Melts
Instructions
Whisk oil, sugar and pumpkin pie spice together in a large microwave proof bowl.

Add pretzels and stir until coated.

Microwave for 50 seconds, stir then microwave again for 40 seconds.

Sprinkle about half of the "sugar coating" into the bowl and stir pretzels again.

Dump out onto two cookie sheets covered in wax, parchment or aluminum foil and spread out evenly.

Then melt white chocolate chips, drizzle over pretzels, and then sprinkle on the remaining "sugar coating" while the white chocolate is still wet. Let cool and enjoy!
Recipe Notes
If using butter instead of oil, you'll need to microwave for an additional 40 seconds!
Homemade pumpkin pie spice:
4 teaspoons ground cinnamon
2 teaspoons ground ginger
1 teaspoon ground cloves
1/2 teaspoon ground nutmeg