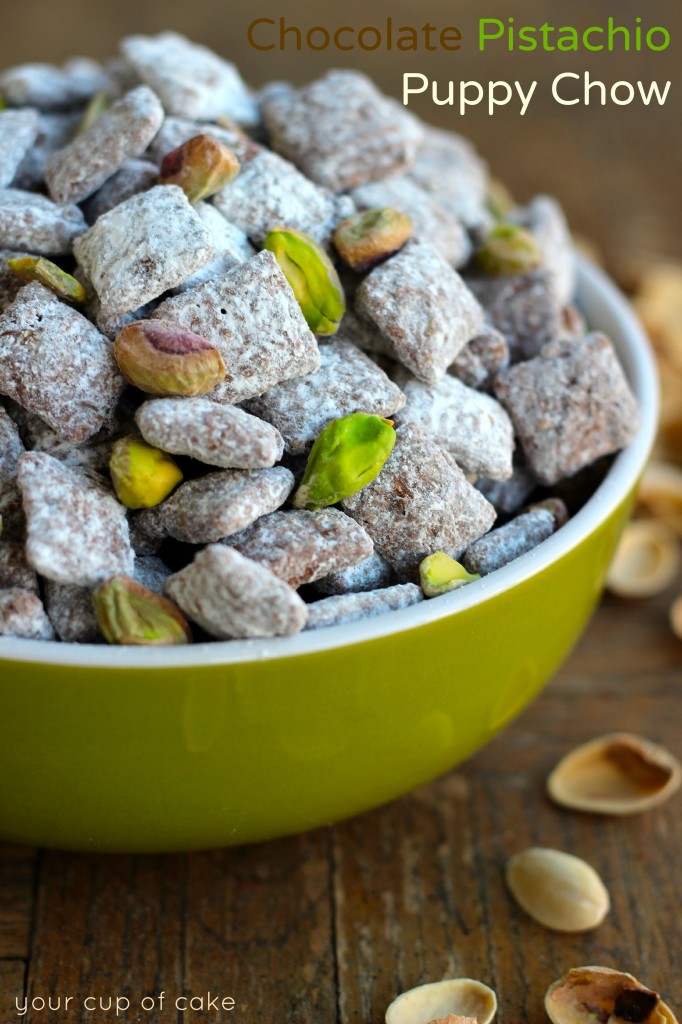 The Story:
One of my favorite things to do on Sunday is come home from church, take off my tight pencil skirt, 4-inch heels, silk blouse and slip on some cozy sweats and a flannel button-up. But I'm always too tired to take of the jewelry. So all day long I have on a comfy outfit that's bling'd out with pearls and gold. I always laugh if I catch a glimpse of myself in the mirror. I look like a cross between a lumberjack and a princess on her way to Prince Charming's ball.
So here's a cross between kid-treat and gown-up flavor combo.
Check out my other Puppy Chow recipes!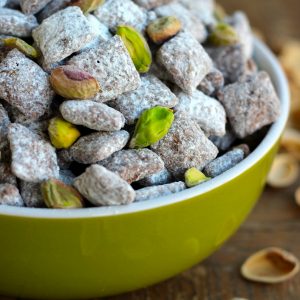 Chocolate Pistachio Puppy Chow
Ingredients
6

C.

Rice Chex Cereal

1 1/2

C.

Chocolate chips or melts

1/4

C.

butter

2/3

C.

pistachios

finely chopped in blender or food processor

1 1/4

C.

powdered sugar

Additional pistachios
Instructions
1. Place cereal in a large bowl and set aside.

2. In a microwave proof bowl, melt chocolate and butter and stir until smooth.

3. Add finely chopped pistachios to melted chocolate and stir.

4. Pour over cereal and gently fold until coated.

5. Dump into a large plastic bag and add powdered sugar and shake until covered. (If you don't have a large plastic bag, you can use a large tupperware or pot with a lid to shake the powdered sugar and cereal in.)

6. Dump onto a cookie sheet to let cool.

7. Add additional pistachios if desired.